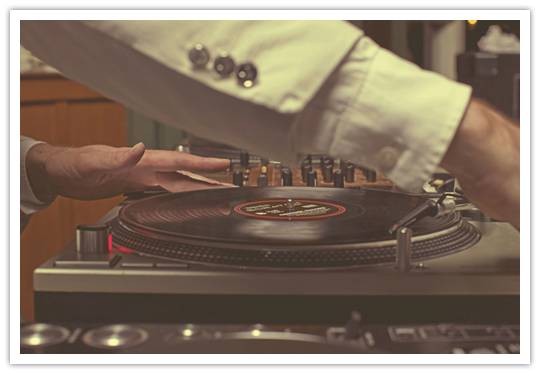 I don't cover music. If you've been reading for a little while, you've probably noticed. It's hard to cover something audio-based on such a visual medium without embedding all sorts of stuff in the posts, and I don't want to go there. (If you notice the above, I finally found a way to incorporate the Flashdance into the blog after many months of wanting to… Victory!) However, after reading Holly's post on music this week, the light bulb went on.
Disclaimer before I continue on, though: I'm an art school graduate, and I totally fit the stereotype in my music tastes. My preference is indie (as I affectionately refer to it, The Skinny Kids with Thick Framed Glasses Genre) and anything with Morrissey in it is good. Now that I've gotten that out of the way…
I'd love to expose you guys to some of these bands that fly under the mainstream radar for the most part but do real quality albums so you don't have to worry about Aunt Edna doing the Macarena or Cousin Stu making a fool of himself by doing the YMCA while a little too tipsy for his own good. Some of these guys you already know of or have heard in passing, but maybe you didn't consider them for your playlist. Either way, I hope this post helps you to either freshen up the dance party standards or reimagine what a wedding playlist could be!
Here's how it works. The links go to the bands' videos on Youtube (either the official video or the official listening thread) so you can sample the music and see what you like – if there's something you're interested in, buy it via iTunes if you're going the iPod budget route (my sister-in-law did that at her wedding!) or request it from your DJ. Here's the first few picks from my list – I hope you like them! I'll post a few more on Thursday!
The Noisettes, "Never Forget You"
This song is my absolute current obsession. It's been stuck in my head for the past week or so. My now-husband and I found them a few months back when we saw their awesome cover of the Killers' "When You Were Young". When we heard this song start going into rotation on our local NPR station, The Current, we knew it was them before they were announced because the lead singer's voice is really distinctive (in a good retro-y kind of way).
Metric, pretty much anything off of Fantasies
If you want my vote for album of the year, Fantasies is it. Emily Haines is pretty much the Queen of Cool in my book, and not a single song she put on here is subpar. If you're looking for something with a dance beat, "Sick Muse" and "Gimme Sympathy" are great picks. "Collect Call" is a good choice for a slower song – it's got a little bit of a beat to it in the chorus, but it makes for a nice break from the more upbeat numbers you usually hear at a wedding.
Florence and the Machine, "Dog Days"
Florence is like Grace Slick put in a time machine, so I suppose in a way, the band name makes more sense to me than ever. Something about this song is so unapologetically catchy despite the fact its beat tends to speed up and slow down rather suddenly. This is the song I'd choose if I was pulling a Jill and Kevin (Minnesota represent!).
Phoenix, "Lisztomania"
This song always makes me tap my foot a little loud in my cubicle, much to the dismay of my cube mate. Woops. It's just so effortlessly catchy that you can't help a little bit of a head bob at the very least (I'm listening to it right now and dancing in my seat if that's any indication) so I highly recommend you add it to your list.
The Pipettes, "Pull Shapes"
They've been out for a while now, but the Pipettes still hold a place in my heart as one of the best of the "retro revival". This Wall of Sound styled song is still one of my favorites. Our band didn't have enough time to learn this one, unfortunately, so we opted for their song "I Love You" – which is less than two minutes in length – as our cake cutting choice.
Bird and the Bee, "My Love"
You've probably heard this one, even if you didn't realize it. I'm sticking it on my list anyway. I love how melodic it is, and the harmonies are positively dreamy.
Image from the Flashdance.