Although weddings are known to be romantic and dreamy, there are a number of real life moments that can make for unforgettable stories. For many couples, they involve surprises that are planned for the guests or provide complete shock to the wedding couple themselves.
To feel inspired, below are a few moments in real life weddings that make for unforgettable events.
Instead of just writing vows for his new bride, one groom decided to also write vows for his step-daughter, which includes keeping her safe and tucking her in bed at night.
One bride decided to break tradition by asking her 89-year-old grandmother to be one of her bridesmaids in a sweet gesture that made for endearing photos.
A small ring bearer decided to toss the ring to the bride and groom when it was time to say, "I do," which had them scrambling for the item.
During a wedding ceremony, most couples share a romantic kiss as husband and wife, but one couple decided to high five each other for a funny way of getting the party started.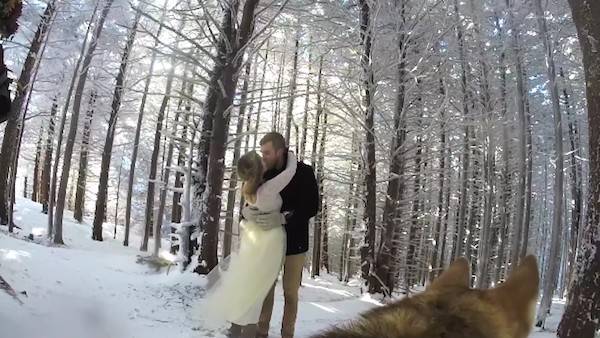 Instead of hiring a professional videographer, one couple in Roan Mountain, Tennessee decided to rely on their pooch to film their wedding video with a GoPro for a candid and creative way of recording the day.
One couple decided to visit the groom's grandmother in the hospital after she missed their wedding day for a truly emotional visit.
A groom decided to surprise his new bride with a Bollywood ballad during their wedding while playing the piano and leaving her in tears.
One flower girl stole the spotlight by kissing the ring bearer in front of the bride decked out in a lace wedding dress. The photoshoot of the wedding party quickly circulated on the Internet.
A groom created a tearful performance in front of his guests when he danced with his mother, who was battled ALS, during the reception as she sat in her wheelchair.
Three girls who were in the audience of a wedding were shocked to see the bride and groom kiss, which the photographer captured. The girls are seen with their hands over their eyes with jaws dropped.
Brittany Peck's father asked her step-father, along with her father, to walk her down the aisle with him due to his involvement in her life.
Brooke Blackledge read an endearing letter in front of her guests that her adoptive mother wrote to her 20 years prior to her wedding day.
Jeremy Stamper planned a second wedding for his bride after she lost her memory and all recollection of their special day.
Although the details of weddings are planned months in advance, there are often special memories that are not always anticipated. It may not be expected, but the special moments always make for a special story that can be remembered for a lifetime.