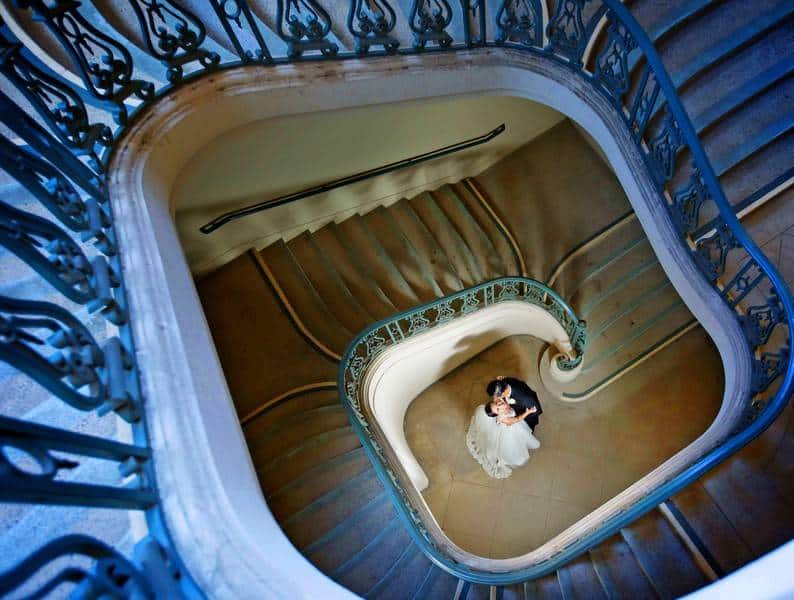 Margaret & Mony are two people who just loves to have fun! And they tried to insert a lot of it into their wedding as much as possible. When asked what their favorite part of the day was, here's their reply:
Our favorite part of our wedding day was definitely the reception! We just loved loosening up and having fun with all of our family and friends!
Margaret did most of the DIY details of this very special day. Pinning everything on Pinterest — she even received a message from Pinterest that she was one of their top pinners! I really like the play of colors they had done for this event — everything looked fun, fabulous & fresh! Margaret hired a dress designer to create her beautiful custom-made gown with its gorgeous back details. She also had the bridesmaids' dresses customized to fit each personalities. She wanted things to be unique & different from other weddings. And they made sure their guests would have the grandest of times! Cheers to such a wonderful wedding Margaret & Mony — may you two have tons of more fun for the rest of your lives!
What would you say, the overall story for this album?
The morning of our wedding started off with all the bridal party getting ready and receiving their gorgeous gifts! The gentleman's gifts were packaged in chic moustache bags and contained custom flasks for each guy, while the girls received beautiful Kate Spade necklaces! My dress was custom designed and exactly what I wanted with a unique detailed back.Our beautiful Catholic ceremony was held at St. Finbar church in Burbank followed by a reception at the Castaway Restaurant on the hilltop with a breathtaking view of the city! We took our creative portraits at the Pasadena City Hall which was a stunning backdrop for the happiest day of our lives! At their reception the centerpieces were filled with beautiful flowers in coral, peach and mint. Other than the flowers and cake, almost everything was DIY from the ceremony programs to the placecards and the candy table with not a detail was missed! We are a super playful couple who just love to have a good time and a ton of fun! Our once office romance turned into a beautiful love affair and a wedding day filled with love, laughs and giggles!
What inspired the wedding day outfits?
We are a super fun people that just love to have a good time, so we wanted our wedding to feel bright and happy with lots of colors that would really 'pop' in photos. With my wedding dress, I wanted something completely unique and different than what everyone else had. I hired a dress designer to create something that was really detailed in the back and just stunning. The bridesmaid's dressed were also custom designed as well, because I wanted them to also have something unique and not 'off the rack'.
What was your favorite part of the day?
Our favorite part of our wedding day was definitely the reception! We just loved loosening up and having fun with all of our family and friends! We would have to say that our favorite parts of the reception were:
The best man's speech. He told the story of how we met and we were just cracking up the whole time!
Dancing with our parents. Mony's dance with his mom was so special because he's never had a chance to truly dance with her before. Margaret also truly cherished dancing with her dad and both those moments are things we will always remember.
Was there any Do it Yourself (DIY) projects? If so, can you describe them in detail?
Almost everything other than the flowers and the guest sign-in book created by our photographer (Kayden Studios) was DIY. Margaret did most of it herself with the help of Mony's many nieces and the bridesmaids. A lot of Margaret's inspiration for the DIY projects were from Pinterest. She actually pinned so much that Pinterest sent her a notice saying that she was one of their top pinners! The DIY items included the ceremony programs, mason jars, advice cards, chalk board signs, candy table, balloons and tassels, place cards, table numbers with corks, and various signs around the reception. On the wedding programs there was a flower design which was actually painted special by one of our niece's friends. Margaret then reproduced it on card stalk for their ceremony programs. The balloons by the candy table were hand made with tissue paper that we shredded and tied to the strings. We bought the items to make it with at Michael's.
What were the highlights from the ceremony & reception?
Our favorite part of the wedding was definitely the reception because we got to loosen up and have fun with our guests. We loved the grand entrance! We walked in dancing and high-fiving our guests then we hopped on the dance floor and danced with our wedding party. It was so much fun! We also loved our best man's speech. We were laughing the whole time he was telling the story of how we met! On a more sentimental note, we loved dancing with our parents in the father/daughter & mother/son dance. It was a moment we'll cherish forever. Since the ceremony was a very traditional catholic ceremony with a lot to remember and a lot of standing up and kneeling down, it wasn't quite as fun as the reception – but still very important of course. Mony's favorite part was seeing Margaret for the first time as she walked down to aisle with her dad. All Margaret could think about was not to trip on her wedding dress. Mony's other favorite moment in the ceremony was when he got to lift up Margaret's veil and kiss her for the first time as husband and wife. That also meant that the ceremony was over and they got to go to their reception and have fun!
Was there a theme for the ceremony and reception?
Our theme for our wedding was fun, colorful and bright! We wanted our wedding to show off our personalities which is somewhere in the middle of traditional and fun! We wanted to portray traditional aspects with the catholic ceremony partnered with a fun, vibrant and festive reception.
Vendors
Photographer:  Kayden Studios
Reception Venue: Castaway Restaurant and Banquet Center
Dress Designer: Lou Razon Couture
Other: Pasadena City Hall
Ceremony Location: St. Finbar Catholic Church
Bakery: The Cakery Bakery