Sometimes with a wedding, it's the little details that really count; that one thing that finishes off your tablescape or your cake table. That one thing that really makes your guests just say "Wow!" Vintage china is just that one thing. There are so many amazing ways to spice up your wedding with vintage china for your place setting. There are many benefits to having vintage china having at your wedding
1. It's Beautiful. I hate to state the obvious here but it's true. Check out this gorgeous set in this Pretty Woman Valentine's Day Inspiration on Wedding Chicks.
2. It's Unique. Vintage china can make your wedding stand out and be one of kind from all of your friend's weddings!! Many vintage china rental companies, like Vintage English Teacup, have an amazing selection of different colors and patterns. Even if someone else you know has used china for their wedding, chances are, it won't be the same as what you will choose to use. There are patterns and colors to match every wedding and theme!! I love this green mismatched set used from this inspiration photo shoot on Artfully Wed.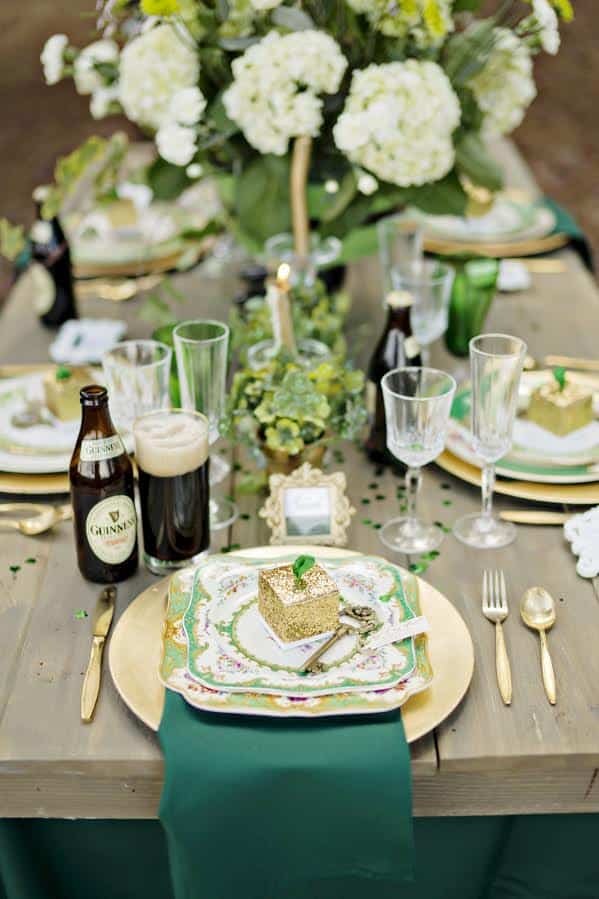 3. It's Inexpensive. Seriously though. Having vintage china at your wedding may not be as big of an expense as you think. Sure, you could try to buy mismatched vintage china but then you have to go and actually find it (which isn't as easy as you might think), you or someone else has to set it all up on your day (you have better things to do like, um, get married), someone has to collect and wash it from the tables, and then you have to do something with upwards of 300-400 china pieces after your wedding. That's a lot of expense and time!! For just a few hundred dollars, you can have someone bring in the china, set it all up and wash it after!
4. It's elegant. Vintage china adds a touch of elegance to every occasion. Whether you are getting married in a castle, a country club, manor ruins, under a tree or in a barn, vintage china can add a great touch that you and your guests will appreciate. A little hint, you'll be much more happy with your tablescape images if they are beautified with vintage china. I promise! Take a look at what vintage china adds to this buffet at Barnsley Resort.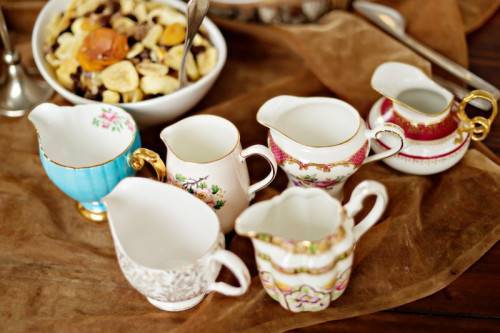 5. It's Decorative. Most vintage china companies don't only offer plates. They also offer cake stands and tiered stands. These are perfect to carry your theme over to your cake table (where they can also provide cake plates) or dessert table. So take advantage of that to make every surface at your wedding truly stunning! So much better than plastic or plain white plates right?!!?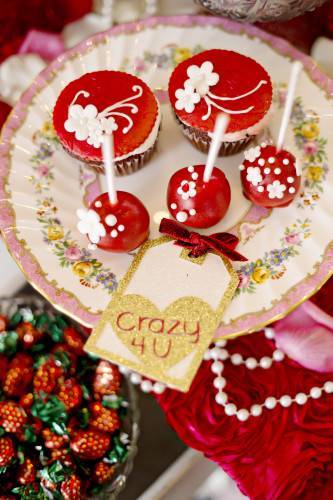 6. It's perfect for brunch weddings. Have you seen the new brunch wedding trend? It's out there and it is quickly becoming something very popular. It's also great if you are wanting to serve high tea on your wedding day. If you are having a 2pm ceremony and then a dinner reception (i.e. a Catholic service), serving high tea in between is a great way to entertain as well as feed your guests in a unique way. Check out this high tea inspiration featured on Grace Ormonde Wedding Style!
Here are some more great weddings and inspirations that feature vintage china!