The colors of the hot air balloons were of perfect contrast to the couple's outfit. Though the couple didn't ride in a hot air balloon, they certainly had fun on the shoot. Their love was still at the highest just like the balloons flying. The photos are a proof of that. I love how simple the bride's overall look but despite that it was never washed out by huge balloons at the background.
Click image to enlarge
Like. Click to Vote
>
I've dreamed about doing a photo shoot like this for quite some time. Albuquerque is known for its annual Balloon Fiesta, but some people are unaware that the small town of Taos also has its own balloon festival in the fall. Joseph and Avriell were the very first wedding I had ever photographed over three years ago so it only made sense that the couple that made me fall in love with weddings should be the couple I ask to relive their wedding day with a unique twist. Avriell had everything preserved beautifully from her dress to her bouquet. She did her own makeup and went for a dramatic eye and deep fall lip color. Joseph wore a casual yet dressy maroon button up that also fit the fall theme we were shooting for. We were up before sunrise to capture the hot air balloons as they were starting to go up. The weather was chilly, but the adrenaline of capturing the perfect shots kept us warm. The way they looked at each other was as if it was their wedding all over again. Oh, and the hundreds of people that surrounded us looked at these two in awe. We had people coming up to us telling them congratulations and how absolutely wonderful it was that they were to marry at the balloon festival. A few people told us that they were now inspired to get married at next year's balloon festival! This shoot was a dream come true.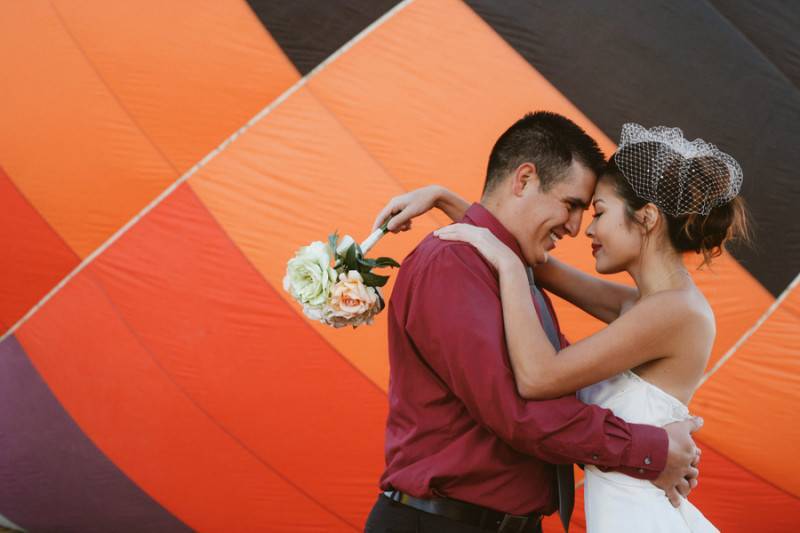 VENDOR
Photographer: Jasmine Dee Creative Photography