When you search for indoor wedding ceremony ideas, you will probably get overwhelmed with all the beautifully decorated weddings as a result of your search. From simple to elegant, it makes you wish you could have the same for your wedding. There are so many great ideas that you can have for your wedding but where do you begin? If your venue is well decorated, just a few flowers here and there would probably be enough. But if your indoor space is just as good as an empty canvas, then you're either an artist whose ideas are overflowing or you're stuck on where to even begin. Regardless if your space is well decorated or not, thinking about the basics for a ceremony is definitely a good place to start such as – the perfect spot for the altar, the aisle that you will walk down on, and the arrangement of the chairs. Once you got that covered, then you can have a better sense of how your space will look like. Then the fun part begins. The thing that I like about indoor spaces is that you are not limited to the decor of the venue. You can transform it however you like and have the wedding you've been dreaming of! And don't forget the lighting. The right lighting can definitely make a big difference. Below are some beautiful weddings that might inspire you as you think about decorations for your indoor ceremony.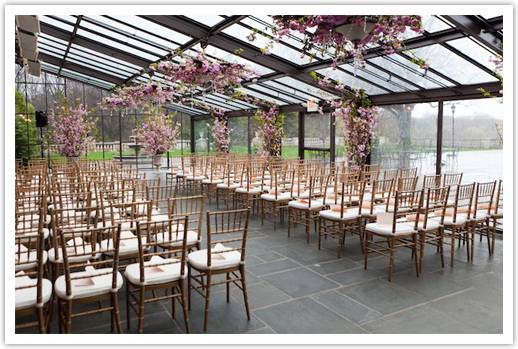 The flower arrangements turned this empty solarium into a very romantic space perfect for an indoor wedding
The dramatic use of drapes and flower arrangements transformed this space into an unrecognizable space
I love the simplicity of the decor in this room. The room is already beautiful on its own but a few tall flower arrangements and candles made this room perfect for a simple yet elegant indoor wedding
If you don't like flowers, candles serve as a great alternative as aisle decorations.
Images from