Are you ready to take your fashion photoshoot to new heights? Get ready for an exhilarating adventure with a Flying Dress Photoshoot! Step into a world where elegance meets the skies as you gracefully soar in stunning dresses against breathtaking backdrops. In this article, I'll guide you through the mesmerizing world of Flying Dress Photoshoots. Discover how to choose the perfect dress, find enchanting locations, and strike the most captivating poses. Get ready to elevate your fashion game and capture truly extraordinary moments.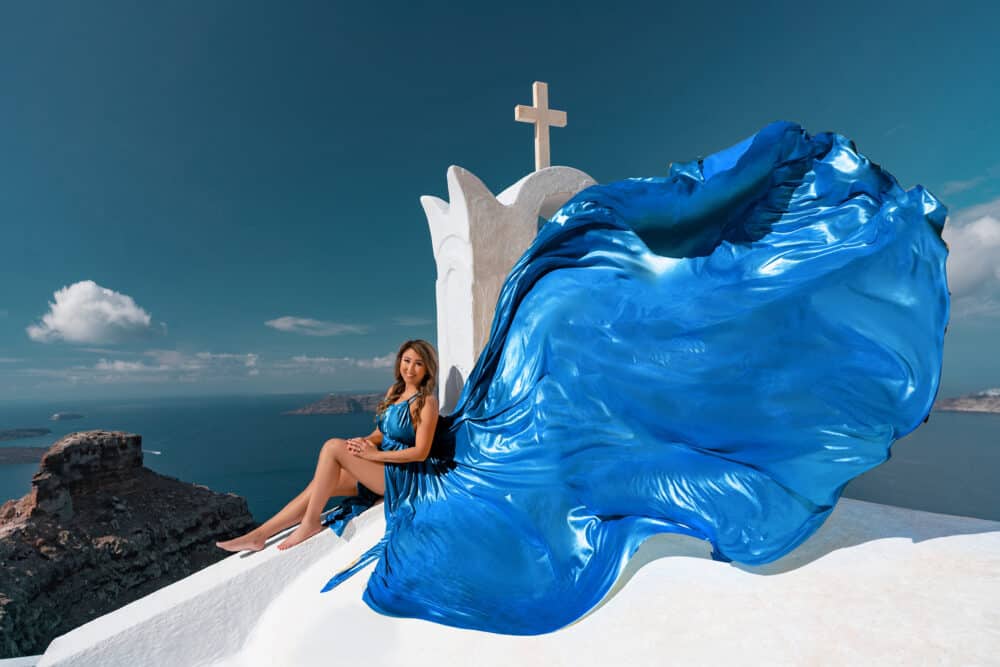 Santorini Dress offers a reasonable price to realize your dream of a flying dress photoshoot. Be sure: you will have a great time and get a lot of positive emotions, as well as high-quality extraordinary pictures. Photoshoot costs may vary depending on the number of primary and additional services you choose.
Please familiarize yourself with the prices presented on the site for an hour of professional photographer work. If you have questions feel free to contact them.
They Organize Photography at an Affordable Cost
Santorini Dress guarantees to meet your expectations for a memorable photo shoot. We ensure that you will create vibrant and enjoyable memories. When working with our professional team, you don't need to worry about a thing.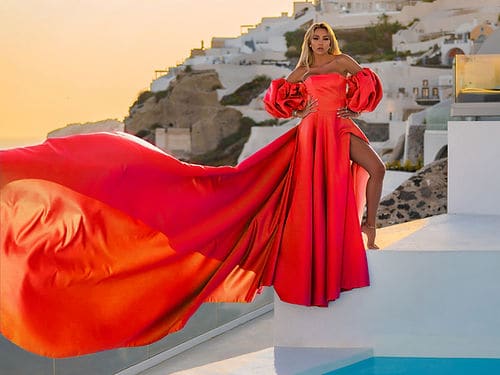 Our specialists will handle everything for you. They will assist you in selecting elegant and lightweight dresses, beautiful natural locations, and optimal angles to create a stunning image. Your only task is to indulge in the photography experience at a moderate and exceptionally reasonable cost.
We personally invite you to witness the quality of our work and assess our competitive photoshoot prices.
Flying dress photoshoot: a lot of positive emotions, a pleasant pastime, and high-quality, stunning pictures
You're invited to be part of an amazing flying dress photoshoot. Imagine yourself near the sea, enjoying the sun and warm sand, dressed in a chic outfit with a long, flowing train that sways in the breeze. You can also choose to pose in attractive locations like the desert. The Santorini Dress team will ensure your satisfaction by offering a variety of flying dresses and accessories for you to create your perfect look. Our professional team is ready to organize a flying dress photoshoot in Italy, Mexico, and Dubai.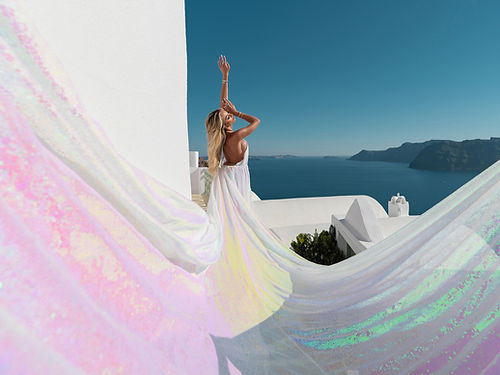 Best photographers and the most beautiful flowy dress – everything for you!
Their team will provide you with an experienced private photographer who knows all the popular and beautiful secluded places for shooting in Santorini. Skillfully using light, they will masterfully capture photos against the backdrop of sunsets or during daytime, carefully selecting the most successful angles. You are guaranteed to receive high-quality extraordinary photography.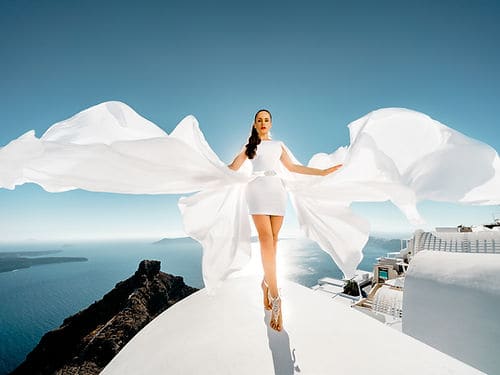 Let the SantoriniDress professionals diversify your life with an enjoyable photo session. Contact them.