Fall Weddings includes mediocre weather, that is not-too-cool and not-too-hot weather, decoration elements in lovely bright shades of rainbow and even seasonal cocktails. This is the reason why September and October have become the best months to say your "I do".
Its a universal truth, that the Fall is naturally the most beautiful time of the year. Utilizing each and everything that you get easily in Fall season is a must. You can see bright fresh blooms everywhere and fresh and beautiful leaves on the trees. You can easily find fresh fruits, gourds and pumpkins all around in the market. Also you can create so much out of these for your fall wedding decoration like from pumpkin centerpieces to arbors of fresh foliage.
Other than customizing and creating decorations, you can get a natural cozy casual vibe that comes with fall wedding season. This vibe even let couples get creative and think ideas like mini customized corn hole games and beer flights.
Keep on reading the below 32 fall wedding decoration ideas that will make you think twice to celebrate your wedding with this fall season with some super good ideas like warm beverages, cozy blankets, and romantic candlelight at your table. Have a look at all of them below.
Embrace the Foliage
If you are not even marrying in the forest, you still can make such a arrangement like the one in picture above. Set textures according to your surrounding and mix some natural gorgeous colored leaves to make it even more effective.
Say "I Do" in a Rustic Setting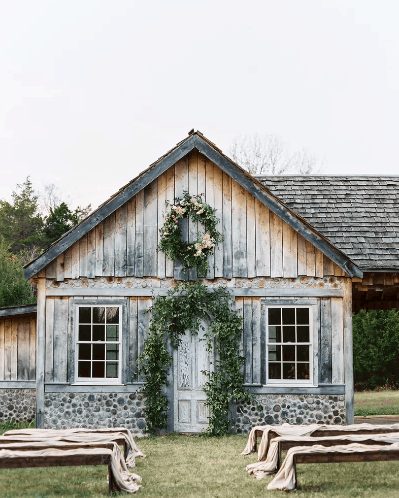 No mason jars and No hay bales but still this ceremony scene is way too good. This even proofs that rustic could be mad even better than what it usually is. Just a rustic setting near the greenery, bench for seating with warm blankets makes it real simple, classic and more than ever effective.
Set the Tone
Something that makes first impression on your guests about your wedding is the wedding invitations. Don't leave any details and decorations behind. You must use invitation suite where you could find botanical accents, textured details, and tonal hues like yellow, green, and cooper to make your invitation the best.
Welcome Guests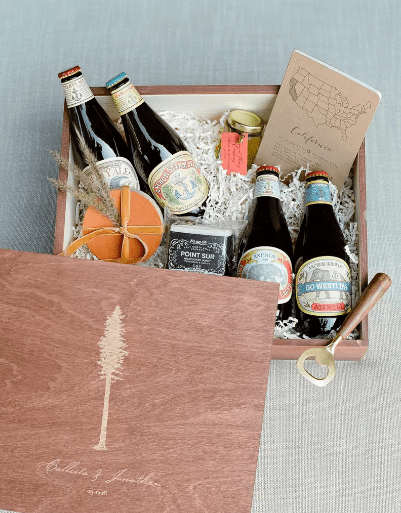 The next thing that you must use to put up more better impression on your guests are the welcome gifts. The first thing that guests prefer when they reach is something to eat and drink and you can surely just focus on these. Take help from the above picture and add some seasonal favorites for your guests.
In addition, except for welcome gifts, you can put thoughts on welcome decorations as well for a more effective reception. While planning a fall wedding, it's important to not only think about decorations for the ceremony, but also for the entrance to the venue. A welcoming arch is a great way to greet guests and set the tone for the event. There are many different styles of arches to choose from, including inflatable arches that can be easily set up and taken down. You can custom inflatables for any event with special messages, with the names of the bride and the groom, or simply have it matched with the overall theme of the wedding. No matter what style you choose, be sure to adorn the arch with autumnal elements like foliage, pumpkins, and gourds. This will give guests a warm and inviting the first impression of your fall wedding.
Showcase Seasonal Blooms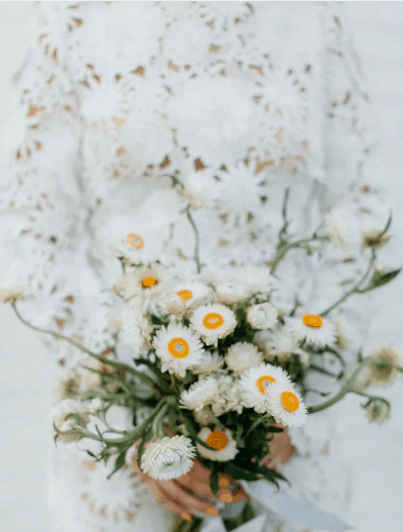 Instead of carrying a bundle full of variety of flowers, have a bundle of single variety of flowers but the one that are seasonal variety. This makes it simple and beautiful too.
Set a Dress Code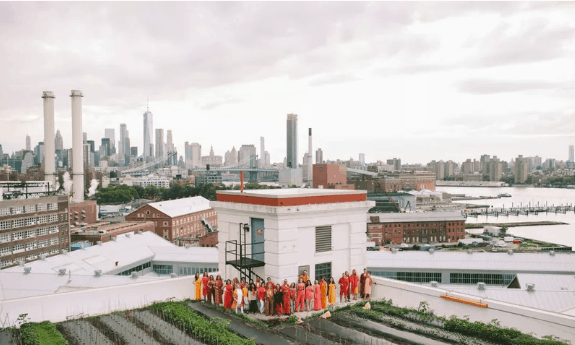 Photos are the most affected by the environment. If you want your photos to be the best with environment, then help your guests as what should they wear for the setting you are going to create. You could choose from a variety of ideas like the dresses to be in the rainbow colors.
Decorate with Branches
Decorations have no limitations, it can go till where you can think. Bring the fall foliage indoor especially where you are gonna say your "I do". Match them with your room colors and setting and have a stunning look all day.
Provide Comfortable Seating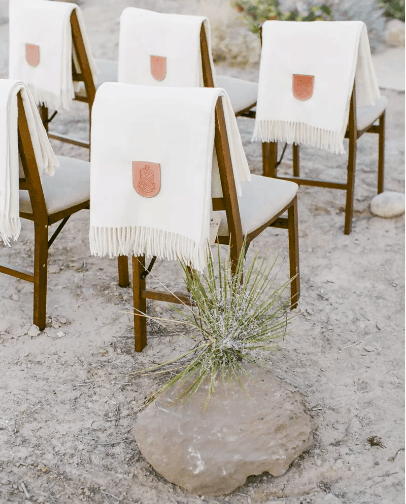 If you think to have an outdoor wedding ceremony make sure you make your guests comfortable by keeping them warm. You can do this arranging cozy blankets and place them at the back of each chair.
Serve Apple Cider
Every wedding has a signature cocktail and your fall wedding must have apple cider. Serve it warm to your guests garnished with cinnamon and rosemary.
Light Sage Bundles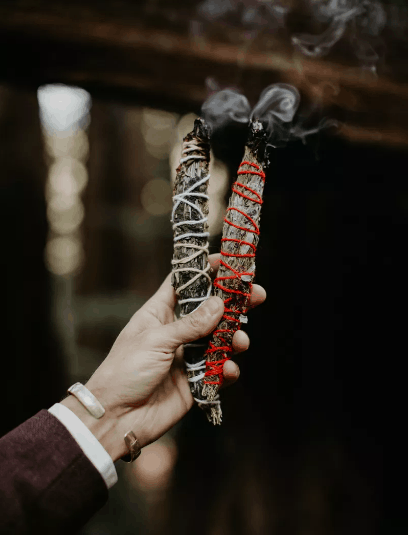 The ritual of burning sage will add a unique and mesmerising touch to your wedding. You could even include crowd just by serving a with a lucky herb.
Write Personalized Thank You Notes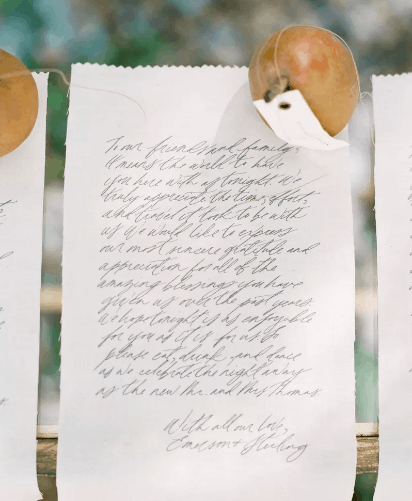 Make calligraphed thanking notes for each of your guests personally. Serve them with a favor like a fruit or something and this will leave a super great impact on all your guests.
Set Up a Lounge
Setting up a lounge could be really nice and comfortable for you cocktail hour. Make your guests gather at the lounge and let them enjoy as they want to. Not only for cocktail hour but you could also do it for relaxing your guests and a bit of chit-chat.
Make the Bar a Focal Point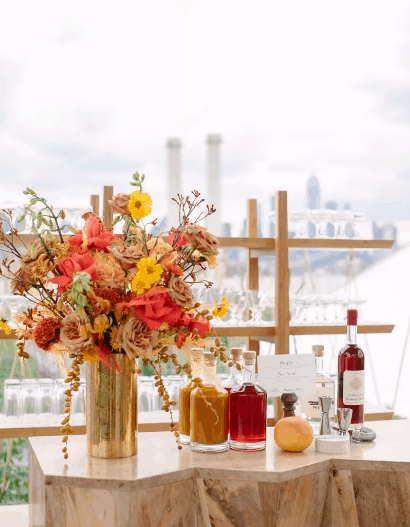 Make your bar so effective by using a combination of light wood and bright blooms. Add cocktails that match your decoration and you could also display ingredients in mini jars to make it more open and attractive.
Incorporate Natural Elements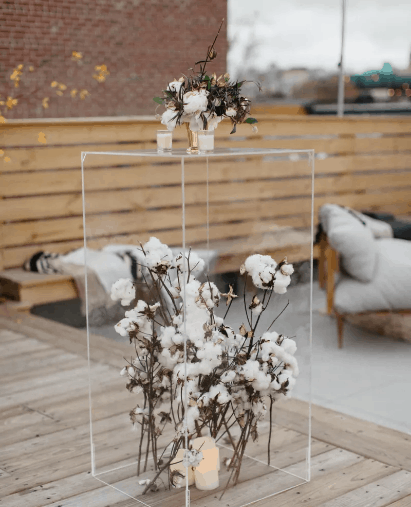 Foliage is not just the natural decoration to add to your wedding. Think of grasses, cotton bundles and even wood. You can use them all for more decor.
Consider Batch Cocktails
Try serving your signature cocktails in batches. This way you can avoid making your guests wait at the bar line. Plus you could even customize these with name and labels.
Add Seasonal Infusions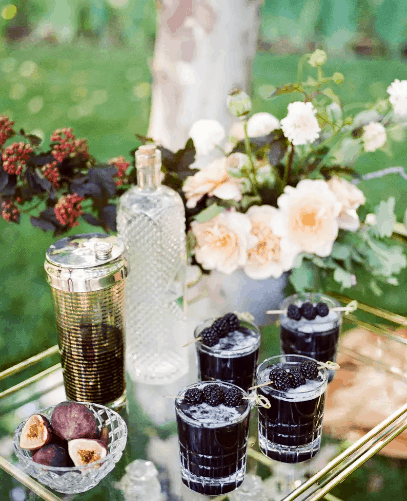 A dark beverage is somewhat moody. Infuse blackberry to your cocktails and this will look like the tastiest drink ever. Plus add apple flavor for a more effective taste.
Showcase Local Brews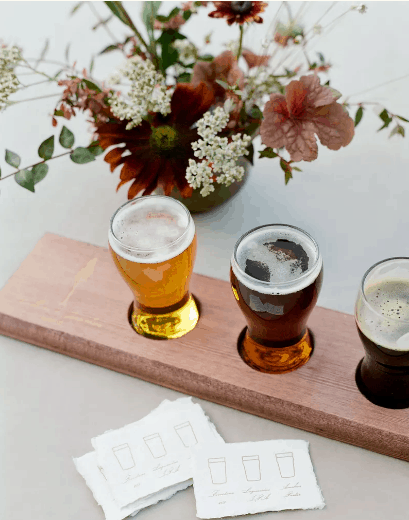 You can take your fall bar to next level by adding seasonal brews to your bar. This can make your bar even more attractive for your guest's.
Do Farm-to-Table—Literally!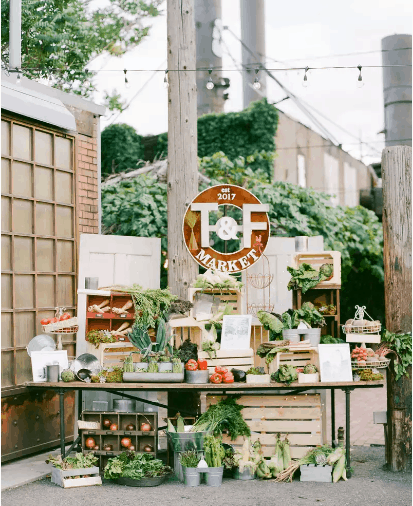 Make a show or display of fram-to-table menu. Arrange your photos and some favors for your guests. This farm-to-table is one of the decorations that attracts most guests and are most of guest's favorites.
Play Games
Arrange some games for your cocktail hour to make it more interesting. Games like connect four and corn hole are most are Great for such cocktail hours.
Think Beyond Paper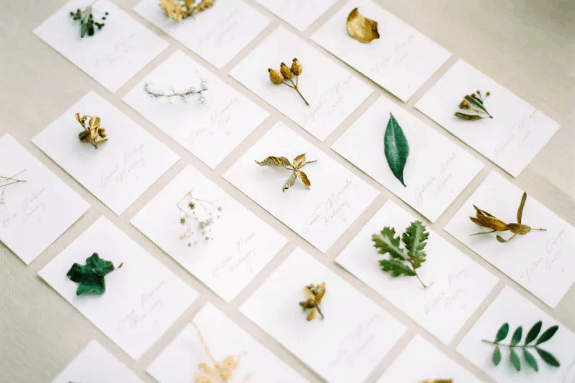 Get creative and think other than paper. You can do this when assigning seats to your guests, use beautiful delicate leaves instead of white papers.
Consider Two-in-One Favors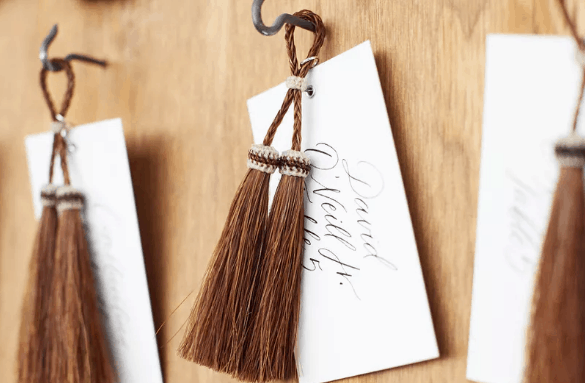 Consider mixing two of your wedding things. You can do this by serving your favors with escort cards.
Make a Statement Entrance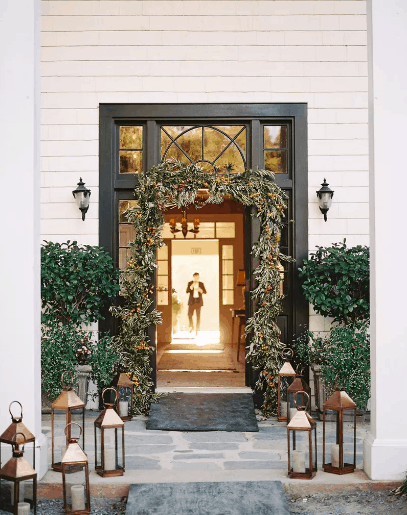 Create a warm vibe at your reception enterance using creative copper lanterns, especially when it gets dark.
Bring the Outdoors Inside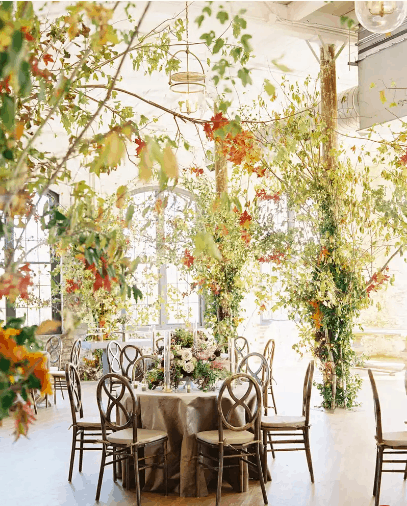 Think creatively to bring nature in from out. As you can see in the picture above, columns fully covered with maple leaves. Copy this idea or make your own creative idea to interact with nature.
Layer with Rugs
It's the layer of rugs below that makes feel like home, makes feel amazing, makes feel unique not the cluster of lights above.
Create a Cozy Setting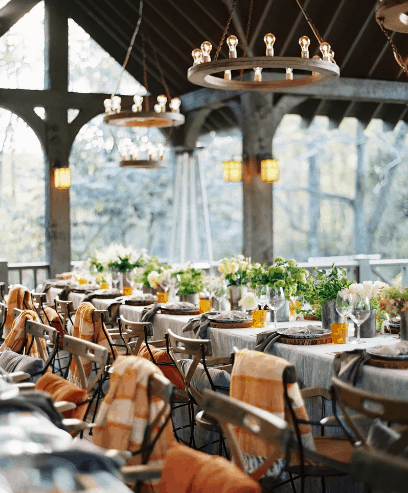 Most of the guests spend most of their time at dinner or on dinning tables. Make everyone comfortable here. Try to arrange ling dinning tables so that a bunch of guests can sit and enjoy together. Decorate your dinning with candlelight and serve your guests with cosy blankets and make them even for comfortable.
Make the Menu Memorable
Don't let the menu stay behind, customize even your wedding food menu. The one from the above picture is so special because it has leather outside and beautiful colors inside.
Play with Produce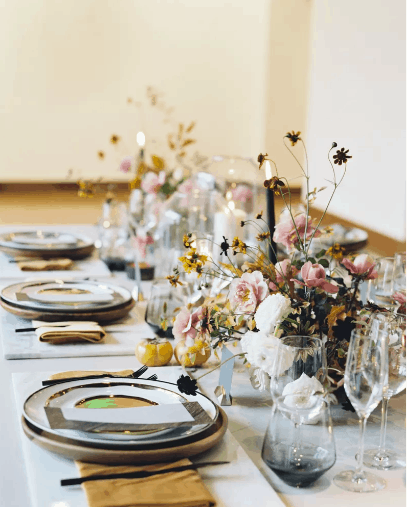 Wedding fall season is always full mixing textures and colors. Look the picture above, mix of blue and yellow with wildflowers and tomatoes, looks great although.
Embrace the Bare Table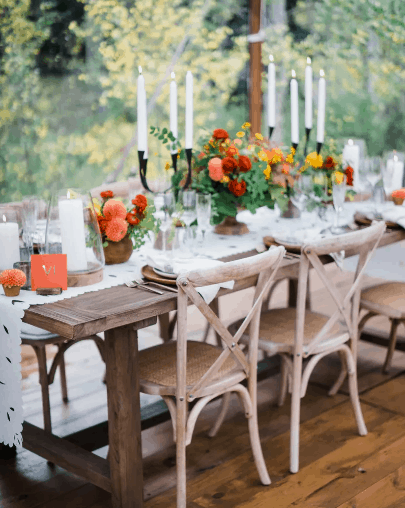 From orange blooms to cross back chairs, every single minute details looks great and gives a feel of fall. The only thing that keeps it all together is the rustic base.
Decorate with Pumpkins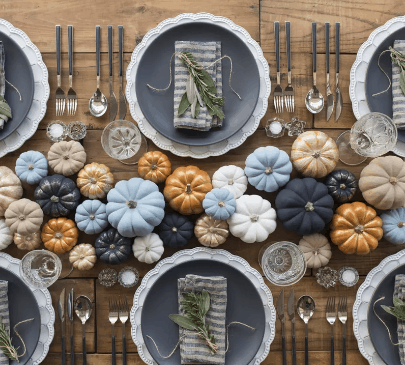 Arrange mini pumpkins over the dinning makes an antique look. Arrange other stuff that matches your pumpkin arrangement.
Incorporate Rustic Accents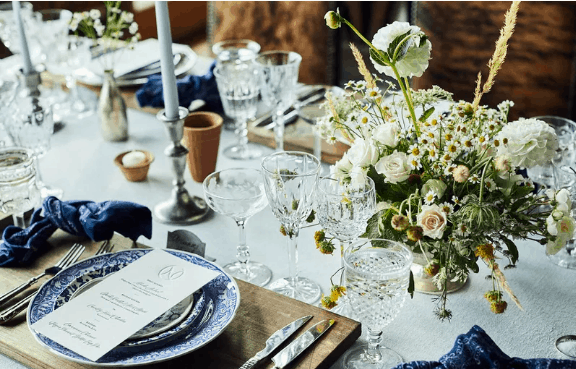 Everything on the table mismatches but still fits best with china wooden chargers and the wildflowers and throws out a vintage look. The knot tied napkins adds a finishing touch to the complete arrangement.
Get Creative With Lighting
Arrange lighting creatively and you will input more luminous effects. In the picture above, they installed hanging bulbs above and used taper candles below them for more luminous effect.
Reinvent the Flower Wall
Your bar is the most famous and most visited spot, make it the focal point. Cover it with something like blooms or dried blooms and branches or even dried florals of your choice.