For our wedding, we had a lot of travelers who were kind enough to take long flights (often cross country!) to be with us for our day. I wish I had thought of this idea back then as a thank you! It also would have been great to have in our room after the wedding – my feet were killing me and I could have used the time to relax! However you use this next project, it'll be fabulous – so on to a vintage apothecary-inspired spa set!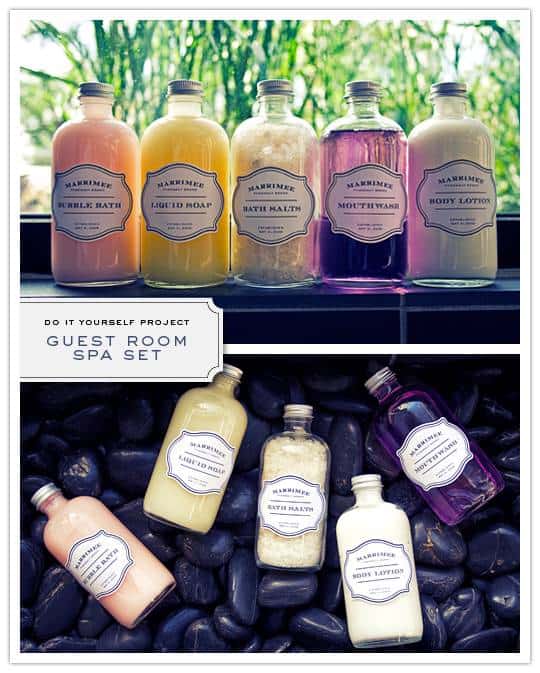 What You Will Need:
Medium-Sized Glass Jars with Caps, like ours  from SKS Bottle (8 ounce size)
Our Apothecary Label PDF (available here)
Good Quality Printer Paper
Double Stick Tape
Scissors
Unopened Brand Name Toiletries
Basket for Display
STEP ONE: For the safety of your guests, take three precautions. Most importantly, sterilize your jars before you transfer any of the products into their jars. If you're unsure of how to do this, there's a good, quick tutorial here. Second, purchase completely unopened product (it seems obvious, but still should be said). Third, try to do this project as close to the use date (in other words, your wedding or event) as possible.
STEP TWO: Open the PDF file provided in Illustrator or Photoshop and under the "established" text, use the Type Tool to add in your event date. If you want to match the font, I chose to write it in Sackers Gothic Light. If you don't want to include this information, you can delete the "established" altogether.
STEP THREE: Print the file and cut the pieces out along the exterior dotted line.
STEP FOUR: Turn the label over and apply double stick tape generously to the back side. I've found the finished piece looks best when I avoid overlapping pieces of tape but still cover well up to the edges. Turn the label right side up and adhere to the vertical center of a sterilized bottle. Press firmly to secure.
STEP FIVE: Carefully pour the correct corresponding toiletry into the bottle. Cover with a cap and tightly screw on.
STEP SIX: Repeat Steps Four and Five with the remaining toiletries.
We're done! Arrange them in a basket and you've got a gorgeous surprise for your out of town guests!