Simple and elegant, colorful and soft, ribbons are an easy (and inexpensive!) way to add personalization, detail, and color to your day. There are some tried and true design ideas such as tying them on chair backs for a pop of color, or playful ribbon wands for when the bride and groom walk the aisle officially as husband and wife. I also am loving some of the new ways to incorporate ribbons – lining the aisles with dramatic loops of color, crafty boutonnieres that last forever, and sweet treat dessert display back drops.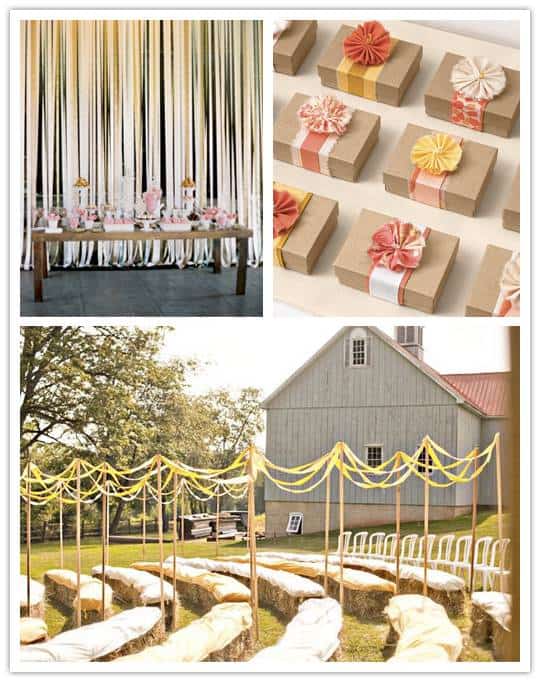 The ribbon arches would make an amazing statement hanging over your aisle, and how amazing is the curtain of ribbon creating a soft sweeping all if color. A great way to divide a large room without using unattractive partitions.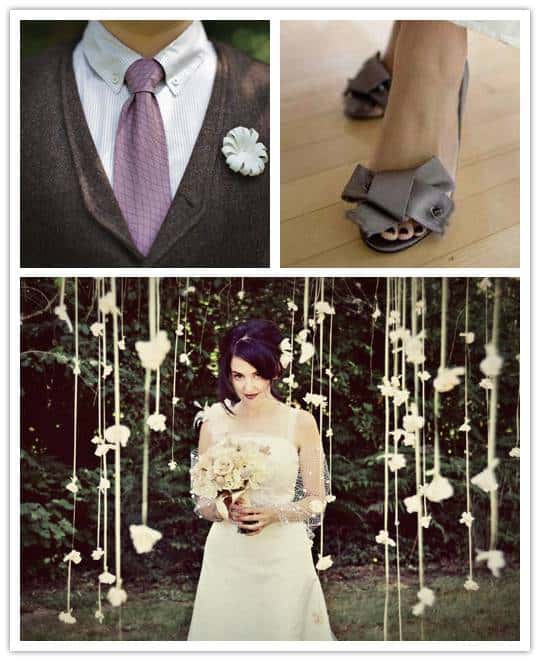 Tthe bow tie shoes had me squealing with joy. Something about gray shoes just does it for me.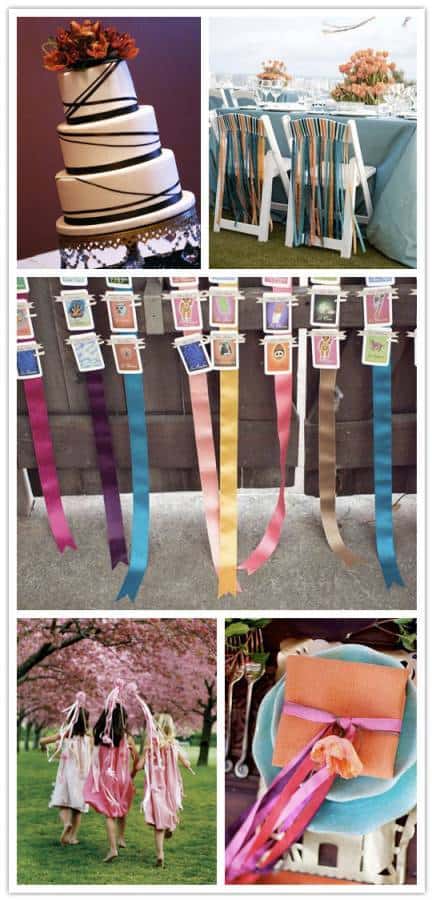 My favorite image here are the bold ribbons on the escort cards. A great neutral backdrop with the bright colors really treats your eyes to all the amazing colors used in the wedding. Ribbons on cakes are another great way to jazz things up without costly sugar flowers. The criss-cross pattern really struck me on this cake – something different that works really well.
Whether using ribbons is a theme you carry throughout your wedding details or by simply adding a few pieces here and there, it can really hold its own as wedding day loveliness!
Images in Series One from Jose Villa for Sitting in a Tree Events, Martha Stewart Weddings, and Love Me Do Photography via Green Wedding Shoes.

Images in Series Two from Kallima Photography via Once Wed and One Love Photo for Sitting in a Tree Events.
Images in Series Three: Cakebug, Libby James, Love Ala via Green Wedding Shoes, Martha Stewart Weddings, and Jamie Hammond via Ruffled.
• • ♥ • •
Trisha Dean is a wedding and event planner in the San Francisco Bay Area. A background in graphic design and corporate event planning led to her love of designing and planning weddings. She is the author of Adore and a contributing blogger to Bay Area Bride Guide in addition to the Inspired Bride. She lives in Walnut Creek, California with her husband, daughter, and two cats.