Would you like to:
a. Get married on Valentine's day?
b. Have your wedding designed by Preston Bailey?
c. Get married in the Empire State Building?
d. Have a wedding at no cost to you?
How about all of the above? One lucky couple will win a dream wedding created by premier wedding designer (and quite frankly, wedding designing ROCK STAR) Preston Bailey. In addition to that, the wedding will take place on Valentine's day, 2013, in the Empire State Building.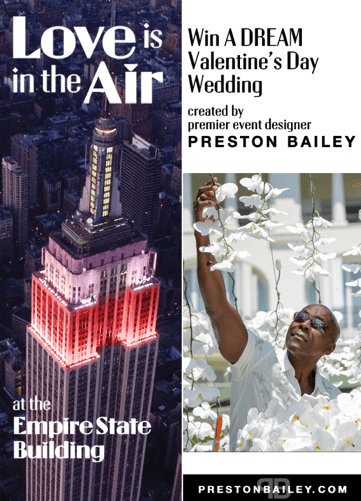 HOW TO WIN:
Here's how you enter. Simply upload a video of you and your future spouse detailing why you deserve to win this amazing Valentine's Day wedding package and post it on the contest Facebook page. The winners will be chosen on or around January 18th, but you only have until January 11th to get your video uploaded.
You can have a custom wedding vow renewal as well, so if you're already married, don't let that stop you! In order to be eligible, your video must be submitted by January 11th, 2013. The entrant and future spouse of the entrant must be a legal resident of the United States and must be 18 years of age or older.
So there you go – make a cute, funny, sweet or sentimental video and get it uploaded for your chance to win this beautiful dream Valentine's Day wedding with designer Preston Bailey.