Click image to enlarge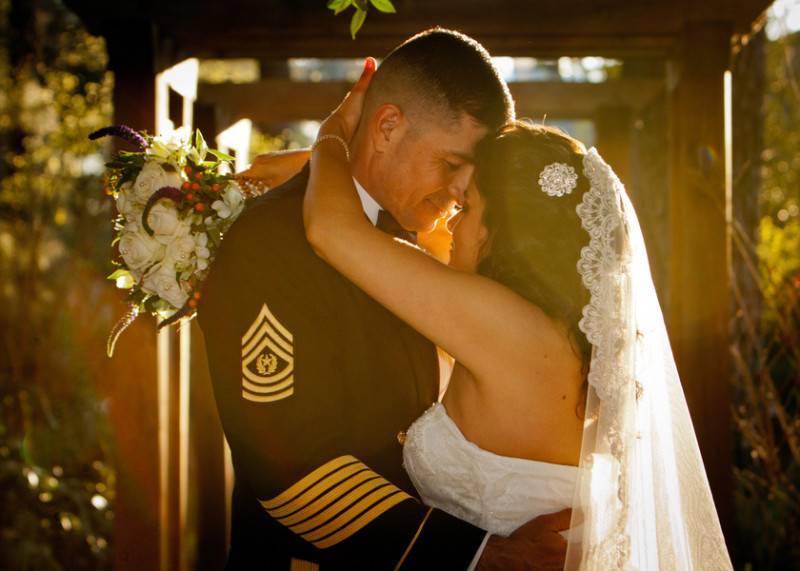 Like. Click to Vote
>
I know what you're thinking. Beyond the navy blues or forest greens, the military is anything but colorful but hey, this isn't your usual run off the mill military wedding but rather an infusion of this highly respected position and the beautiful Hispanic culture. I love how our bride picked the awesome parts of these two and created this totally amazing wedding. From the sword exits to the hacienda inspired decor, there's a variety of details that are sure to tickle your fancy. Very elegant, very military, and very colorful. Congratulations Karina & Roberto on such a beautiful event.
Photographer
The Hispanic couple wanted a romantic  Hacienda inspired themed wedding and reception. The Cape Fear Botanical garden served as the perfect setting and back drop for both. Sitting on seventy sprawling acres the garden houses a beautiful venue known as the Orangery. Massive wood beams, a wood cupola, tile floors and stone fountain are  rich in organic feel.  The bride wanted a blending of their Hispanic heritage and a presence of the grooms position in the military. The couple exited after their vows with a crossing of swords and they were greeted again as they entered the Orangery with another symbolic crossing of swords
Rich hues of burnt orange and sienna were paired with textured fabrics and accented with golds and purple. The rod iron lanterns added additional romance with the flicker of candlelight. The cake was most important as a statement in style of  Mexican folk art and was a focal point for the bride and groom. They selected hand made Mexican tiles for their guests and incorporated ceramic pots with additional favors with served as escort cards. The brides family lent more tradition by making her hand made rosettes for her bouquet and Rosary beads were also added. A Maharachi band was the selection for the ceremony and evening for music. As the night progressed the reception was accented by specialty event lighting with an accent on the Cupola which rises thirty feet above the room. The true feel of a couple that is deeply in love is apparent in all of their photos.
Vendors
Photographer:  Carolina MediaStar
Reception Venue:  Cape Fear Botanical Gardens
Event Designer:  cp ross designs