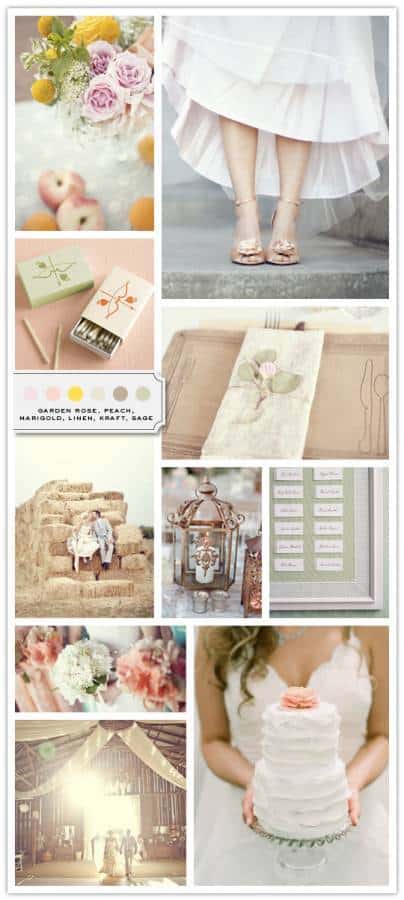 When it is 33 degrees at night in Northern California – it's official – winter has arrived! In keeping with a pastel color theme, I had so much trouble narrowing down the images for this week's post that I decided to throw them all together. I can't get enough of the soft colors of dove gray and pale peach with a few pops of color, be it yellow, fuchsia or bright baby blue. I get the feeling of a cold crisp sunny day, where you can see your breath, and everything is awash in a bright glow. A little ethereal, a little magical, and  perfect for wedding details.
• • ♥ • •
Color Palette Credits:
Floral Centerpiece, Sarah Yates
Bride's Shoes, Sarah Yates
Match Favors (Edited), Martha Stewart Weddings
Place Setting, Sarah Yates
Bride and Groom, Sarah Yates
Lantern, Elizabeth Messina
Escort Cards, Martha Stewart Weddings
Bouquets, Sarah Yates
Cake, Elizabeth Messina
Venue and Venue Decor, Sarah Yates
• • ♥ • •
Trisha Dean is a wedding and event planner in the San Francisco Bay Area. A background in graphic design and corporate event planning led to her love of designing and planning weddings. She is the author of Adore and a contributing blogger to Bay Area Bride Guide in addition to the Inspired Bride. She lives in Walnut Creek, California with her husband, daughter, and two cats.