"Classic with a Bit of Rustic" indeed. This wedding was elegantly styled but we did not miss out on some lovely rustic touches like their cute ring bearers' outfit and the reception cake's design. Our bride emphasized on the event being clean as to not divert anyone's attention from the true focus of the day. Sometimes, we can drown in too many details, designs, and DIY projects and I'm not saying that it's a bad thing to be artistic and creative because weddings should reflect the personality of the bride and groom, but truly the focus of everyone you've shared your special day with should be on your celebration of marriage and sometimes, that itself is more than enough to make for a perfect event – just like this feature. Congratulations Heather & Steven!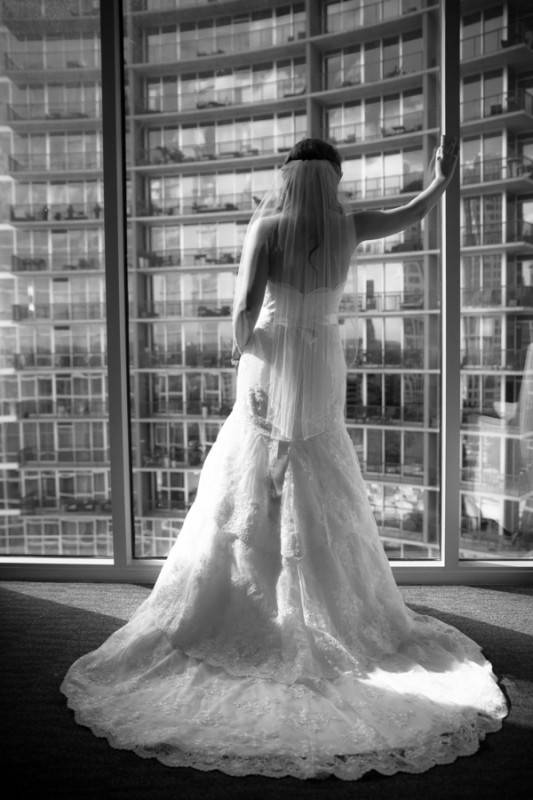 Here's what our bride shared with us on their love story and pre-wedding planning…
What is your story as a couple, how did you meet & fall in love?
Steven and I met playing in a co-ed adult soccer league in Atlanta. Steven was always extremely funny and charming after games, so I obviously took notice – and Steven certainly took notice of me. Steven asked me out after 6 months of dragging his feet, and I could not resist. For our first date, we went to Whole World Theatre, an improvisational comedy club in midtown – we had a wonderful time, even though the jokes weren't quite as good as Steven's! We started dating, and the rest is history.
What makes the two of you a perfect match?
We are the perfect match because we love and support each other, make each other laugh, and feel like everything is better with one another around!
How did he (or you) propose?
Steven and I were driving from Atlanta to Virginia Beach to visit his family for Christmas. On the way he surprised me and took a detour to his family's beach house at the Outer Banks – I had never been, and Steven always talked about how it was his favorite place in the world. After dinner we went back to the house and we were sitting on the deck looking at the stars and he was telling me stories about his wonderful childhood memories. After some very sweet words he got down on one knee and proposed. The rest is history!
How long was the planning process? Did you think it was enough time?
We planned our wedding in about nine months. I thought that this was plenty of time, but I also had a lot of help and support from my husband!
What was the best advice you received when you were planning your wedding?
The best advice I received when planning the wedding was to enjoy the moment. At times it is hard to do, but it is so important. The wedding truly does fly by, so it is important to enjoy every moment of the planning process (even the hard times) because it makes the wedding day so much more special!
What inspired your wedding décor? Why did you choose the things that you did?
We both are pretty simple people, so we went for a clean and elegant look. We wanted everything to look clean and not distract from the evening so we chose a very neutral color for the bridesmaids and used only white flowers.
How many guests were invited in your wedding and what was the final guest count?
We invited about 225 guests to the wedding, but we ended up with a guest count of about 160.
How did you narrow down your list?
We both have large families, so we invited all family. We then picked our closest friends and family friends to attend the wedding. We tried to keep in mind that this is a very special and sacred moment for us, so we really only wanted to share it with people that were important to us.
What songs did you use during the ceremony?
We did not use a lot of music during the ceremony, but me and my Dad walked down the isle to an instrumental version of Train's "Marry Me". After the ceremony we wanted to lighten the mood, so we recessed to Imagine Dragon's "Best Day of My Life".
Where did you go on your honeymoon?
We went to St. Lucia and stayed at the Sandal La Toc resort.
What are you most excited about for the future?
We are most excited about getting to spend the rest of our lives with our best friend!
Do you have advice for couples still in the planning process?
We would recommend for couples to enjoy the planning process. It can be stressful and it is easy to get caught up in the small issues that may pop up along the way, but try to keep everything in perspective- after all it is all about getting to marry the person you love!
What inspired the wedding day outfits?
Steven was very helpful in making all of the wedding decisions, but he really wanted to to take charge of the outfits for all of the guys. Steven picked a very classic black shawl collared tuxedo from J Crew for himself – it fit him perfect and fit the elegant and simple theme of the wedding. His groomsmen all purchased black tuxedos from K&G warehouse- they were classic and looked great on all of the guys.
I knew I wanted a simple and elegant dress. I always imagined myself getting married in lace, so when the bridal consultant brought in my Tara Keely gown I fell in love! It was simple, classic and little bit different with the lace layers toward the bottom of the dress! The bridesmaids wore very light mocha colored dresses that were flattering and looked fabulous with their baby's breath bouquets!
What was your favorite part of the day?
The best part of the day was seeing each other for the first time when I walked down the aisle. Even though waiting to see each other at the ceremony made the logistics of taking photographs a little more difficult, we wouldn't change it for the world – it was such a special moment for us.
Was there any Do it Yourself (DIY) projects? If so, can you describe them in detail?
We had several DIY projects at the wedding. I mad a "here comes the bride" sign for our nephew to carry down the isle. I also made Mr. and Mrs. signs to hang on our chairs during the ceremony. All of the supplies for these projects came from Michaels. Steven and I built a room divider out of wood and chicken wire. I then decorated it with ivy and baby's breath and we used it to display our engagement photos and the table numbers for each guest's seat assignment. Lastly, several of my girlfriends and I got together and made pretzel sticks into bride and grooms as a favor for all of the guests – it was a fun activity for us to do together!
What were the highlights from the ceremony & reception?
One of the highlights of the ceremony was our nephews walking down the isle as the ring bearers- our youngest nephew got about five feet from the alter and threw the pillow at the best man! All of the guests had a good laugh! The speeches from my Dad, the matron/maid of honor (my sisters) and the best man (Steven's brother) were definitely highlights for us – they all did wonderful and gave very heartfelt and touching speeches.
Was there a theme for the ceremony and reception?
We did not really have specific theme for the ceremony- we really just went for a very elegant and clean look with rustic touches.
What part of the ceremonies do you think was the most memorable for you? Your guests?
The most memorable part of the ceremony as seeing each other for the first time when I walked down the aisle. Time honestly froze and we were both just in the moment with one another. I think the most memorable part of the ceremony for the guests was most likely when we recited our personally written vows to one another.
#happilyevernugent
Vendors
Photographer:  Chil Studios
DJ:  Black Tie Events Inc.
Makeup Artist:  Brushworx
Hair Stylist:  Brushworx On Location
Bridesmaid Dresses:  J Crew Bridal
Caterer:  Piedmont Room