Simple and elegant was the main style in Timothy and Courtney's wedding. They truly got what they wanted: a theme to represent the two of them – beautiful and sweet. The colors pink and khaki are a perfect match to represent that. This is also an inspiration to other couples that simplicity doesn't always mean plain. Sometimes, it could be even more. And how cute their story is – from childhood friends to husband and wife. Read on to know more about that from Courtney!
Click image to enlarge
36

Like. Click to Vote
>

Our Story:
My grandmother lived next door to Timothy's father when we were growing up, so we were childhood friends. Over the years, we lost touch, and then Timothy got a job at the same place that I was employed at. We quickly rekindled our friendship, and a few months later he asked me to go to a George Strait concert with him. That first date he swept me off my feet, and three years later, he still hasn't put me down.
We Are A Perfect Match:
Timothy can always put a smile on my face, and we understand each other. He is the most spontaneous person in the world and loves to surprise me. We are both huge communicators, and tell each other everything so that we can remain on the same page. Most importantly he's my Best Friend.
The Proposal:
My grandmother was diagnosed with Cancer back in 2012. In the winter of 2013 we knew that she had gotten worse, and Timothy knew that it was my grandmother's wish to see me get married before she passed away. We planned to go to a Bridal show in Macon, Georgia so that we could look at different vendors in case we needed to plan something quick. When we arrived at the Blacksmith Shop Timothy dropped to one knee, and asked me to spend the rest of my life with him. The best part of it all was that he went to see my grandmother before, and asked for her permission, as well as showed her the ring! The fact that he knew how important it was to me that she was included in everything meant the world to me.
The Planning:
We got engaged in November of 2013, and we got married in August of 2014. We had roughly nine months to plan, and although it was stressful I think that it was just enough time to get everything perfect enough for our Special Day! What was the best advice you received when you were planning your wedding? The best advice that Timothy and I received was that your wedding day will be the best day of your life no matter how much money that you spend on it. The point is that you're marrying your Best Friend, and that will make the day perfect regardless of anything else.
Tips And Tricks For Future Brides:
I learned that the sentimental things were what ended up being the most important. We made a Memorial table with pictures of our loved ones that had passed away, and I got my Grandmother's name stitched underneath my dress as my "Something Blue." Those made the best pictures and meant the most to us after everything was over.
The Challenges We Faced:
My Husband and I sat down together and discussed our budget for the wedding since we were the ones paying for it. Of course, we ran into things that we wanted to have, but knew that we couldn't do it because of our budget. When this would happen, we would think of something meaningful that we could add in place of it that wouldn't cost as much, but would still accommodate what we were originally going for.
Wedding Decor Inspiration:
My Husband and I both wanted decorations that were simple, but would look elegant, so I found glass centerpieces with pink kissing balls to go on the top of them. We also lined the aisles for the ceremony with rose petals and had vases with lighted branches. Since our wedding was in the evening, our decorations made our venue look even more beautiful, and our entire theme couldn't have fit us any better.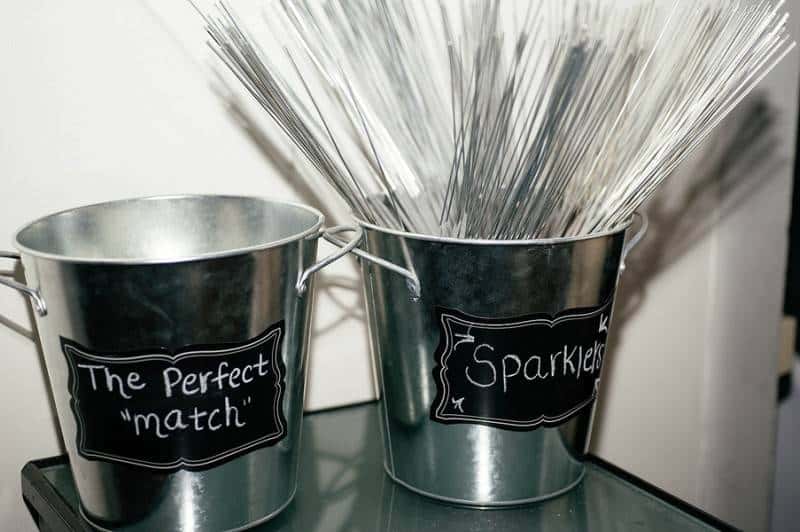 The Wedding Budget:
We saved the most money on our decorations.
The Biggest Expense:
Our biggest expense was my wedding dress and the catering.
The Number of Guests:
We invited over 260 people, and the final guest count ended up being around 215 people.
We Narrowed It Down:
Our list only consisted of family and close friends. If we hadn't spoken to someone in over a year, we didn't include them on the list.
The Songs:
Keith Urban's "Only You Can Love Me This Way" was played for the Processional. For my entrance, they played Chantal Kreviazuks "Feels Like Home" which turned out to be the perfect song for that moment.
The Honeymoon:
Timothy and I went to Las Vegas for five days for our honeymoon.
We Are Excited About:
We both love to travel, so I look forward to making memories all around the world. I'm excited to see where life takes us, and I love knowing that no matter what he is the one that I get to share it with.
Advice For the Couples:
Try your best not to stress yourself out too much. Trust me, this day is very important, but remember this day is about you and your other half. As long as y'all are happy, that's all that matters.
Favorite Part of The Day:
When the doors to our Ceremony room opened, and I seen Timothy standing at the end of the aisle. He immediately started crying when he seen me, and it was one of the best memories of that entire day because his face said it all.
The Highlights From The Ceremony & Reception:
During the ceremony, we chose to do our vows, which was much more meaningful. At the end of the reception we chose to do sparklers as we left, and they looked awesome in our pictures.
Memorable Moment:
I think the most memorable moment was when Timothy and I read our own vows to each other. Everyone commented on how much they loved that we chose to do that.
VENDORS
Photographer: Ross Goodman Photography
Reception Venue: Gallery 51