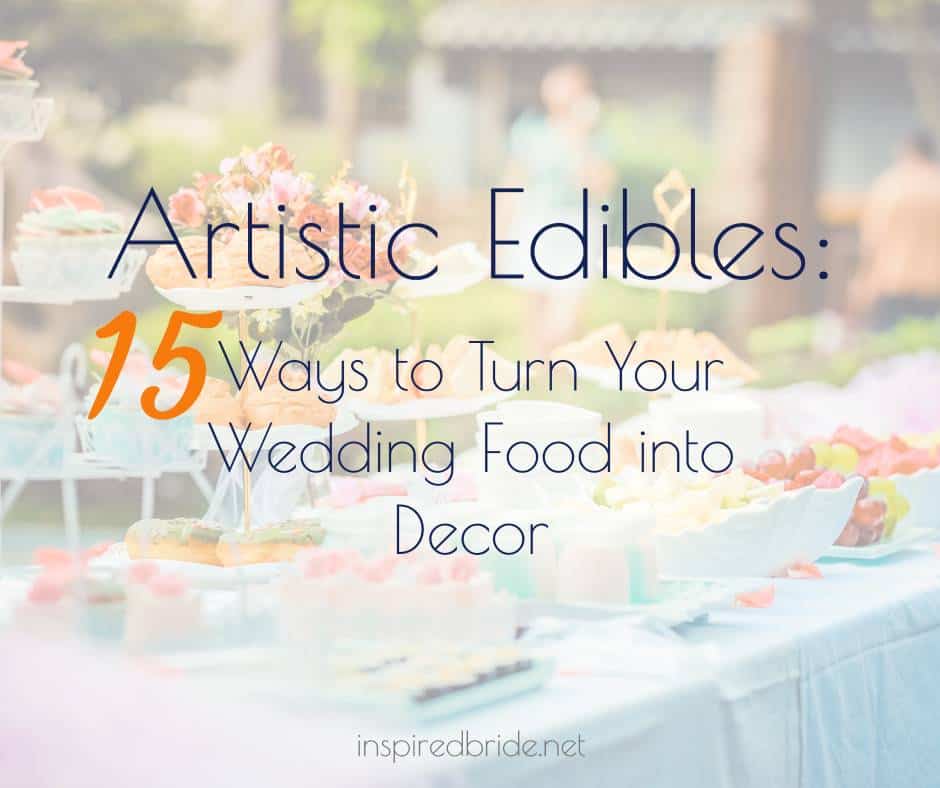 Food is a central focus in most wedding receptions. Guests love to nibble while they gab and celebrate. It's possible to be creative with your food display, so that the edibles become part of your wedding decor. Here are some ideas to get you started! Let these ideas give you the inspiration for your own beautiful wedding decor — whether it's healthy, crunchy, sticky or sweet! Some of these ideas are DIY friendly, while others could be delegated to your catering team.
1. Donut Wall for Your 'I Dos'
Donuts lend themselves to a wall display, because they have perfect little holes to hang upon! A wall with pegs on it will make the perfect backdrop for these colorful treats. Guests will surely get a kick out of your creativity — and they might get a sugar rush, as well! Another alternative is to display colorful donuts on a dessert table.
2. Shelves on Display
For a classy, chic look, put some aesthetically pleasing apps on sets of modern shelving. The colorful apps look like artwork while on display. Little tea lights can add a touch of elegance.
3. Hanging Treats
Hang food from copper pipes, dowels, or organically curving tree branches for a sculptural display! We've seen hanging strawberries, pretzels, and chocolates. What else could you hang? This look brings vertical rise to your food display, which can help break things up if lots of your decorations are at the same eye level.
4. Canoe For Beverages
Source: boho-weddings.comMaybe you've had a beer in a canoe before, but have you ever seen a canoe full of beer? If you're having a rustic, country wedding, or a reception by a lake, this could reinforce your theme in a charming way.
5. Ladder of Goodies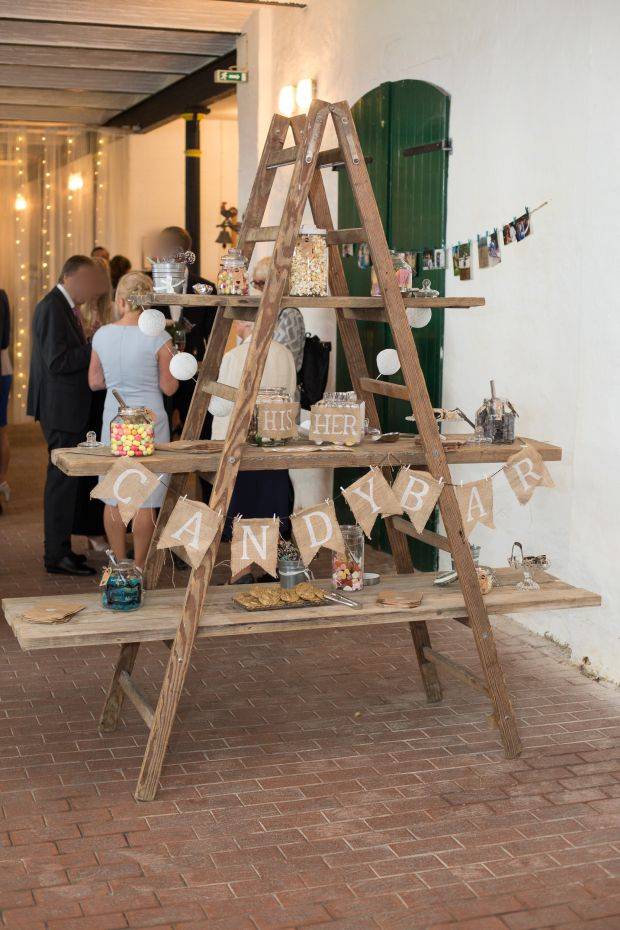 Again. this look adds height to your food display. When you're decorating your venue space, it's good to think about having interesting visuals on different levels. Place boards on the ladder rungs, decreasing in length from bottom to top. You could set up champagne glasses, wine glasses, a candy bar, or appetizers on the ladder shelves.
6. Rustic Barrel Shelf
Props are a fun way to create mood at your ceremony or reception. Rustic wooden barrels could be a wonderful addition to a vineyard wedding, an orchard wedding, or a farm wedding. Give the venue a country feel by creating a table top between two barrels. You could use this as your bar, or for a buffet table.
7. Wagon for a Country Wedding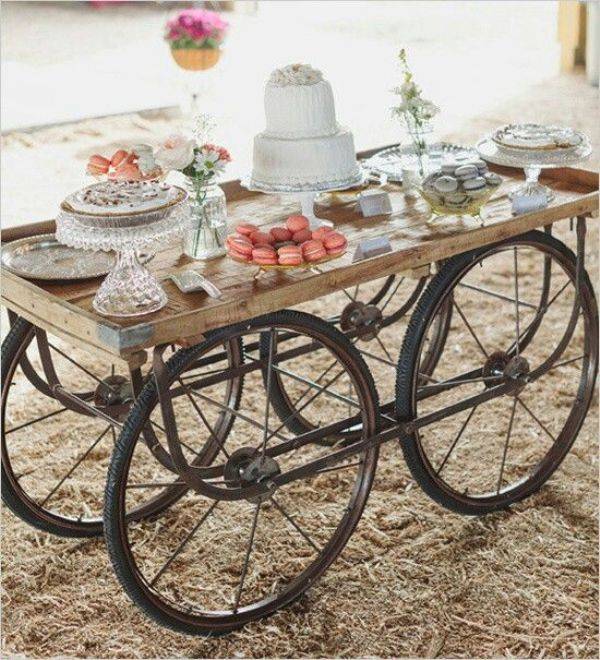 Another great prop for country weddings is a wagon. Use the platform of an antique wagon as a table to display food on. Instead of just being functional, your "table" will become an eye-catching decor item when people walk into the room.
8. Furniture with Drawers — Desk or Dresser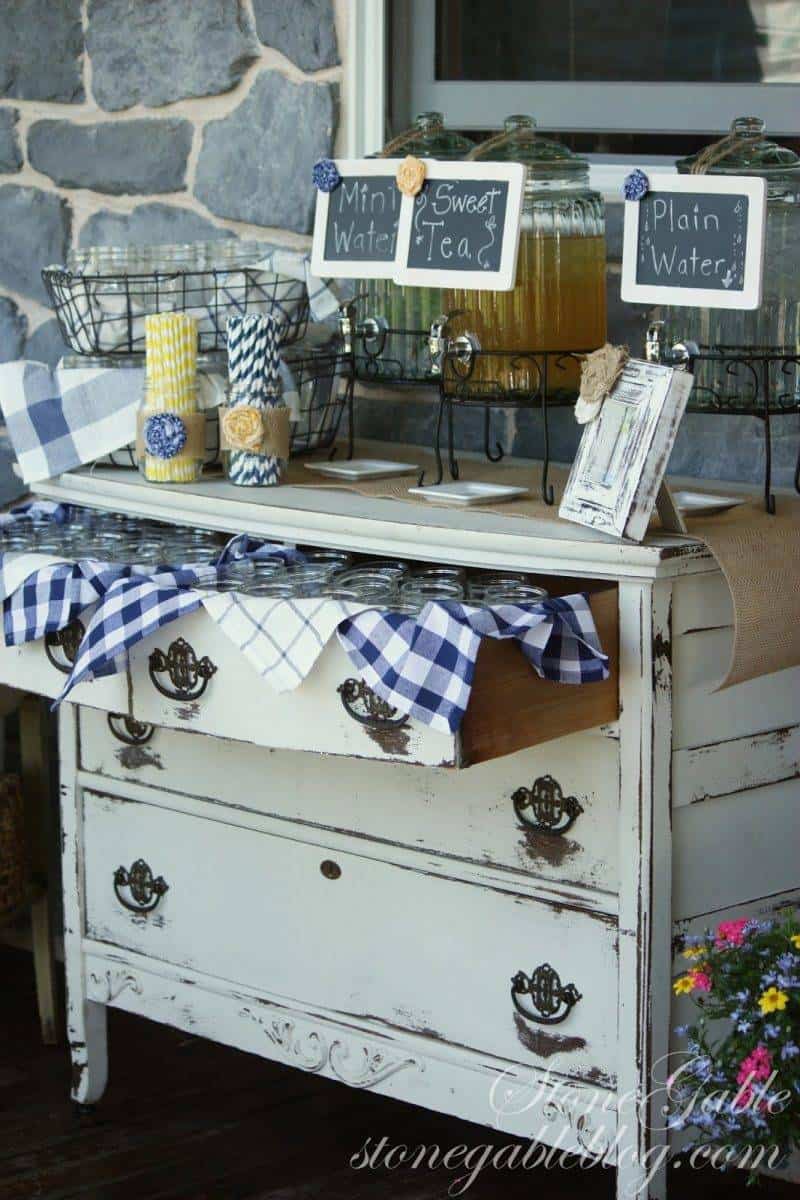 It's fun to display food on desks or dressers, because the drawers can be pulled part way out, to add more shelving. Use vintage furniture, pretty table cloths, and chalkboard signs to create a french-countryside or vintage vibe.
9. Three Tiers to Level Up
Use tiered platforms to give your food display a little extra style. The tiers could be build from ice, wood, or metal trays. This transforms your edible offerings into eye-candy, giving guests something fun to look at while they nosh!
10. Wooden Boxes for a Boost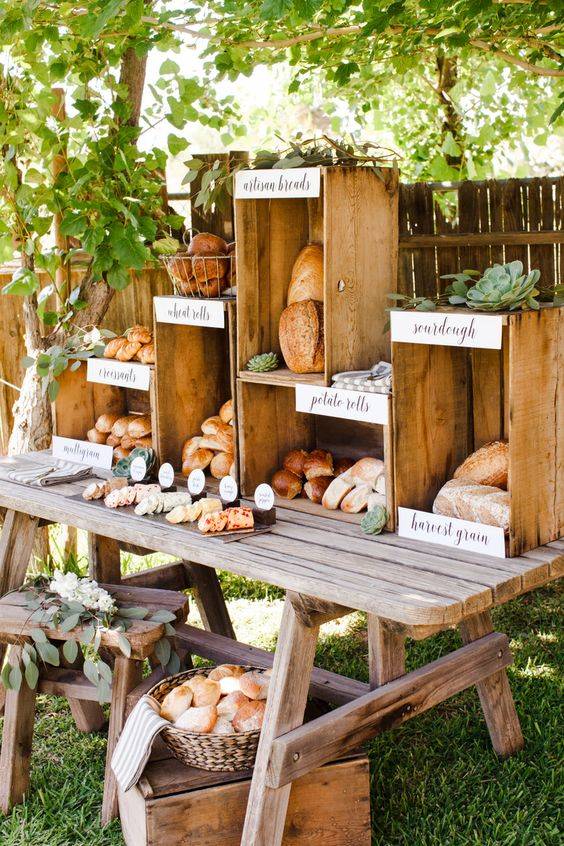 Pair wooden boxes with a weathered, wooden picnic table for a sweet and simple display. Place pretty scripted signs on each box, announcing what's inside.  The picture above shows that you can even put a few boxes on the ground, and place baskets on top.
11. Wooden Circle Platforms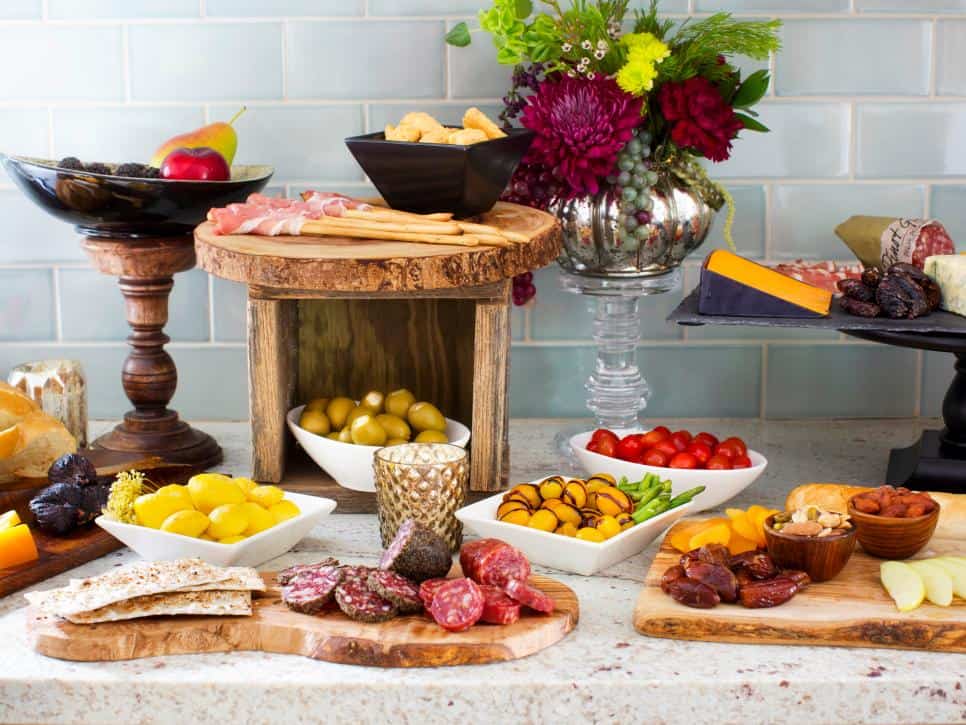 Instead of plates or platters, how about placing food on wooden disks? If you want to emphasize nature or woodland magic in your decor, this is an easy way to include your food display. Make sure the disks are visible by placing them at different levels. Some can be up on stands, and some flat on the table.
12. Chalkboard Menu Table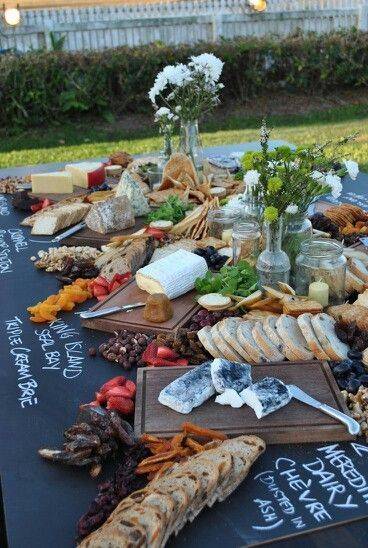 Instead of a table, you can use a chalkboard! This provides the perfect space for artistic labels, and gives the display a quirky, playful feel. I love the idea of writing a message from the bride and groom on the table. You could inform guests of the ingredients, give dish titles, or even give instructional information, like which cheese or chocolate to pair with certain wines. It's  a great way to communicate with guests, and give your buffet table some artistic flair.
13. Rainbow of Colors: Fruits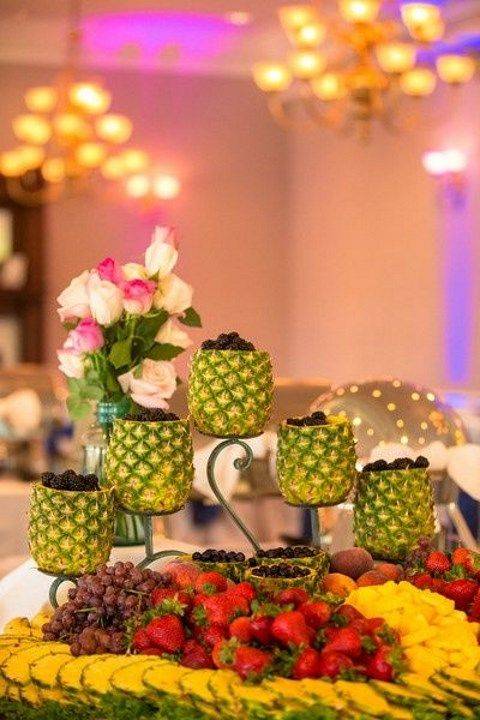 Have you ever noticed how many beautiful colors are present in a platter of fruit? Use this to your advantage! Include your food in your color scheme. For a splash of sunshine yellow, feature bright slices of pineapple. If you need more pink, think watermelon.  Hollow out a melon or pineapple, and use it as a bowl for berries or grapes. The options are endless!
14. Rainbow of Colors: Veggies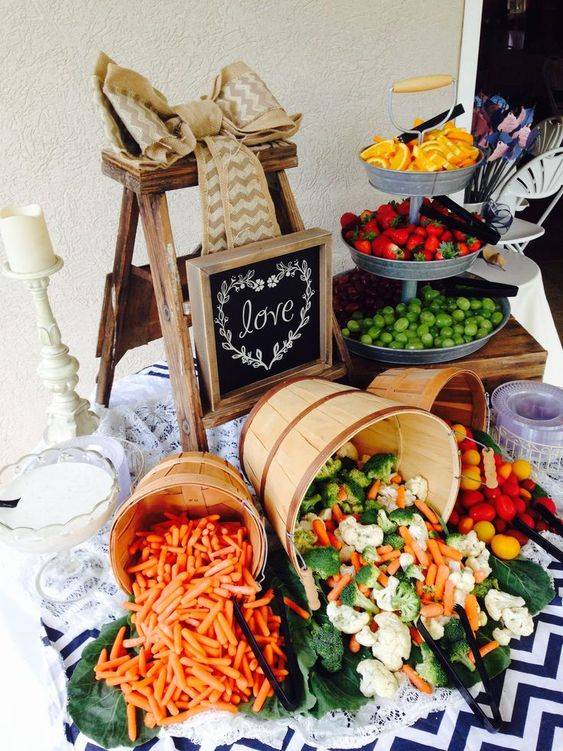 Veggies are another abundant source of bright colors. Orange carrots, bright red tomatoes, and vibrant green beans can add a splash of color to your reception venue, if they're displayed right. Fan out sliced veggies or let them spill from baskets, as in the photo above. Try using local veggies, sourced from a farm or garden in your area.
15. Sculpted to Sweet Perfection
Food sculptures are another fun option for wedding decor. When it comes to food sculptures, think about color and form. If your wedding modern and minimalist, a sculpture with clean lines, in a simple, geometric shape might be best.
I hope that you found these food display options inspiring! Are you feeling excited about including your wedding food in your decorations scheme? You can use props, like a canoe, barrel, or wagon to reinforce your decor theme. Or, add a splash of color with vibrant fruits or veggies. Food sculptures, classy shelves, and wall displays are sure to catch your guests attention!  If you're feeling inspired, let us know! Drop a comment below that says your wedding theme, and how you plan on using edible decor. We can't wait to hear from you!