Click image to enlarge
Like. Click to Vote
>
The use of the rich colors of autumn were so elegant in this wedding. The scarlet and orange really helped brought out the beauty in everyone and everything. The bridesmaids wore red dresses in varying styles that complemented them. The cake, which was already beautiful in it's simplicity, was adorned with red roses and I'm truly in love with it. It's an embodiment of the saying that less is more. The gallant use of flowers as decorations in this event was an interesting touch to the seasonal theme the color palette was based on. Flowers are usually associated with spring so it's nice to see fall and blooms together in one place. Anyway, congratulations on such a beautiful wedding Rachael & Thomas!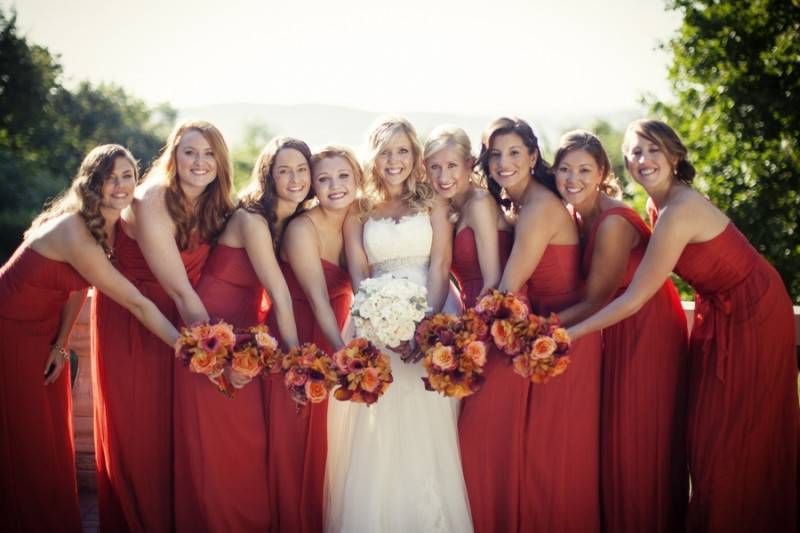 Bride
What is your story as a couple, how did you meet & fall in love?
We actually met in Boston while we were both in college. We went to different schools, but lived in the same building. We lived a floor apart, but were smitten at first sight. Seven years later, we got married.
What makes the two of you a perfect match?
We compliment each other. He's more laid back and funny, whereas I'm a little more serious. He brings out the fun in me and I bring him back to reality when needed!
How did he (or you) propose?
He proposed on 11/11/11. He told me he made reservations at some new restaurant in Williamsburg, Brooklyn. When we got to this "new" place, it was actually not a restaurant, but a pier overlooking the NYC skyline. He got down on one knee and proposed. I was so shocked, and freezing since it was November, that I made him ask me again! He did. I said yes!
How long was the planning process? Did you think it was enough time?
We planned from November 2011 until our wedding on September 21, 2012. It was more than enough time!
What was the best advice you received when you were planning your wedding?
"Elope!" Just kidding. It was to not sweat the small stuff. The day will be amazing no matter what, and nobody will notice if it doesn't. The focus should be on the life you are starting with your partner, and not on the day itself. Great advice.
What tips & tricks (can we use "hacks"?) can you share future brides that you yourself have learned during and after your wedding?
Make a vendor one-sheet of all day-of contacts and make a timeline for the day! Make sure to SHARE this with anyone involved in the wedding…vendors, bridal parties, family, etc.
What were some challenges you faced while planning your wedding & what did you do to address them?
Trying to manage expectations of those involved in the wedding (ahem, my mother) and what we wanted our day to be as the bride/groom. We just had to draw a line in the sand and ask that people respect our wishes.

Vendors
Photographer:  Bright Bird Photography
Shoes:  Badgley Mischka
Floral Designer:  Forever In Bloom
Invitation Designer:  Lion in the Sun
Hair Stylist:  Styles On B
Dress Store:  The White Gown
Reception Venue:  Tappan Hill Mansion