From a blind date to marriage, today's couple sure has a good tale to tell.  Everything was worth swooning over – from the thrilling proposal to a concert like wedding.  The venue was stunning and iconic as many famous bands have graced its stage. Elegant and fun is how I would describe their theme, and I love how they went along with it. See what I mean by browsing the gallery!
Click image to enlarge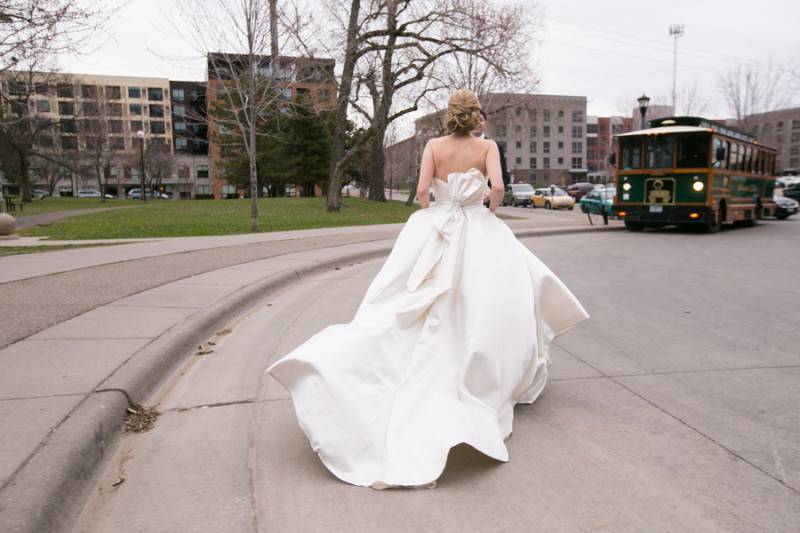 Like. Click to Vote
>
Our Story:
We were set-up on a "double blind date" right before Thanksgiving in 2010. Taylor's then-roommate Lauren introduced her to her friend, Alexandra, and after Taylor and Alexandra got talking, they agreed to meet at a bar in Cambridge and each bring an eligible guy they weren't interested in dating the following week. Taylor brought her close friend from college (Ross), and Alexandra brought along her second cousin (Leigh). We both went into the date with low expectations (our previous blind dates had almost always ended in disaster), but even before the night was over, we knew that we wanted to see each other again. While dating over the course of the following year, we both lived in Boston and during weekends and vacations we skied in New Hampshire, traveled to Montreal, Martha's Vineyard, Minnesota, Wisconsin, Chicago, New York, and Australia and fell in love the whole way through.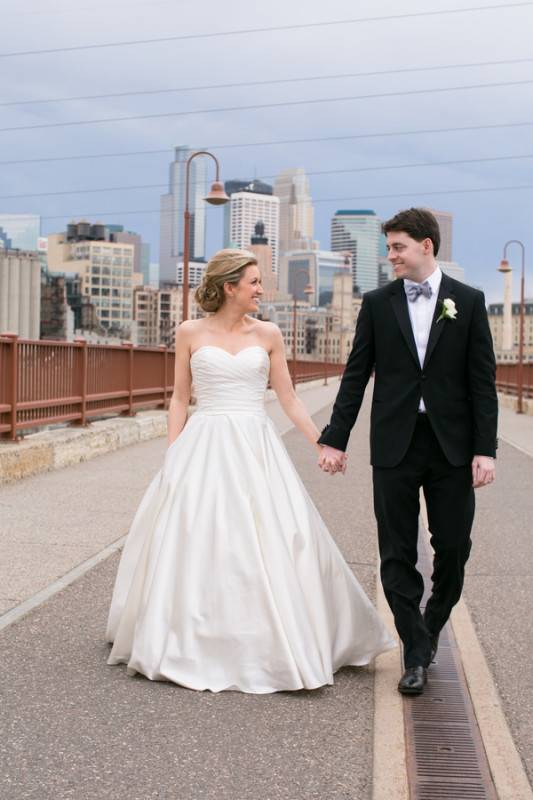 The Proposal:
The entire day of the proposal, I kept trying to sneak away to coordinate with the restaurant and finish preparing my speech. So that Taylor wouldn't become suspicious, I told her that I wasn't feeling well and needed some time upstairs to rest. This brilliant plan was almost my undoing, however, when, right before we were to leave for dinner, Taylor thoughtfully stated that perhaps our dinner plans were "too much" and we should stay home and "get some rest." After deftly sidestepping this issue with the can't-miss "we deserve a night out" argument, I was confronted with another problem after arriving at the restaurant: Taylor wasn't sure that she wanted to order oysters (her favorite food!). The plan called for the engagement ring to arrive in an oyster shell, so I was required (while hiding my desperation) to promote oysters like a Washington D.C. lobbyist for 5 minutes. At last, when we settled on oysters, I headed to the "bathroom" and dropped off the ring and my camera with the 19-year-old hostess who promised to safeguard the ring until the manager of the restaurant could place it into one of the oyster shells. The hostess explained, however, when I asked her to photograph the impending big moment that she "wasn't really good at that sort of thing." I informed her, abruptly, that she needed only to point-and-click and that any further refusal would be very, very bad for her and her entire family. At that point, she decided that she could help out. Finally, the oysters arrived. The stress of the day melted away instantly when I saw the expression on Taylor's face as she noticed the ring. I will never forget the moment when she said YES!
The Planning Processes:
The planning process was just under a year and a half. That was a little longer than we hoped for, but since the wedding was in Minneapolis, Minnesota (Taylor's hometown) and wedding guests were coming from Australia (where half of Leigh's family lives), The Netherlands, Florida, California, Nevada, Washington, Illinois, New Hampshire, New York, Connecticut, Pennsylvania, and Boston (where the other half of Leigh's family lives), we wanted to give everyone ample time to plan their travel. Since we got engaged at the end of October 2012 and we wanted our wedding to take place after Minnesota's winter was over, that meant that April 2014 was the earliest we could schedule the wedding.
Best Wedding Advice:
Invest in what's important to you. Leigh and I wanted to prioritize the band (we love to dance and wanted our guests to as well), the open bar (with good wine), the photographer (with family and friends living across the globe, we knew this was possibly the only day in our lives we'd all be together), the open bar (with good wine) and the food, so we spent the bulk of our budget on those elements. To save money, we booked the church for the weekend after Easter so it would already be decorated with flowers (eliminating that expense), selected a venue that allowed and provided candles (so we could use lighting for decoration and drama) and made the rest of the table decorations with empty wine bottles and lanterns borrowed from a friend. In the end, we spent less than 1% of the wedding budget on flowers and decorations which allowed us to invest in what we thought our guests would enjoy the most (band./bar/food/transportation) and what was most important to us (photography plus all of the above).
Wedding Decor inspiration
We wanted to balance the formality and elegance of the Basilica of St. Mary (where our ceremony was performed) with a reception site that felt built for a party. The Varsity Theater provided just that, from the disco balls, chandeliers, and white Christmas lights hanging from the ceiling to the exposed brick walls to the concert quality lighting and spotlights on the band on the main stage in the front of the room.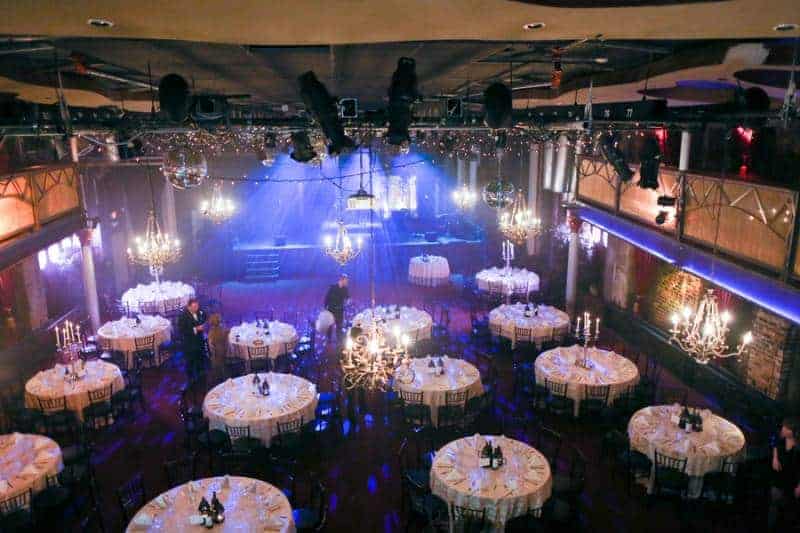 Saved Our Money Most On:
Flowers!
The Biggest Expense:
The photographer. But she was worth every penny 🙂
Number Of Guest Invited:
We invited 250 and 200 attended
Narrowed The List Down By:
Our initial invite list was around 300 people. We both come from big families, we both have parents with wide groups of friends, and we both wanted to invite our own friends from high school, college, law school, work, and friends we'd made together over our two years of dating. We had to make hard decisions in narrowing the list and prioritized those with whom we've stayed closest throughout the years.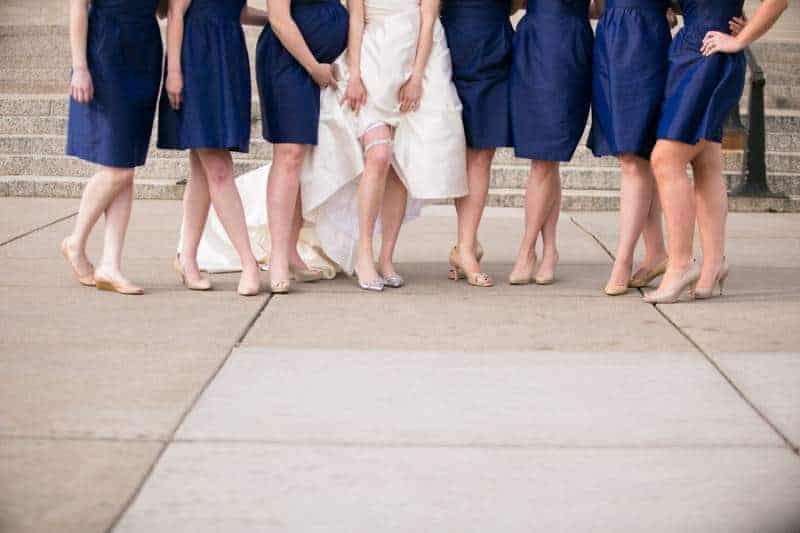 The Songs:
Prelude
Moments Unrehearsed Lori Line (b. 1958)
Air from Water Music George Frederic Handel (1685-1759)
The Gift of Love Hall Hopson (b.1933)
Processional
Jesu, Joy of Man's Desiring Johann Sebastian Bach (1685-1750)
Bride's Entrance
Canon in D Johann Pachelbel (1653-1706)
Interlude
Ave Maria Franz Schubert (1797-1828)
Arioso Johann Sebastian Bach (1685-1750)
Recessional
Trumpet Voluntary Jeremiah Clarke (1674-1707)
Trumpet Tune Henry Purcell (1659-1695)
The Honeymoon:
Belize (and it was incredible)!
Planning Advice For Other Couples:
Make sure to find time for you and your new spouse to be alone for a minute or two during the reception and take it all in.
Wedding Outfit Inspiration:
We wanted a classic and preppy look that also fit with the season (early spring).
Favorite Part Of The Day:
Our first dance. We entered the reception and danced to "Don't Dream It's Over," then joined all the wedding guests to join us on the dance floor for three more songs before sitting down for dinner. It really set the tone for the night.
The Do-It-Yourself (DIY) Projects:
Cake Pop Favors. The bride's mother made the favors from scratch: red velvet cake pops with white chocolate frosting. Each was decorated with a ribbon and tag that said "Thank You, Leigh & Taylor Tinmouth, 4.26.14"
Wedding Cake. The bride's sister (the maid of honor) made the 2-tiered almond and raspberry cake with cream cheese frosting from scratch. The bride's father built the cake stand the bride's sister decorated it with blue and white chevrons.
Table Numbers. We collected empty wine bottles and used two at each table to display the table numbers.
Place Cards. We placed a card with each guest's name and table number in a wine cork for the table assignments.
Welcome Bags. When guests checked into their rooms they received a welcome bag filled with some of our favorite treats from our favorite places.
Taylor's sister, the Maid of Honor, baked the wedding cake, and Taylor's mom baked the red velvet cake pop wedding favors. We also made the labels for the wine bottles that served as table numbers and the wine cork table card holders.
VENDORS:
Photographer: Erin Johnson Photography
Dress Designer: Allure Bridal
Floral Designer: Bachman's
Ceremony Location: Basilica of Saint Mary
Tuxedo and Men's Attire: J. Crew
Event Planner: Kismet Event Group
Makeup Artist: Lianna Colestock
Caterer: Loring Pasta Bar
Invitation Designer: Minted
Cinema and Video: Play
Transportation: Schmitty & Sons
Event Venue: The Basilica of Saint Mary
Musicians: The Sevilles
Location: The Varsity Theater
Hair Stylist: Tres Jolie Salon