If you want to have a lot of fun at your wedding shower, get some great bridal shower favors or prizes and play games for the girls to have a chance to win them. There are a ton of classic wedding shower games that are favorites. If you play these, don't forget your camera!
The TP Wedding Dress
The girls are partnered up, and each group gets a roll of toilet paper. One of the girls will be the wedding dress "designer" and the other will be the model. Using the toilet paper, the designer must create a wedding dress for the model, complete with veil and flowers. Whoever creates the most beautiful dress gets to choose a prize.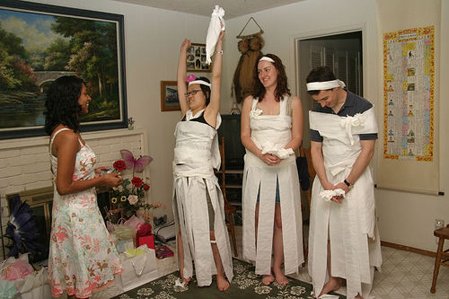 Who Said That
These days, it's easy to play this game using old Facebook posts from the bride and groom. Create a list of quotes and make the girls guess which one said it – the bride or groom. The one who gets the most right answers gets to choose a prize.
Who Knows the Bride Better?
This fun game is another questionnaire, in which the girls are asked questions about the bride. This could include things like, "who was the bride's first kiss," or "what is the bride's favorite perfume?" Create several of these questions and whoever gets the most right gets to choose a prize.
These are fun and classic games, and will give everyone a chance to get something really cool to take home from the wedding shower.