First of all, let me just state the obvious thing I liked most at Justin and Jenna's wedding — butterflies. Literally and figuratively. They had a releasing of butterflies ceremony, which was lovely and dainty. And as I browsed through the gallery, I can't help but swoon over how sweet and beautiful everything was that gave me butterflies in the stomach (heehee, I had too. *wink*).
Their wedding wasn't an all out rustic themed, but I like how it turned out; homey, chill, and chic. The colors may also have a lot to do with it. Color combinations matter a lot that is why we must all be careful in picking the right scheme for our chosen theme. Indeed with simplicity comes great beauty.
Click image to enlarge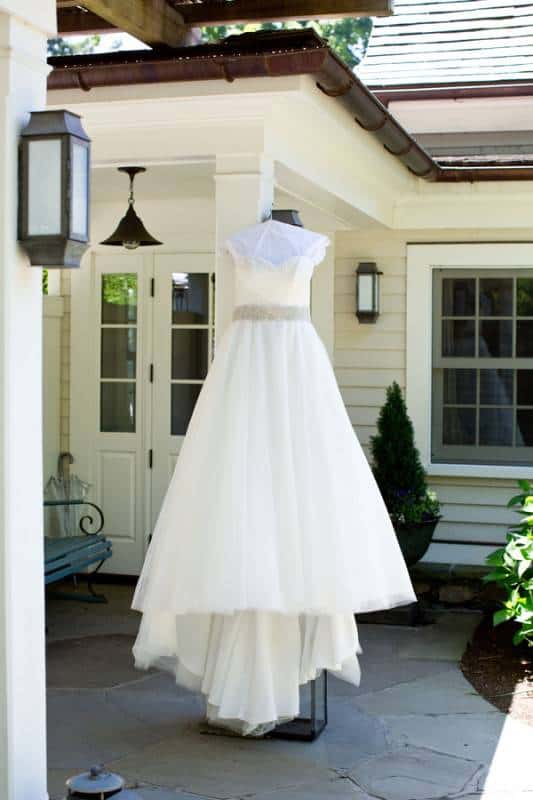 Like. Click to Vote
>
Our Story:
My husband and I met in college. He came over with his roommate one night, and his roommate was the first one to run after me!! But that didn't last long, and my husband hung in there until I was single again. We became really close friends for the next few long months, and I finally realized what I was looking for was right in front of me! I'm so glad he was patient with me, and just when he thought there would be nothing between us and after asking me out many times, I was the one to ask him out on our first date! It's amazing what happens when you take a chance in life.
We Are A Perfect Match:
I don't think there is such thing as a perfect match, perfect is not what we are nor what we want to be. I do believe that we have an undeniable love for each other and we complement each other in many ways. We care about each other and love to laugh with and at one another. We have nothing but a growing love for one another.
The Proposal:
My husband proposed two weeks after I had gotten into a car accident where I had been home on the couch. He called me up and said we need to get you out of the house, where do you want to go for dinner? I was so excited! I picked a place within walking distance and got all dolled up! His first thought when he got home to pick me up was, "oh my gosh! She knows!!" But I was far from knowing anything! I was just happy to get out of sweats and off the couch! We had an amazing table and dinner was delicious, before desert was brought to us he reached down trying to fumble something out of his pocket.
The next minute I looked down at the table, a little black box sat, and he slowly opened it up, and out popped the question…Will you marry me? And of course the answer I gave… No! I thought he was kidding!!! For the past 7 years of our relationship he was a constant kidder getting down on one knee and asking me to marry him, so I thought he was kidding! I then started tearing up (realizing he was serious this time!) to the point that my eye balls were like a fish tank and about to spill over, and I couldn't see anymore. So he asked me again… Will you marry me?? And of course we all know the answer I came out with this time! Yes!
The Planning Process:
We gave ourselves over a year and a half to plan, even though the immediate instinct is, let's get married now! I think more than a year is the best bet.
The Best Advice We Received:
We did get lots of advice, take your time when planning, and enjoy every moment because it goes by fast, etc. all very good advice. Probably the best advice we got was for when the wedding was going on. Take a few minutes for you and your new husband/wife to go to either the corner of the room or the outskirts of the celebration and just observe and take the moment. I still remember doing this with my husband, and we are so glad we took the 5 minutes to do so. It felt like time stood still for that moment as we overlooked everyone dancing and laughing and having an amazing time!
The Challenges We Faced:
Some challenges we had were at the beginning of planning. We did not pick our venue at first we went to a more beach themed venue. However, it slowly was not turning out the Way we had hoped or envisioned. This is why our advice for other brides & groom is to expect the unexpected and also roll with the punches.
My husband was easy going with the planning that made things much easier and smoothed flowing. When we decided to not go to the venue, I felt like we were starting from square one! But when we took the time to stop and look at the big picture, it was clear to us that it didn't matter where we got married. And at that same moment we also realized where we wanted to be married and spend a great night with our closest family and friends!
Wedding Decor Inspiration:
Our wedding decor was very rustic, as was our venue. We tried to keep thinks very simple and beautiful, and not over the top.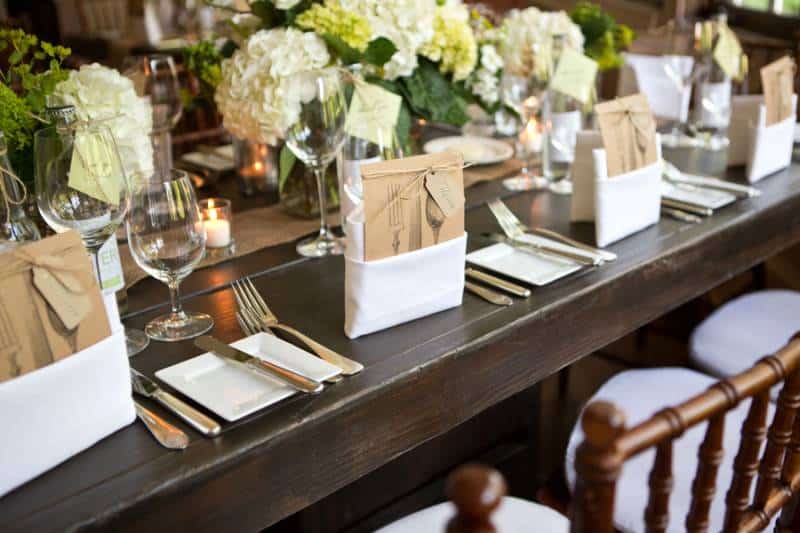 Money Matters:
We save money on the cake. We were fortunate enough to have Bedford Post Inn make our cake for us.
The venue/location was the most expensive, however we fell in love with Bedford Post Inn the minute we stepped foot in the property. Fortunately they were very accommodating with the many things they included for us.
The Guest List:
We started out with around 250 people on our invite list, and realized we wanted a more intimate wedding. Our final found was 110.
The Songs:
Our first dance: Hunter Hayes – Wanted
Mother & daughter dance: Carrie Underwood – mamas story
Brother & Bride Dance: Rascal Flatts
Mother & Son dance: Robbie Williams – Angels
Cut the cake: Blake Shelton – God gave me you
Excited About:
We are most excited to be welcoming our son to the world in February 2015!
Planning Advice For Couples:
Everything happens for a reason.
Wedding Day Outfit Inspiration:
Sticking with the rustic theme my husband went with linen suits and I went with green dresses for the girls. We weren't looking for a huge color pop, just stuck with a very natural setting with the outfits.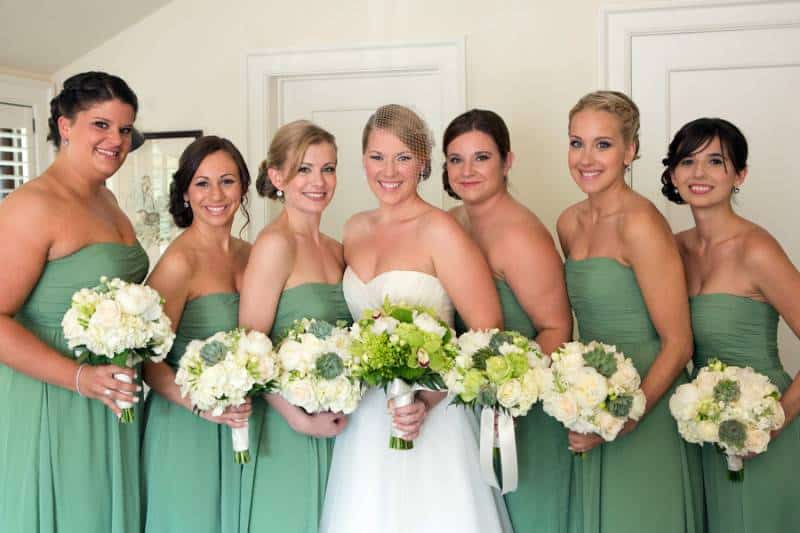 Favorite Part Of The Day:
Walk down the aisle to my future husband, and seeing him holding his heart with tears running down his cheeks, while smiling!
The Do-It-Yourself (DIY) Projects:
Being an artist, there was not much I wanted anyone to do or help me with, I wanted to do it all!! From the invitations, to the Menus, to the table numbers, favors, thank you notes, rehersal dinner invitations, place settings, finger print tree guest book, seating chart written in a mirror, etc! I had so much fun doing it all, and then some.
The Highlights From The Ceremony & Reception:
The ceremony was intimate, and short and sweet. We had previously married the night before the rehearsal dinner with just our bridal party and our parents and siblings, as well as our aunts and uncles. We wanted our ceremony with the extended family/friends to be short and sweet. The reception was the main event and talking with everyone and dancing the night away was where our hearts were.
The Theme:
Rustic elegance.
Most Memorable Moment:
The most memorable for myself was seeing my husband and focusing on him and not the 100s of eyes staring. For him was the same, focusing on me. We understand each other and walking towards one another was an unforgettable moment. For our guests the most memorable moment was the food, and how relaxed the wedding was. I still get comments today, saying that they had an amazing time at our wedding and wish they could go back to that night!
In Addition:
If you were to ask us if we were to change one thing about our wedding, what would it be? We would say nothing!! And we would re-live it all over again, exactly the way it happened!
VENDORS
Photographer:  Aida Krgin Photography
Tuxedo and Mens Attire: Andrew Feza
Cake Designer and Location: Bedford Post Inn
DJ: Dance Time Entertainment
Floral Designer: Flowers & Flowers
Dress Designer: Jenny Yoo Collection
Invitation Designer: JPillustrations
Shoes: Kate Spade
Hair Stylist: Melissa Scrofani
Makeup Artist: Meredith Hayman, Makeup Artist
Dress Designer: Romona Keveza
Other: Butterfly Releases By S