They love each other and they love their part of town — that's the story these pictures tell. Ashley and Michael decided to have a photoshoot around Westside, the neighborhood where they met, fell in love, got married in, and now live in.
It was a lovely day around town, and this couple looked like they just  started dating.  I love that you can feel the bright and blooming love they have for each other.  I love their  cute outfits of coral and turquoise.  These two are just simply meant to be together — together forever in Westside.
Click image to enlarge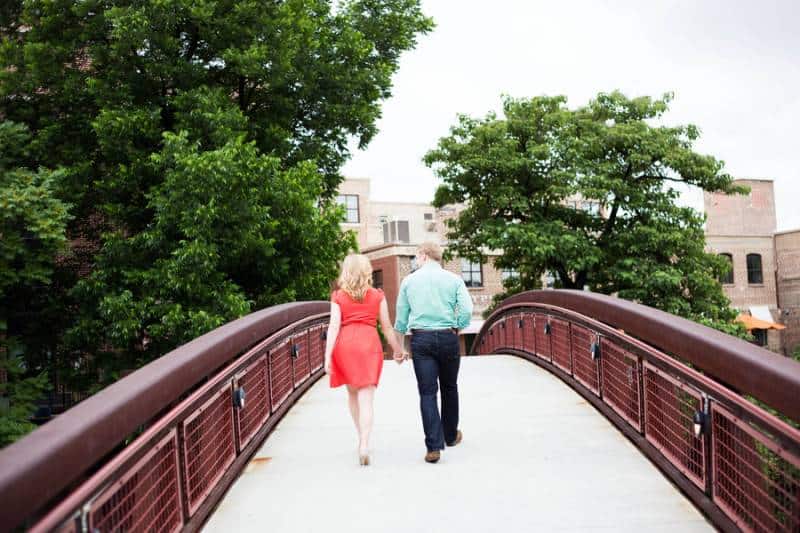 Like. Click to Vote
>
What did you want to portray in your engagement shoot?
Our relaxed attitude toward the theatrics of the photos at the same time as our love for each other and our area of town.
Why did you choose the location?
It's less than a mile from where we live now on the Westside of Atlanta. This is the neighborhood we met, fell in love, and now live in!
What inspired your outfits for the engagement session?
Umm…what was clean? 🙂
Do the photos give a hint on what will happen on YOUR wedding day? How so?
Yes, in the sense that our wedding was just down the road on the Westside as well!
Did you feel at ease with all the posed shooting?
Yes! I love being in pictures and Jill is an amazing photographer!
If your wedding already occurred, would you mind telling us more about it?
We got married in August 2013 at Westminster Presbyterian with a reception at Monday Night Brewing. We had a map themed wedding reflecting our love for the world and travelling and tried to incorporate it throughout!
VENDORS
Photographer: Jill Doty Photography