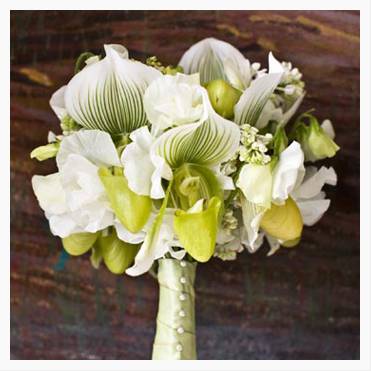 Flowers: so beautiful but… so complicated. How much should I spend? How can I skim down the cost without sacrificing quality or visual appeal? How do I know which florist is right for me?
Questions, questions. Here's some bullet points to remember when it's time to shop for the blooms.
Flowers should be 10% of your budget. It's certainly easy to spend more, particularly if you're getting married around a holiday (think Valentine's Day or Mother's Day, when your designer will not just be busy, but flower prices will be quite high) or if you are attached to the idea of one particular flower that doesn't happen to be in season when you walk down the aisle. Unless you have some room in your budget (say, for example, you found a cheaper dress than you'd anticipated, or you scored a great deal on your invites), be prepared to compromise somewhere along the line. If you're still over budget even with a successful negotiation process, a good floral designer will be able to work with you to identify where you can trim costs from creating smaller bouquets with more "doesn't look like it" filler to finding good in-season alternatives – and do you really need a second throwing bouquet or flowers in the bathrooms?
Be prepared to negotiate, but not demand. Florists expect to haggle (as mine put it, "We're the last ones booked, so we get the last of the budget."), but always remember they have to earn money off the job, too. You may be stressed out from wedding planning and disappointed that you might have to give some things up, but be patient and respectful. They'll be more inclined to negotiate if you are.
Shop around early, and give yourself some time to choose before booking. It's good to start research on your florists early, at least six months before your event. If you have the names of several vendors from recommendations or from your personal investigations, start looking into their websites to view their portfolios. If they don't have a website, consider sending someone close to you a bouquet for a birthday or holiday, or send one to your future spouse "just because". This will give you an opportunity to see how they respond to your direction at face value. If you've said no carnations and some sneak in there, clearly you shouldn't waste your time investigating them further. When you've found several floral designers whose work you're happy with, start calling for appointments to meet in person early so you can have time to think about it before you book. If you have an idea in mind, request an estimate at the appointment so you can take the financial aspect into consideration before you decide.
Consider all the factors when choosing your designer. Putting aside the financial considerations for a moment, there's many other important things to consider before you chose who to go with. If your reception site did not recommend them, what is their reputation, and are they willing to give your references if you request them? Are the displays in the store out of date or are they trendy, and do you like them? Is the representative listening to you and taking notes, or just nodding? Are they giving you helpful suggestions, such as helpful flower substitutions if your original concept is too expensive or out of season? Are you comfortable with the person who will be putting your bouquets and centerpieces together, and do you think they understand your style and vision? You should only consider the businesses that meet these questions to your satisfaction.
Give as much information as you can. The more, the better. If you have any magazine or website photos that are similar or the same to the style and feel you're after, bring them. Descriptions can mean a lot of things to a lot of people. For example, you can say modern and mean a short, tight bouquet with not a lot of filler, or you could mean a bouquet made of mostly one color but different and unexpected flowers or botanicals. Even "white" can be misinterpreted – do you prefer a pinker white or a greener white? Images will help you be as explicit as possible. If you've got fabric swatches from the bridal party and want to tie the flowers into the color palettes or compliment them, bring them. If the vendor was not recommended by your reception site, bring photos of the reception site just in case.
Stay tuned for Part Two later in the week, when we'll go through wedding flower basics that will keep you in the know of what to request as well as what to expect when you florist throws out suggestions.
Image from Petal's Edge Floral Design.