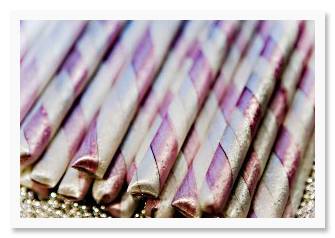 I've said it before, and I'll say it again: everything Amy Atlas does makes my heart pitter-patter. She was a huge inspiration to me while I was putting together my candy buffet because she's got a great eye and her taste level is fantastic. I learned a lot from studying her portfolio and her blog which helped me craft a really well put together candy buffet of my own.
Amy was not the only influence on my research. For as much as she taught me on the "to do" list, there were plenty of photos that instructed me on things to avoid. There were lessons I learned from going through the process for myself, as well. Though I don't have photos of my final creation (yet… if anyone attending managed to snap one before it was savagely attacked by the mob, I'd appreciate you sending it my way!), I figured I'd impart a few words of wisdom for those of you who are interested in doing one. I heartily encourage you to consider it, because it was immensely popular at my wedding, it looked great, and it allowed people to have a favor that was suited to their taste rather than a default item.
Don't be afraid to buy big. Over ordering is not a bad thing. Visually, it will look a lot better when your display is set up. I assumed about a pound of candy per person and bought between ten and fifteen pounds of each candy. It sounds like a lot (and it was) but you can't really predict what is going to be popular. Cover all your bases. The worst case scenario is you have some extra candy at the end of the night, which I did, but some types were completely gone. I was really glad I ordered more than I needed, and I didn't feel like I wasted my money at all.
Streamline your colors. Don't order multi-color candy. Even if it's an all-around classic like M&M's (unless you buy the single color variety of course), from an aesthetic point of view, the presentation begins to look busy and sloppy. If you order candies that are of the same variety but come in different colors or flavors, use one container for each color or flavor. On my buffet, for example, we had Bubble Gum and Cotton Candy Jelly Belly jelly beans each in their own container with a separate scoop. The color block was a lot cleaner and the guests who wanted one flavor but not the other had their options open.
Incorporate your color scheme, but keep it simple. Personally, I think buffets look best when the candies are one color, but there are benefits to using to using two of your colors  (I wouldn't use more!). The most obvious benefit, of course, is that you're open to more flavor options and candy varieties. If you use more than one color, try to color block – one color group of candies on the left, one on the right. The display will look less convoluted this way. If you're using one color in your scheme, don't be afraid to play with different shades and hues of your main color – it will give you more depth and dimension to the overall look.
Keep it consistent. I saw some displays that incorporated apothecary jars and more modern glass pieces on their buffet while I was doing my research. They never looked quite right. It will look more professional if you choose one direction and stick with it – use the tone of your party to influence your containers. Since our event was on the fence with a "vintage modern" theme, I let the architecture of the space help me with my final decision, and we used apothecary jars.
Variety is the spice of life. When you're choosing your candy, it's hard to not shop based on your preferences. Think of your guests first. Shop for as many different candy types as possible, and try to get a variety of flavors. It can be difficult to get some colors in a wide variety of flavors (as I found out, anything pink is usually bubble gum or cotton candy flavored) but use both the candy type and flavor combination to create more variety – get one type of candy in two flavors, or two completely different tpes of candy in the same flavor.
Unless you buy your jars at Michaels, be prepared for mega shipping fees. My original plan was tot buy them Save on Crafts, but shipping to New York was outrageous. It's probably okay if you live in or near California, but just make sure you know going in you might shell out extra to get them out to you. The Michael's jars actually worked out great for me, but the only drag was that I had to go to multiple stores to get all I needed.
Check out our post on candy buffet sources here.
Image from Amy Atlas's blog, Sweet Designs.