Emily and Aaron had a rustic nautical theme going on in their wedding. It was an interesting blend of colors you would normally see in a nautical wedding and design elements common in rustic ones. The bright coral and aqua go really well with the visual softness of the lace and wildflowers. And speaking of lace, Emily's gown is absolutely gorgeous! Browse the gallery to see how they brought together the water and the woods in this lovely wedding! Congratulations, Emily and Aaron!
Click image to enlarge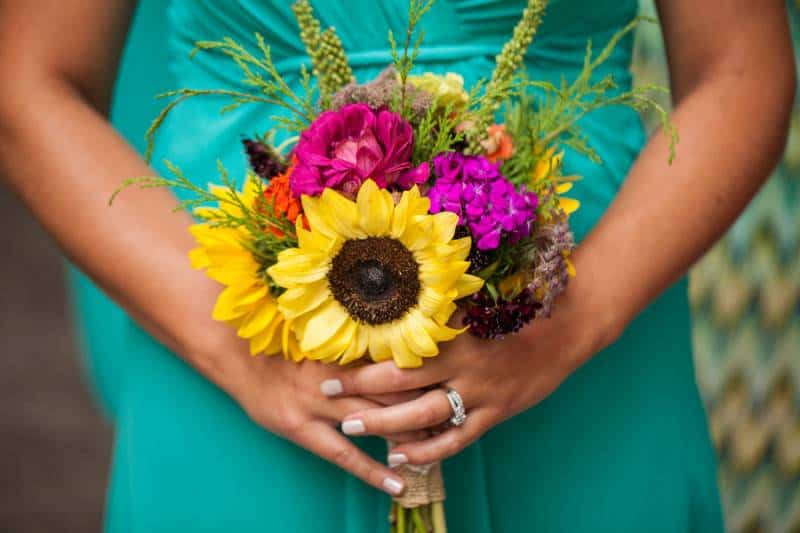 Like. Click to Vote
>
Our Story:
Aaron was 3 years older than me at Alma College. Some of the football players would go to the women's basketball games to watch and cheer them on. Aaron was always very taken by Emily. However, the opportunity to pursue her never presented itself. Mainly, he received laughs from teammates based on being so much shorter than his younger crush. Aaron and I didn't have too many interactions while being at Alma. It wasn't until Aaron saw a picture of me on a mutual friend's Facebook wall. He sent me a message and we instantly started messaging, texting and talking on the phone.
After about two weeks of continual conversation, I made the drive to Paradise where Aaron was teaching. I had a two and half hour drive to try and calm herself down. Upon my arrival, Aaron had already started picking on me because I was antsy, touching my face, and acting very nervous. The connection had started long before the first time we actually hung out. It only continued on from there.
We Are A Perfect Match:
We have many things in common. For example, we both love being outdoors, athletics, and have the same moral values. We balance each other out when it comes to everyday life. We both were what at last filled that void in each other's hearts.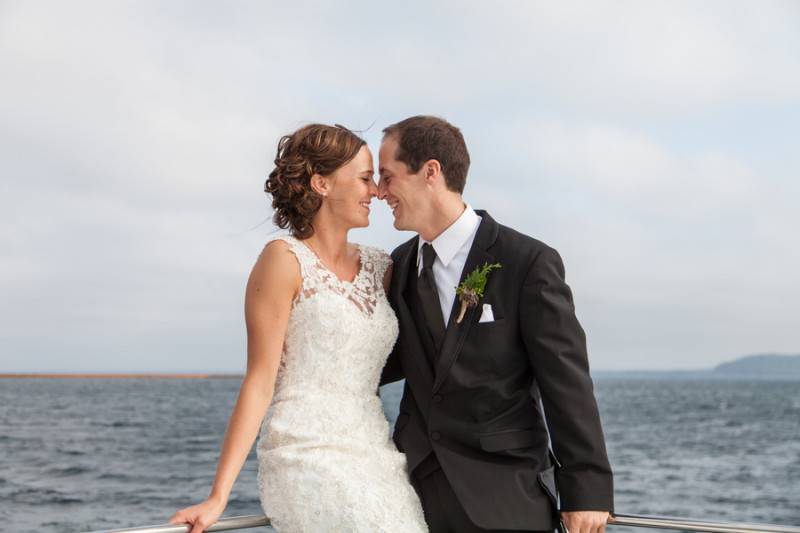 The Proposal:
I had certain stipulations for Aaron for when and if he proposed. He had to talk to my father, and he couldn't do it in front of people. Aaron was visiting my family and me for Christmas. He kept coming up with excuses for why he had to run to Marquette to get last minute gifts which really irritated me. I think even at one point I said to him, "Christmas is on the same date every year; it never changes. Why are you doing everything last minute? I am not going to town with you. This is the one time in a year most of my family is home and I'm staying with them." So basically I was extremely hard to work with.
We celebrated Christmas Eve just like we always do and went to bed expecting my nephews to wake us up to open presents. The beds were full so Aaron and I slept on different couches in different living rooms. I woke up at about 5:30 A.M. and rolled over to find 3 candles burning with an open ring box in the middle. The lights were all off and everyone was sleeping. I was completely out of it. I thought I was dreaming, so I hid my face back in the pillow for a few minutes. Aaron wanted me to wake before anyone else walked into the living room. He put my phone by my ear and texted me a few times, I still didn't wake up. So he fell asleep on the floor next to me.
Needless to say, I was completely shocked, thought I was dreaming and crying happy tears all at the same time. I was then able to go wake up my parents, sister, and grandma while crying and sharing the news. Their reactions were the best part! (As edited by Aaron): That is except for the joy that filled my soul knowing I would spend the rest of my life with a man with a warm heart and chiseled good looks!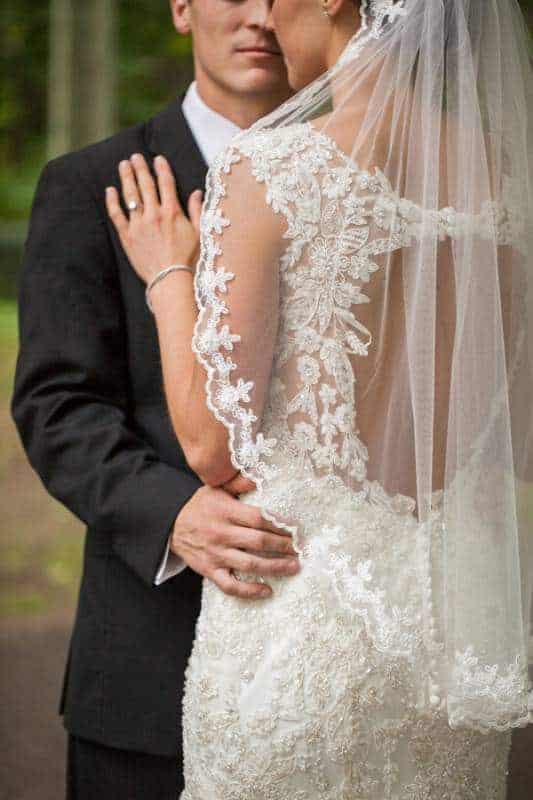 The Planning Period:
Nine months and I don't think there will ever be enough time. Although, one year might have been better.
The Best Advice We Received:
Nobody will remember the centerpieces or the small details. Nobody knows how it is supposed to be, so if there is screw up it's not a big deal.
Tips & Tricks for Future Brides:
Not everybody that RSVPs will come so underestimate vs. overestimate. Don't pay a lot of money for small things; it is cheaper to just make them.
The Challenges We Faced:
Finding a location in a growing city to fit a large amount of people was difficult. Pretty much have to go with an open mind with the date of the wedding. All depends when there is an opening at the location you want.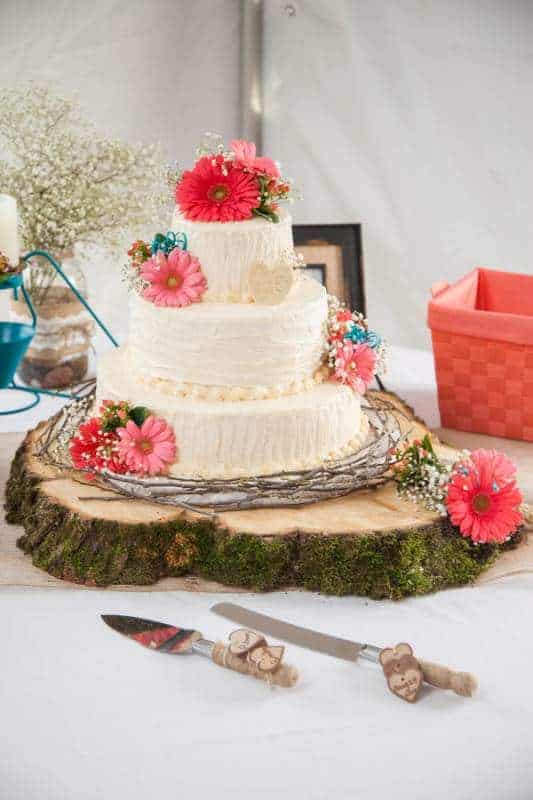 Wedding Décor Inspiration:
We wanted a rustic theme. I love log cabin/woodsy scenery. I used Pinterest to look up rustic wedding ideas. Seemed like that theme was popular at the time so very easy to find ideas.
Our Do-It-Yourself (DIY) Projects:
Our centerpieces made from a wood slice, mason jar, and Lake Superior rocks.
Money Matters:
Our wedding budget was $10,000- $12,000. We saved the most on our food and flowers, while our biggest expense was on the DJ and the photographer.
The Guest List:
We invited 350 and about 200 came. We tried to invite everyone, but if there were people or family members we didn't even really know or talk to, they weren't invited.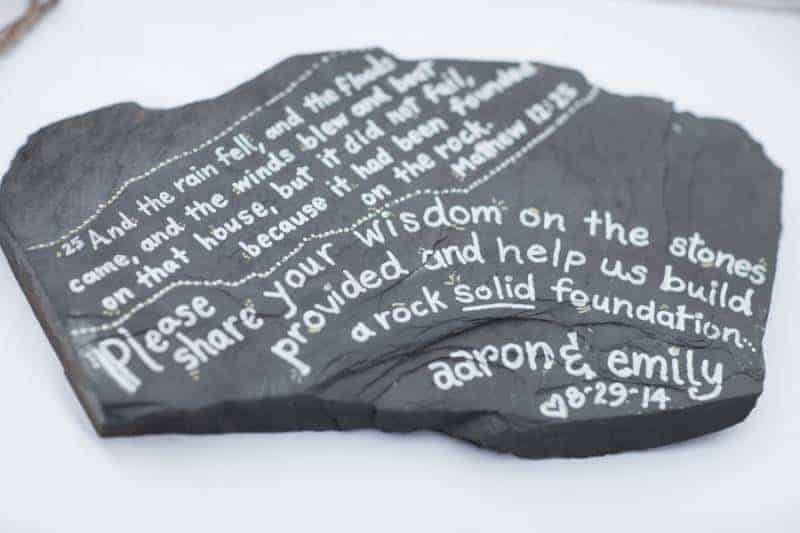 The Songs:
This is The Day; Unchained Melody; A Thousand Years; Canon in D; I Could Sing of Your Love Forever; All You Need is Love.
The Honeymoon:
We went to Cancun, Riveria Maya.
The Next Step:
Spending my life with my best friend.
Planning Advice For Couples:
Really try to relax and not stress out about the small stuff. I know it's hard, but at the end of the day you end up with the same result – a husband or a wife, and it doesn't matter if everything went exactly like it was supposed to.
Wedding Highlights:
A beautiful highlight from the ceremony was dancing in the rain.
A Memorable Moment:
Walking out and facing the people for the first time. My ring bearer forgot his pants and he had to wear his basketball shorts which was so cute.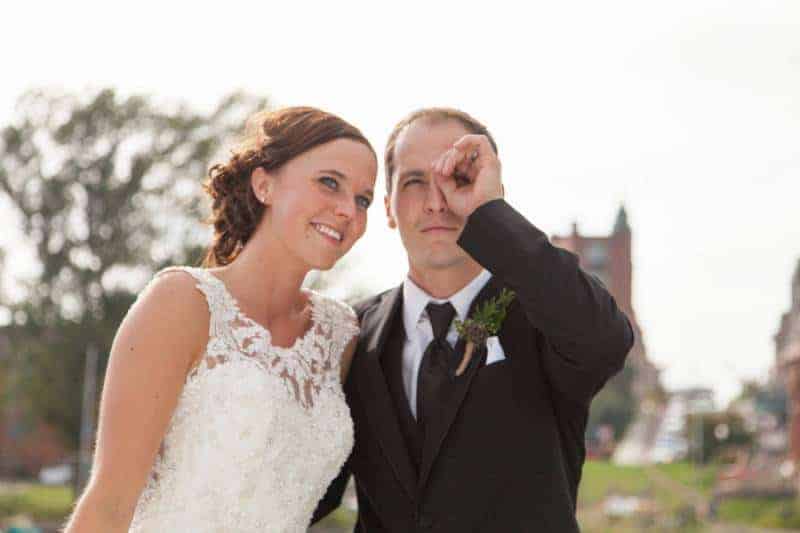 VENDORS:
Photographer: Wren Photography
Ceremony Location: Bay Cliff
DJ: Double Trouble DJ's
Reception Venue: Yacht Yard