When you find someone who appreciates your weirdness, marry that person. When you find someone who celebrates your random interests, marry that person. When someone loves you because you are the way you are, marry that person.
Laura and Rich are such a fun and quirky couple – their unique wedding can attest to that fact! The romance novel bouquets, the Godzilla meets Jane Austen posters, and the wedding skit they prepared were all unique twists that everybody enjoyed. It wasn't just a marriage between the two of them, but of Godzilla and Jane Austen, as well.
Congratulations on your fantastic wedding, Laura and Rich!
Click image to enlarge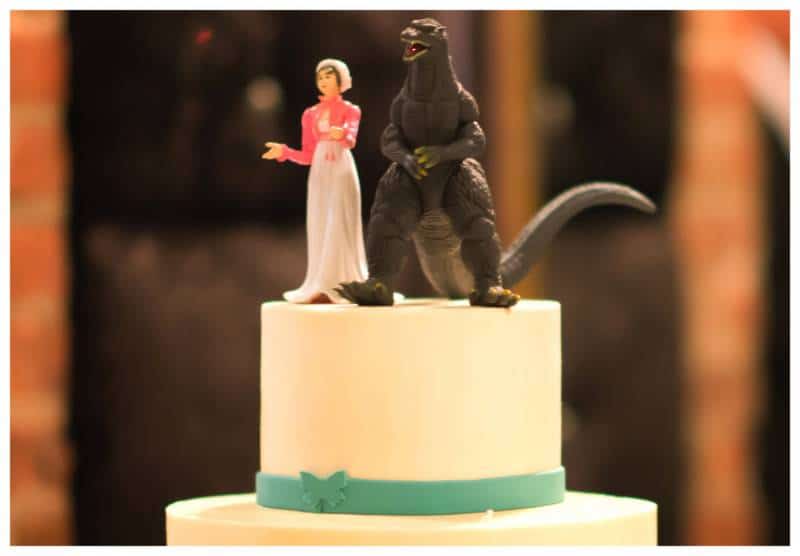 Like. Click to Vote
>
What is your story as a couple, how did you meet & fall in love?
Rich and I were friends for a long time. We met doing 12th Night in Central Park and I thought he was cool and nice, but then we parted ways as actors often do once a show is closed. We met up again several months later doing another Shakespeare show. The second time meeting we really connected. He brought over the DVD's of 'Cowboy Bepop' and we would stay up all night watching them.
On days we didn't see each other we would text and write each other email messages, just counting the minutes until we could hang out again. We had no idea we were in love. So silly. Finally, I realized I was crazy about him and told him one night after we had gone to see a local concert. He looked at me dumbstruck for a few seconds before breathing out this huge sigh and saying "I am SO in love with you!". He really is my soul mate. – Laura
What makes the two of you a perfect match?
Good matches are people who have similar strengths, and compliment each other. Great matches are people who accept the deficiencies, and shortcomings of the other, and balance them out. A perfect match are the people who celebrate every aspect of each other.
Laura likes trashy magazines? We have trashy magazines. Rich loves Pro Wrestling? We have the WWE network (for only $9.99). We're a little nerdy? We proudly and openly play Dungeons and Dragons. We don't just finish sentences, we know the punchlines to each other's jokes. She's my forever girl. And yes, I'm quoting a cartoon. – Rich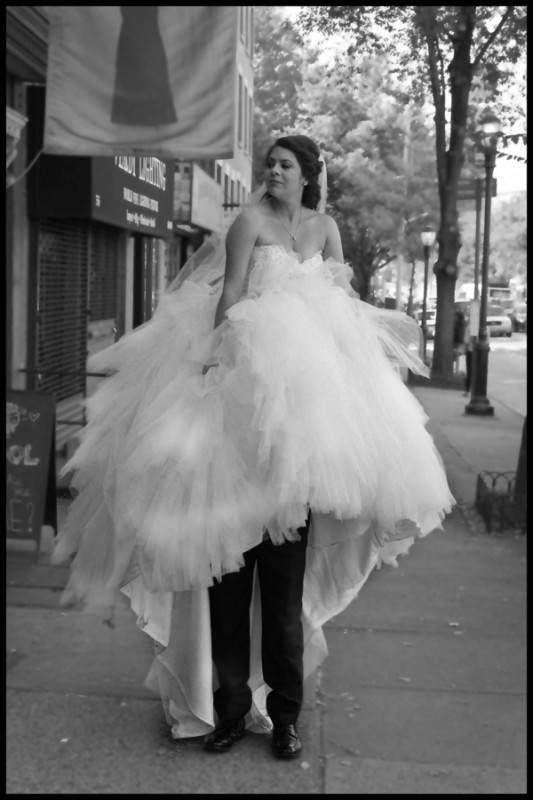 How did he (or you) propose?
I came home from work on July 3rd – the day before our favorite party and annual party – and Rich asked me to come out onto our terrace. We have have this sweet terrace in our Brooklyn apartment that has fantastic views of the city and we often hang out there at sunset on warm nights. It had just finished raining and the evening promised to be quite nice. I sat down and Rich began to speak of the things he hoped for in life.
He spoke about family and friends and the love he felt in his heart for me. He spoke about how he was happy every single day and how much he enjoyed life in Brooklyn with us. Then he got down on one knee and asked me to be his wife. I said yes and managed not to cry….that is until 'Real Love' started playing and a double rainbow appeared in the sky. Really, a double rainbow. It was kind of magical. – Laura
How long was the planning process? Did you think it was enough time?
Basically, a year and four months. It's never enough time, and it's often too much time. The advance planning was great for getting discounts on flights and such. There's always something else you wish you could have done, like I really wanted to learn guitar to sing Laura a song. Then there was needless fretting over things that were perfectly fine, but we had too much time to dwell on it. So, all in all it was great. – Rich
What was the best advice you received when you were planning your wedding?
To let your groom be a part of the planning process! By letting Rich have Godzilla incorporated into the wedding we ended up having something really unique and special. The wedding reflected both of our personalities. It wasn't just about me. People kept saying that it was my day and I would correct them and say that it was 'our day'. Rich was getting married, too! He has great taste in music and made all our playlists, for the wedding. He helped choose food, cake, the venue and photographer. Pretty much everything but the dress was a decision he was a part of. It was so great to have an active partner to help me with the wedding.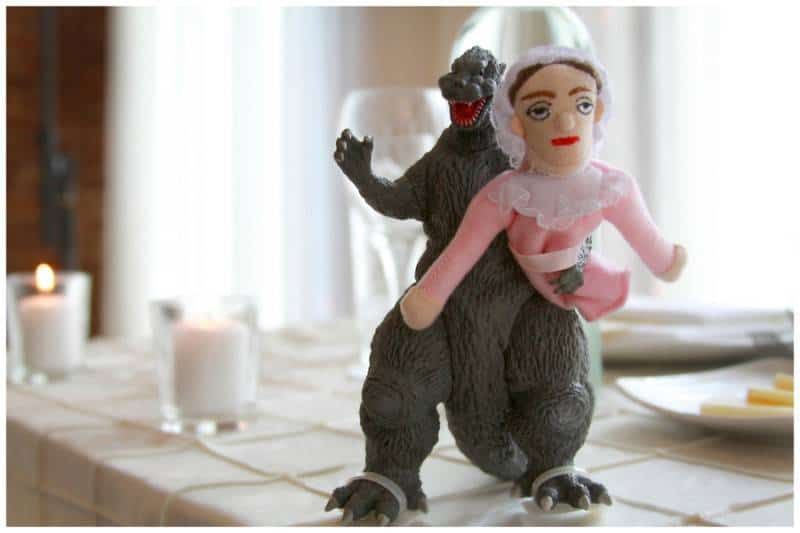 More advice? Our photographer told us 'everything that can go wrong on the wedding day will….don't worry about it'. Well, everything didn't go wrong, but when a few hiccups happened we didn't stress- even when my groom with mushroom allergies was served a dish covered in mushrooms, the wrong entrance music played and my buttons to hold up my train broke. These things happen. We still got married and it all worked out in the end. – Laura
What tips & tricks (can we use "hacks"?) can you share future brides that you yourself have learned during and after your wedding?
Hacks? Ugh that word! But seriously, I would say that if you are good at something then definitely incorporate it into your wedding. Rich and I are performers, so near the end of the ceremony we actually did a bit of a skit with our groomsmen and bridal party and officiant. We gave them each a line. It was really funny and helped to lighten the mood, before that we all were crying so hard that a few laughs to break it up were perfect. – Laura
What were some challenges you faced while planning your wedding & what did you do to address them?
The venue was going through some shifts in staff and communication got spotty at times. I tried to stay calm, but did end up sending a rather sharp email at a point when three weeks before the wedding I was not getting any responses to phone calls and messages. After that email, I had a phone chat with the venue and we got on the same page.
My advice for dealing with issues with vendors is to always stay professional. Never curse. Never scream. Stay calm, but do make sure that you are heard. They kept saying that they were so busy and that they had a lot going on, well, so did I! I told them that I understood, but made clear that my wedding deserved their attention and time as much as any other event. They did make mistakes, but overall the wedding was lovely. – Laura
What inspired your wedding décor? Why did you choose the things that you did?
Our venue, as is, was a huge part of our décor. We loved it the moment we stepped inside, and seeing the passion that the staff had for what they do, only helped it. The borough of Brooklyn is a big part of our story and identity. We individually found ourselves, as people, there, and love it. Deity is such a microcosm of Brooklyn. The art, the "vibe" it's all wonderful, and helped the wedding feel "us" before we touched it.
The rest of our decor, Laura has written on our save the dates "Jane Austen Meets Godzilla". It was a bit of a whim, and it made us smile. B.A., our fantastic photographer, was very excited about it, and enthusiastically encouraged us to make that our theme, full bore. After that, we looked for ways to add the theme, and be fun.
Instead of bouquets, the girls had hardcover books, with paper flowers. We had Kaiju on the Chuppah. Our seating charts were half Austen calligraphy, and have Monster evacuation plan. Out table markers were half Austen Novels, with monsters in them, and half Godzilla Movie Posters with Austen characters and quotes. It was a lot of fun. – Rich
What was the wedding budget?
25K
Where did you save the most money?
Flowers! We didn't buy a single fresh flower, but rather we made them out of comic books and old paperbacks – really bad romance novels actually since I couldn't bring myself to tear apart an actual Austen book. People loved them! – Laura
What was the biggest expense?
Venue and food.
How many guests were invited in your wedding and what was the final guest count?
136 invited 101 in attendance.
How did you narrow down your list?
Family was first and foremost. As we got closer to the day, and more no's came in, we invited more friends. – Rich
What songs did you use during the ceremony?
All ones which had personal significance to us. We narrowed them down, over time, up till the ceremony itself. Family of Bride and Groom – "Desafinado" – Charlie Byrd/Stan Getz
Groom and Groomsmen – The Godzilla Theme
Bridesmaids – "The Rainbow Connection" – Kermit The Frog
Bride Entrance – "Real Love" – Regina Spektor
Ceremony Song – "Bridge Over Troubled Waters" – Simon and Garfunkel
Man And Wife Recessional – "You And I" – Ingrid Michaelson
Introducing Groomsmen and Bridesmaids – "Bacon Pancakes"- Jimmy Wong
Introducing Mr. and Mrs. Rich and Laura – "Tank!"- The Seatbelts
Father of The Bride and Bride – "Here Comes The Sun" – The Beatles
Mother of The Groom and The Groom – "My Reflection" – Mulan
First Dance – "Falling Slowly"- Arthur Darvill/Joanna Christie
Get Out Of The Venue- "Island Song"- Ashley Eriksson
– Rich Wisneski
Where did you go on your honeymoon?
Antigua. We went to the Sandals Grande Antigua and had an amazing time. We were afraid Sandals would be cheesy, but it was perfect. After the wedding, a week of relaxation was just what we needed. – Laura
What are you most excited about for the future?
I personally am most looking forward to having children, and a dog. I have wanted to be a dad, for a long time, and finally found the perfect person to ruin a child with. 🙂 also, dogs are great, so Hooray! – Rich
Do you have advice for couples still in the planning process?
Take a deep breath and enjoy! Don't let the wedding machine get to you! I was surprisingly meltdown free. I didn't let other peoples expectations affect my decisions- I did what was best for us. We wanted good food, good dancing music and to really have people feel the love we had for them. Guests are happy when you are happy! There is this myth today that weddings have to be so big and expensive and this huge production but it doesn't have to be at all.Weddings can be as big or as small as you want. Feed the guests. Let them dance. Don't get all worked up over the details. You've already got the best thing for the wedding – love! Congrats! – Laura
What is the overall story for this album?
Love and always be silly.
What inspired the wedding day outfits?
Our color was turquoise. For my dress I originally wanted a tea length dress. Something fun and vintage inspired. On my second wedding dress shopping trip with my Man of Honor I tried on a big, poofy princess dress as a joke. My Man of Honor started crying. It was THE dress. Totally didn't expect to go for the style I did, but I loved wearing it.
Rich got a custom made suit from Dragon Inside. We went shirt shopping together. He really liked this purple shirt and was afraid I wouldn't like it and would ask him not to wear it. I just wanted him to feel good. Plus, he looked darn nice in that shirt.
For the bridesmaids I wanted something that they felt good in. I picked a style that looked good on various body types and, as per their request, that had pockets. The groomsmen forgot to put on the boutonnières I made them, so that's all I'll say about that :-p – Laura
What was your favorite part of the day?
When we were pronounced legally wed! Despite all my prep and total assurance in Rich's love, I got extremely nervous before walking down the aisle. I started to hyperventilate and my Dad had to remind me to breathe correctly. I was scared I'd get sick in front of everyone. There was nothing that could have prepared me for that moment. It was just so big. So real. But after the ceremony was done it it felt wonderful. It was such a relief. It felt great. – Laura
There were a bunch of fun and cool moments, but oddly, getting the ring physically placed on my finger was my favorite. When I tell people that I got married, or they ask me about it, I show it like a kid with a macaroni painting. I'm so super proud of having earned this. The symbols, and the ceremony really and truly make a difference. We were totally in love, before the wedding. It is 100% different, after, and I love it. I love this ring. – Rich
Was there any Do it Yourself (DIY) projects? If so, can you describe them in detail?
The flowers were made from comic books and romance novels. The Centerpieces for the tables were made from old Godzilla movie posters and Jane Austen book covers that we photoshopped images onto. The book covers got kaiju inserted into them and the Godzilla movie posters had Jane Austen characters added in. Rich even translated a quote from pride and Prejudice into Japanese and put it on a poster. They looked great and people got a chuckle out of them. Afterwards we gave them out to the wedding party along with their other gifts. I also made the envelope box out of a shoe box that was covered in comics and paperback pages. Finally, for the seating chart we each made a chalkboard poster. I made a list of five tables with images of flowers and Victorian stye designs and Rich made a chart with five tables with Godzilla monsters. They looked great! – Laura
What were the highlights from the ceremony & reception?
Our skit went over very well. According to B.A., the guests thought it was real, for much longer than they should have. Roughly a week before our wedding, we discovered that our officiant couldn't legally marry us. Rich never thought to ask. Among our multiple plans for what to do, Rich wrote a script, of a funny bit we could do, if we needed someone else to do the actual "marry us" part. Bill wound up becoming official, but we enjoyed the skit so much, that Laura edited it and we did it anyway, having each of our wedding party offer a reason why they couldn't solve the problem ("how important is legal?", one rolled dice, one had recently been Juliette, the architect could only pronounce us "stable", etc.) Eventually Laura's sister used the power of living in Vegas (represented by a Harry Potter Wand) to "grant" Bill the power to marry us.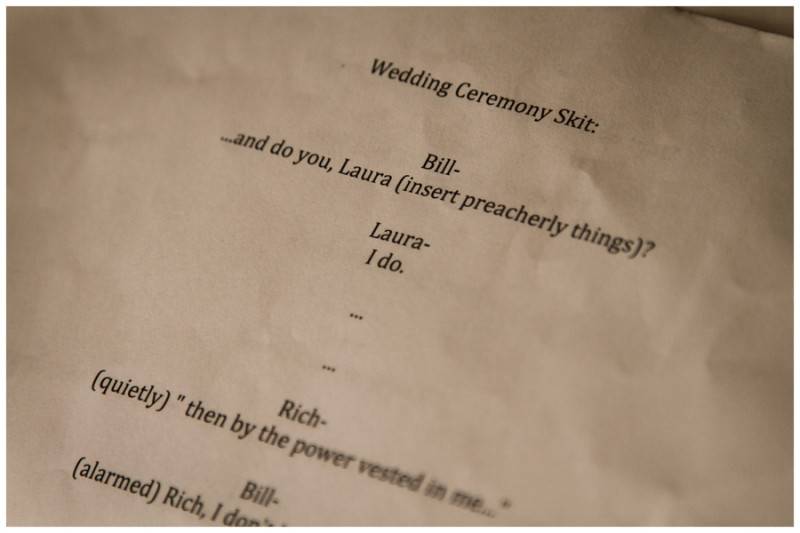 The music was a big hit. Along with our live wedding band (Kathleen Wisneski, Chris Kelly, Chris James, Tom Ryan) we had Madeline Kahn sing a lovely song, Laura sang "Someone To Watch Over Me" (which she had been practicing in secret), DJ Trauma was fantastic (and the only thing traumatic about him is how tramautizingly nice he is). We have so many photos of dancing, and everyone is smiling. The food was also delicious. When you have a NYC wedding, people expect to eat like kings, and eat exquisite things. They certainly did. – Rich
Was there a theme for the ceremony and reception?
Godzilla Meets Jane Austen
What part of the ceremonies do you think was the most memorable for you? (& your guests?)
When Laura walked down the aisle, I cried, our guests cried, strangers cried, jaded NY jerks cried. She was absolutely stunning, and it was wonderful. – Rich
Anything else you would like to add?
I said it before, getting married, with a ceremony, rings, vows, the whole shebang, is important. It makes a giant difference, and I am so happy that we did it. – Rich
I originally thought that the whole big ceremony and reception was a waste of money. I kept saying we could buy a car with this money, but after all is said and done it was great. It was a wonderful day and it was so nice to share it with our family and friends. I'm so happy. – Laura
VENDORS
Photographer: The Lilypad Agency
Cake Designer: Butterfly Bakeshop
Bridesmaid Store: David's Bridal
Ceremony Location: Deity
Event Venue: Deity
DJ: DJ Trauma
Tuxedo and Mens' Attire: Dragon Inside
Favors and Gifts: The Knot Shop
Invitation Designer: Wedding Paper Divas