Kristina, the bride for today's feature, wanted to have a purple motif.  Their wedding planner agreed, but they didn't go all out purple and used vintage decors because Kristina also wanted her wedding to look timeless, and it does! The hints of purple were just the right blend of elegant and chic. Looking at their wedding gallery, I can say that no matter what year you may be looking at this it'd be beautifully classic.
Click image to enlarge
5

Like. Click to Vote
>
Their Story:
Alvin and I grew up down the street from each other, went to the same elementary and high school, but Alvin was two years older than me. We knew who each other were, knew some of the same people, but did not officially meet until much later. I became friends with his buddies. He was traveling a lot for work when I first started hanging out with his group of friends.
One night when he was in town, we were at a bar and started talking. He had to leave for Japan for work, but he messaged me on Myspace. We were messaging each other back and forth and then he asked me if he could take me out once he got back home. Yup…Alvin asked me out on Myspace 🙂 After the initial "Ew, he asked me out on Myspace" shock, I said yes.
We Are A Perfect Match:
We are so similar in many ways, and our differences balance us out and keep each other in check. The biggest thing is that we respect each other. We are each others' best friend and support system.
The Proposal:
Alvin proposed to me on Christmas morning. I was still sleeping, but could hear Alvin walking around the room. I opened my eyes, and he was on his knee next to my bed with my ring in his hand. I don't think I even gave him a chance to speak! I started crying and hugging and kissing him.
The Theme:
No real theme. The decor was vintage inspired.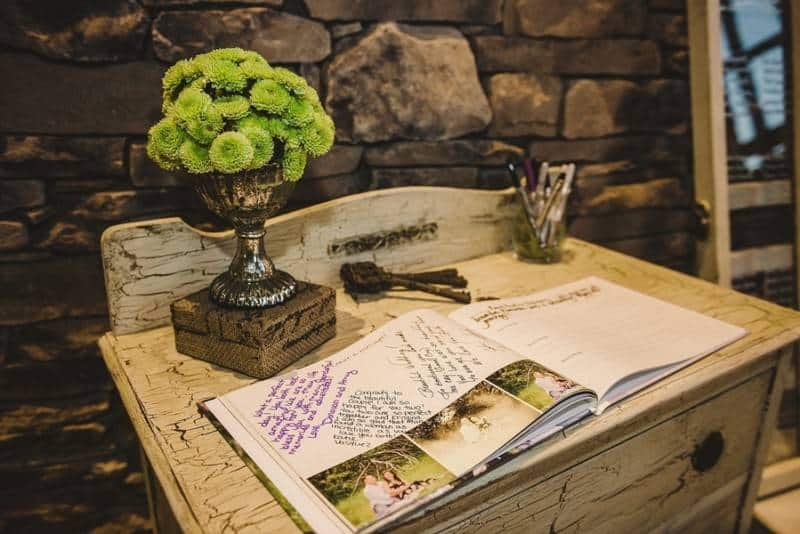 Wedding Décor Inspiration:
I wanted something vintage-ish and eclectic. I initially liked the gray and dark purple look (purple is my favorite color) but was worried it would be too dark or turn out too much purple. Our wedding planner took this into considerations and brought up the idea of doing mixed metallics table cloths with plum colored napkins. She also had rental pieces that went with the vintage theme, but also enough variety so we could mix-match the centerpieces.
Wedding Day Outfit Inspiration:
For my gown, I wanted something that reflected a vintage style. I am a super Plain Jane… I wanted something simple. I knew I didn't want a big white gown that was heavy, poofy, and obtrusive. My ivory lace gown was lightweight, made me feel beautiful without being over the top, and elegant. My friends picked the dress out for me (they know me better than I know myself). I knew that it was the dress the moment I put it on.
At the beginning of the planning process, we both decided that we liked the gray and purple color combination. We didn't want it to be too much purple, so we decided that the Maid of Honors dress would be a dark purple then the rest of the wedding decorations would have slight purple accents. Since we only had a maid of honor and a best man in the wedding party, the maid of honor got to choose the style that best fit her personality and body.
The groom wanted to buy a suit vs. renting a tuxedo. He didn't want to do the traditional groom look. He had his heart set on getting a modern patterned shirt and a matching bow-tie. He was practical in his thinking; while he wanted to look fantastic and stand out on his wedding day, he also wanted something that he could potentially wear again. The best man's suit was also purchased instead of rented, but in a different shade of gray to help the groom stand out a little bit more. The colors of the shirt and bow-tie were still in the purple color scheme, but different from the groom's.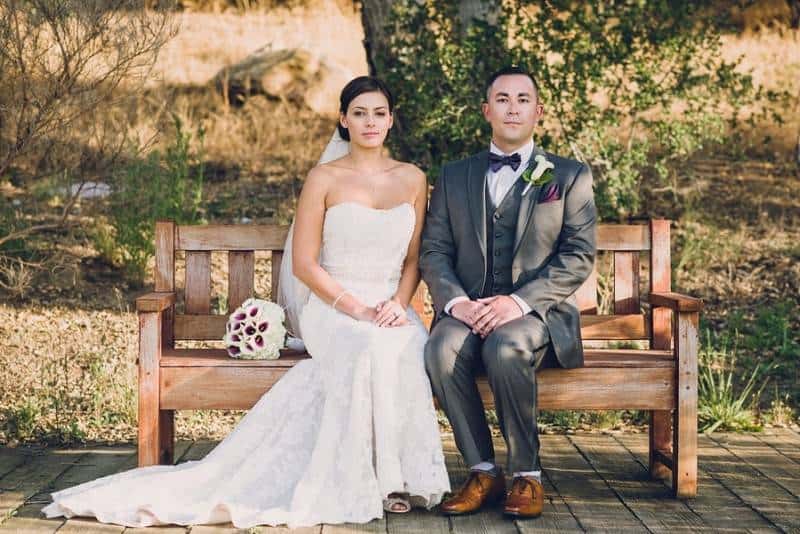 The Do-It-Yourself (DIY) Projects:
I have very crafty friends and family, and an AMAZING wedding planner…I'm so thankful for all of their help! We created all of the floral arrangements for the centerpieces ourselves. We bought our flowers wholesale and used vases that my wedding planner had. We decorated a vintage-styled chandelier with plum colored satin hydrangeas to hang from the trellis for the ceremony. We decorated the lanterns for some of the tables ourselves.
The lanterns held ribbon-wrapped LED candles and had the same plum colored satin hydrangeas placed on top. We also created the wedding favor boxes ourselves. One of our friends helps run an all-volunteer non-profit organization that aids kids with cancer. We decided to give support wristbands from this organization to all of our guests. We put these in a small kraft jewelry box and included a little blurb about the organization. We then wrapped the box in silver ribbon and included decorative skeleton leaves.
The Planning Process:
We got engaged December 2012 and got married July 2014, so a little over a year and a half. I think it was plenty of time to plan a wedding. It was very helpful having a wedding planner layout a timeline for me though and keep me on track. What was the best advice you received when you were planning your wedding? "Skip out on the champagne toast" and also "get a wedding planner."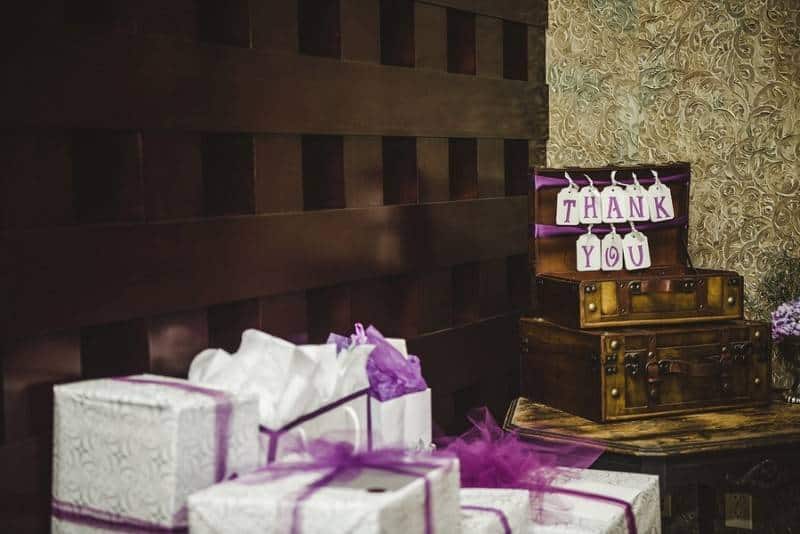 Tips & Tricks For Future Brides:
Look for wedding venues early on. I was able to negotiate the price of the ceremony site, the price per guest, even the pre-set menu. I also got my hotel upgraded from a regular room to a suite for free. Perhaps the venue did not have weddings booked that far in advance or maybe I was just really pushy.
About the menu: the venue itself had a variety of pre-set menus to choose from. I wanted a little bit from each one. Instead of the Champagne Toast, I asked for an extra hour of open bar. Instead of a Chef's Sweets Table, I asked them to make cupcakes for guests instead of a wedding cake. Even if the venue or caterer won't do this, it doesn't hurt to ask!
The Challenges We Faced:
The guest list was a major challenge. You keep thinking about the cost per person and how much this all adds up to. But you also don't want to upset anyone. We had to sit down and think of who we wanted there…was the person a close friend or are they more of an acquaintance? We asked ourselves "when was the last time we saw or heard from them?" We set our budget for total food/drink cost and went from there.
Money Matters:
$20,000
The venue/food. It was a golf course restaurant, so they also served the food and dessert. I was able to negotiate the prices of the ceremony site and price per person, bringing the overall cost way down.
The food and drinks were the biggest expense.
The Guest List:
around 170 were invited and 134 guests RSVPd and showed.
We had to sit down and think of who we wanted there…was the person a close friend or are they more of an acquaintance? We asked ourselves "when was the last time we saw or heard from them?" We set our budget for total food/drink cost and went from there.
The Songs:
Bride Walking down the aisle: I can't help falling in love with you – Ingrid Michaelson
After Ceremony: Best day of my life – American Authors
Excited About:
I'm excited to start a family with my husband!
Planning Advice For Couples:
Try your best to enjoy the process and not view it as a chore or something you HAVE to do. Make the wedding about YOU GUYS and about what YOU want! Don't feel obligated to have a an elaborate wedding and spend a lot of money. Honestly, our wedding was such an awesome time because of the people who were there: our most loving friends and family.
Favorite Part Of The Day:
There were a couple for me: seeing the look on the face of my husband when he saw me for the first time as well as the first look with my dad. The ceremony was also very special since someone close to me and dear to my heart officiated it.
The Highlights From The Ceremony & Reception:
Alvin says his favorite part of the ceremony was seeing me walking down the aisle. I can't say what my FAVORITE part was…it was all so amazing. I asked one of my best friends to officiate our wedding. She is such a passionate, loving, most genuine person you will ever meet. She is so captivating and has always had a way with words, turning a generic sentence into this beautiful piece of art. I knew she would be perfect, and boy did she deliver. There was not a single dry eye in the house! Seeing Alvin get so emotional during the words and then our vows was something I, nor the guests, will ever forget. The words that she said were personal and captured who Alvin and I are.
After the ceremony, everyone was complimenting her and us about how well she did. The reception was so beautiful and so much fun, beginning to end! We had such a wonderful wedding planner who made the tables and centerpieces so unique and gorgeous. It was her idea to do mixed metallics – 3 different shades of table cloths (silver, ivory, and champagne), all with different centerpieces. Our DJ was awesome and kept the party going. One of the most memorable moments, though, was watching Alvin dance with his mom during the mother-son dance. They were both crying as they swayed to "A Song for Mama" by Boyz II Men. This prompted an entirely new round of tears from all the guests.
Most Memorable Moment:
Our vows. We had a lot of input to what was going to be said by our officiant, so it was personal. Seeing Alvin cry and get choked up when saying his vows will probably be the most memorable. Guests will most likely remember how fantastic the officiant did as well as witnessing our emotions

VENDORS
Photographer: Red Trolley Studio
Event Planner: A Moment in time wedding and events
Caterer: Journey At Pechanga
Other Location: The Pechanga Resort and Casino