Good day, pretties! Today's styled shoot has an undoubtedly cozy vintage charm to it! In honor of Elvis and Priscilla's 50th wedding anniversary, we are proud to present to you St. Louis Wedding Styled Shoot by Photography by Jewels. With wonderful models (who were a real couple!) and the help of amazing vendors, Jewels Grey was able to put together this gorgeous "60's mod" themed spectacle complete with big hair and big lashes! The shoot was accompanied by a playlist of Elvis Presley hits and was really brought to life with all the wonderful details that they included. Everything about this shoot was 1960's inspired. Many details are pieces that actually came from that time period, from the jewelry to the milk glass cake stand to the white 1957 Lincoln, and everything in between! It's quite refreshing to have this vintage mod with pops of yellow, rock n' roll, and a whole lot of love! Plus, it definitely adds to the casual style and sophistication to the overall aesthetic of this showcase! Don't believe me? Scroll down to see it for yourself!
We're All About the Details!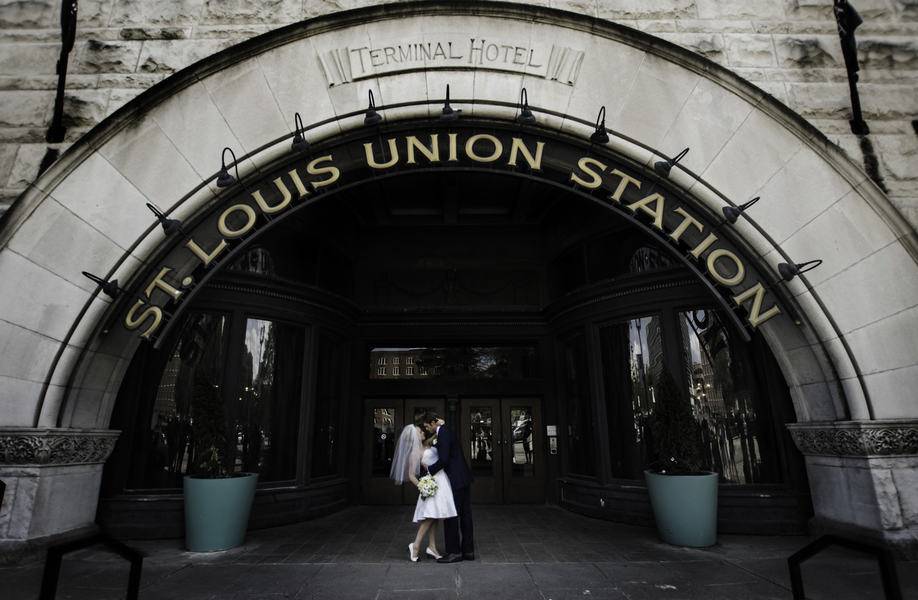 Working with professional models makes a WORLD of difference! Stephanie & Josh (a real couple to boot) were absolutely fantastic. Their communication before the shoot was spot on and being very involved with getting the right details together on their end. Models have a reputation for being "flaky", or unreliable. NOT the case with these two… professionalism goes a long way! Not to mention that they were absolutely ADORABLE together…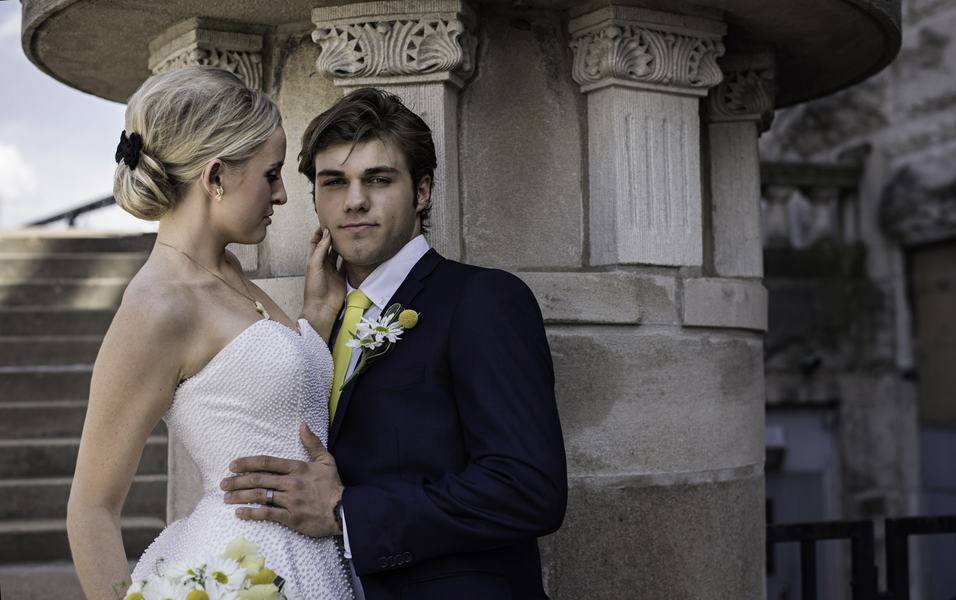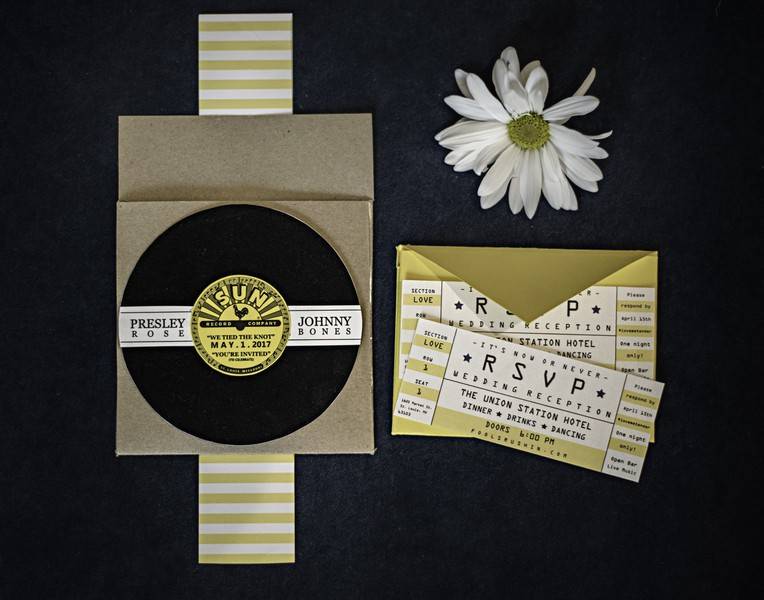 Stephanie's dress came from Denver from one of Jewels' most favorite shops, Little White Dress. Covered in pearls and tea length, it was absolutely perfect. They added some yellow "pop" with a petticoat found on Etsy, and her shoes were found at Target for $10! We love how the yellow center of the plumeria works for this shoot!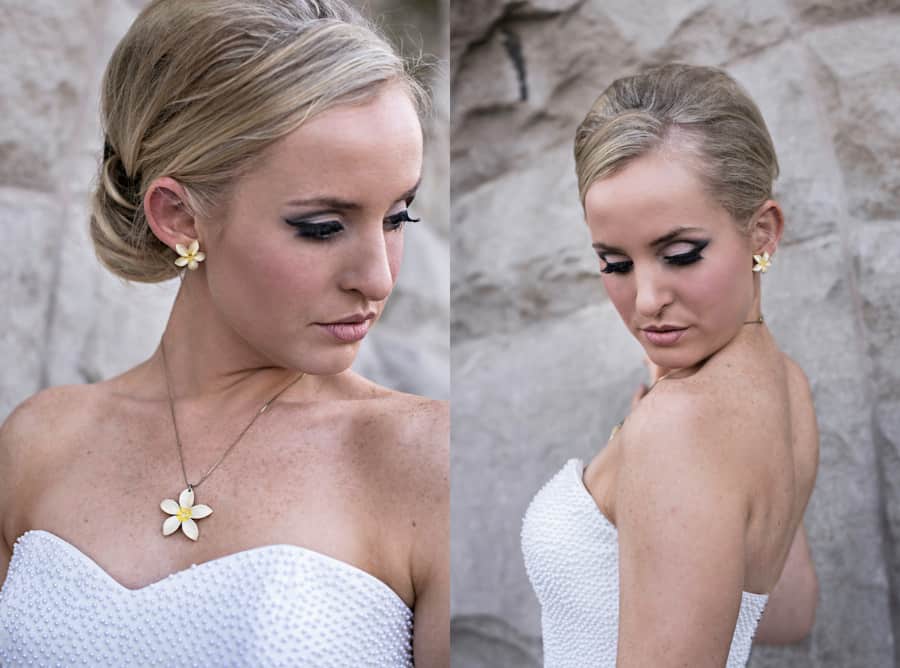 Tying everything together flawlessly were the flowers! Artistry Florist & Event Design put together the bouquet, boutanniere, and centerpiece. Using daisies and those little round balls (don't know what they're called), they were beyond perfect.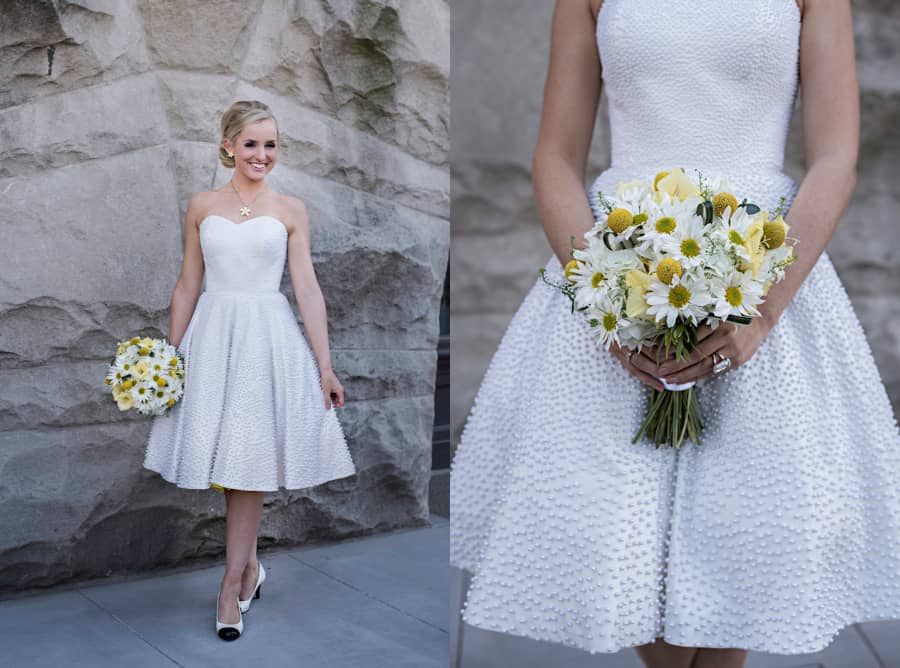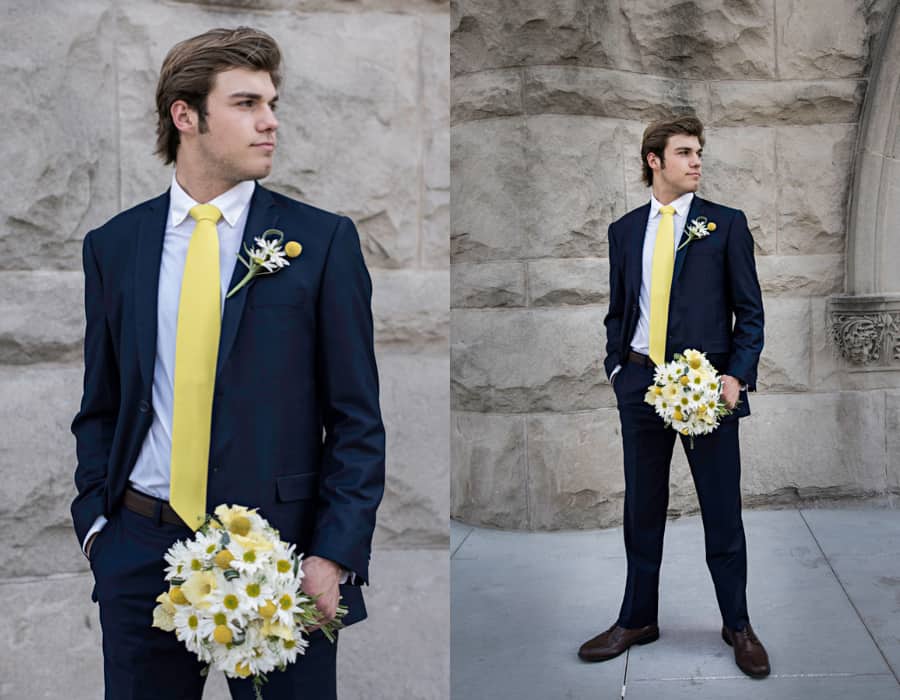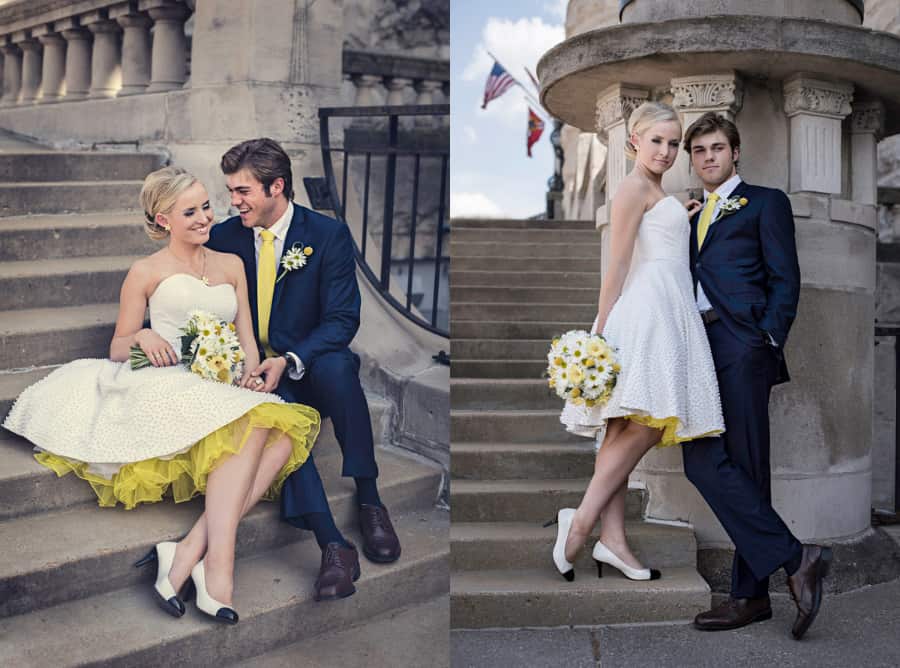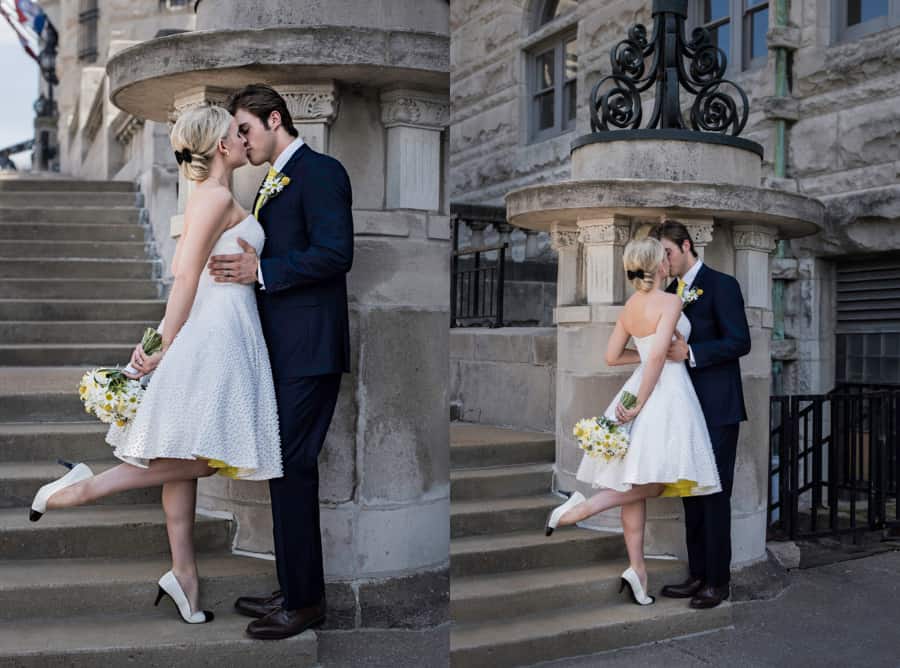 Jewels loves old cars, in fact she's a total sucker for them, that why she tries to incorporate one in every chance she gets. So of course she had to have one for this and found a white 1957 Lincoln at Motoexotica in St. Louis.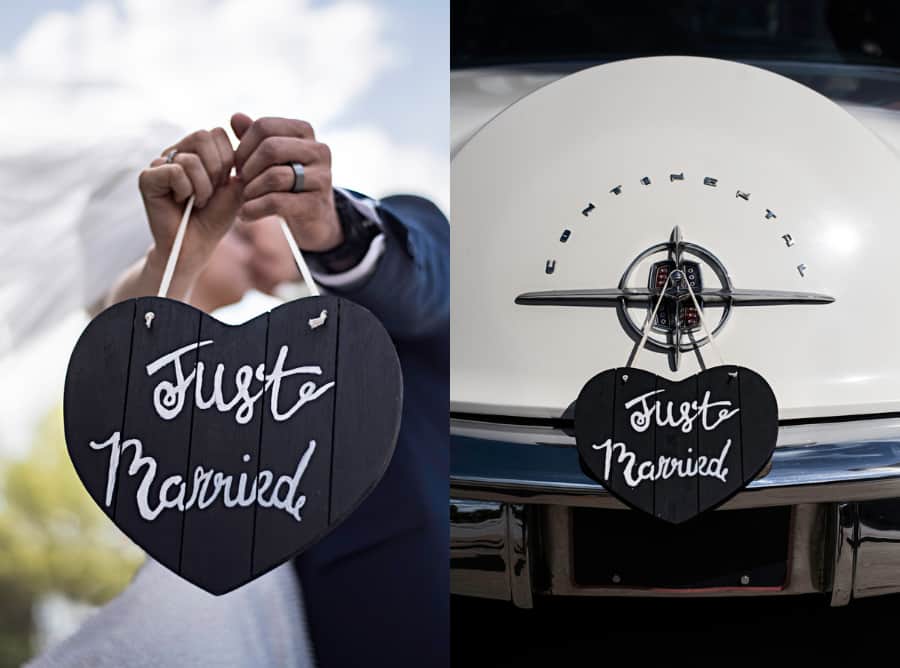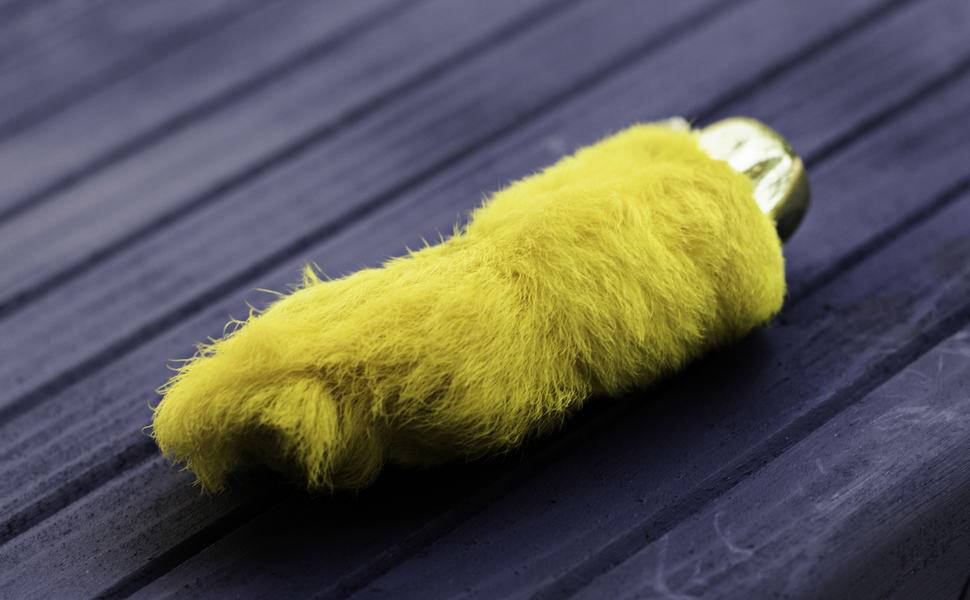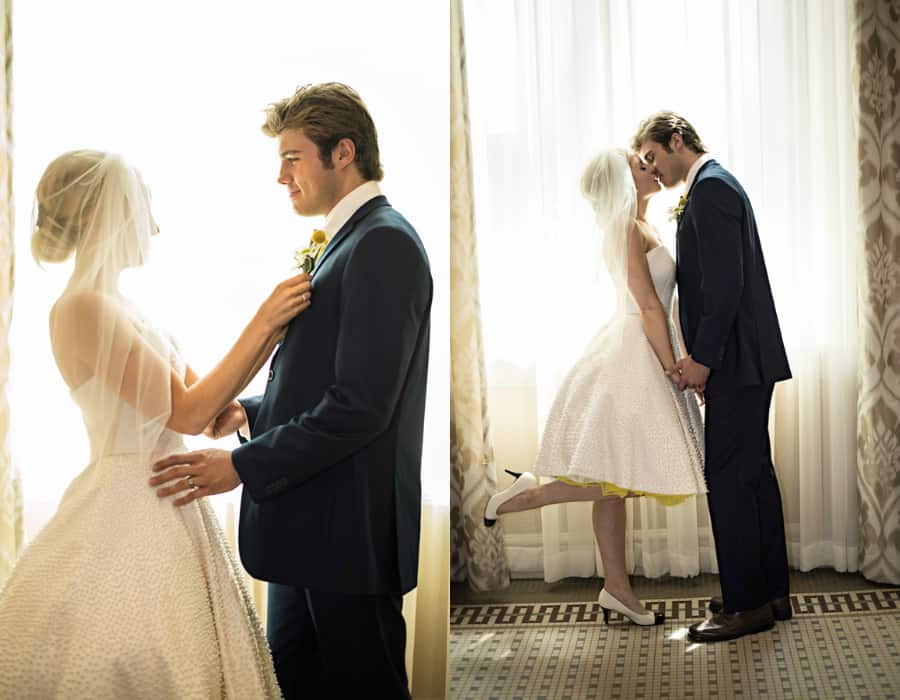 Speaking of cake, they had new friends over at the award-winning bakery, The Sweet Divine made a perfect little cake for the shoot, which looked adorable on the milk glass cake stand! They used two little glass "birds of happiness" bought at an antique shop for the cake toppers…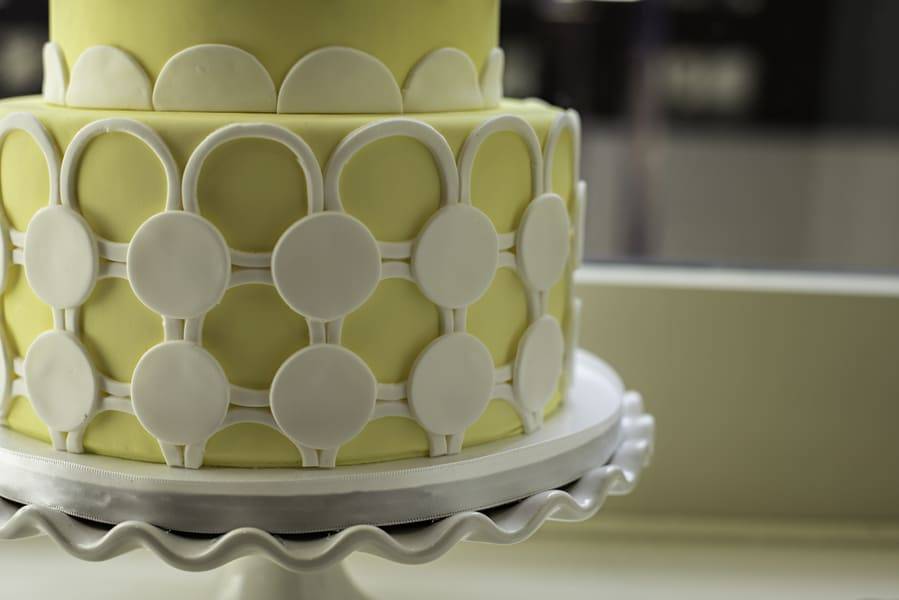 The "guest book" vinyl was found on Etsy at American Vinyl Co., and they had the students in the to class sign it (the names of the Bride & Groom are actually Jewels kids' names!).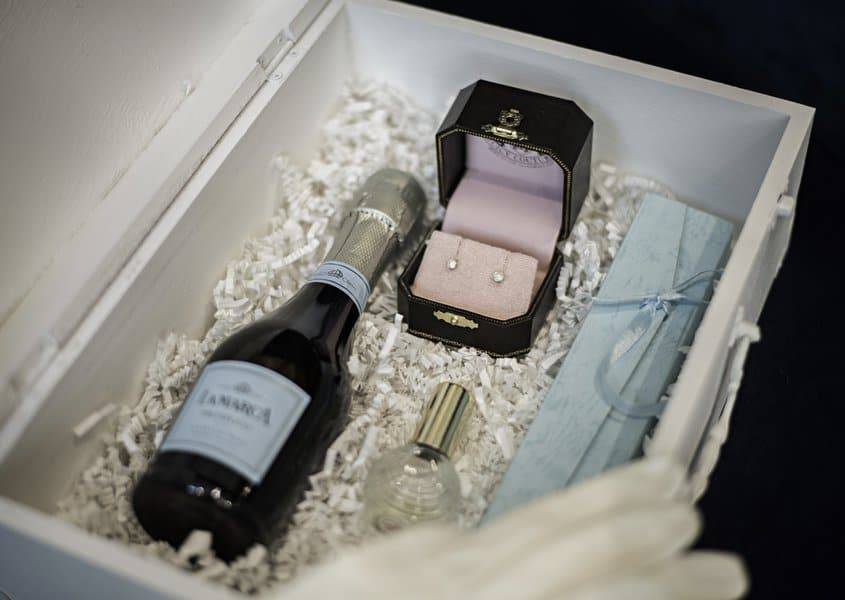 Blakely and Jewels brainstormed through Pinterest and came up with some really cool ideas. We loved the thought of using milk glass, and Blakely already had a ton of it, including a cake stand! The linen she chose reminds me of the velvet wall paper from the 60's!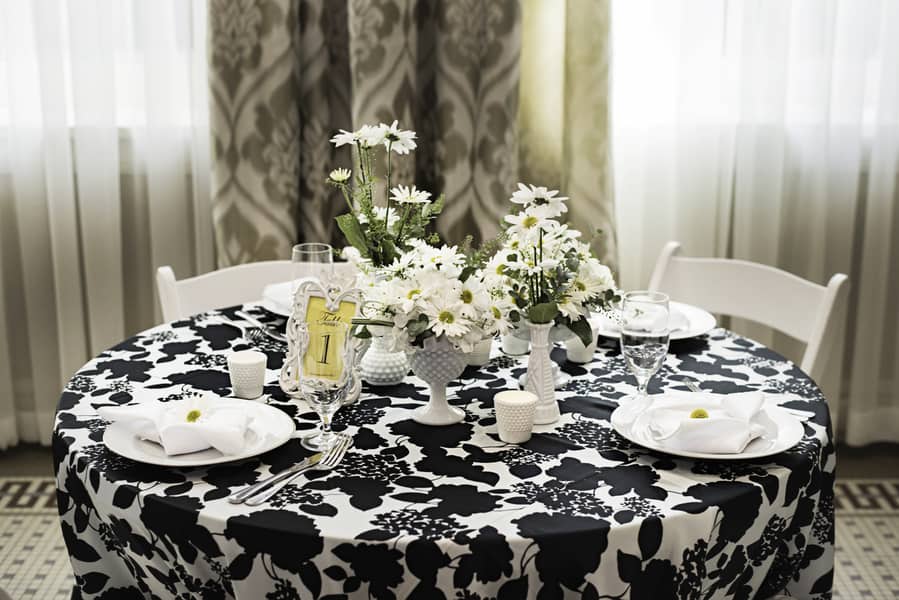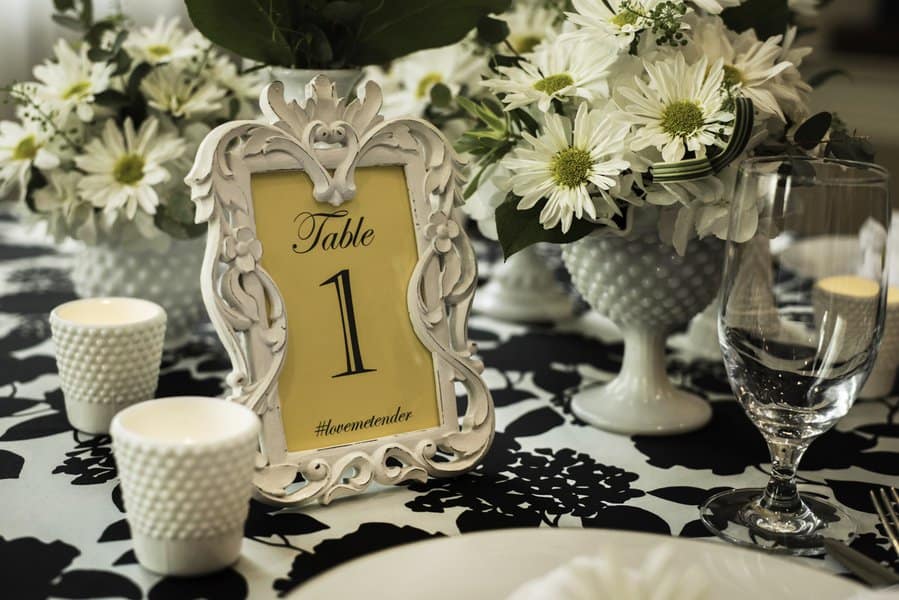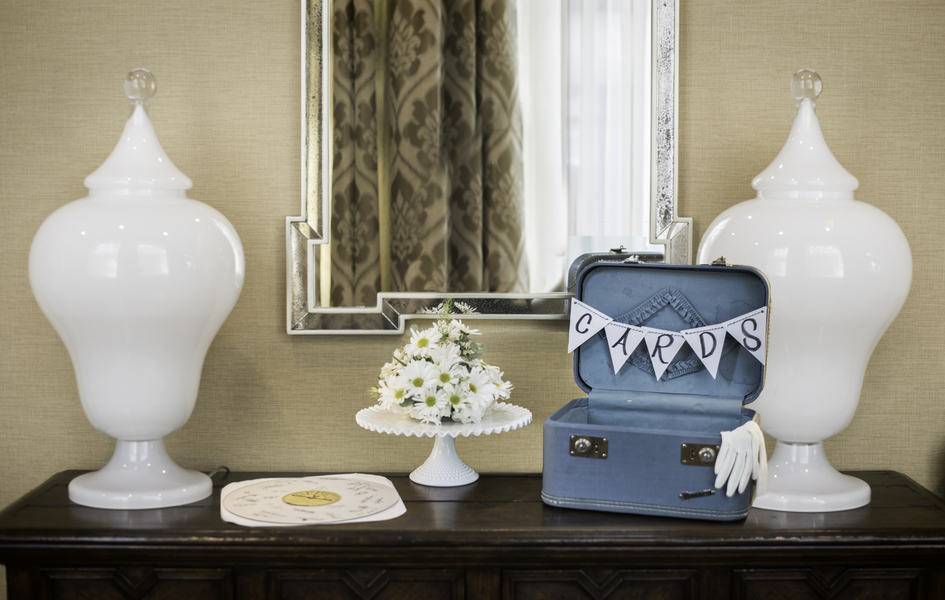 The idea for this shoot had been in Jewels' brain for several years. She finally got the chance to make it happen for her class "Rock Your Styled Shoots" at the annual photography convention, Shutterfest. The concept for this shoot was so fun and seeing the images her students got made her so happy. She wanted to give her students something unique they could use in their own portfolios by putting together all (or most) of the elements you would see on a wedding day, in a really cool way!
Take this Advice
Hire the best photographer you can afford, and spend the extra money to get someone with experience! Don't worry about the little details on the wedding day, just enjoy it for what it ends up being… Hire a wedding planner to help you through the endless sea of vendors, options, and to do the dirty work on the day of and leading up to it so you can enjoy your event. ~Jewels Gray/Photographer
About the Photographer
Jewels is the premier Denver Colorado wedding photographer specializing in creative, vibrant, & modern Denver wedding photography for urban and mountain weddings with a fashion & cinematic style. As a boutique-style studio, we bring an editorial magazine-worthy edginess to weddings & portrait photography. Though based in Colorado, we approach each wedding and event no matter where it is, with care and dedication that is second to none. Each one is different and fun, and our clients have a blast with us no matter where we are! Your wedding and stylized engagement photo shoots are carefully orchestrated to offer an exceptionally unique photography experience. Photographs are among some of our most treasured possessions, and there's an immeasurable amount of worth within in any image that allows you to relive a special moment in time. A wedding is no exception. If anything, it's a once-in-a-lifetime occasion that's as momentous as it is fleeting, and a photographer only has one chance to properly document the day. To put it plainly, there's a substantial amount of pressure when it comes to wedding photography and it is not something we take lightly. There's virtually no room for mistakes, and photographing such an important event is a task that should be assigned exclusively to a well-seasoned professional. The most remarkable wedding photos can transport you back to that ceremony, reception, or first dance, even if you're looking through your album decades later. Of course the aesthetics of the day should be preserved by those photos, but the emotional aspect should be there as well.
Money Matters
$3,299+
Vendors
Photographer: Photography by Jewels
Hair Stylist: Hair & Makeup by Jewels Gray
Transportation: Motoexotica
Favors and Gifts: The Sweet Divine
Lighting: Weinhardt Party Rentals
Floral Designer: Artistry Florist
Event Designer: An Affair To Remember_STL
Dress Store: Little White Dress Bridal Shop
Event Venue: St Louis Union Station Hotel, Curio Collection by Hilton