Love is indeed the greatest power: it's able to take people up to the skies. And literally, Katie and Byron took it up to the skies after saying their vows on the grounds of Little River Farms in Alpharetta, GA. Their fun day was a bohemian chic hot air balloon themed affair and they actually had a hot air balloon on site for a quick ride and photo op. Such a lovely way to fly away with the love of your life, ayt?  Katie and Byron, congratulations on your wedding! And I wish with all my heart that you would have only ups in your life!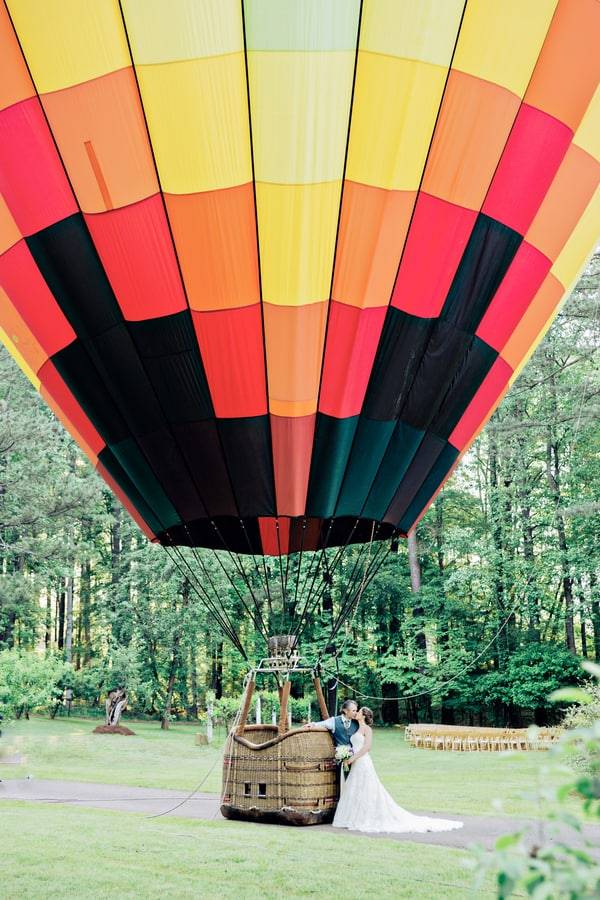 How They Met
From the Bride: "Byron came into AT&T where I worked. I saw him walking across the parking lot and claimed him as my customer to all of my coworkers. I enjoyed helping him and walked him out the door as was our company policy. There in the parking lot were numerous hot air balloons and a double rainbow. My boss at the time basically told us we would get married one day and she would take all the credit (Cheryl Wood, Dawsonville Moonshine Distillery). We had dinner a few times and everything was so easy for us. We became best friends and falling in love didn't come much longer after that. Needless to say, years of dating and the rest is history. Byron and I are such a good team and together there isn't anything we can't do."
All In The Details
Their theme was "Fly Away with Me" and started with the beautiful invitation suite that was designed specifically for them and printed by Southern Sophistication Designs.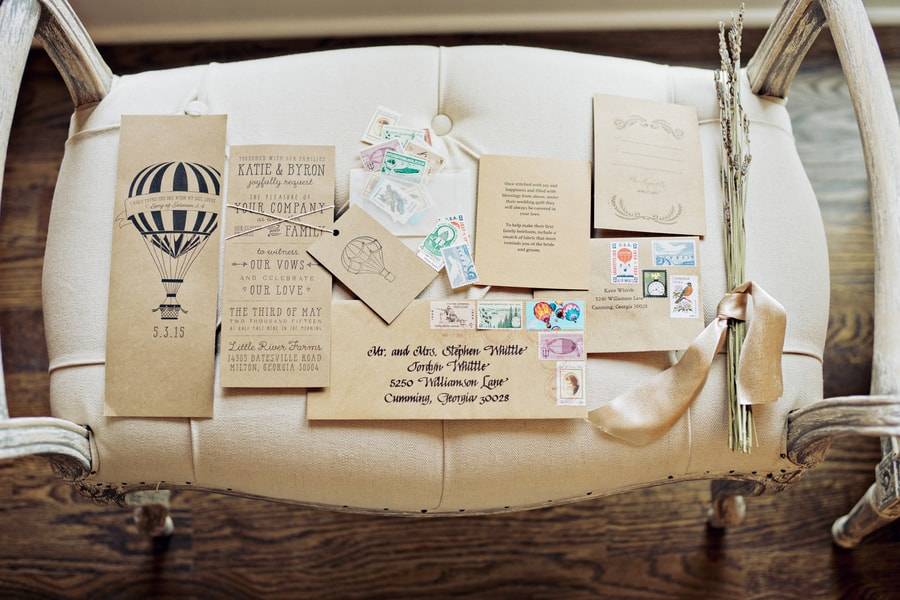 Shannon's Calligraphy provided the calligraphy on the envelopes and attached to each envelope were vintage stamps, many featuring hot air balloons.

Katie and Byron asked in their RSVP card for each guest to send in a swatch of their favorite fabric that would then be turned into a quilt for them to display at their wedding and then use at their home.
Their menus and coffee sleeves were all stamps with the same balloon stamp as the inside of their invitation envelope.
Their pew markers were lavender and their altar was bracketed by wine barrels.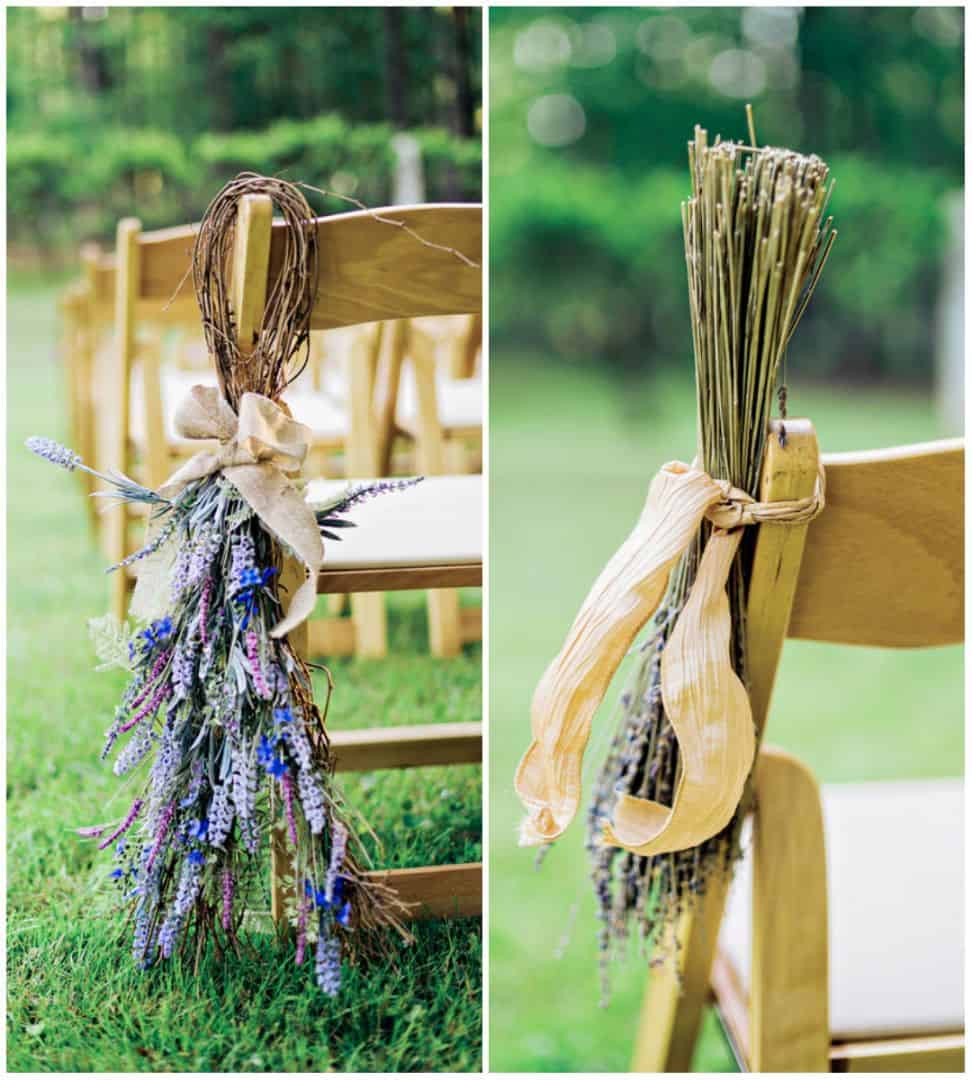 A watercolor artist was on hand to capture the entire scene in a painting.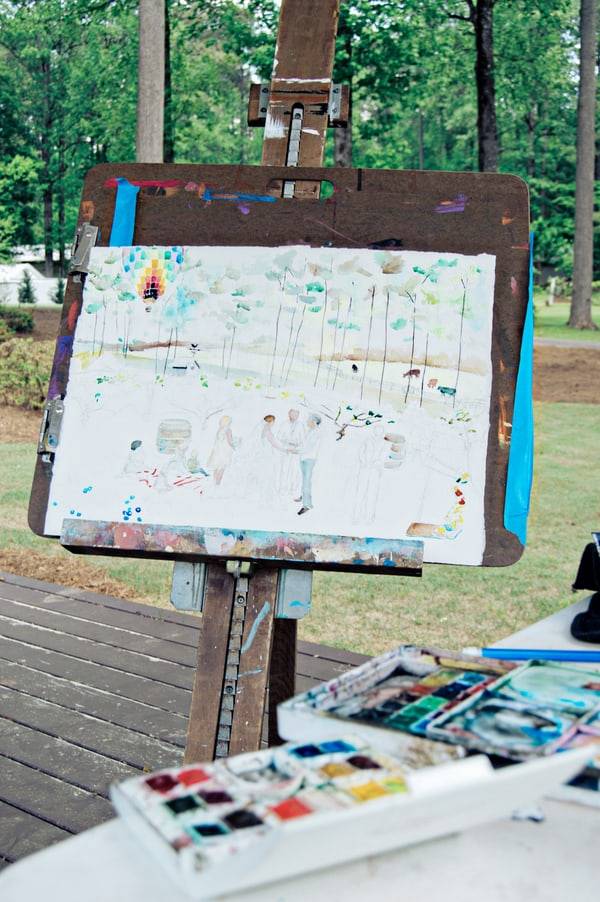 A confetti popper when they kissed for the first time!
They walked back up the aisle and jumped into their hot air balloon for a quick ride and photo op as guests were served mimosas and Bloody Marys.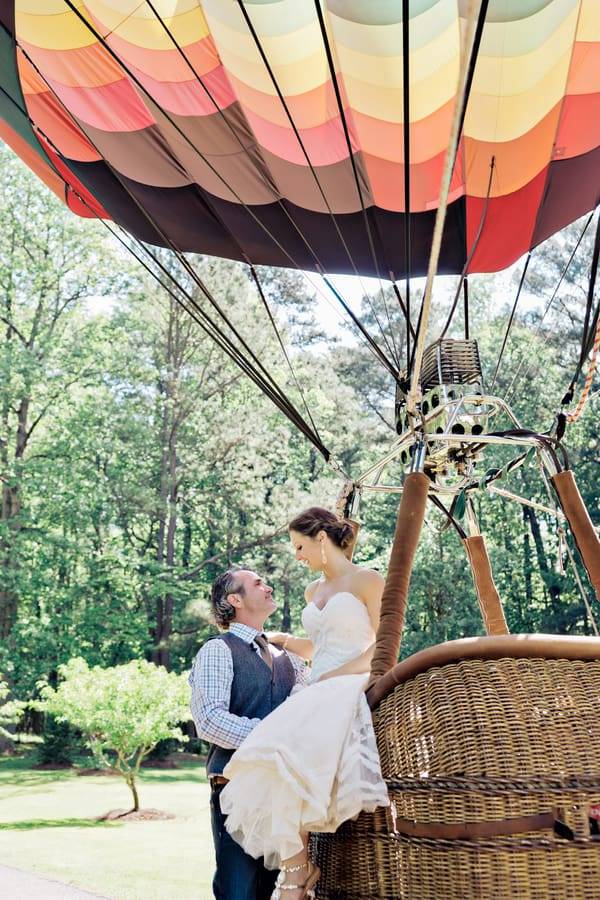 Their caterer, Another Broken Egg, a restaurant frequented by the bride and groom for brunch, served custom omelettes from station where guests could choose their toppings.
They also provided a myriad of other brunch dishes including biscuits, muffins, and breakfast casseroles.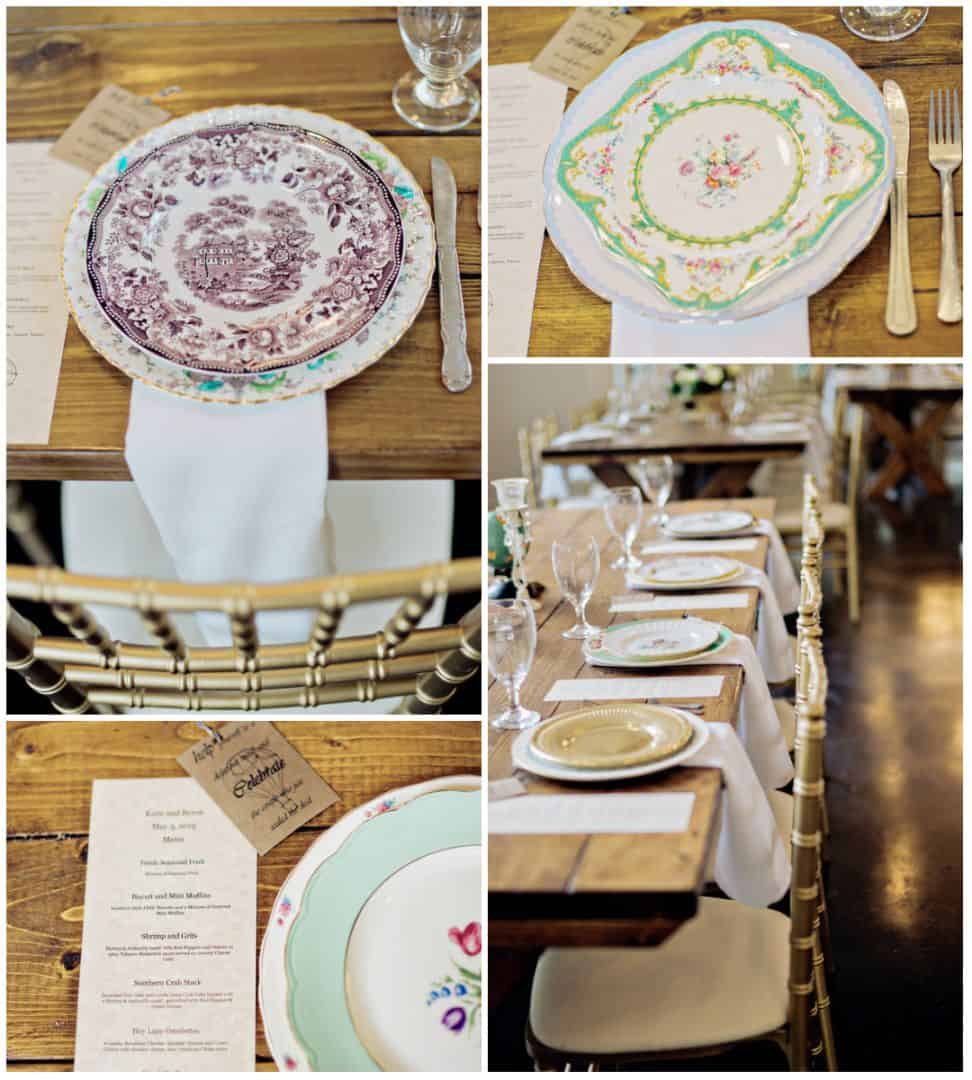 The guests were served on vintage china from Vintage English Teacup.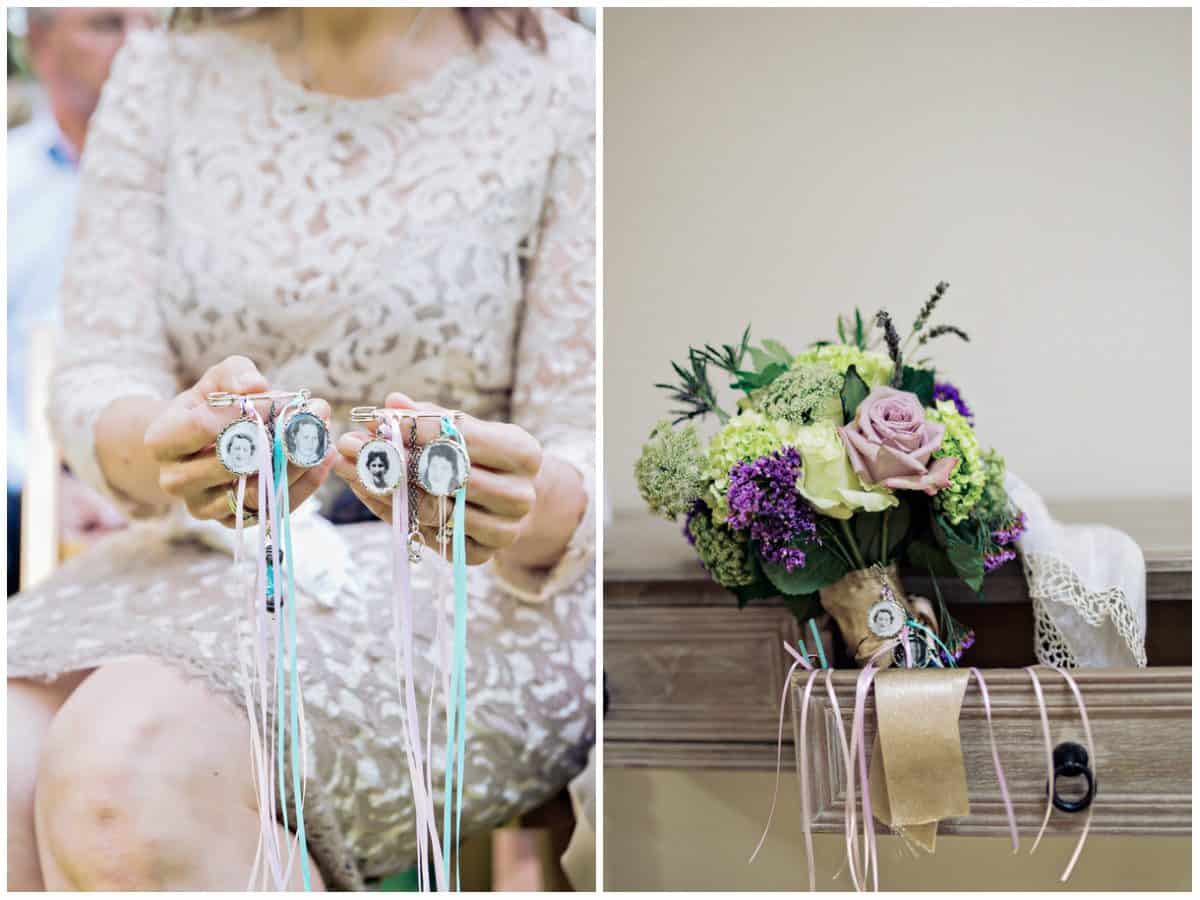 Old, new, borrowed, blue – Katie's  mother created pins with photos of her great grandmothers and her grandmothers along with old, new, borrowed, and blue charms which she pinned on her bouquet after walking down the aisle.
More Awesome Shots
Click image to enlarge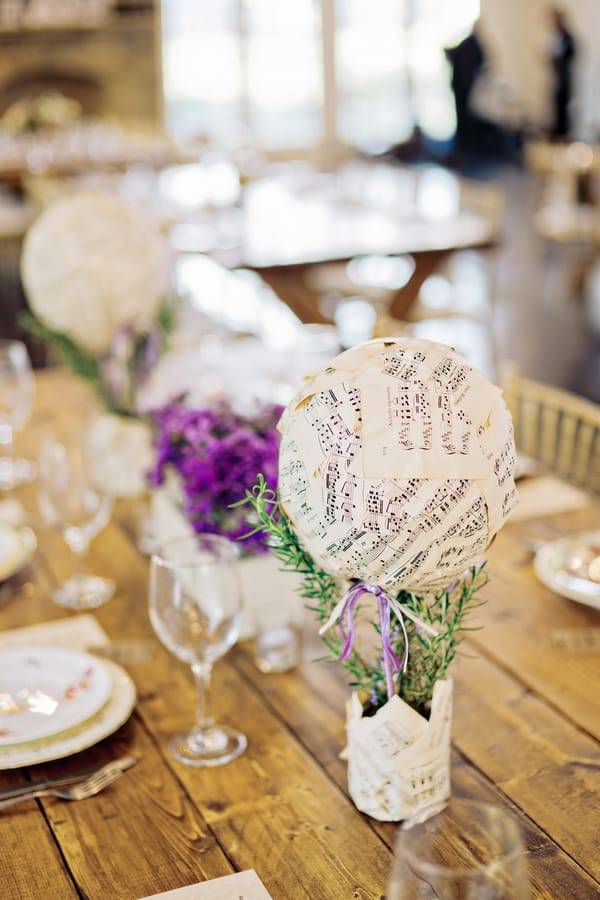 1

Like. Click to Vote
>
 A flood of colorful confetti as Katie and Byron exited their reception!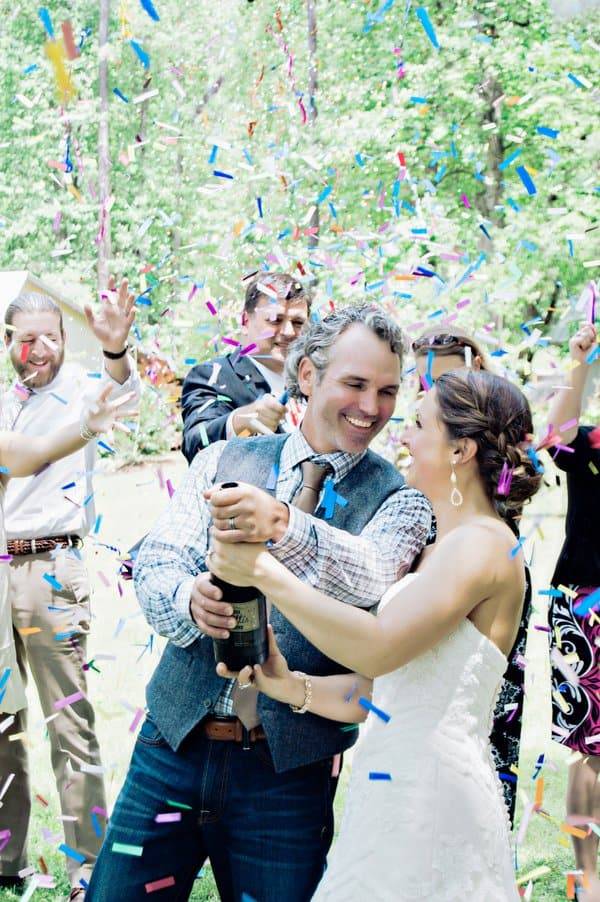 VENDORS
Photographer: Andie Freeman Photography
Caterer: Another Broken Egg
Transportation: Balloons Over Georgia
Dress Store: Bravura Bridal
Band: Eugene Hunter Jr
Beauty: Face of Makeup
Other: Happy Socks
Heirlooms and extras: Jacki Go Vintage
Invitation Designer: Jubilee Design Studios
Heirlooms and extras: Justin Alexander
Dress Designer: Justin Alexander
Event Venue: Little River Farms
Other: Maureen Engle
Shoes: Mystique
Officiant: North Point Ministries
Calligrapher: Shannon's Calligraphy
Event Planner: Southern Sophistication Designs
Ring Designer: Staghead Designs
Favors and Gifts: Tribble Farms
Equipment Rentals: Vintage English Teacup