If you're a bride-to-be who wears glasses and you're considering purchasing contacts simply so you don't have to wear your glasses for your wedding day, then this is the post for you. I'll share tips for those who decide to embrace their frames, discuss the glasses vs contacts dilemma, and offer advice on choosing styles and addressing potential challenges. This post will help you make an informed decision for your special day.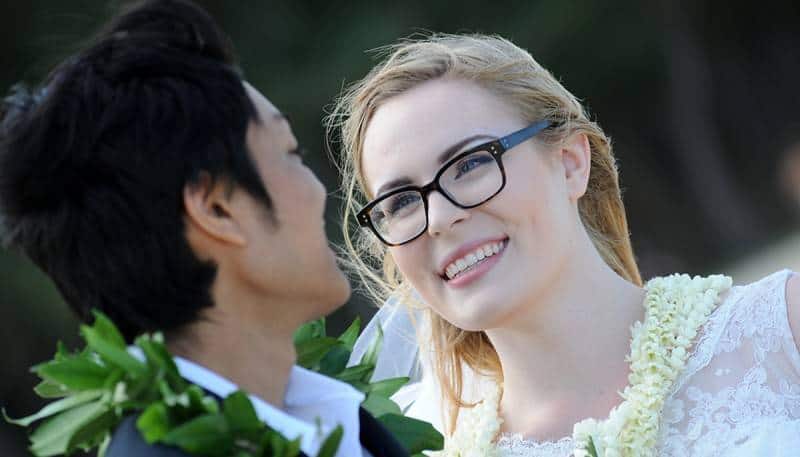 Many brides feel as if glasses shouldn't come anywhere near a wedding dress, but it's just not true! Check out how amazing these bespectacled brides look on their wedding day.
I personally think that glasses certainly don't "take away" from the look of the bride on her wedding day. If anything, they add to the look and feel of this picture; you can see this bride's personality sparkling through in her eyes, even with the glasses. Love this look!
Tips for Real Brides Who Decided To Wear Glasses
Here are some tips and things you think through if you're debating whether or not you should wear glasses.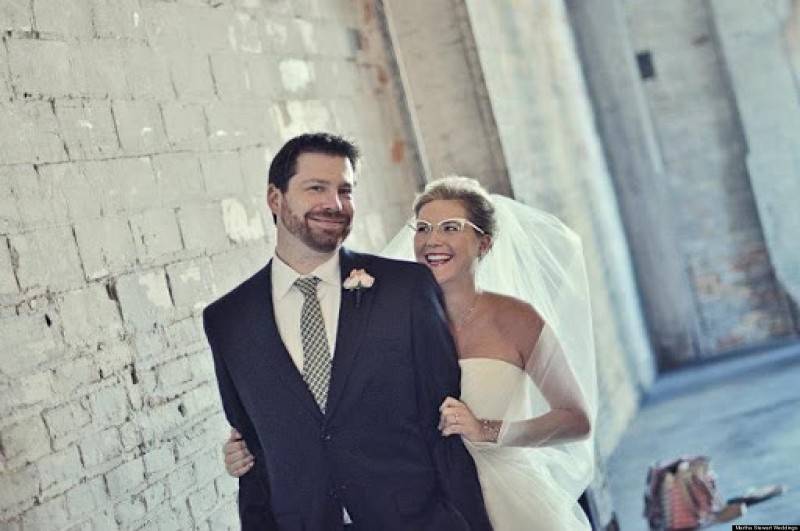 This playful, fun picture is just adorable and the bride's glasses are super cute. The frames are vintage-style, giving her entire look a bit of a vintage feel. She is gorgeous, and we love that she wore white frames to match her dress.
Be Yourself
Your glasses can be a unique accessory that allows you to express your distinct personality and style. Whether you choose to wear your everyday frames or select a brand-new pair, you have the opportunity to enhance your bridal look. Wearing glasses can help you stand out and make a statement, adding a distinctive touch to your appearance.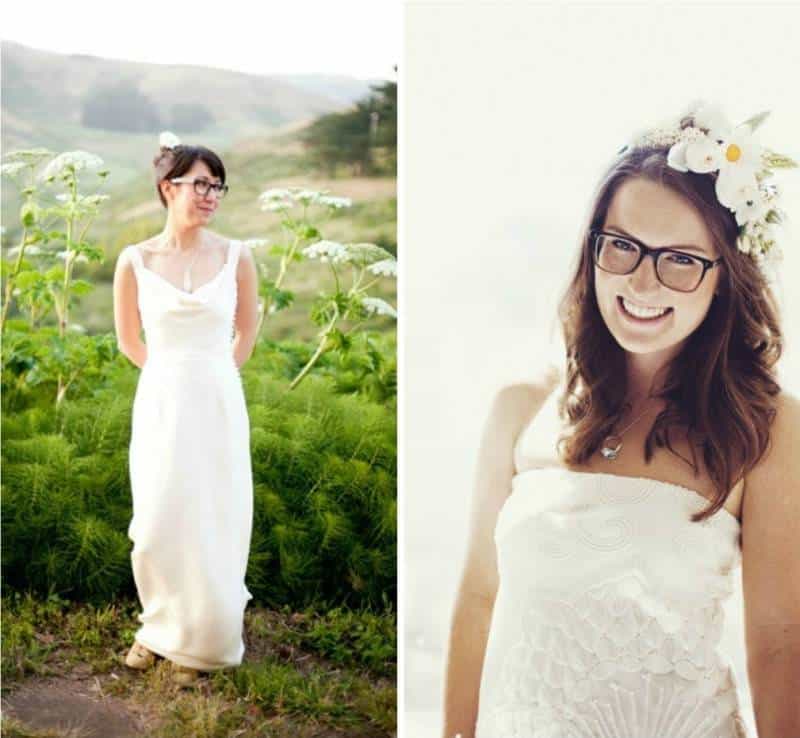 This bride is absolutely beautiful! In fact, she look so amazing in their wedding dresses that their glasses are probably the last thing you notice. When you do notice them, they look as fantastic as the rest of the bride's accessories. We love that these particular pairs of glasses are bold and dark colored with large frames.
Glasses vs Contacts
If glasses are more comfortable and contacts might cause discomfort or dryness, it might be better to stick with glasses. For those who are comfortable with contacts or wear them regularly, this could be an option. However, if you're not used to them, give yourself a few months to adjust. Some brides opted for contacts to avoid having glasses that might look dated in the future. However, others pointed out that dress styles also change, so this might not be a significant concern.
Test and Choose Different Styles
Test out makeup and hair with both glasses and contacts. Take some test shots to see which look you prefer. Consider how glasses might impact certain shots. Or whether certain eyelash styles are compatible.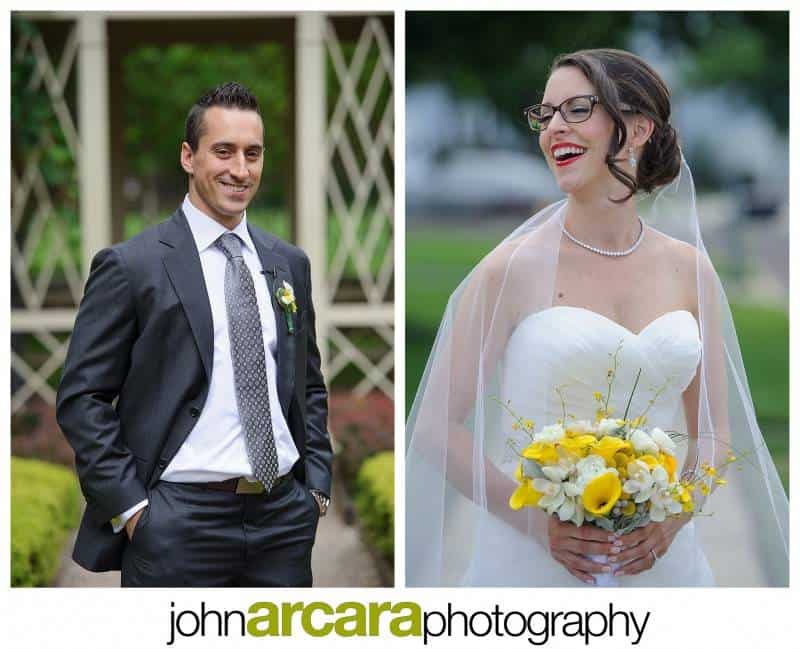 You simply can't tell us that this bride isn't incredibly beautiful, and even in those glasses! We think they're adorable and love the fun and flirty look of this photo. This bride still looks just as elegant, and perhaps even more so with her glasses, as she would without them.
Special Wedding Glasses
Consider buying a special pair of glasses that match your wedding attire. Websites like Zenni Optical offer a variety of options. Some brides chose to wear glasses for part of the event and contacts for another, giving a mix of looks in the photos.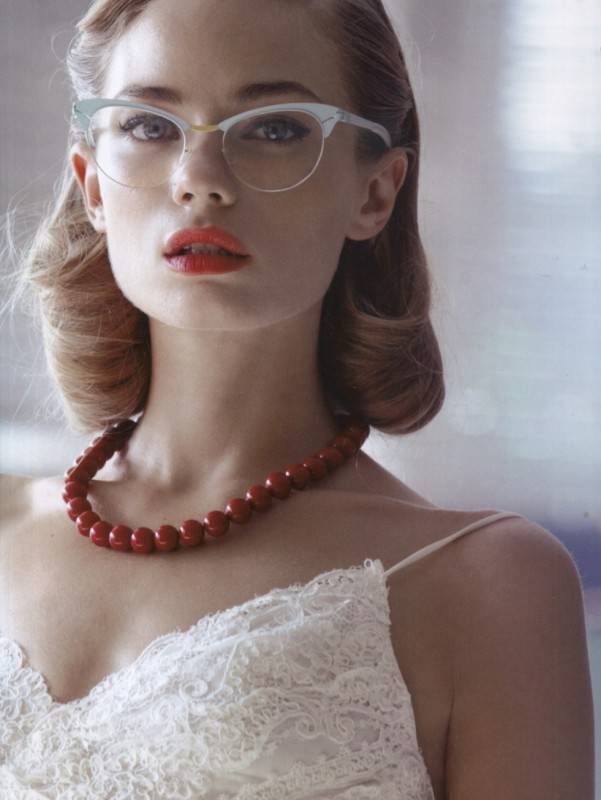 These glasses add to this woman's sexy vintage look, and pair very well with the gorgeous red necklace. We love this look, and it simply couldn't be pulled off the same way without the glasses.
First Kiss Considerations
Be mindful of how glasses might affect your first kiss as a married couple. Practicing beforehand can ensure a smooth and picture-perfect moment.
Addressing Glare
Check with your photographer about any potential issues with glare from the lenses and how this can be managed.
Ultimately, whether you choose glasses or contacts, the most important thing is to feel comfortable and like yourself on your special day.
So, what do you think? Would you wear eyeglasses to your wedding or would you order contacts simply to avoid doing so? Let us know in the comments section below.