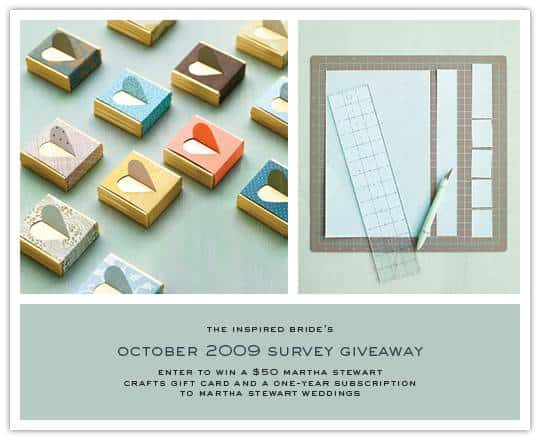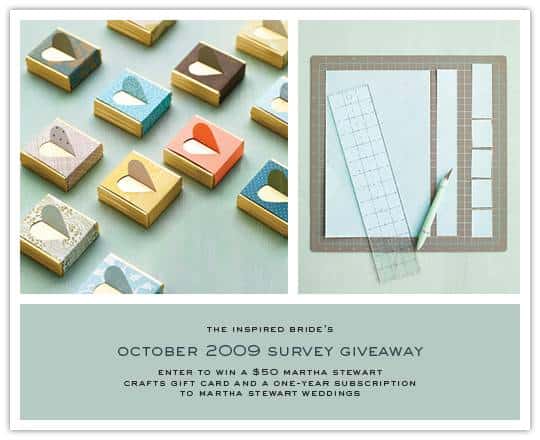 It's been quite some time since the last time I did a survey and giveaway, considering how much the Inspired Bride has changed and grown since then – so I'm doing another one! I appreciate how honest and constructive the survey results were last time – and it gave rise to the new blog layout, our infamous Color Cards, an Etsy finds feature, among other things! I'm excited to see what you all have to say, and I'm happy to say we're sweetening the deal again with some Martha goodies!
• • ♥ • •
WHAT'S UP FOR GRABS:
A $50 gift certificate to Martha Stewart Crafts and a one year subscription to Martha Stewart Weddings.
HOW TO ENTER:
Read our blog thoroughly (if you haven't already!) and fill out our October 2009 survey honestly. Make sure to enter all of the information in the first question to be eligible to win this contest! The contest ends Friday, October 16th at 11:59 PM Central Time.
• • ♥ • •
The Fine Print:
We're not Martha Stewart, and neither she or any of her companies or organizations endorse this giveaway. (Just stating the obvious!) We are furnishing these products personally, so please do not contact her or any of her companies in regards to this giveaway, or us for any of her products (unless it pertains directly to the prizes).
All fields in the personal information section must be completed for your entry to be accepted for the contest. We left this form as a non-required question for those who wanted to give us feedback without identifying themselves or who wanted to waive their participation in the giveaway. Because we need your correct e-mail address to notify you of your win and to send out one of your prizes, please double check this area in particular for accuracy.
One entry per person. That's pretty self-explanatory, no?
The winner will be chosen randomly from the pool of eligible entries. To be clear and technical, all qualifying entrants will be input into an Excel document with their name and associated emails numbered in the order by which their feedback form was submitted. We will use a random integer generator to choose the lucky winner and will announce it the following Monday.
The winner will have until Friday the 23rd to claim his or her prize. We will contact you for shipping information at the email address provided in addition to posting your victory on the blog, so please respond to it as soon as possible to avoid losing the prize. If the prize is not claimed by that Friday, we will have another winner chosen at random from the original pool.
Method of receipt for the prizes: The magazine subscription is purchased as a gift subscription and will be mailed to you directly from the publisher. Because Martha Stewart Crafts gift cards are only available for purchase online as a digital gift card, they will arrive in your e-mail inbox. Please check your Spam folder before contacting us if you do not receive it within ten business days after contacting us to claim your prize.
Now that that's out of the way, on to our October 2009 survey!
Images from Martha Stewart.