Allison and Eddie share a love for nature and the outdoors. And on their wedding day the couple wants to have a touch of nature on almost all of their decors and food. The wedding cake was also inspired by it, with two wolves as cake toppers. Allison also had an unusual hair accessory – succulents. Yup, she had mini succulents pinned in her bun that matched the succulent bouquets and boutonnieres. Succulents are an excellent alternative for other floras that are not in season. Even their photobooth props had a touch of nature – cartoon mosquito cutouts! Their invites also were made personalized to fit their theme. The event was well thought of and planned, kudos to all that made this day memorable for Allison and Eddie!
Click image to enlarge
Like. Click to Vote
>
Photographers:
We both met Alison and Eddie at a large Toronto Wedding Expo. It was our first time participating as vendors, and we did not know what to expect – we did not expect to meet so many amazing and unique couples, such as Alison and Eddie. The moment these two enter a room you can't help but fall in love with their energy. They are up for anything and us, as wedding photographers, this is always an exciting opportunity to try something unique!
The setting of their countryside wedding was perfect: we were able to stop at farmers' fields, discovered an abandoned old UK telephone booth, and goofed around with pinwheels and sparklers. Eddie and Alison incorporated so many personal touches to their wedding day: their cake (masterfully created by Designer Delights), was forest-themed (not to mention adorable!) The rolling Niagara hillside, the soft dusk light, and all the natural details together provided the perfect backdrop for an amazing day.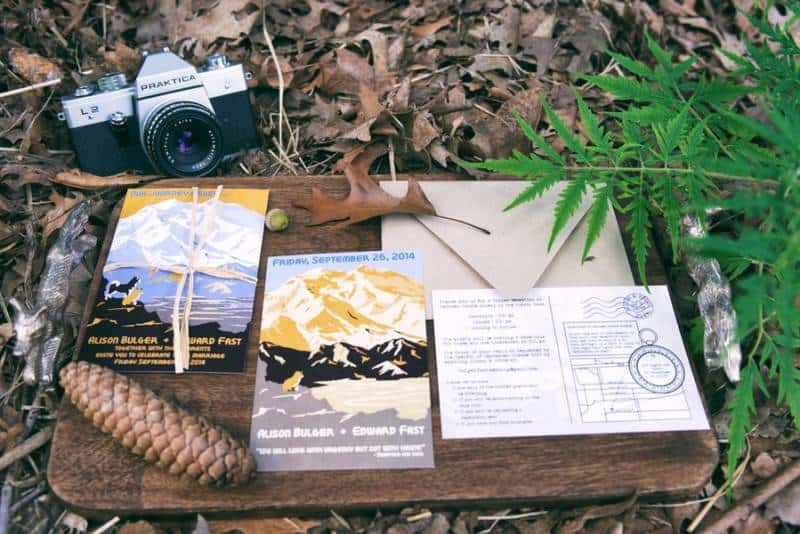 Allison (The Bride):
We both love fall, and both liked the idea of getting married in late September or early October when the leaves start to change, but our biggest factor in finalizing the date was our honeymoon. We had been planning to go to Greenland to run the Polar Circle Half Marathon far before we got engaged and because it can be difficult to get a place in an adventure marathon, planning our attendance to the event early was crucial.
Both Eddie and I love nature and being outside, so we always knew that the wedding would have to include an element of the outdoors. We also knew that we wanted to host a rustic or barn-style wedding, preferably somewhere in the countryside. The first place we saw was the Hernder Estates Winery just outside of St. Catharines, and we immediately fell in love with the venue. Nestled in the rolling hills and winery region of Ontario, it provided the perfect backdrop to celebrate our special day. The countryside surrounding Hernder Estates also provided guests with a beautiful drive through vineyards and farmlands, which was part of the magical atmosphere that we wanted for our wedding.
Finding the church was a blessing. We had looked at several churches in the area, but I had set my heart on a church in the country and was determined to find the perfect rustic church. One challenge we had to consider, however, was that most churches require their pastors to officiate weddings, and we wanted our pastor to marry us. As a result, although we found many beautiful and rustic churches in the St. Catharines area, we had a hard time finding a church that would allow us to use our pastor. But our perseverance paid off and one day, I happened upon the Ball's Falls Conservation site. The little white church was not only adorable, but the administration required us to bring in our own officiant! It was perfect, and we were thrilled!
Preparations leading up to the day were so busy that it's become a blur. It was important to both Eddie and me to do a lot of our own decor – we wanted the day to represent us. But, as most brides know, combining a full-time job and wedding planning is no easy task. We were very lucky to have a close friend and one of my bridesmaids help us with a lot of the planning. Many family members and friends were also ready at a moment's notice to jump in and help and because of that everything about the planning process got done.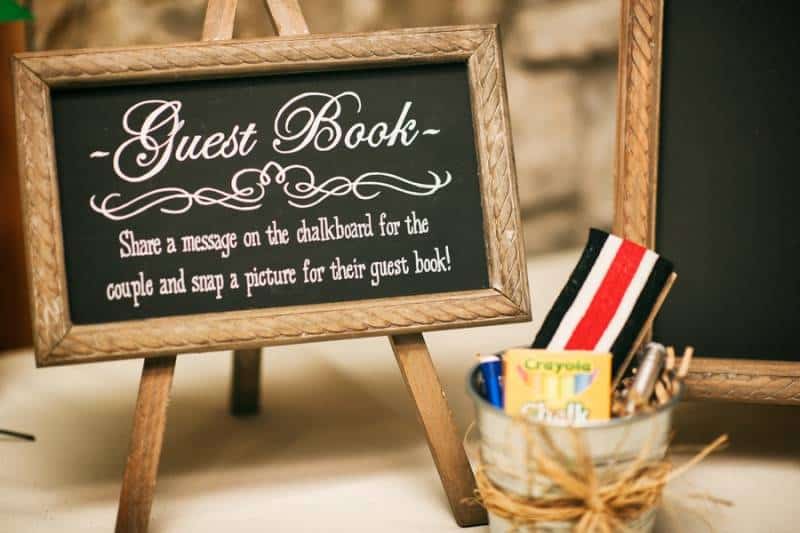 We were also very lucky with our vendors. They were all incredible. Our cake was not only delicious, but it was better than we could have ever expected! The girls at Designer Delights run a wonderful business and their recipes are unique and so yummy! Miraculously, we found our photographers at a big Toronto wedding show. I only attended this show with the hopes of finding a unique photographer for our wedding, and we happened upon Boakview Photography. Their booth, decorated in a Canadiana cottage motif, drew me in, but their work kept me there. Hugh and Katarina understood our vision and brought their own touch to each photo, which resulted in a beautifully curated documentary of our special day. Our florist did an amazing job creating a unique arrangement with succulents (which I had my heart set on from the very start), they were easy to work with and assisted us in modifying elements to help control our costs. Everyone was so incredibly helpful, we truly feel so lucky that all our vendors made all the planning so simple and fun.
What we took out of the entire experience is that all of the little details we cared about, looked into, searched for and carried out – they all brought different aspects to the day to help create the atmosphere that we really wanted both for ourselves and for our guests. With the invaluable help from our friends and family, we created special touches that were important to us: ones that reflected us as a couple. From building pinwheels for a group photo, handwriting the thank you cards found at every guest's seat, building the outdoor themed photo booth and so many more details, all helped to create the wedding of our dreams.
What made our day truly special was being able to breathe and enjoy everything. Even though it was a blur, everything was finished ahead of time so on the big day we could sit back and enjoy the event with all of our close friends and family. That was a blessing.
The moment I stepped out of the limo at the church and saw the faces of loved ones was amazing. But even more so was the instant I stood up at the front of the church with Eddie, looked back at the packed church and felt the love and support of everyone there – it was overwhelmingly beautiful. That was the moment that both Eddie and I found ourselves being reminded and humbled by how lucky we are to have these amazing people in our lives!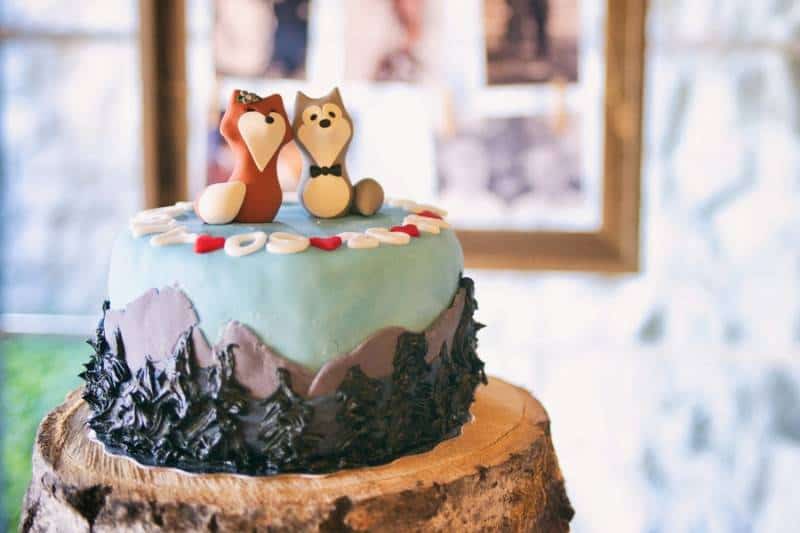 Top 5 Pieces of Advice to Engaged Couples Planning their Wedding:
1) Remember that it is your day and to be true to what works best for the two of you. You will get a lot of advice and ideas/input from family and friends. If they understand your vision, they will be able to provide you with some great ideas/suggestions and will feel included in the preparations.
2) Accept that no matter how prepared you are for your big day, you will still be doing last minute preparations on the day before. And that's okay – because you will arrive on your wedding day and everything will be in place.
3) Know who your most trusted contacts are that are not in your wedding party. Your wedding party will have a lot of responsibilities on the day, and your immediate family will be involved in the photo shoot. There are small touches that you may need additional help for so it's a really good idea to know one or two solid friends that you can turn to who can help with details that the wedding party is unable to do. e had a group of amazing friends who were able to be that extra help for us that we needed.
4) Find the right photographer! Both Eddie and I are travelers and pictures are how we capture our memories – because Katarina and Hugh began their careers as travel photographers, we were instantly drawn to their style. Your wedding day is a very important day and because it can zip by like a blur you want to make sure that this important task is in the right hands!
5) Find a moment on the day to breathe. Your wedding day is on a schedule, even if you haven't planned to follow one. You need to find those quieter moments to just enjoy each other.
Bonus Advice!
6) Look outside of wedding stores for inspiration. There are some decorative details for your wedding that you can find if you look outside of a store that specializes in weddings – we found a lot of our inspiration in the most unlikely places such as IKEA!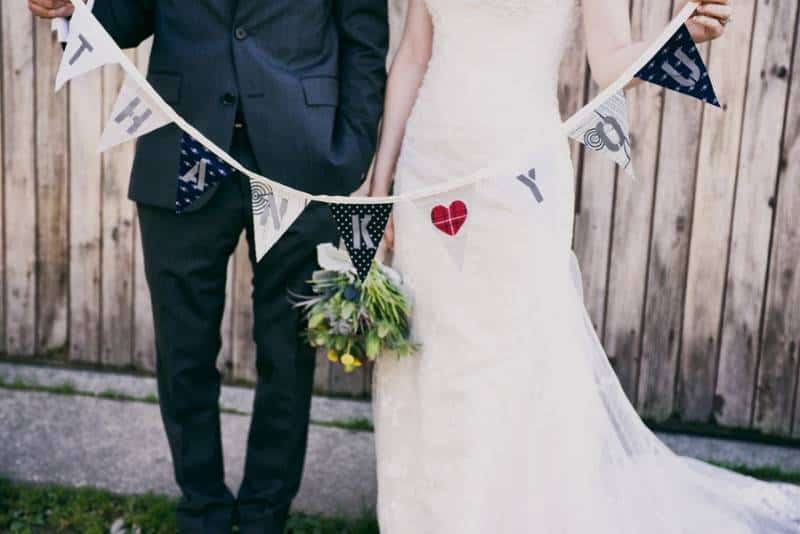 VENDORS
Photographer: Boakview Photography
DJ: Alpha A/V Solutions
Ceremony Location: Balls Falls Historic Church
Dress Store: David's Bridal
Bakery: Designer Delights
Calligrapher: Fast Draw – Illustrations by Lauren Fast
Event Venue: Hernder Estates
Tuxedo and Men's Attire: Hugo Boss
Other: IKEA
Etsy Designer: LuLu Amour
DIY or Handmade Goods Designer: Material Culture Co.
Other: Mr. Printer
Jewelry: People's Jewellers
Dress Designer: Private Label By G
Hair Stylist: Storm Hair Group
Floral Designer: The Watering Can Flower Market