Click image to enlarge
Like. Click to Vote
>
Laura and Tim's wedding was beautiful from start to finish. I am in love with the bride's gown and her and her bridesmaids' bouquets – it looked like a complete spring garden complete with greens and blooms. I am also a fan of their venue choices. The church where they had their ceremony was rustic and homey. The building where the photoshoots were held were beautifully weathered. And the reception venue had a fun character with a little bit of dramatic flair brought upon by the big glowing XOXO detail (it reminds me of Beyonce's concert backdrop – Feminist). A wedding that's super sweet but full of life and fun, that's what the summary of this wedding is. Congratulations Laura & Tim!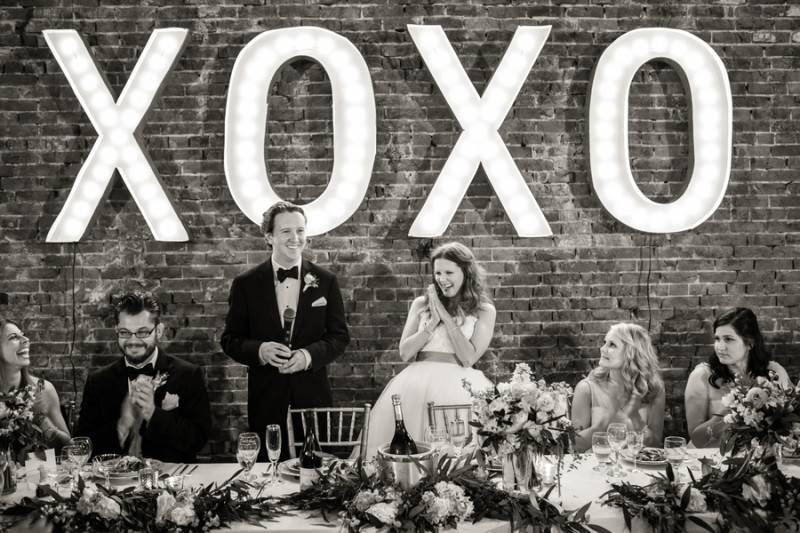 Photographer
Tim and Laura met on an obscenely hot day in NYC's East Village, he was moving his friend into her apartment. He had a thick Jersey accent, a grey streak in his hair, and kind eyes. While she'd like to say that she was smitten from the start, Laura was dating a drummer at the time, so Tim hung out until the day she and the drummer broke up. After a lovely first date, and the worst first kiss either of them had ever had- they fell in love.
Tim's a chef, Laura's a social worker. They've been all over the east coast together, living in the city, Queens and Jersey. They picked up their boston terrier, Louie, in Pennsylvania. According to Laura, he gets way more cookies than any puppy should, but they're ok with it. Their next step has involved moving back to Laura's home state of Kansas where Tim's accent (he'd also say hair) has been quite the hit. Their wedding brought friends and family in from all over the country.
Laura feels the thing about finding someone you want to be with is not so much about them sharing the good times with (which is the easy part), but finding the someone that you can't imagine going through the not-so-good times with (that's not so easy).
Laura and Tim both have big, loud families from all over the world. Their big beautiful wedding was full of fun, celebration, music, laughter and dancing late into the night

Vendors
Photographer:  M and E Photo Studio
Event Designer:Hitched Weddings Events
Event Venue:The Foundation Event Space