While it doesn't bode well for me that it's only November and I'm already dreaming of warmer weather, it means all you Spring and Summer brides are in luck — this Style It Yourself feature is for you! Part rustic, part vintage elegance, this inspiration board was imagined as an afternoon wedding in the Secret Garden. Personal touches, like handwritten notes to each guest and well-worn silver on the table, create a sense of intimacy, and the muted color palette allows the beauty  the surroundings to shine. It's a timeless look that has storybook romance written all over it.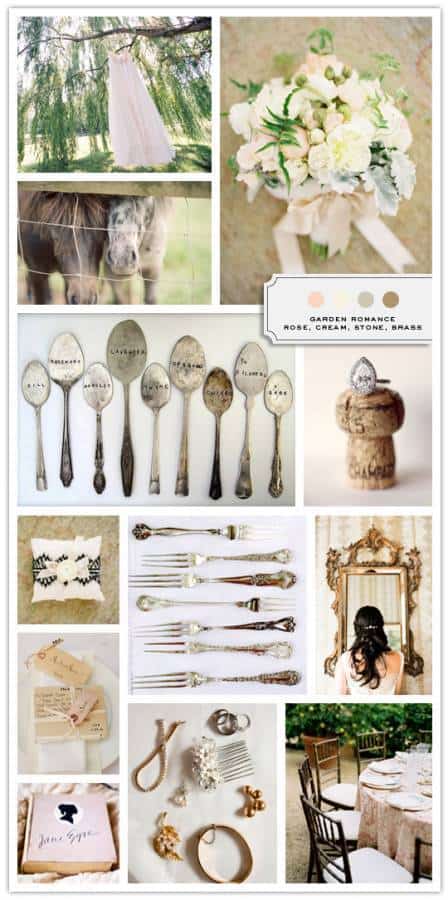 Style It Yourself Board Credits:
Dress, Jose Villa
Horse, Oh! Darling
Bouquet, Jose Villa via Style Me Pretty
Antique Spoons, Hammerman
Ring, Aaron Delesie via Style Me Pretty
Ring Pillow, Jose Villa via Style Me Pretty
Silverware, Laura Sewrey for Victoria Magazine via This is Glamorous
Bride, Studio Mathewes via Style Me Pretty
Place Setting, Sweet Monday Photography via Style Me Pretty
Jane Eyre Book, Candice Lesage via Dress, Design, Decor
Jewelry, Nicole Hill Gerulat via Style Me Pretty
Table, Jose Villa via Style Me Pretty
• • ♥ • •
Looking to recreate the look? Check these out:
Gown from Claire Pettibone, silhouette bags from My Sparrow, earrings from J. Crew, French Brocade table linens from Wildflower Linen, antique books from Sadie Olive, ring pillow from the Blooming South, spoon table numbers from Hammerman, encrusted hair comb from Untamed Petals, vintage frame from Revived Vintage.
• • ♥ • •
Jessica Edwards Malish is a brand manager at a boutique branding and design agency. She and her husband live and work in New York City. As a recent bride, she fell in love with wedding styling and design and is thrilled to continue the love affair in her guest posts for Inspired Bride.