If purple is your color, then you're going to love this post. Check out what these brides have done with the beautiful and regal color purple for their big days.
Purple really brings a feeling of elegance and beauty. Purple is said to be the color of royalty and to symbolize magic and mystery. Decorating your wine bottle with beautiful and personalized custom label stickers is also a great decorating idea.
Check out these red velvet cake pops that the bride incorporated into her purple theme by adding beautiful purple candy wrappers and bows.
This pink and purple wedding is gorgeous, featuring purple table linens and purple and pink paper lanterns in all shades. We love the groupings of flowers in various colors.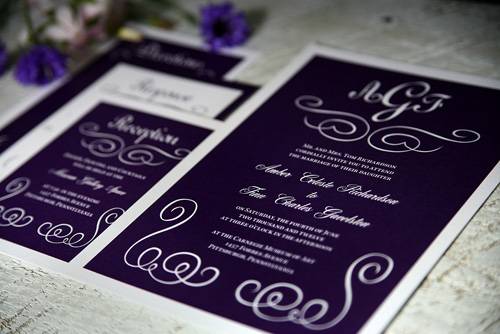 Of course, no purple-themed wedding would be complete without gorgeous purple invitations like these from Modern Girl Invitations. Check out those beautiful white embellishments.
These gorgeous purple wedding cakes feature lots of dainty embellishment and are grouped perfectly. We love the touch of glitter on the cake board and the antique-looking cake holder.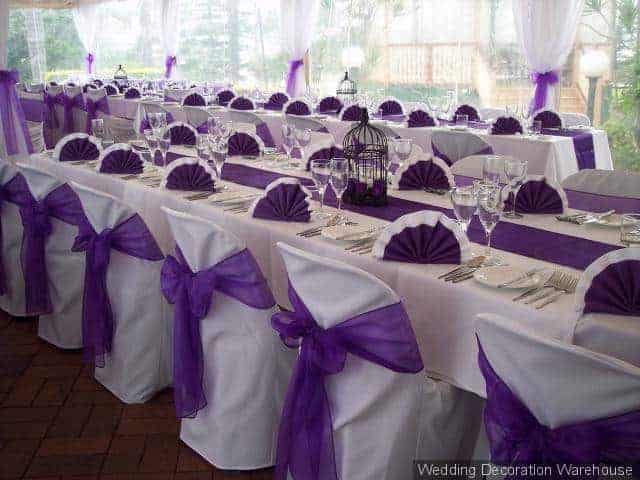 Purple Wedding Outfits
A classic choice is purple. Purple bridesmaid dresses are just beautiful. It's a color that you can never go wrong with. The ladies in the photo above look stunning in their clean sleek deep purple dresses while the men's outfits guarantee for a formal affair. What's best about purple wedding outfits is that the color complements any hair or skin tone.
Purple Name Hanger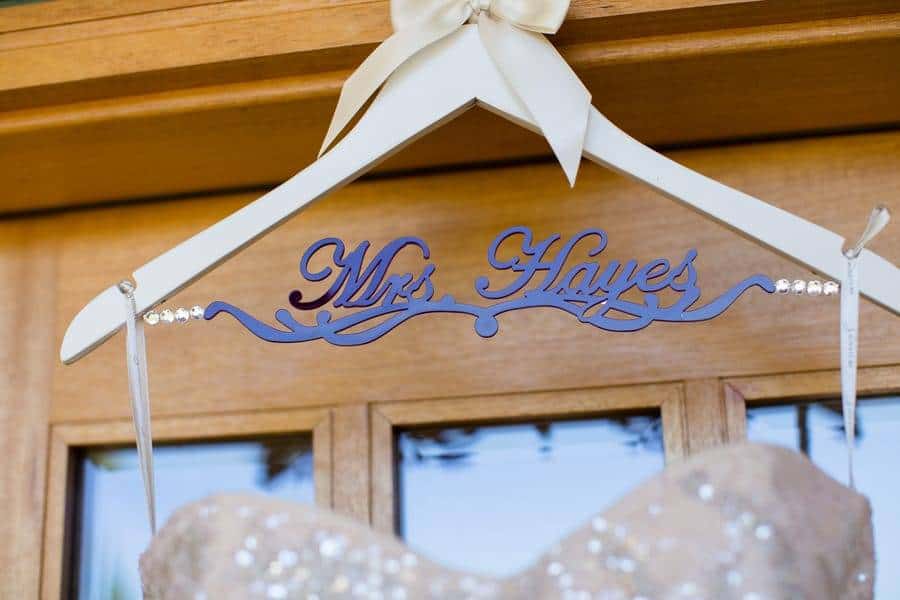 Purple Table Runner and Flowers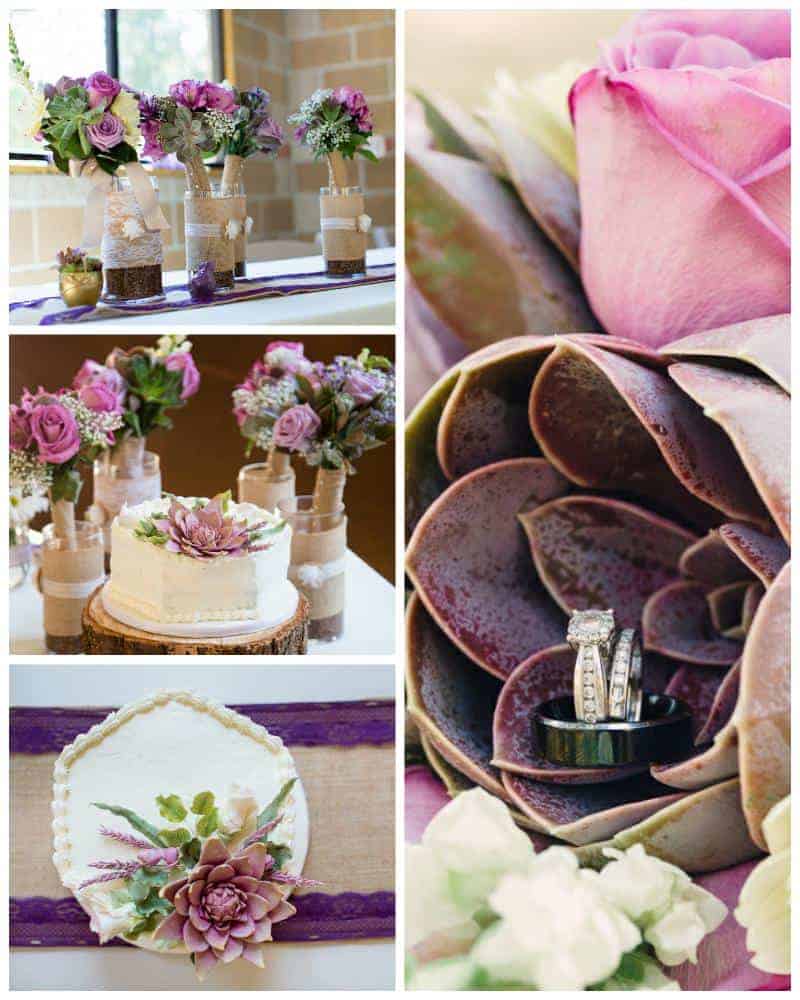 This is a beautiful example of how a purple wedding theme can be pulled off for the reception. The sashes and table runners come together to create an elegant and gorgeous look.
Purple Flower Lantern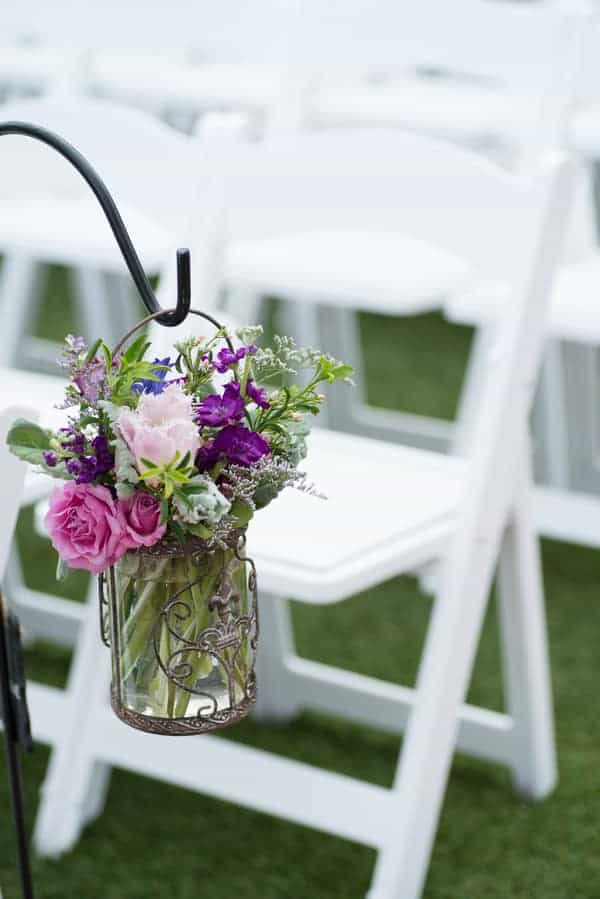 A lovely arrangement of verbena, roses and pink cloves in a classic glass lantern is another idea for your purple-themed wedding decoration.
Purple Wedding Challenge Coins
The wedding can be one of the most memorable moments of a couple's life. These purple custom custom challenge coin make special and meaningful wedding gifts, perfect to be given to the bride and groom's families and friends, to express gratitude to people who attending the wedding and to celebrate and commemorate the day in an innovative way. These coins can be customized with special wedding-themed elements, wedding date, names of the bride and groom or other messages. You can easily get your challenge coins designed and manufactured on online platforms such as GS-JJ.
Fresh Cut Bouquet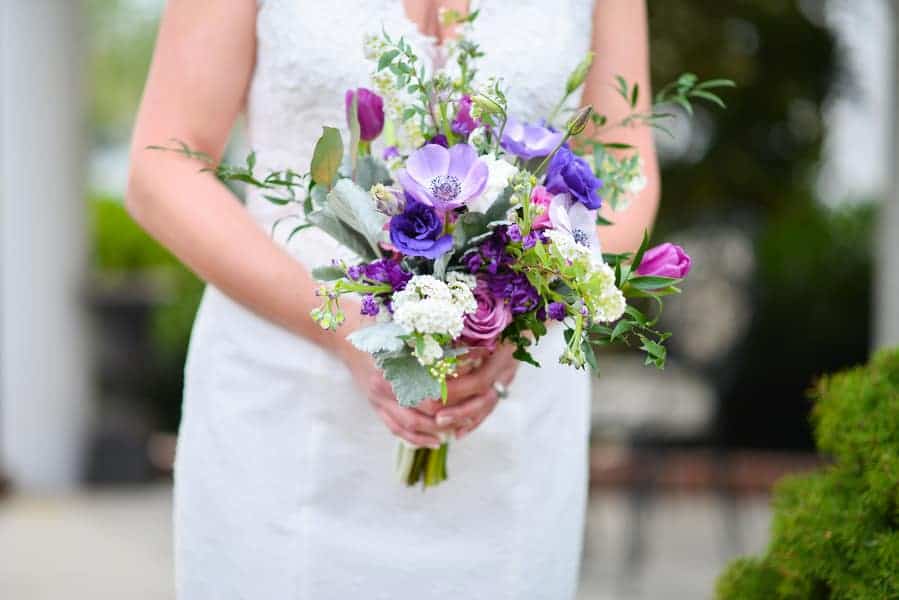 Purple Hats
In the realm of purple wedding décor, let's not forget the exquisite beauty of purple wedding hats. These stylish headpieces add a touch of elegance and sophistication to any bridal ensemble. You can get one from Purple Fascinator which adds a true statement piece, featuring intricate designs, delicate feathers, and captivating embellishments. Whether adorned with flowers, ribbons, or lace, these hats beautifully complement the overall purple theme of a wedding, making the wearer stand out with grace and charm.
A purple wedding hat is a must-have accessory for any bride or wedding guest who wishes to exude a sense of fashion-forward style and capture the essence of a truly remarkable purple-themed celebration.
These are just a few fantastic ideas of how to bring a purple wedding theme to life. Whether you're going to hire a wedding planner or do it yourself, hopefully these images will serve as inspiration for your wonderfully purple wedding!