Smoke bomb are so trendy for wedding right now that they must be the part of your wedding too. These smoke bombs are an actual fun prop that lets you create tiny temporary beautiful clouds of various colors for your backdrop. Using these smoke bombs, you can get some really gorgeous and unforgettable wedding pictures. Plus these will add a unique element to your wedding with a touch of lovely colors.
Select from a huge variety of colors that will add to your photos to enhance both of you as a couple – Purple, Bold Magenta or Turquoise can be your dreamy mixes. You must try to match the smoke bomb color to your theme or your surrounding or your environment to get really inspiring memorable pictures. Let these colors flow at your backdrop for the forest or even throw them in the air as your complete exchanging your vows to have a stunning and lovely walk down the aisle. Imagine the smoke swirling around both of you, how dreamy that may look. Have someone that can push smoke in one direction using a fan for a better photo.
Keep in mind about environment and make sure you use these smoke bomb only outdoors. Before lighting them double check the temperature and wind to make sure safety for all. Make sure to ask the owner of the venue weather it is fine to use smoke bombs or not. Also make sure that your photographer is comfortable and has some knowledge of clicking photos with such smoke. Be careful and keep a distance from these smoke bombs as they could stain your wedding dress too. But before you jump into all that have a look at below listed smoke bombs, colors and various ideas for them.
Choose a Bright Color
The neon smoke bomb stands out be very cool with this desert environment. Plus color of this smoke bomb matches and highlights the bride's bouquet.
Make it a Photo Backdrop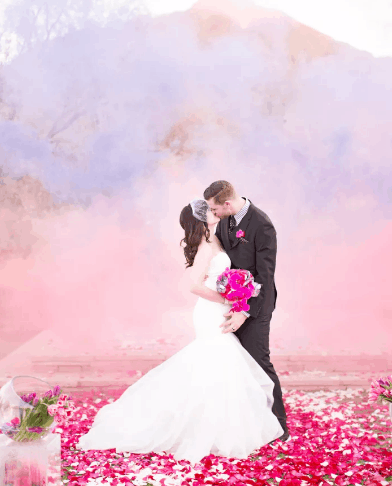 This mix of two different colored smoke bombs is a perfect match for rose petals and best for a princess picture backdrop.
Amp Up Your Post Ceremony Kiss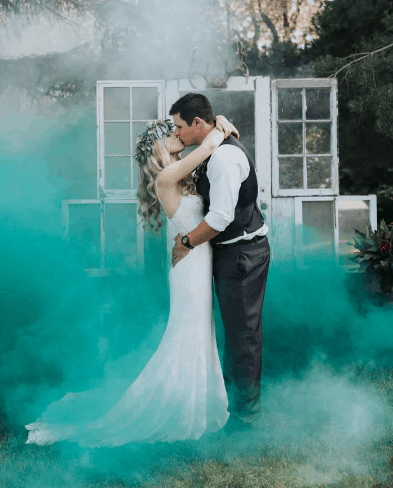 This turquoise backdrop looks perfect for the ceremony kiss.
Use Two Colors
This could be the best mix and match of colors for your picture backdrop. Orange reveals warmth and the deep blue is the perfect contrast to it.
Use it as a Prop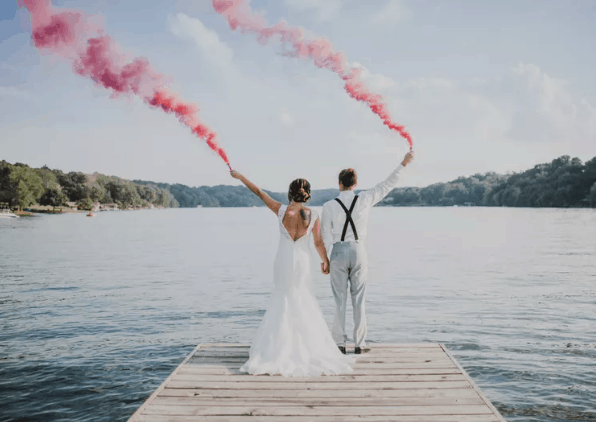 Hold smoke bombs in your hand for a memorable picture that will express your celebration feelings. It looks more mesmerising because of the lake setting at the back.
Up the Drama
The husky cobalt blue flowing diagonally creates a dramatic effect and adds a romantic vibe to your pictures.
Blend in With the Scenery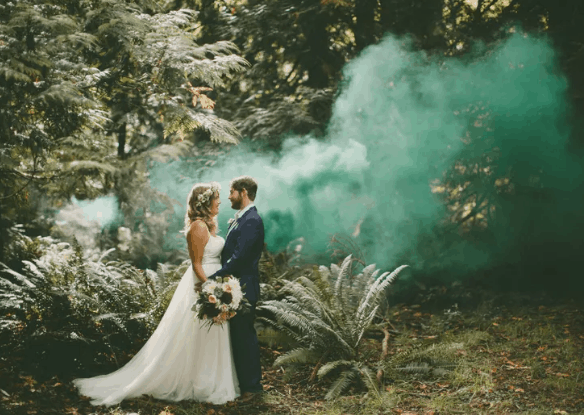 This couple matched the smoke with the surroundings and got the best wedding photo.
They Don't Have to be Colorful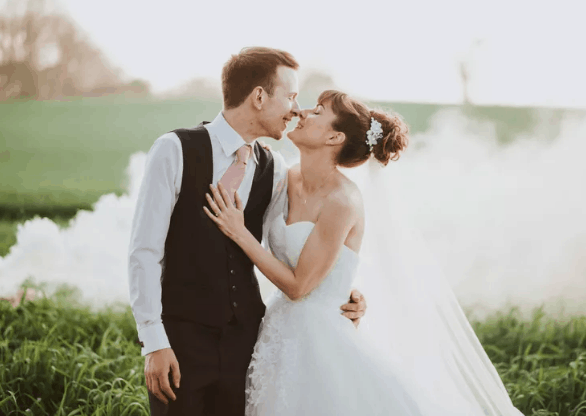 You can also stay classy and simple. Use white colored smoke bombs around the greenery and find your pictures to be mystic.The couple clicked this picture in a cave at the bottom of a canyon, and with this soft red they managed to create a romantic and bohemian vibe.
Make it Intimate
This couple had this photo in a cave at the bottom of the canyon and using this soft red colored smoke bomb, they managed to add a romantic and bohemian vibe to their pictures.
Keep it Seasonal
Use soft pink for a spring time wedding that that will match your soft cotton candy and make you feel like cotton candy clouds all around.
Mix Colors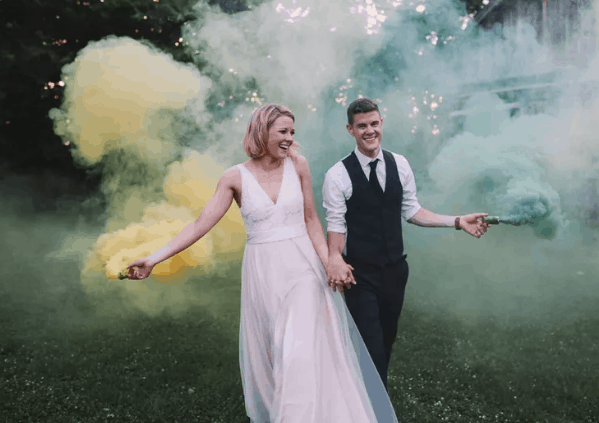 Mixing of colors should be done very carefully because if done right these perfectly matched colors are gonna give you the best shots for your wedding. Like this couple decided to mix butter yellow and dusty green and look how beautiful it seems to be.
Add a Motorcycle for the Ultimate Coolness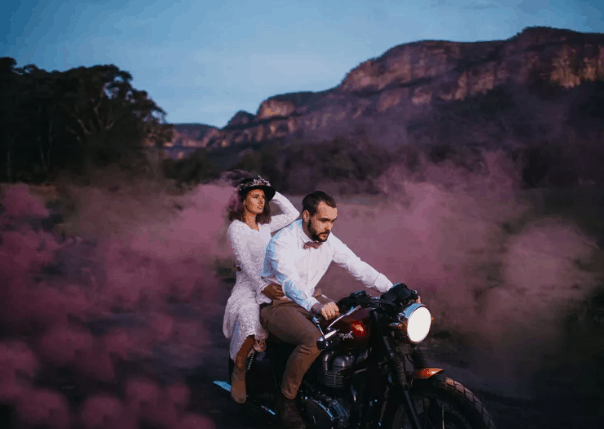 Get a motorcycle for your exit and arrange smoke bombs with violet all around. This is what you must do to look cool and have a great getaway picture.
Everybody Gets One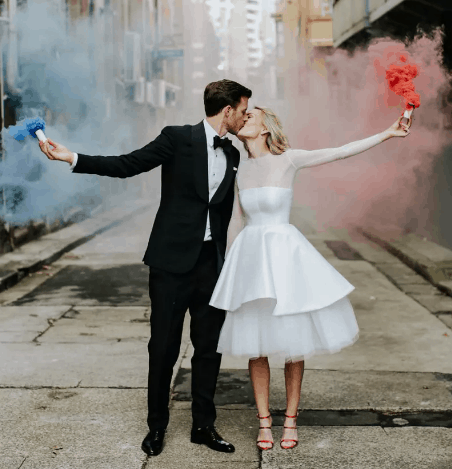 This is another great idea for your ceremony kiss. Handheld smoke bombs while having a kiss makes a perfect picture of your ceremony
Make It Out of this World
They mismatched colors with the environment but managed to make it more attractive and beautiful with having soft red pink intersected by sun rays at some points.
Varying Shades of the Same Color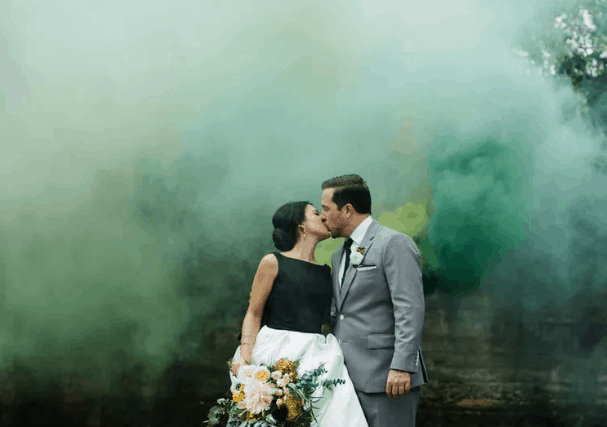 Use different shades of some specified colors. Like this couple managed to create a storm effect by using various shades of green and blue.
Add Light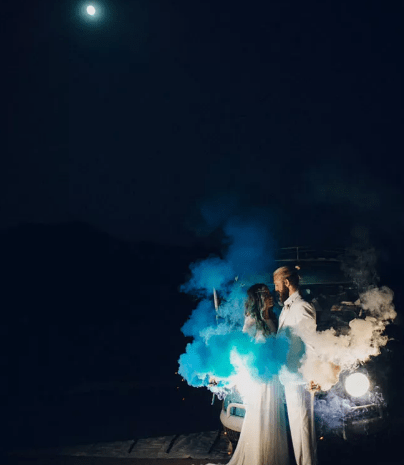 This picture is so mystical, magical and stunning as well. Blue and white smoke bombs highlighted with headlights in the dark and the moon above. Everything sets perfect for the photo.
Pair it With a Sunset
Bright golden yellow during the sunset will help you match the surrounding and the backdrop as well. Plus its golden yellow rays when gets intersected by sun rays will make it look even more attractive and will add a warm romantic vibe to your pictures.
Choose a Color that Pops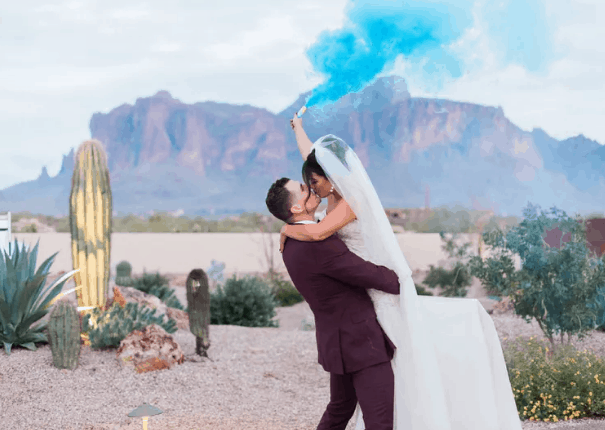 A flow of cerulean colored smoke fits perfectly with the dessert backdrop and stunning ceremony kiss.
Add Feminine Touches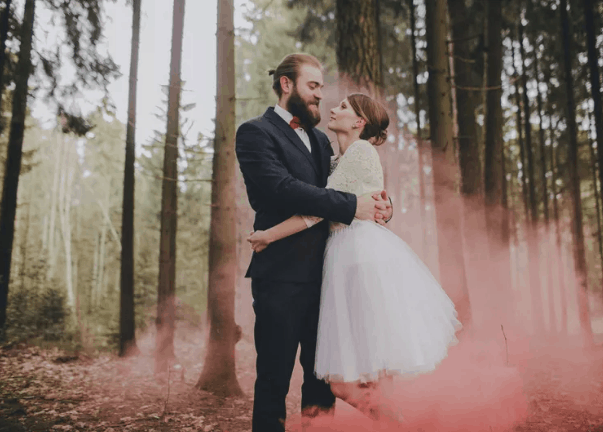 The flowing of this rose hued color in the wooden setting makes it a bit romantic and attractive too.
Turquoise Makes it Even More Intense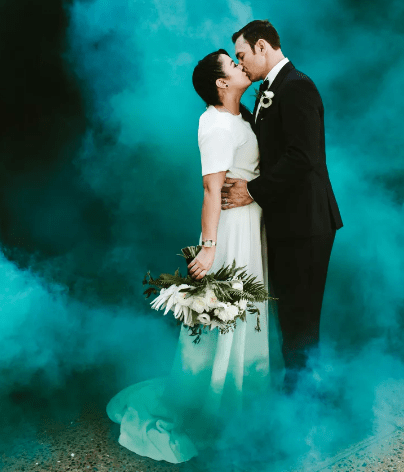 Just a simple single colored smoke bomb did it all. Perfect setting of the bomb and its perfect flow of the smoke can make a single color make your ceremony kiss – stunning and intense.
Prepare for Magic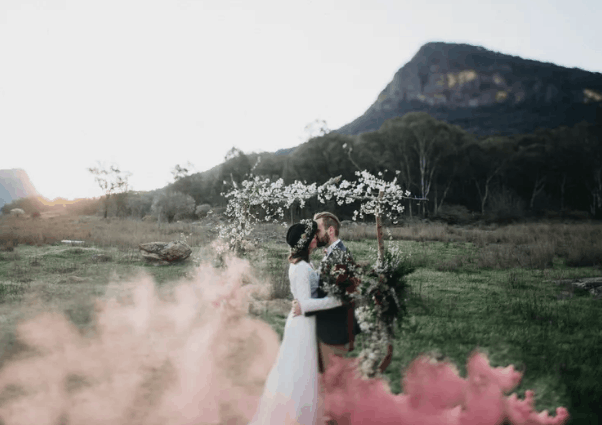 The soft pink smoke bomb stand out to be a nice selection for the landscape behind.
Keep it Ethereal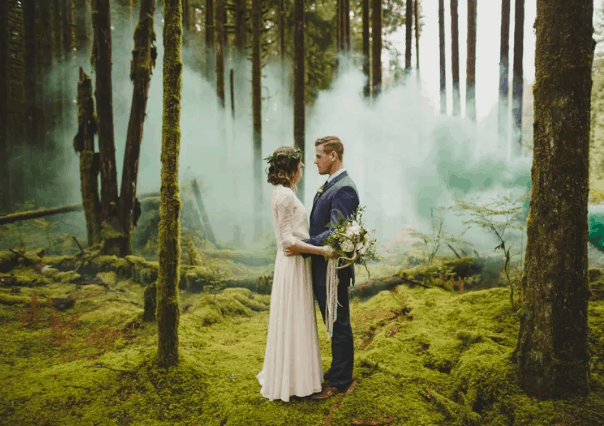 Clouds of this emerald green smoke bomb gives an effect of something is magical in the jungle.
Don't Forget the Fairytale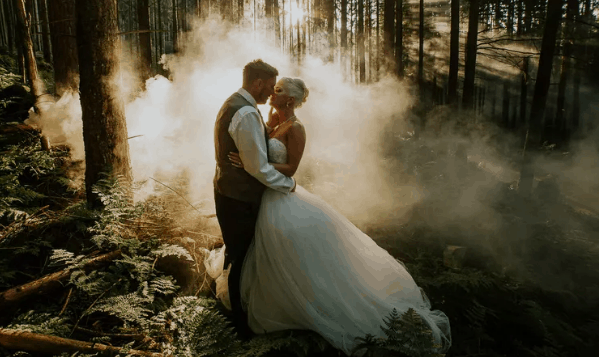 A simple white color with some transparency and little amount of sun rays, all makes it like a dreamy fairytale scene.
Make it Eclectic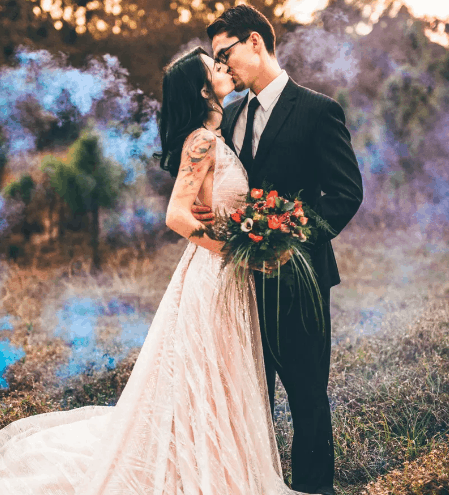 Light shades of blue and violet are created so beautifully that it adds an eclectic vibe to atmosphere and the picture.
Play With Color
White landscape with touch of hot pink is even better, matches the bride's bouquet and makes the picture even more romantic.