What I loved most about Claire and Paul's wedding is the reception. The tented setting with navy napkins on the long tables and white all throughout is definitely on point. And also of course the whimsical fairy lights hanging all over. The color palette complemented each other – Peach, Navy, and Light blue. The saying "less is more" certainly applies to this cause even with just those simple accents, they made the event look both formal and classy.
Click image to enlarge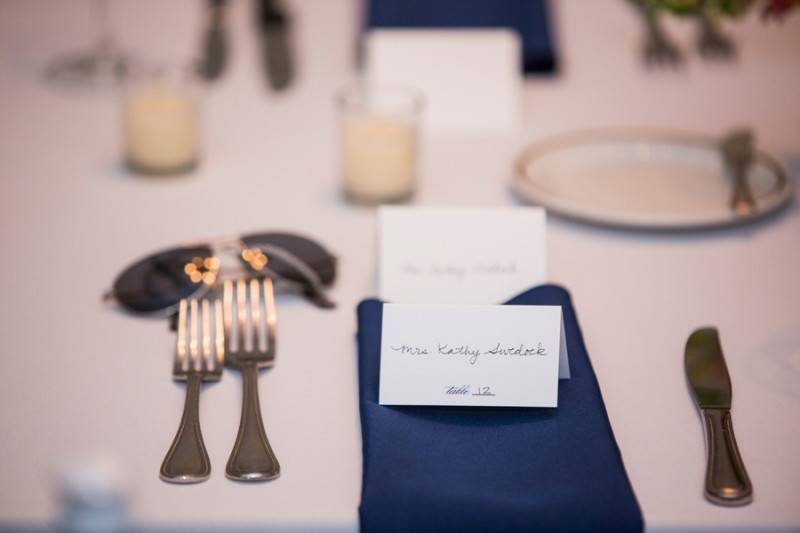 Like. Click to Vote
>
THE STORY
by: Claire Fabian-Harding (Bride)
We met at the Auction House in NYC. Paul had been on a blind date earlier that evening that didn't really work out. I was out for the night with a friend of mine who was meeting up with one of her high school friends who was having a birthday party at the bar. Paul overheard my girlfriends and I talking about the Army/Navy football game that was on the TV, and used that as his conversation in! We've been dating for four years since then!
We skiing together in the winter, go to the beach in the summer, go to concerts and movies (Paul loves concerts!), and go out to eat! We're relatively low-key. We like to cook together and cook a real dinner just about every night. Our favorites include mexican, mac and cheese, and re-creating things from the Barefoot Contessa.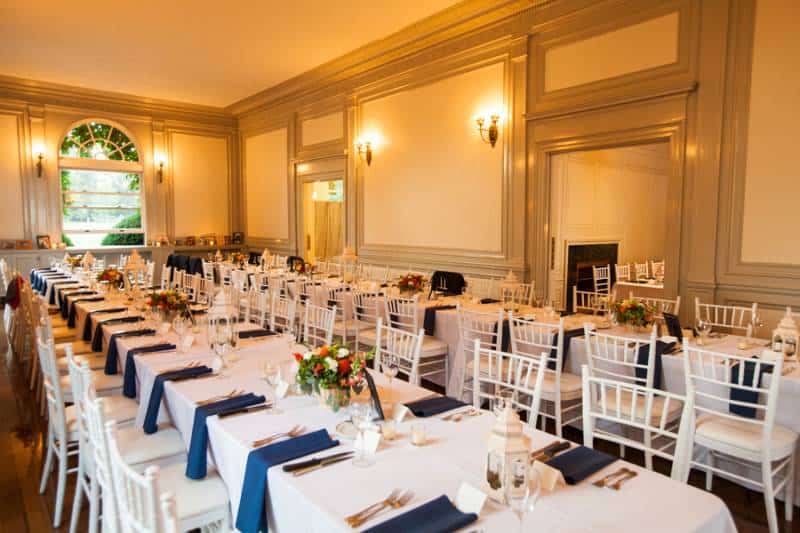 ENGAGEMENT
We went up to Okemo Mountain in Vermont right after Christmas to spend a few days skiing. When we first started dating we went on a long weekend trip to Okemo and that's really where we first spent a significant amount of time together. Since then we've tried to go back each winter. We were out skiing the day after Christmas and the mountain wasn't too crowded so we got to do a lot of skiing. Towards midday we started making our way over to one of my favorite runs – Moonshine. It's this great little trail that winds around all of these gorgeous slope-side condos, goes under bridges, is rarely crowded. Paul skied a bit ahead of me and faked a fall. I went over to him and he said he felt like he's popped something on his knee and began reaching into his coat saying that he needed his cell phone. Instead he pulled out the ring and proposed on our favorite trail, with the snow falling and no one around. It was wonderful!
VENDORS
Photographer: LoveDays Photography
Tuxedo and Mens Attire: Jos. A Bank
Dress Store: David's Bridal
Ceremony Location: Eolia Mansion at Harkness State Park
Floral Designer: Green Dahlia
Band: Tangled Vines Live Band
Caterer: A Thyme to Cook
Reception Venue: Eolia Mansion at Harkness State Park
Cake Designer: Lynn Palmer Cakes
Equipment Rentals: Ryan Designs
Invitation Designer: Wedding Paper Divas