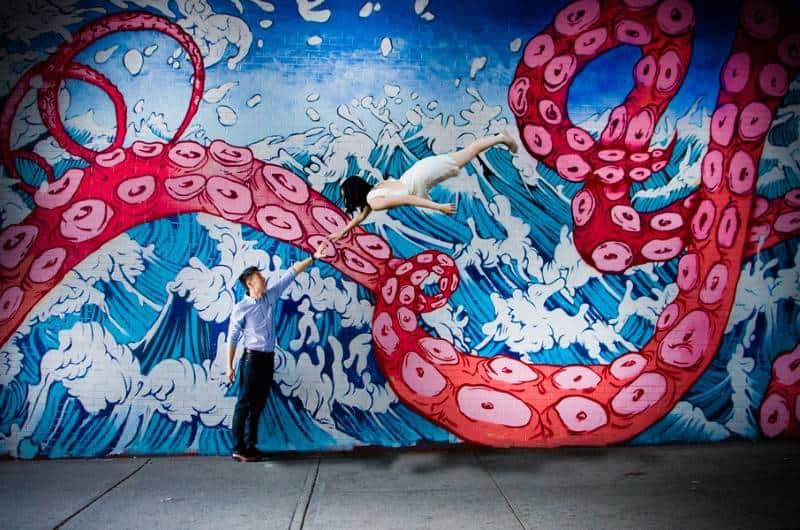 Check out these two lovebirds frolicking around New York City. Priyanca Rao Photography is the one responsible for this beautiful shots of Simone & Ian's day adventure in the city that they both love. The couple claims they both fell in love with New York  back in 2010. And they always make it a habit to plan a trip or two. So it was the perfect location to do their engagement session. They even said that NYC actually represents them as a couple and this is why:
NYC represents us as a couple, a city of fun and adventure every street you turn. Brooklyn Bridge is an important landmark we wanted to capture. The history of the bridge represents how Ian and I have built the strength of our relationship. DUMBO area represents the fun and silliness of our younger years.
What would you say, the overall story for this album?
Ian and I are met in high school in Vancouver and love to travel. We fell in love with NYC ever since 2010. We always try to make a trip to NYC any chance we get. It's only fitting to do an engagement shoot to share our love for NYC with our friends and family. NYC represents us as a couple, a city of fun and adventure every street you turn.
What inspired the wedding day outfits?
I wanted to wear something with fun details that would compliment the city scape. The back of the dress has a full open back!

What was your favorite part of the day?
Priyanca's vision for the shoot matched our personalities and she was able to show our love for NYC through her creative photography. We had a wonderful candid moment with some street dancers who taught us some cool Brooklyn style dance moves. We also had a blast trying to get creative with Brooklyn's amazing wall murals!

Vendors
Photographer:  Priyanca Rao Photography
Location: Brooklyn Bridge Park, Brooklyn Heights Promenade