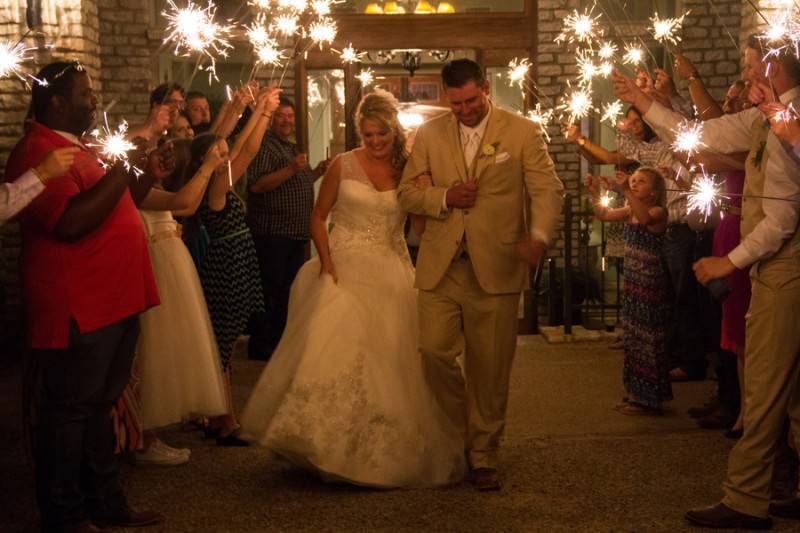 The other thing we love equally about this feature aside from the beautiful photos is our bride's sharing about their love story and the road to their special day. It honestly made me giddy and say "awwww" out loud so you should really watch out for that amazing read! A simple but classy country wedding of a very sweet and perfectly matched couple – this feature is an instant hit for us hopeless romantics (read: their engagement story!). Congratulations Dana and Cody!
Here's what our lovely bride shared with us with her wedding day…
What is your story as a couple, how did you meet & fall in love?
We both love to dance so it was fitting that we met doing what we love! I spotted him right away and thought wow! He was the tall, handsome, "Dana sized", black felt hat wearing guy I had always pictured! I am 5'10" so it's always been a joke with my friends to find a " Dana sized" guy! Well at 6'6″ there he was! And even better he was all those things plus he could dance! I about fainted when he walked up to me to talk and asked me to dance. I was attached pretty fast, my heart felt it, I knew he was special. We spent as much time together as we could after that. I was the anxious, school girl that hoped for her phone to ring when I knew he was getting off work! He never disappointed and it kept on ringing!
What makes the two of you a perfect match?
Cody and I are a great team. We get along very well and enjoy spending time together! We try to think of ways to surprise each other and do something we know the other one would like! We always say it doesn't matter what we are doing, we have a great time because we are doing it together!!
How did he (or you) propose?
I had instructions to call Cody when I got off work. When I did so he gave me specific directions to follow. I followed and figured out I was headed out towards the lake. As I drive around the last corner I spotted his pick-up and horse trailer with 2 of his horses saddled up next to it. He was standing there with both in his hands and that darn black felt hat that melted me from the beginning! He said he wanted to take me on a ride so I could relax from a frustrating week of work. I thought, "Best idea ever". We rode around back through the trees, down by the water, all around just talking. I was so glad to be outside and doing something we love. We came up to some trees by the water and asked if I wanted to walk for a bit. We tied the horses to the trees and started walking along the bank. We were holding hands and just walking along talking when I noticed we were coming up on what looked like a picnic.
When we got there it was a blanket and a picnic basket. He asked if I wanted to sit and have a picnic with him! Of course! He had gotten our favorite sandwiches, chips and drinks! And of course cookies! At this point I wondered in my head if this could be it, is it going to happen? He is going to ask me??? After eating and sitting there snuggling just looking out at the water he said it was getting dark and cold so we better start heading back. My heart did a little flip and I thought, well it's not it.
We walked back towards the horses and as we got closer I noticed something was hanging from the horn of my saddle. It was an envelope tied with string titled, "To someone special". I opened it to a hand written, whole page letter of the sweetest words known to man. I had a hard time reading because my eyes were so watery the words blurred together. He asked where I was and if I had reached the bottom. I was crying and shook my head yes. The bottom of the letter read, "PS…. Will you be my Mrs. Kirkland?". He took my hands and got down on his knee with the most beautiful ring in the world. You know I said Yes!!
How long was the planning process? Did you think it was enough time?
We were engaged for a year and a half. No specific reason it just worked out better for us both. I would pick one thing on the planning list and say, this I will get done this week. It went pretty easy because I was not rushed for time.
What was the best advice you received when you were planning your wedding?
Best advise I got was to number the back of your RSVP cards and have the numbers assigned to guest list names. People forget to fill in their names (and multiple forgot with me) but I figured out who it was from because of the number on the back!
What tips & tricks ("hacks") can you share future brides that you yourself have learned during and after your wedding?
Don't ask too many opinions. You well get to many ones that differ. Go with what you and your groom like! It's y'all's day anyway and it doesn't matter if someone else doesn't like something!
What were some challenges you faced while planning your wedding & what did you do to address them?
I had a hard time finding flower girl dresses that would accommodate my older/taller flower girls. Flower girl dresses were too small and young and junior bridesmaids were to big and older looking. I gave up on bridal stores and shops and went online and finally found one after a lot of searching that fit all 3 sizes. It was a risk because they could try them on first but it worked out!
What inspired your wedding décor? Why did you choose the things that you did?
I liked natural, outdoors, bright colored flowers and country-ish! I still wanted it to be nice and elegant but didn't want it real fancy. We both like simple and natural.
What was the wedding budget?
Our budget was about 10,000.
Where did you save the most money?
I saved a lot on flowers by ordering whole sale flowers for the reception and put them together ourselves.
What was the biggest expense?
Biggest expense was Venue and Catering.
How many guests were invited in your wedding and what was the final guest count?
We sent out 210 invites so approximately 400 were invited. (And I freaked out!!) We had about 150-180 people that came to our special day! It balanced out well!
How did you narrow down your list?
We wanted all family and friends invited. We knew not everyone would be able to come but wanted everyone to get an invite.
What songs did you use during the ceremony?
-Processional: Thousand Years, The Piano Guys
-Bride entry: Canon in D, Pachelbel
-Interlude: How do you fall in love, Alabama
-Recessional: Forever and ever Amen, Randy Travis
Where did you go on your honeymoon?
We had an awesome time at Riveria Maya, Mexico!
What are you most excited about for the future?
I'm excited that I truly married my best friend and we get to spend forever together having fun, making more memories, dancing the night away, starting a family and just enjoying life!
Do you have advice for couples still in the planning process?
Pick things that are personal and meaningful to YOU, don't care about others opinions, try to make the planning relaxed and fun, give yourself enough time so you are not rushed and have a buddy (one person that will help you with anything, even if they don't like it!). Don't be afraid to ask for help.
What do you think is the overall story for this album?
Having a meaningful, special, personal wedding but still keeping it simple.
What inspired the wedding day outfits?
Cody wanted to wear his boots and for the groomsmen too. I loved the natural outside colors at our venue so I tried to make the guys look natural and handsome too! I knew I wanted Cody to be different and stand out, so he was the only one with a jacket.
What was your favorite part of the day?
My favorite part was getting to the isle and seeing Cody on his way to get me with his huge smile! I loved Cody walking me down the isle (starting our new walk in life together!). Close second was being introduced at the reception as Mr. and Mrs. Cody Kirkland and everyone yelling and screaming!!
Was there any Do it Yourself (DIY) projects? If so, can you describe them in detail?
I had my invites printed. I then however hand-cut every velum, every tie, hand made and cut every info card, hand made and cut every RSVP card, hand stamped every RSVP card and assembled them all.
I made a picture album of baby pictures of both of us from a screen from our remodeled house to hang at the wedding for decor.
Our reception table flowers and ceremony vase was DIY as wholesale flowers. I ordered an economy sized roll of burlap and hand cut each table cover and buffet runners. I had wonderful friends that loaned me their glass wear and vases.
I hand painted direction signs from our old barn's wood that had fallen off.
I hand-made my bridesmaids picture frames asking them to be a bridesmaid and also made them a ring holder out of a frame that turned out really cute!
I made our cake stand out of wood crates, stained them and attached them together. (Both now used as shelves in our house!)
I also made our cake topper! (Hobby Lobby, some paint and stain)
What were the highlights from the ceremony & reception?
My highlight from our ceremony was becoming Mrs. Kirkland! The reception we had AMAZING food, (steaks, potatoes and green beans) that I still get compliments on!
Was there a theme for the ceremony and reception?
We did not have a specific theme. We wanted it country-ish feeling but still classy. We wanted simple and natural.
What part of the ceremonies do you think was the most memorable for you? Your guests?
Our ceremony area/venue was beautiful! Had huge, beautiful trees, a running creek, little waterfalls that you could hear, a little rock bridge that we stood on. To see all our family and friends there in that beautiful place just for us was an overwhelming feeling! My Uncle also performed our ceremony which was beyond perfect and very special and meaningful to us! We still get compliments on how awesome he did and how personal it was. He has always been very special to us!
Vendors
Photographer:  Shelly Taylor Photography
Cake Designer:  Bobi Rudeen
DJ:  Celebrate Entertainment
Signage:  Crop Paper Scissors
Bridesmaid Dresses:  David's Bridal
Caterer:  Johnny's Steaks and Catering
Beauty:  Kimberly Cutler Professional Make-Up
Tuxedo and Men's Attire:  Men's Wearhouse
Hair Stylist:  Nikki Gregory
Equipment Rentals:  RSVP Event Equipment Rental
Reception Venue:  TENROC RANCH
Invitation Designer:  Wedding Paper Divas
Floral Designer:  Wolfe's Florist