Click image to enlarge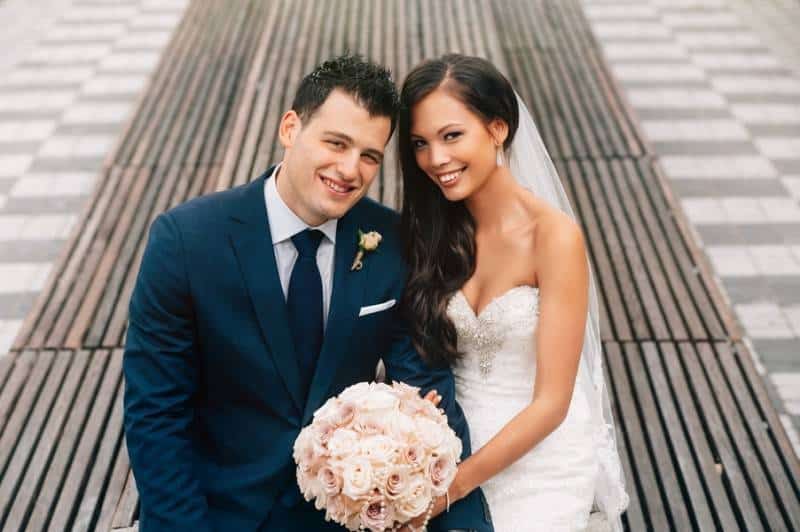 Like. Click to Vote
>
When asked to describe their wedding day, our bride implied Disney-turned-regal while her groom said Disney meets forbidden forest – and if those descriptions didn't reel in the child in you then trust me when I tell you to just scroll through their album and you'll see a different kind of fairytale. I really really love the elegant style of this event – it was very sweet and it was not the kind that was "in your face". I guess the deep grays should take some credit because it sort of subdued the metallic accents present in the details and decorations (smart palette choices!). There's truly so much to love in this album – the cute Minnie and Mickey bride and groom caps, the unique cake (with a gold tier), the lovely outfits, and their magical photo shoot by the gardens. Congratulations on your wedding day Kari & Jason!

Bride
What is your story as a couple, how did you meet & fall in love?
We've known each other since high school and worked together in a small family owned fish n' chip restaurant where we started dating and fell in love.
What makes the two of you a perfect match?
We have completely opposite personalities, but fit together perfectly. We have fun and make each other laugh to make the most out of everyday together.
How did he (or you) propose?
For my Christmas gift he took me to Disney Land in California for New Years Eve. One night he completely surprised me by purposing in front of Cinderella's castle on the bridge.
How long was the planning process? Did you think it was enough time?
We were engaged for a year and a half. We starting planning right away, using the entire time. It was the perfect amount of time for us, as we spent a lot of time creating our decor.
What was the best advice you received when you were planning your wedding?
Don't fight. Relax, and enjoying the process. This is something we took to heart as we can say, although it was stressful and busy at times. I don't think we have any regrets or would change one thing.
What inspired your wedding décor? Why did you choose the things that you did?
We wanted to have a Disney theme without making it overly obvious with a regal feel. My husband liked to describe his vision as Disney meets forbidden forest.
What was the biggest expense?
Decor. Which we decided from the beginning of the planning was what we wanted to do.
How many guests were invited in your wedding and what was the final guest count?
We invited 390 people, expecting only 350 to show up as many were out of town invites. The final count was 340 people that attended.
How did you narrow down your list?
The list wasn't narrowed down too much. We invited family and friends, but cut the list down by only inviting first cousins on the groom's side.
Where did you go on your honeymoon?
We went to Hawaii. The first five nights in Maui and the following five on the big island. It was amazing!
What are you most excited about for the future?
After being together for 9 years before we finally tied the knot, it's going to be nice to start new life together.
Do you have advice for couples still in the planning process?
Give yourself lots of time for planning, stay organized and on schedule. Always compromise if your partner wants something different, because it should be a day you both remember for the rest of your lives!
What is the overall story for this album?
Fun highlights of the entire day capturing a romantic disney theme
What inspired the wedding day outfits?
Classic bridesmaid dress with modern twist
What was your favorite part of the day?
The entire day was perfect. My favourite part was our first dance.

Vendors
Photographer:  Will Pursell Photography
Reception Venue:  Italian Cultural Centre
Cinema and Video:  life studios Inc
Invitation Designer:  Love by Phoebe
Floral Designer:  Wedding Design Studio