Megan and Jay, two fascinating individuals molded into one. And on their wedding day, they had everything going. This wedding took hints of the couple's interests — the gold painted trinket dinosaurs are to Jay's love for paleontology and the test tube flower vases are to Megan's love for science. But of all, their love for South Dakota explains how they both came up with this mint & red outdoor wedding. My favorite of all is their idea of creating a dance floor in the middle of all the long tables. Just brilliant! If we were all there, we'd never stop dancing! We are all happy for you, Meg and Jay!
Click image to enlarge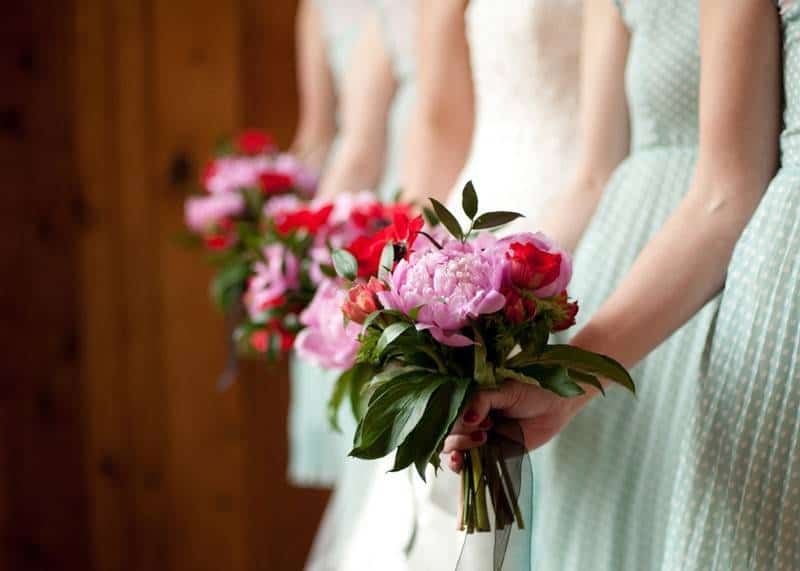 4

Like. Click to Vote
>
The Proposal
Jay proposed with the first ring, a turquoise piece, he made when he was 12, just a boy! It served as a placeholder since the proposal came after a cold and rainy 4 day/3 night hike to the top of Machu Picchu in Peru. (Many opportunities to loose something easily.) The 'real' engagement ring was waiting at home, an Edwardian cluster ring from the early 1900's. I wear the turquoise ring on my right hand 'ring' finger. The bands are made from minted gold coins from the Home Stake Mine in South Dakota. This was the only way to obtain pure gold from the mine since it is shut down. With Jay also being an avid metal detector, it took a little courage to melt part of a limited collection down.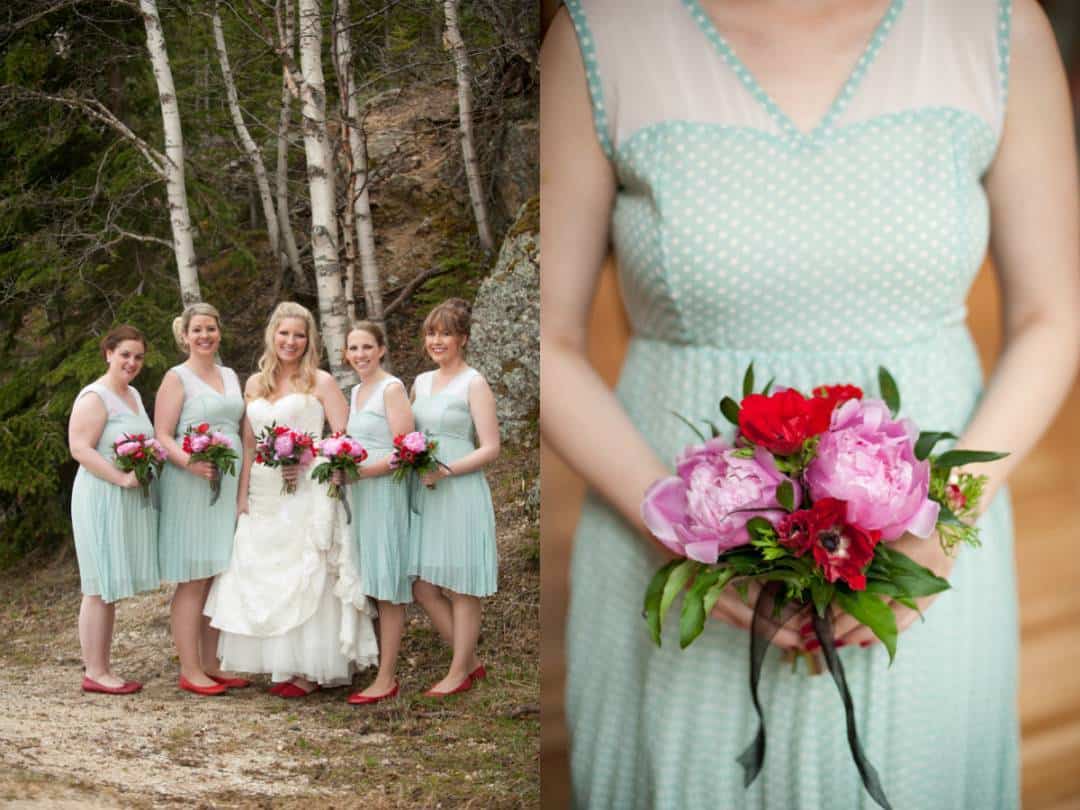 Our Do-It-Yourself (DIY) Projects
The bridesmaids were thanked with a cuff bracelet. Designed by both of us and made by Jay, each bracelet was crafted with a rose quartz ( South Dakota's state rock) cabochon and silver. Each guest was thanked with a metal hiking canister.
Instead of round tables for seating, we had an open rectangle constructed with long tables and the middle served as the dance floor. This sat 110. In lieu of one giant wedding cake, we had a double round cake (served 6- 8) at each table; alternating between chocolate and banana nut. We supplied our own cake stands and toppers. The cake stands were made from $1 glass plates and $2 candle holders from the dollar store. For the tops of the cakes, we had four different species of dinosaurs. Each species represented one side of the rectangle. A poster board was made for the seating chart and sat on an easel. The poster had a picture of each dinosaur with the guest names listed underneath. The dinosaurs were found at the dollar store for $1 and painted gold for a more elegant look.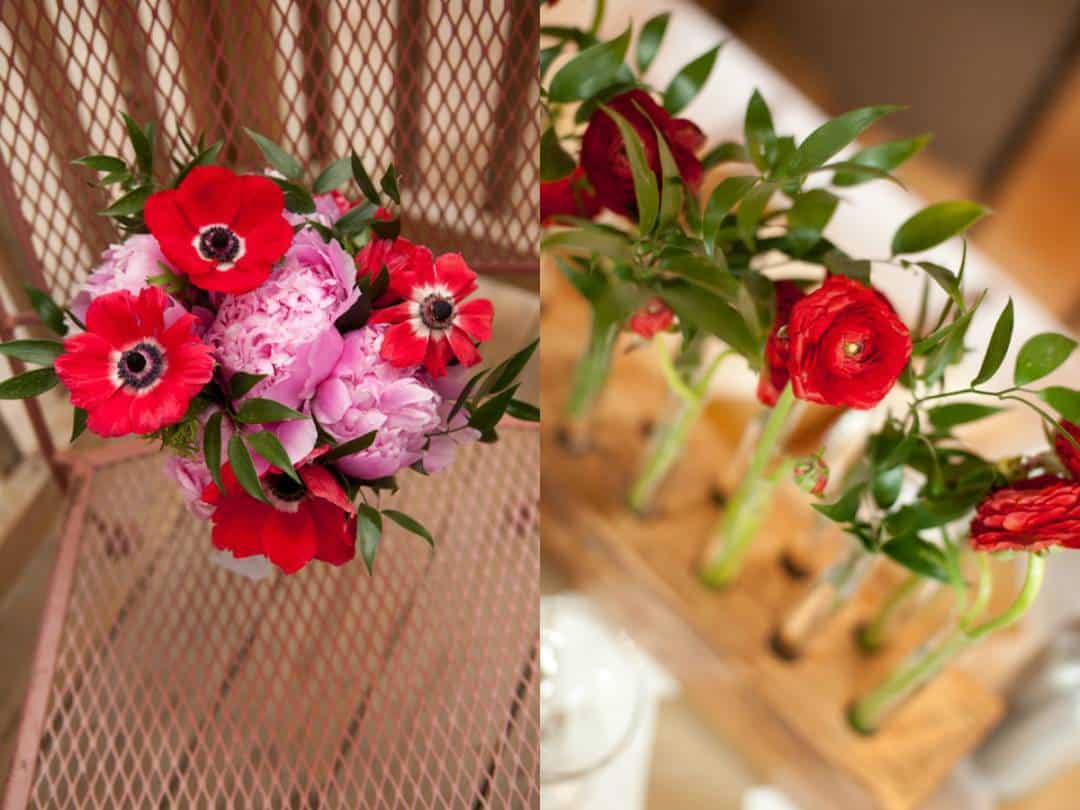 The centerpieces were hand made. 4×4 pine posts were cut into 24 inches. Then with a drill press, 21 holes were crafted. These were wide enough to fit test tubes. The test tubes were order from a laboratory manufacturing company in bulk. For flowers, red ranunculus and Italian ruscus were placed in the tests tubes. The flowers were ordered in bulk from fiftyflowers.com. The centerpieces were quite popular and many guests ended up taking them home.
The Album Story
Our wedding was truly us representing Jay's love of paleontology and lapidary, my love for science, and our love for the outdoors, especially South Dakota! Several personal touches were put into our wedding, including the rings, bridesmaids gifts, seating chart and arrangement, cake toppers, centerpieces, and wedding favors.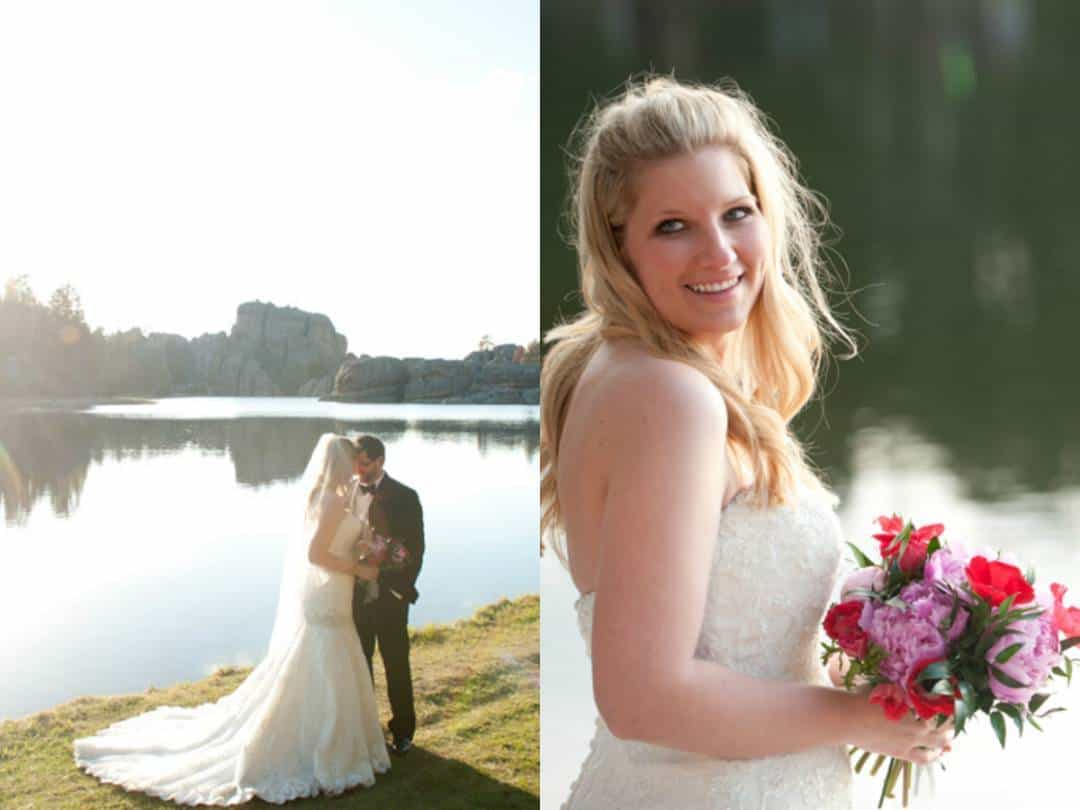 VENDORS
Photography: Legacy Photo and Design
Ceremony/Reception Venue: Sylvan Lake
Flowers: Fifty Flowers