Julie from Up Up Creative asked me if I wouldn't mind doing some digging to help her find the perfect hip matron of honor dress for her sister's upcoming wedding – with two side conditions. First, it should (if possible) come in brown, which is fairly easy because most vendors carry some shade of brown in their collection. Secondly, and a little harder – she'll be about seven months pregnant at the time of the wedding (double congratulations!). After looking through a lot of different vendors, here are some picks. Julie – and any other ladies in the same predicament – please also keep in mind that some vendors, like J.Crew, don't have an explicit maternity collection but can convert some dresses or lead you to fits that might work if you contact them.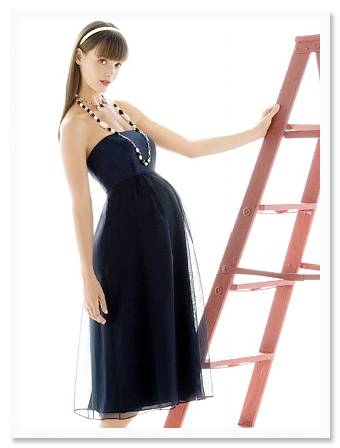 Alfred Sung: Style M423 is sleek and slightly feminine, and can be styled to be really romantic and traditional or modern and fashion forward when paired with the right accessories. While it does have an empire waist typical of most maternity styles, it doesn't have the same feeling many do because the look is a lot more tailored at the top.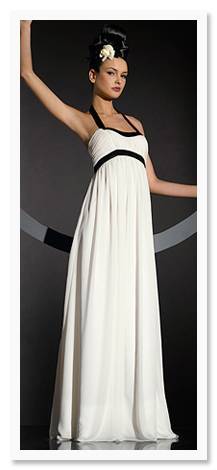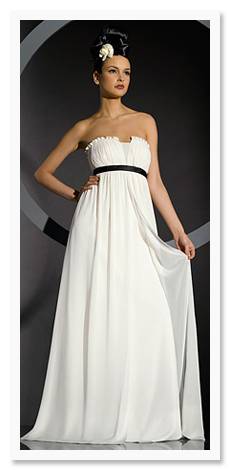 Bari Jay: Styles 809 and 815 (respectively) are close in style and cut, with 809 being a better option for women who are anticipating being quite busty in their pregnancy and need a little extra support (if you were a C or higher pre-baby, you'll probably want to consider this). If you want to flaunt your new curves, I love 815's cut on the top – it's a great focal point on the dress! The structural detail on the top is gorgeous. The draping on both dresses is also incredibly romantic and will be flattering regardless of how far along you are. NOTE: If you want me to be perfectly honest, I think Bari Jay is the best option for maternity because they seem to have the widest variety of options available (check for the baby bump icon at the bottom of each design's photo – if it's there, they can do it for moms-to-be).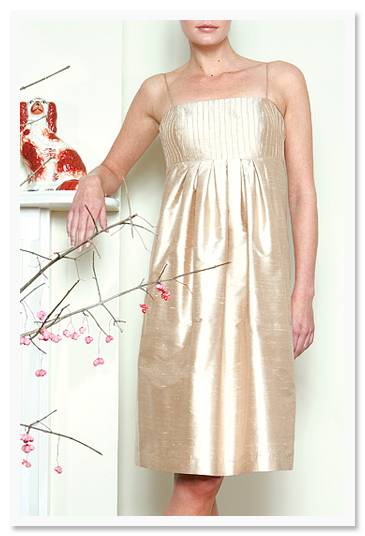 Simple Silhouettes: The more tailored gathering of the skirt on this dress is a pretty structural detail, but my favorite part of this dress is actually the pintuck texture at the bust of the dress. If you don't agree, that's fine – the pintuck is actually part of the fabric used rather than a design element incorporated into the dress, so that area can be replaced by a flat fabric.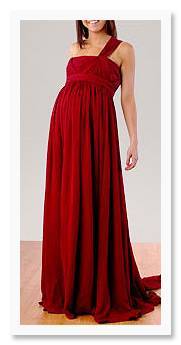 A Pea in the Pod: Admittedly the downside of A Pea in the Pod is most of the designs come in one color, so you'll have to go digging if you're looking for a specific shade. For Julie's purposes, I wasn't sure if her sister had an accent color she could wear instead, so I've just pulled off some of the dresses that I think are the highlights of their collection. It's a worthwhile site to take a look into, and is also a good source for options for guests needing maternity dresses.