Elegant and casual is what Tricia wanted for her wedding. Being fun and free-spirited as they are, this couple nailed down the wedding that would define their personalities —  Elegant but not too formal,  casual yet not too laid-back. It was a beautiful purple and gray wedding in the middle of autumn, and yes we absolutely love the contrast! Tricia did a great job on planning her wedding. Read more to know how she did it.
Click image to enlarge
Like. Click to Vote
>
Our Story:
Jason and I met at a networking function for graduate students in the Atlanta area – I was getting my Ph.D. and Jason was getting his Master's degree at the time. We started out as friends in Atlanta, going to lunch and various outings, then we then both moved to Nashville for a couple of years when we got jobs at Vanderbilt. In Nashville is where we fell in love (although I knew I loved him long before then). After Nashville, we then had to do long distance for a few years while he went back to school for his Ph.D. and I had an opportunity for a postdoctoral position in DC.
We Are A Perfect Match:
We are perfect for each other because we balance each other out. I am more of a type A personality, and Jason is more type B. It makes it difficult at times, but we learn a lot from each other, and we can help each other grow and become better people.
The Proposal:
When we got engaged, we had to do long distance, so I was always looking for places in the middle where we could drive to meet for a weekend, and I had found this beautiful winery right on the North Carolina/Virginia border. It had a guest house that you could rent and stay on site, so we met there one weekend. When we were out in the gazebo overlooking the mountains is where Jason proposed. All I remember him saying (because my heart was pounding so hard) was "please make me the happiest man in the world and marry me". Although we had been together for quite a while at that point, it was still so exciting and exhilarating and romantic. We then got to have dinner with the owner of the winery (who also lived on site) at his house. It was a real special weekend.
The Outfit Inspiration:
The colors for the wedding were purple and gray. Although I got married in the fall, I knew I didn't want to do the typical orange/yellow/red combinations of a lot of fall weddings, and purple is my favorite color, so I tried to find a combination that could be elegant and beautiful and came up with purple and gray.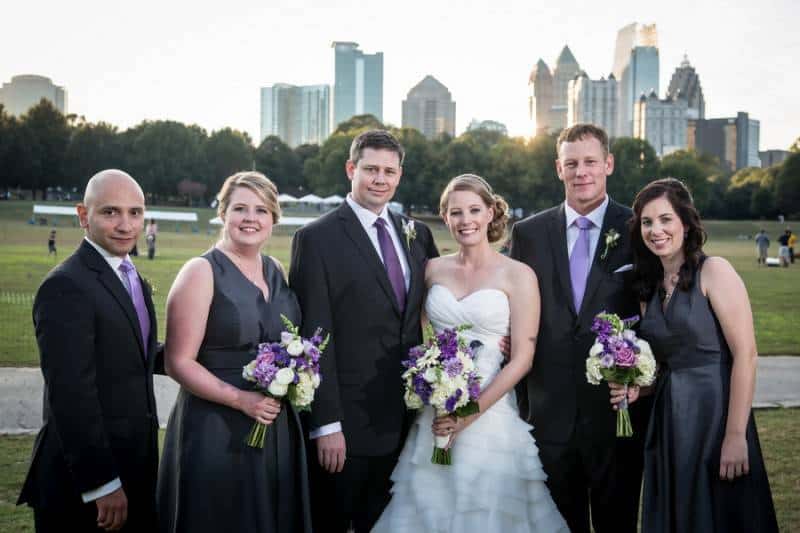 The Wedding Décor Inspiration:
I wanted a casual elegance feel for the wedding. I never wanted a traditional wedding or for things to feel too formal – that isn't our style. So, I tried to make things feel elegant but also have a casual air to them.
The Do-It-Yourself (DIY) Projects:
I made the table runners for each of the tables. They were burlap runners with purple, and gray ribbon weaved on either edge of the material. I also made the streamers for our exit. Each streamer was a wooden dowel that I stained darker for my personal taste and glued various ribbons to the end to make flowy, colorful banners for our exit. We did not have printed programs or escort cards, but rather a chalkboard easel where I wrote out the program and seating chart for the reception
The Planning Process:
We were engaged for a little over a year – August to October, which was plenty of time for us, – decisions aren't the easiest thing for me (except deciding on spouse) so more time would have been hard for me.
The Challenges We Faced:
The biggest challenge that I had in the planning process was doing it from across the country. Shortly after getting engaged, I was offered a job in California, and the compromise was if we moved to California we would have the wedding in Atlanta, close to Jason's family but not far from my family. Although a lot of things can be done via email, etc., there are things where you need to be present during the planning process. I had help from my planner/coordinator during the process, but I did a lot of it myself because I had a vision and knew what I wanted. It just meant that trips back to Atlanta to see Jason would also have to do double duty with wedding planning. In the end it all worked out well, I just wish I had been in the same city for some of the planning.
Money Matters:
15,000 was the budget
I attempted to do a lot of stuff myself – I made the table runners, I made the streamers for our exit, I found the purple vases for our centerpieces. We also kept the wedding small holding it to only our closest friends and family.
From the beginning, I said I wanted to spend money on three things: my dress (since I'm only getting married once), the photographer (since pictures last forever) and a planner (since at least the day of I didn't want to have to worry about anything, and I didn't want a friend or family to either). Outside of catering, these were the biggest expenses.
The Guest List:
We invited about 80 people, including kids and babies. Our final guest count was about 55.
We invited close friends and family. It wasn't difficult for us to keep the list small.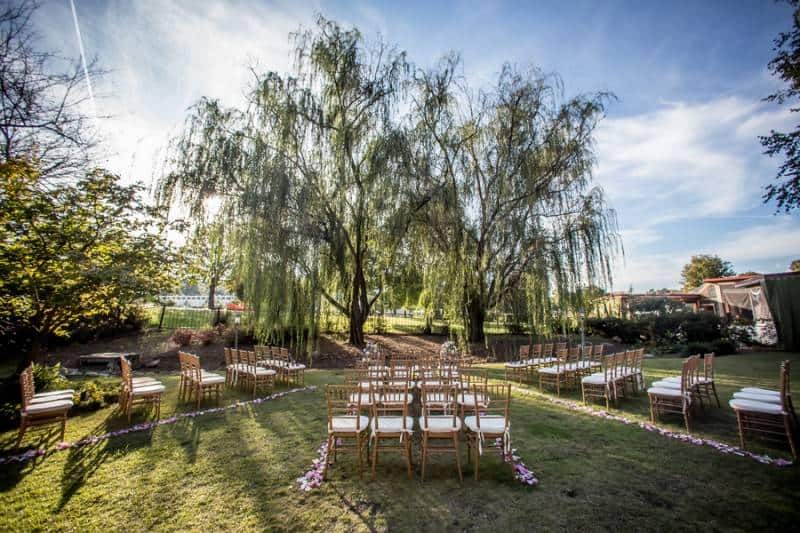 The Songs:
Our Honeymoon:
We had originally planned to go to Cabo San Lucas for our honeymoon; however, shortly before the wedding, there were at least two hurricanes that hit the area and our hotel was closed and would not be open again until much later. So, three weeks before the wedding we had to plan a new honeymoon. With everything else going on, we decided to keep it low-key and went to Napa Valley in California and toured some wineries and tasting rooms and did some sight-seeing in San Francisco.
Excited About:
Just our life together. Jason is my best friend and soul mate, and I can't wait for all of our adventures in life. He will be a great partner to share them with.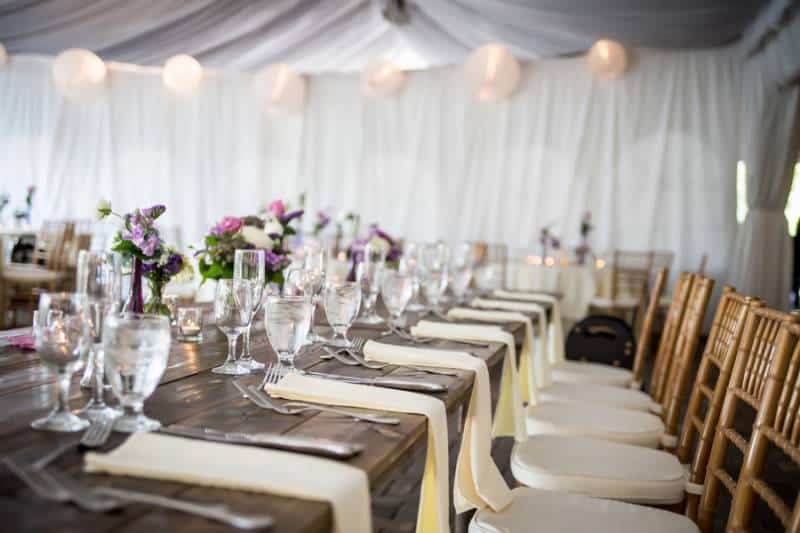 Planning Advice For Couples:
Enjoy the day. Choose things you like and that will make you happy. It's your day. And although everyone tells you this and you think you know – it goes by so fast. Before you know it you are having your exit and are leaving feeling like, did that just happen? So, relish it. Also, get a coordinator, at least for the day of – I really can't say enough about mine (Courtney and Emily at Stella Harper) – it made it possible to enjoy the day. I don't know of any hiccups, which is precisely what I wanted.
The Highlights From The Ceremony & Reception:
Our ceremony had a ring warming part to it, which is a highlight for Jason and me. The reception was a lot of dancing and catching up with family and friends. During the cocktail hour, the kids were cutting up the dance floor.
Most Memorable Moment:
The ring warming ceremony. During this part of our ceremony, our immediate family came up and surrounded us and passed our rings between them making wishes for our future right before our vows.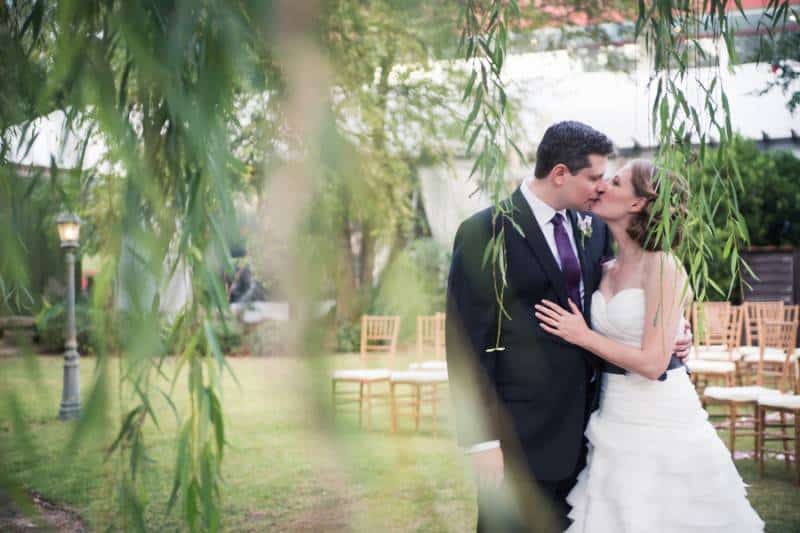 VENDORS
Photographer: Janet Howard Studio
Bridesmaid Dresses: Alfred Sung
Dress Store: Atlanta Bride Couture
Tuxedo and Mens Attire: Men's Warehouse
Officiant: Ed Wilson
Makeup Artist: Formal Faces
Reception Venue: Park Tavern
Floral Designer: Petals A Florist
DJ: Spectrum Entertainment and Events
Event Planner: Stella Harper Events
Cake Designer: Sugar Benders Cakes