Lisa and Matt had such a wonderfully sweet and whimsical wedding. What makes this one stand out must be Lisa and her love for butterflies. Just like the delicate elegance of a butterfly's wings, the details of this wedding just make one want to stare and stare forever.
Looking at the photos, I can't help but think this was something straight out of a storybook. The mountain setting was the perfect backdrop to all the whimsy this wedding had to offer, especially Lisa in her beautiful purple butterfly wedding dress! The spiritual ceremony added that solemn yet very fairytale-esque vibe. But the cherry on top is definitely how sweetly Matt looks at Lisa — an equally sweet treat awaits below, so keep reading! Congratulations on such a lovely and magical wedding, Matt and Lisa!
Click image to enlarge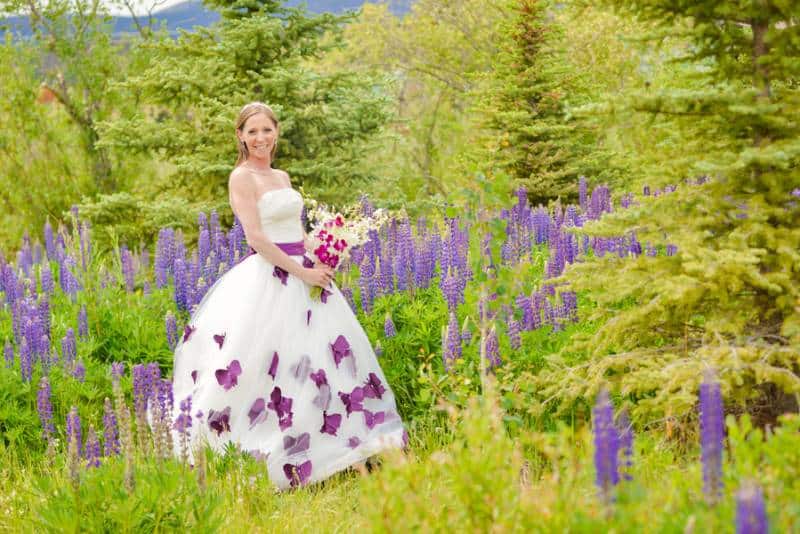 27

Like. Click to Vote
>

Words From The Blushing Butterfly Bride:
Oh, to describe our fairytale wedding… All of my dreams came true that day, but every day that Matt & I have been together have been simply perfect. We're just happy people! Two free spirits came together & became even freer & we brought two amazing families together who are now bonded together as one.
Matt's more eloquent than I am, haha! And he's in Chicago right now, so how about this… My birthday is coming up on Monday & when I got home yesterday, he left me a pre-birthday present with a card that contained his wedding speech that never happened because we ended up speaking from the heart 🙂 There are good snippets in here & I think we'd agree on our favorite moments, so I'll share those as well.
"I feel as young as when I met her, 4,097 days ago…"

"I want to thank Mort & Karen for accepting me into their family and for bringing me the other half of my life. There is no Matt Kral without Mom & Dad Kral, but there is no me without Lisa."

"I love you for being my little spoon and promise to always be your big spoon."

"I love you for, figuratively & literally, lighting up every room you enter and promise to keep your electricity going."

"I love you for making me the man I am and promise to be an even better man, husband, lover and best friend every day."

"You make everything in life special just by being you."

"Yes, I had cold feet when I asked her out about 4,100 days ago, that's why I signed my lease first and walked 3 blocks away to ask her out over the phone!"

"And most of all, I love you for loving me. I will love you forever and ever… My dreams came true today, but every day is a dream with you."
OK, here's what you asked for…
When we first saw Grand Lake we both stopped in our tracks & knew this was the perfect spot for us to become husband & wife. There are so many things we loved about our wedding day, so this is going to be tough! I think the best moment was the first look. It was like we fell in love all over again and our love for one another went to another level & we never even knew it could get any better! Matt shed tears & it touched my heart (and then my tears began!) There are really no words to describe the look in his eyes when he first saw me as his bride and soon to be wife. Another favorite moment; during our ceremony, it felt like Matt & I were the only ones on the planet, we were in heaven. I literally felt like a butterfly who had been caught by my love! To keep it short (it's already long!), but we loved being surrounded with the love of our family & friends. I was, quite frankly, overwhelmed by how much love was at our wedding; my heart could've burst!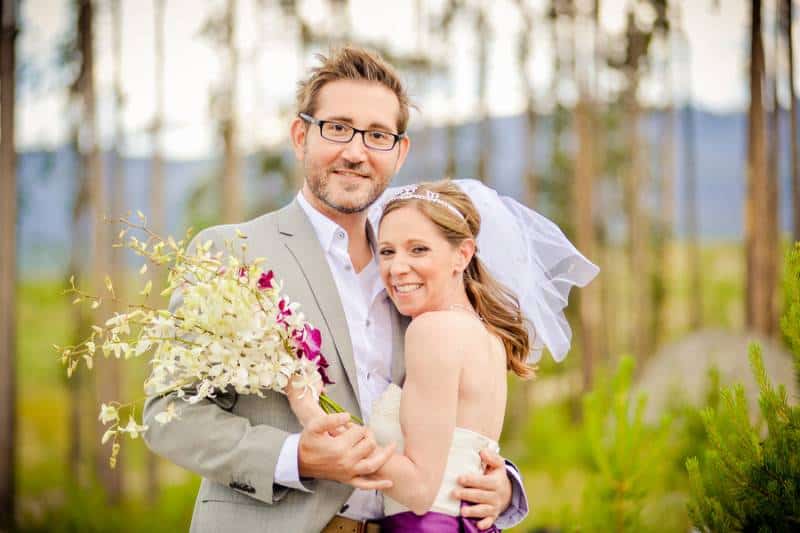 Our wedding, to me, was so unique because of the beautiful mountain surroundings, I pulled off the butterfly dress, the immense love I felt from everyone there, our Native American officiant who made our wedding so unique & spiritual, oh and having Bruce the Grand Lake Moose make an appearance to celebrate my little niece, Ella's birthday.
Lastly, originally we named our wedding "Matt & Lisa's You Might See a Moose Wedding" because Matt calls me "Moose" and almost every guest saw real moose, which was awesome! But in retrospect, I call it our "Fairytale Came True Wedding" because it was like heaven on earth.
Probably more than you wanted! I always tell Matt he is my favorite person on the planet because he makes me feel beautiful, special & precious every day and that's no lie! He is a gift & I treasure his love.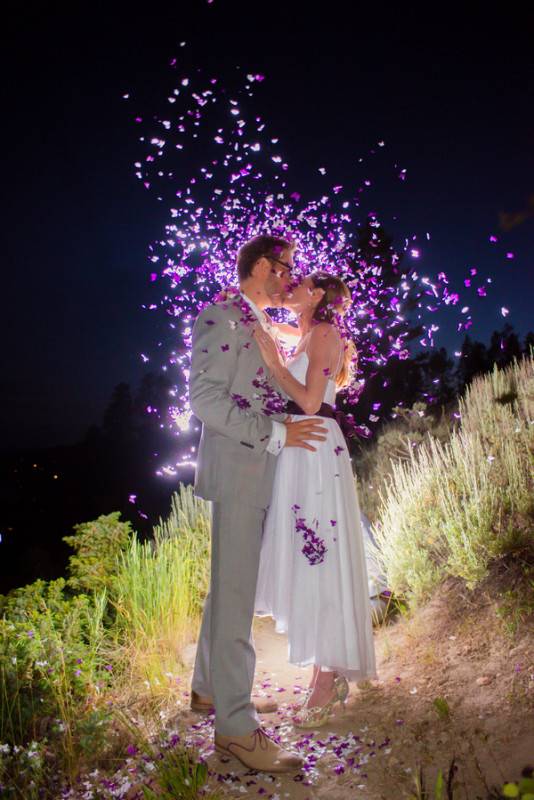 VENDORS:
Photographer:  Elevate Photography
Reception Venue: Grand Lake Lodge
Cake Designer: Indulge Bakery, Inc.
Officiant: Leon Joseph Littlebird
Floral Designer: Oakes Fields Floral
Beauty: Salon Plume
Musicians: Soul School
Event Planner: Stiletto Events