Where to find a great-looking plus-size wedding dress? How to choose? Which are the best plus-sized wedding dresses?
Let's make you a proud, happy, and stunning bride.
The fundamental element of every girl's perfect wedding day is the wedding dress. Looking for one can be a tough challenge, especially if you do not fit in conventionally-sized dresses. Plus-sized wedding dresses aren't easy to design, but the ladies who are going to wear them most certainly deserve to be treated as others.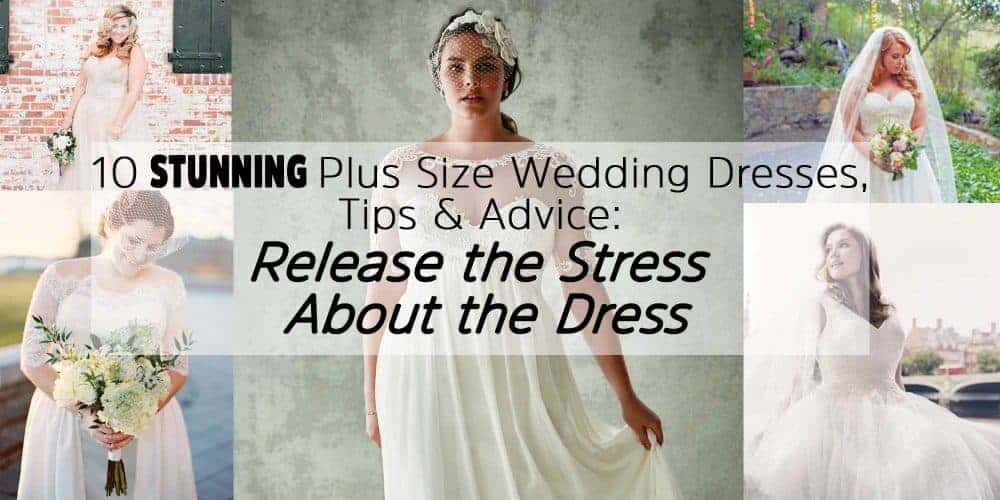 Every bride needs to feel confident and glowing on her day, and their A game is THE dress. The major downside of the fashion industry nowadays is the lack of body diversity in fashion, and that also applies to wedding dresses. It was about time for fashion experts to expand to the plus-size market.
Every body shape deserves a decent representation in fashion. There are bridal blogs and magazines, but rarely we see a woman media featuring plus size models on the front page.
Plus size brides are IN, and they should feel like the most important in the world while searching for their magical dress. That's why we made this article; to help bride-to-be to feel perfect, to find the best dress on the market, and to shine on like a star on the wedding day.
Let's go over the fundamentals first.
Wedding Dress Types
Different body types need a different design; there is no perfection, and every bride-to-be looks to complement her assets, while hiding some areas. For example, a petite bride will want her legs to look longer – that will be possible in the natural waist-design dress in opposite to drop-waist gown that is perfect for taller brides.
When it comes to silhouettes, we have a lot of designs and cuts on the market:
Plus Size Wedding Dresses Type: Ballgown
One of the reasons why all girls dream of being fairy tale princesses; the ballgown is a synonym for beauty, sense of royal, and unspoiled beauty. Large, broad and sensual, this dress covers multiple areas and brings a sensation of conformity while looking gorgeous. The small waist might be a problem, but it can be solved with a skilled sewing. The fitted bodice will make your waist thinner, and paired with a long veil, it will bring the mesmerizing "Wow" effect when you show up. Glass heels aren't necessary – the big and poofy skirt will cover your legs entirely.
Plus Size Wedding Dresses Type: A-line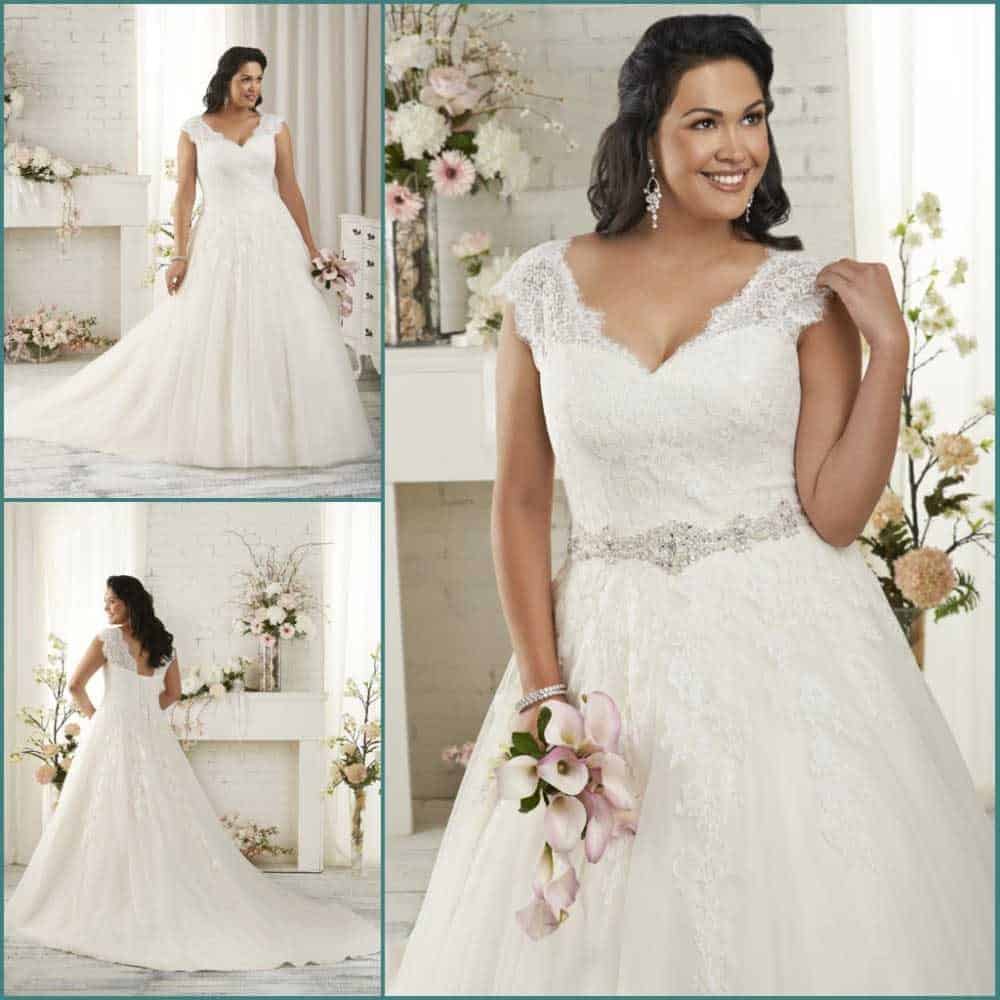 This dress is similar to ballgown but way simpler, and it has much lighter skirt design. This dress is created for hourglass figure brides, but we can certainly say that this model looks amazing on every girl. We have a full skirt without the entire big scene that a ball gown brings. This dress shape is also adjustable. Some of the new models fit the body better than the traditional ones. That is very flattering for every girl because it brings out the best out of your figure. It forms the A-shape, hides all your little flaws and creates the perfect look for a plus size bride. They are also nice to balance wide shoulders.
Plus Size Wedding Dresses Type: Tea Length
Slim girls on the covers of magazines mock the curves of real women with their tiny waists, slender legs, and perfect tea length wedding dresses. They are the main reason behind the misconception that you have to be thin to wear these types of dresses. Well, tea length dresses exist in bigger sizes, for our great joy. The casual style, and relaxed comfort that it brings is available for all girls, not only the slim models. A comfortable skirt that falls from your upper waist covers the hips and thighs perfectly, and the top can have laced sleeves or be sleeveless; both variations look amazing.
Plus Size Wedding Dresses Type: Trumpet / Mermaid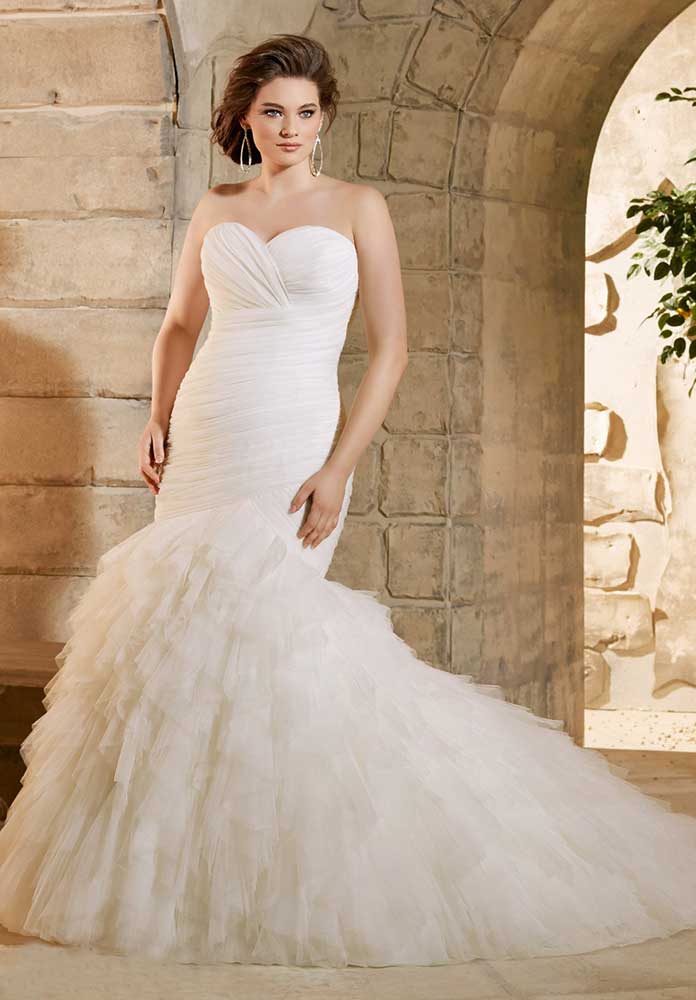 The magic that this shape brings is impressive. It is curvy fit and flares silhouette that can make your figure look slim and sexy. The problem is that this form puts an accent on the stomach and the hips so if you have that area problematic you should avoid this model. If you use shapewear, this problem could be solved quickly, and your tummy will be pulled in.
Inspired Bride Tip: Remember not to set it too tight, as you need to be comfortable. If you are going to wear this type of dress, it's better to get used to the shapewear by wearing it for at least few weeks before the wedding.
There is one small difference between trumpet and mermaid style. The mermaid style wedding dress is tight to the body all the way to the knees before it brings out the wider part, and the trumpet style is tight to the middle of the hips, and then it goes wider. Trumpet style is something between a mermaid cut and A-line cut.
Plus Size Wedding Dresses Type: Sheath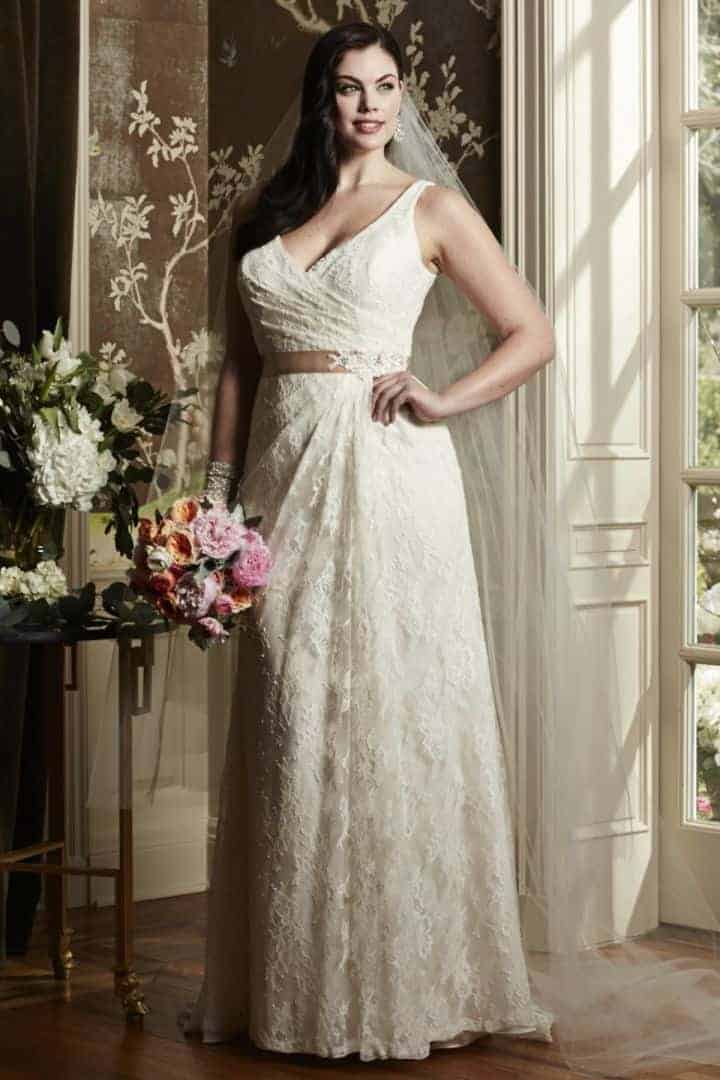 Another type of wedding dress intended for slim girls, which can go pretty well if it's adjusted to the curvy frame. These dresses are symbols of pure elegance and beauty, and no woman should be left without the possibility to wear this type of wedding dress. Sheath wedding dresses have a plethora of options adjusting to woman's body; you can have it vintage, beaded, backless, chiffon, strapless…
Wearing this dress, you'll feel slim and beautiful, very comfortable and happy.
Inspired Bride Tip: Shapewear will make you look amazing, just make sure you're well used to wearing it.
Best Tips for Choosing The Dress
The bride that always dreamed about wearing Vera Wang on her special day should wear Vera, and there are no excuses. Designers often design sizes from 20-24, and some of them have separate plus size line. But some of them do custom measurements, and they make the dress for the bride's measurements. So, if you want to look like Carrie Bradshaw in the first Sex and the City movie, get a designer to make the dress in your size, it's your right! On the other hand, if you need something unique, or you can't decide between models, some planned thought will help you go a long way. Get to know the type of dress that you'll wear, and start looking.
Here are some tips for choosing the right dress:
You need to prepare in advance. Size eight is the standard size for gowns, and some of the salons have the same one in size 14, but some of them expect you to order one. Call ahead and inform them that you are going to try some of their models. Even if they don't have one model in your size try the ones they have and even the ones you might not fit into.
Just see how they match your face, body curves, and if you think that you will say yes to that dress, order one in your size. Also, it is a good thing to inform salons about your personal style, what you like and dislike, and the time and the location of your wedding. That can help them to find the most fabulous dress for your personality.
Do not close your eyes to different styles
Move the prejudices away while looking for the dress. Sure, some styles will not fit you like they fit other girls. Every girl has a different face, different body curves and style, and not every model-like girl will fit in the designer dress the same way. A curvy lady can look fantastic in the tight strapless dress, but she will never know if she's afraid to try one. So just go for it, and who knows, the worst thing that can happen is that you fall in love with the reflection in the mirror.
Remember – You wear the dress, not another way around.
Bring your wedding underwear to the salon, yes we mean it
If you already have planned what are you going to wear under your wedding dress bring that underwear to the salon because that can change how you look in a dress significantly. Underwear can modify the shape of your body entirely so bring it to your tryout, or plan what are you going to wear underneath and then go and try your dress again; it's the safest way to see how will your underwear affect your final look. This article from EBY may help you to choose the perfect underwear for your special day.
Adjust the size of the dress for your entire body
For the plus size bride, buying the right size of a gown which fits the curvier part of your body is the most important thing. Yes, we all want to lose weight and motivate ourselves before THE day, but that is the wrong time.
The stress about the wedding is enough itself, and you shouldn't push yourself as much about the dress. We need to try to avoid the stress, to enjoy all of the preparation magic without going bonkers about inches and sizes.
Shopping buddy is a must!
You need your best friend next to you while picking the right dress. You want someone you can trust, someone who is honest and listens to you. Someone who loves to see you smiling and wants you to look your best. He or she will help you decide about everything maybe just by showing you thumbs up or telling you which dress is a must to try on.
Different bodies need different wedding dresses
We all have different curves, and dresses have different shapes. One woman will look beautiful in mermaid shape dress, and other won't; that depends on a bunch of things. The main thing is: please don't have just one vision of your magic gown. Open your mind, think outside the box and try something different.
You need to try all styles to know which one has the best silhouette for your body. You need to go shopping without expectation to look stunning in a dress that is just not that made for you, but if you try the next one on a hanger, you may fall in love.
Bring your A-game with you
Never doubt yourself, especially on a journey to your perfect dress. Intuition is an excellent guide. You also need to trust the ones helping you to decide; your friend, mom, sister, etc. We know, the final decision is yours, but sometimes you need to hear more than one opinion to know what your perfect combination is.
You need your confidence while trying the dresses. Every bride is under a lot of pressure, and the stress about the dress could be considered one of the biggest issues. Don't be sad if several dresses doesn't fit you, just grab the next one and keep smiling; your perfect dress is out there, waiting for you.
Let the dress work for you
Yes, we all want to look like a beauty queen on our wedding day. We need to feel like the only girl in the world, and we don't want anything to spoil our special day. The best way of doing that is to wear the best dress you can find. You need to know your body and let the dress work the magic for you. If you have empathized curves, you can keep them in one place using a halter or a corset to make them look more tighten.
If the curves are not your plus side, you can use a mermaid or fit-and-flare dress to create the curves you have never imagined wearing. One more important thing – you need to feel comfortable in your dress. We all know how long the reception, the whole ceremony, and the photo session is; you need to feel like wearing an everyday dress and to look like a princess at the same time. You need to find the best balance between these two.
Numbers are just numbers
A lot of brides go on stressful diets before the big day, afraid of what will happen if they don't fit in the expected size.
You know what? Numbers are just numbers.
Don't let your weight ruins your plans and makes you sad. Order the size you will fit, and the size you are today. If you need to make it smaller, good for you. If you order a smaller one hoping to lose weight that can turn into a disaster. You do not need that stress so close to the wedding. So what if you have few extra pounds? Those are just numbers.
Fabric is crucial
Sometimes we choose just by the eyes and not by our skin.
But sometimes, that's the biggest mistake.
Thicker fabric is perfect for plus size brides because it shrinks the figure. If you want a strapless dress, you need to keep in mind that this shape makes your shoulders wider. A better choice is the one with thicker straps or cap sleeves. Avoid the materials that can draw attention to the parts of your body you want to cover. Use the material that will highlight the best of your body shape.
Body shapes
Whatever your body shape is, pear shape, apple shape, round shape or hourglass, the form that goes over hips is most flattering for plus size brides. This silhouette will make your waist curvier. You can also put an accent on an hourglass figure if you wear the dress that will make your waist emphasized.
There are several essential details for picking the dress
The dress needs to have a silhouette that defines all of your beauty curves
The fabric must be right
Choose the best neckline
Pay attention to the small details, they are important to the final look
Plus Size Wedding Dresses for Different Body Types
Right choice for short girls
The illusion of height is a must for a petite bride. Form fitting fit and flare gown is the best option for this. Short girls need to avoid voluminous skirt of any kind, or just find the silhouette that skims their figurine. Trumpet or mermaid gown also does the work. You should know that waistline above your natural waist also gives the illusion of height. Empire dress makes you look elongated too.
Girls with larger bust
Like in every outfit, and in this one particular, you need to balance your chest with a bigger skirt or a skirt filled with details. Be sure that your underwear fits perfectly because of the problems with dancing all night. Gowns with diagonal criss-cross on the bodice can make the bust line smaller. Also, if you want to elongate the waist and define that feminine line between bustline and hips, drop waist is also an excellent choice.
Options for small-chested girls
Strapless dresses make the upper body area look astonishing. Extra fabric on top can also help you to fill the upper body parts and make your curves more attractive. Do not be afraid to show little more skin on your once-in-a-lifetime day.
Girls with rounded tummy
Girls that want to hide their belly can try dresses that drape across the stomach or some dress that helps to disguise that area visually. Quality underwear is a must – in this case shapewear will make your body slimmer and your waist thinner.
When thick upper arm is a problem
If you have a thick upper arm, a sleeveless gown is fantastic to give you the illusion of smaller arm. Dress with sleeves is also a good choice, but you need to pick short or long sleeves, maybe even 3/4 sleeves. The fabric is also important; lace is a perfect choice to cover your arm and give your look a spice of glamour at the same time.
Tight short sleeves are a problem, but if you need to wear them, go with the cap sleeves. Long sleeves need to be less tight if you want to win the dance floor on your big day. If you get a nice dark tan that can also help you with the illusion of being thinner.
Solution for the girls with broad shoulders
The neckline is the most relevant section when it comes to girls that have a problem with broad shoulders. There is a good solution for you too. Say yes to scoop and V-necks and also pay attention to structured shoulders and pads – avoid them if you can. A good tip is also to go for a diagonal cut sleeve, rather than straight one.
Neckline is the essence
The neckline is the one of the essential parts when choosing the dress. Sleeveless neckline style is very popular, but if this type doesn't fit you right, you can end up looking wrong. As a plus size bride, you have another fashion option that can make you look more feminine and attractive – the illusion neckline. The fabric is a key if you want to create a higher neckline. Lace, tulle, or any other sheer fabric that is attached to the waistline is commonly used. Pearls, beads are attached to the fabric usually, giving it that elegant and stylish look.
You need to pick the right neckline that has enough but not too many details. Try different styles; for example, the sweetheart neckline can be romantic and look beautiful on plus size brides with gorgeous cleavage.
Neckline types and adjustment
Strapless – Number one when it comes to the popularity of the wedding gowns. If paired with straight across square bodice or even sweetheart style it looks amazing. You can pick designer scarf or a jacket to cover your back. This is practical especially for colder days, and this wedding dress is still going to be your big A game.
Sweetheart Neckline – Busty ladies will adore this style because it is both romantic and sexy. This style brings out a little bit of cleavage so if you prefer you can add some c-thought scarf or a bolero jacket.
One Shoulder Neckline – Modern, asymmetrical style that looks perfect on busty bride because it slims the chest area, and makes you look stylish and different.
Illusion Neckline – Lace at the top, a neckline that looks perfect, V-neck, sweetheart, this only brings the illusion by sheer fabric or lace on the top of the bodice.
V-neck – This is good choice for any plus size gown because it will make your neck larger and thinner, it can visually shrink your chest and shoulders, and create a slimmer figure for any body type so this is a must when you try out wedding dresses.
Halter Neck – If you have broad shoulders this style is ideal for you. For girls with narrow shoulders or thick upper arm, you can skip this one.
The Fabric is the Key to a Perfect Look
As we previously said, the material needs to work for your figurine. If you are a plus size bride, the fabric must flatter your feminine body. Sometimes you need to keep in mind that heavy materials can make you look over-layered, and thin material can point out all of your flaws, so you must find the balance between these two.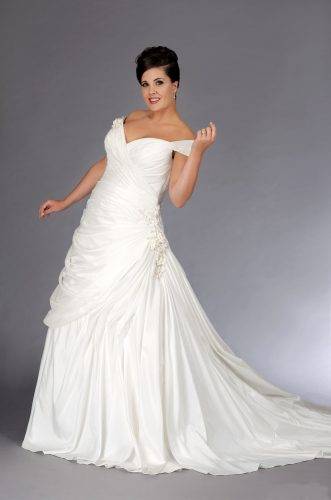 Also, you need to think about the season; fall and winter weddings require thicker dresses so you won't freeze while walking to the altar.
You can ask a bridal consultant for opinion and advice. Lace and lighter materials are suitable for spring, summer and sometimes for early fall.
Ribbed silk is heavier, used when it comes to winter weddings. Beading that is on the dress also adds some weight, so you need to consider that too. If the wedding is in August, a plus size bride needs to be careful about the beading.
You need to be aware that you will wear that dress from three to five hours, so it is necessary that you feel comfortable. If you like you can pick a train or a veil; it is not an issue for a plus size bride it depends on your character and personal preference.
Top 10 Plus Size Wedding Dresses Designers + Their Models
Every bride has a bunch of problems while planning the wedding. It takes months to plan. You need to find the right place, a band, flowers and sort out the invitations. On top of all that, you need to find the perfect dress to fit your character. Curved brides have one more problem while looking for their perfect gown. It is a problem to find something beautiful, fashionable and modern to be exactly like in your dreams and fit your size at the same time.
We have good news – there is the right dress for you out there.
Some designers are finally taking an interest in the curvy bride industry. They are producing models that will make you feel perfect and look stunning on your wedding day. We have created a list of the best wedding designers for all of you fabulous plus size girls and their models that will make you wonderful.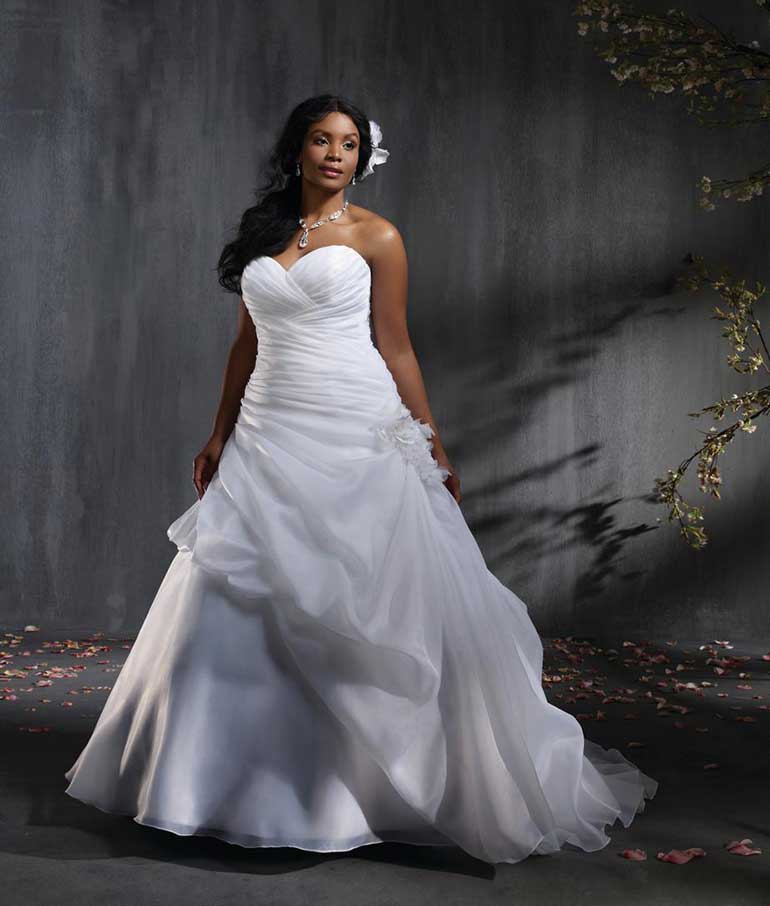 Among the top for over 80 years, Alfred Angelo is a superb designer who covers the plus size like no other. No matter which style you prefer, he has everything that you may need in one place, from Disney-princess dress to mermaid-style one. There are a lot of varieties in a style that he offers, and impressive thing about Alfred is that he has affordable dresses in all sizes; from 0 do 26W, so anyone can find the dress they dream of in their size.
Considering this brand, you can buy a wedding dress that flatters the plus-size bride no matter what. You can find gorgeous gowns in sizes from 12 to 40, and they come in romantic, traditional designs. Or you can pick a modern-style dress for your unique wedding. There is no obstacle when it comes to your dress; you can choose any style: short A-line, lace dresses or mermaid formal satin style.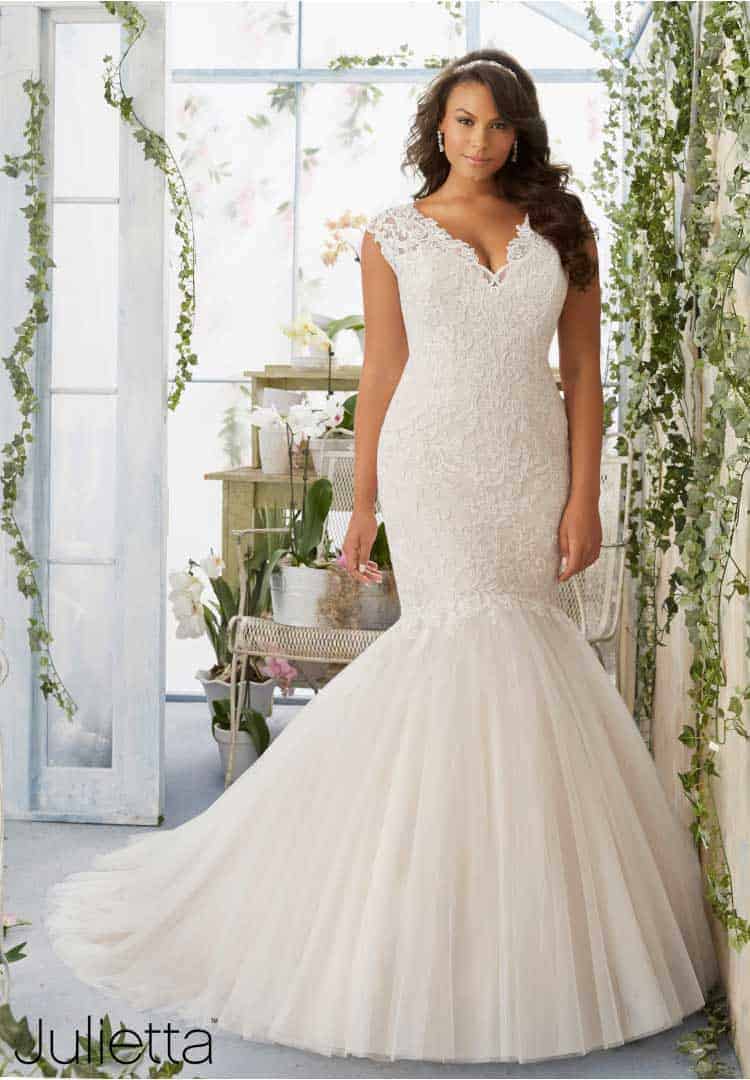 Julietta collection is one of those that stand for the idea that beauty comes in every size no matter what. They are making specially designed dresses for every woman to feel like a princess. These gowns are designed for the brides with curves, crafted with modern design in mind. They can make your "I do" day one of a kind, just by giving you a variety of wedding gowns to pick the best one and feel stunning.
"Feel flawless and fabulous in all of your sizes" is the slogan on this company, and when you see what they have to offer you'll be aware that this is true. There are gowns in every shape and style, and you can pick your color, size and material to find the right one in several steps. The interesting thing is that they have a calculator to determent your shape and give you tips what to wear.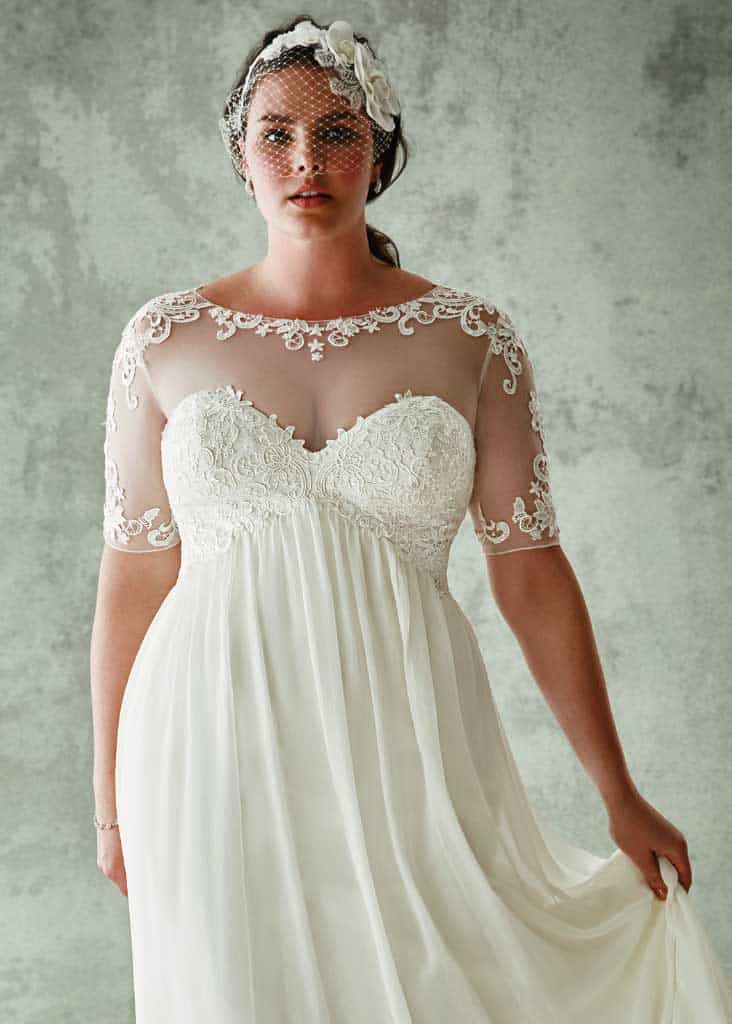 A unique line for curved brides on David's Bridal website is something this design company is proud of; there are models with a lot of variety in colors, shape and design. David's Bridal has natural dresses that accent woman's shape and shows all of your feminine features. They put a lot of creativity to make unique dresses with exclusive fabrics and modern design. You have several neckline options, strapless, sweetheart shape, and there is something for every girl no matter the size.
Allure Bridals begin their work in the late 90s, and now they are an award-winning bridal manufacturer. They also make their gorgeous dresses in plus size, and they do take care of every detail. Superb colors, a style that won a prize and the intricate beading are describing this manufacturer the best. They add that they are about how the wedding dress feels, not just how it looks. Elegance romance and timeless beauty in all sizes describe dresses you may find here.
Watters also take a lot of time to create the dress for curved ladies to feel amazing and different on their special day. Every dress they offer is different, with the material, style, design, details, and each is made for plus size girl to feel comfortable. Also, if you are into romance, elegance or modern style, on the other hand, you will be amazed by their offer.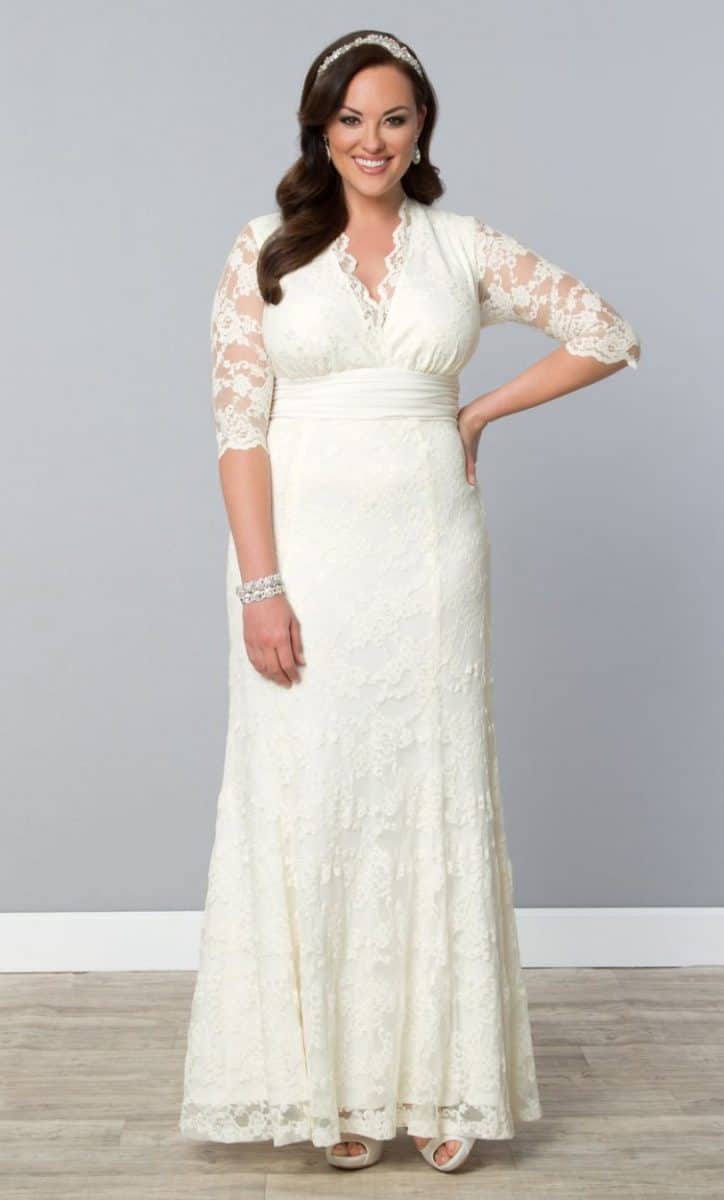 Founder of Kiyonna, Kim Carmella-Khanbeigi said that this plus size brand always sells the feeling, not the dress. But when we speak about the wedding gowns they have unusual ones. They have reception dresses also, and their dresses are affordable and feminine. For "real woman that has real curves" there is a lot of beautiful gowns to make their dreams come true.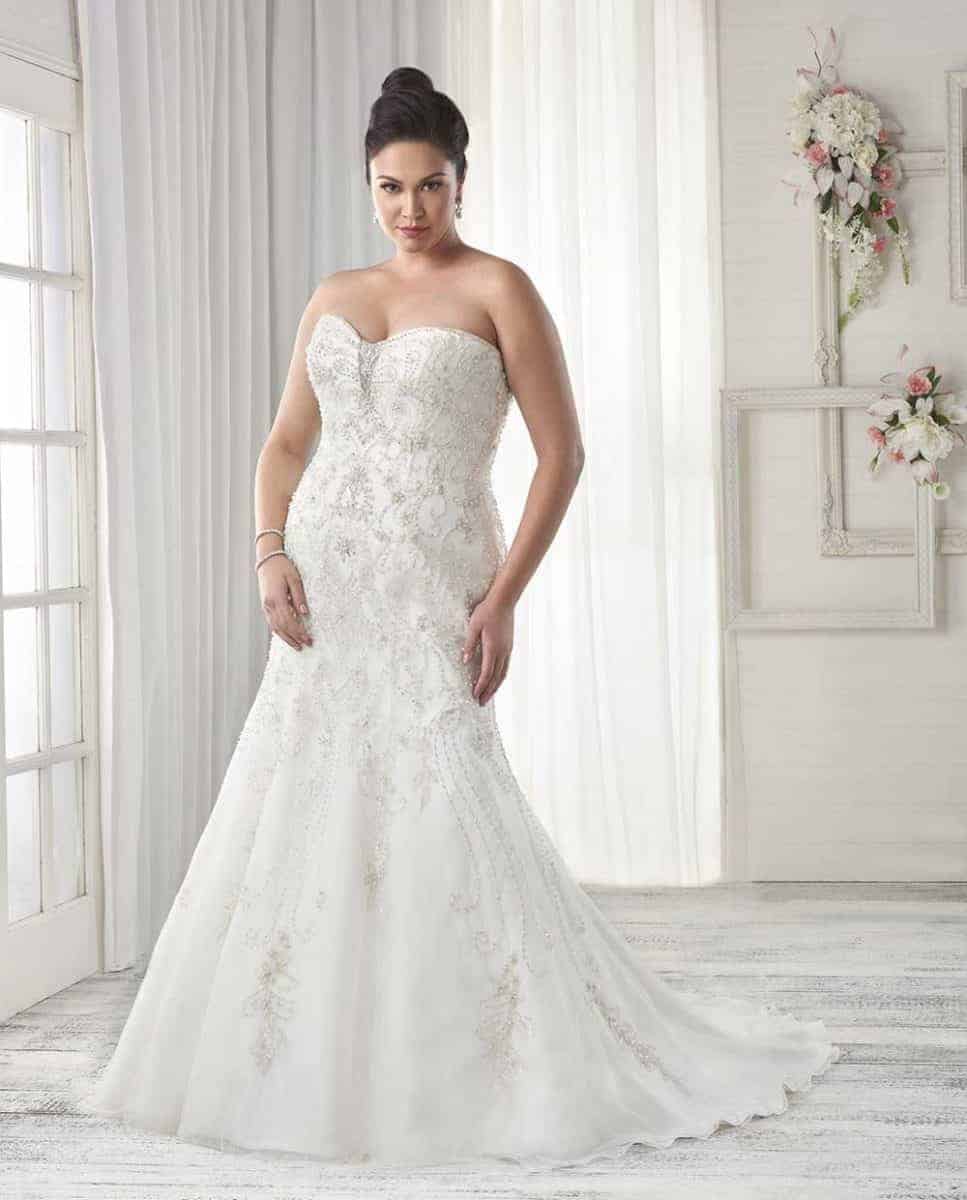 Bonny Bridal has stores in Canada and U.S., and their dresses are traditional and romantic. There is a big choice of plus size dresses, but also for prom or any other occasion, just for curved girls. Tradition is the word that describes Bonny Bridal, and they offer hand-crafted, hand-sewn bead dresses. Materials are luxurious and classy that makes them different on the market.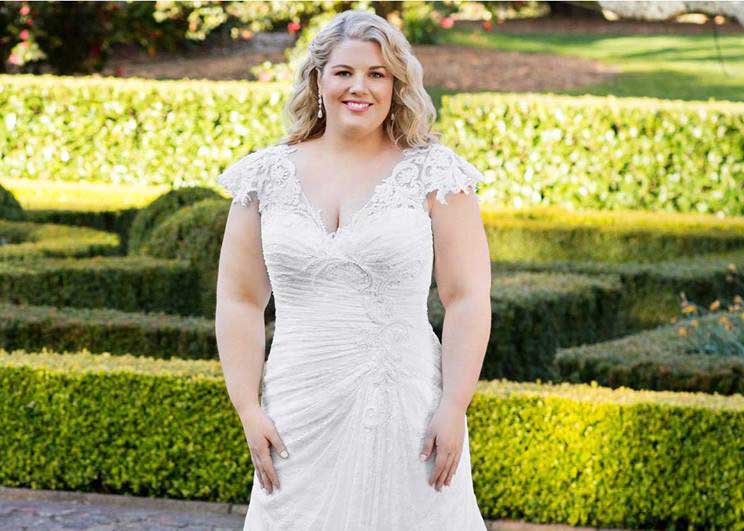 Roz la Kelin gowns are breathtaking, and this plus size line is marvelous. Just to mention, their gowns come in sizes up to 44, and that's amazing and still rare.
Dresses are art as you can see when you take a sneak peak in their models online. There are full artistic, romantic and astonishing gowns that will make you happy to be a bride.
Curvy Girls Deserve Beautiful Wedding Dresses
There are pretty fascinating people in this world that can feel every bride's problems as their own. When planning the wedding, it is so hard to find the right size, model, fabric and design that will make you feel flawless but now, the story is different. When it comes to plus size brides, the dress was one of the major problems, until now.
Market and the manufacturers are aware that beauty is a beauty no matter its size, and finally, they have opened their eyes and have admitted that there are girls out there with the real curves and the body that is also gorgeous and stunning.
You have nothing to be afraid when it comes to picking your gown because you will look beautiful whatever you wear.
There is a right dress just waiting for you to pick her up and be fabulous like always on your day of magic, and we will be more than happy if we have succeeded to help you find it.
Be sure to let us know the wedding dress you've picked, and send us your pictures!