Click image to enlarge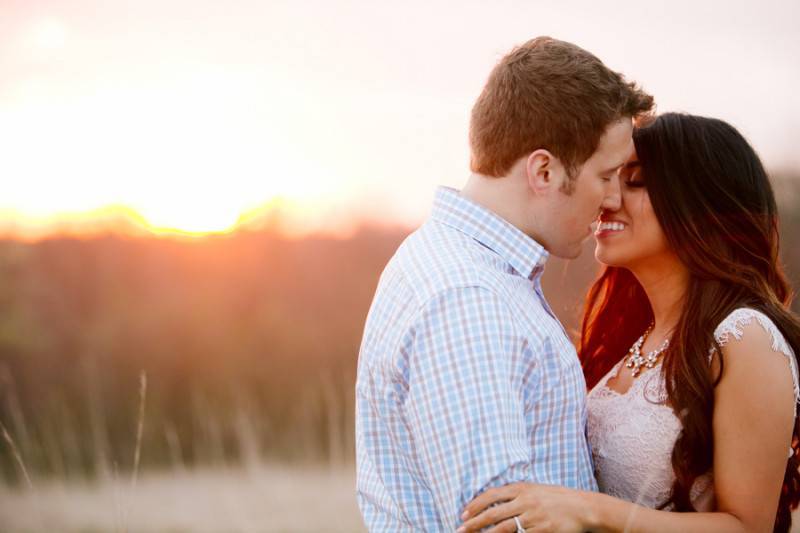 Like. Click to Vote
>
This lovely couple sure looked amazing as they were photographed in picturesque locations for their engagement shoot. Their smiles, poses, and kisses really exuded love and bliss. It didn't hurt too that their outfits were really stylish and the lighting was working on their favor. A simple engagement session can really turn out awesome with the right element. Plus, who could resist cooing over that adorable yorkie. Congratulations Rhea & Brian!

Groom
What's your love story?
Rhea and I met our freshman year at the University of Iowa through close, mutual friends. I was immediately struck by her smile. (Let's face it, she's always been gorgeous!) She's always had the type of unforgettable presence that can silence a room. Apparently, she didn't feel the same way about me—a shaggyhaired, introspective philosophy major. We didn't know it at the time but our paths seemed destined to cross again. And I think we have our friends to thank for that! Fast-forward five years—three of which we didn't hear from each other at all. Rhea is now a nurse in the neonatal intensive care unit at the University of Iowa Hospitals and Clinics. And I do what all good philosophy majors do; go to law school. The summer after my first year of law school, Rhea runs into my friend (and future best man) at a wedding. He tells her to look me up. To my surprise, she sent me a message asking if I wanted to meet up for drinks. Perhaps I was too surprised because it took me over a month to gather up enough courage to message her back! To this day, Rhea insists that this was an entirely platonic request and she had no interest in anything more. Lucky for me, that meeting led to a date. In one of our early dates, Rhea described her dream proposal setting—a carriage ride through Central Park in New York City. Three years and many laughs later, I knew what I had suspected for a long time, Rhea was the love of my life. So, I planned a surprise trip for us. I told her to pack a bag but wouldn't tell her where we were headed. After a week of guessing, she narrowed it down to two certainties—we were going to Kansas City (to stay with my brother and his family) or Chicago (one of our favorite cities). She didn't find out that we were flying to New York City until we arrived at the airport. That night we flew into New York just in time to catch some sleep in our boutique Park Avenue hotel room in the upper east side of Manhattan. The next morning we had brunch at the Loeb Boathouse in Central Park and rented a gondola to take in the gorgeous day. Then, I arranged for a carriage ride and she said "yes!" to spending our lives together. The rest, as they say, is history!

Vendors
Photographer:  Brad&Chyla