This beautiful wedding is fulfilled with nature in our couple's mind. The outdoor location, the elements of the decoration, and the chosen colors – plum and moss, all came together to create the refreshing and natural vibe. But aside from this certain aspect of the wedding, it is undeniable that they have also achieved elegance above all. Congratulations Sarah & Josh!
What do you think is the overall story for this album?
Sarah and Josh are so in love and so perfect for one another. They are so relaxed and focused on their love rather than the details of the day. Though those are important as well, what's most important is their unity. Even though it was raining the morning of their day, they were both still so carefree and knew the day would still be perfect. And low and behold, it cleared up hours before the ceremony! So it was perfect!
What inspired the wedding day outfits?
Just an overall elegant yet rustic look. The deep plum of the dresses went so well with the gray suits. And Sarah's dress was just amazing.What was your favorite part of the day? I loved the KISS! It was so romantic and passionate!
Was there any Do it Yourself (DIY) projects? If so, can you describe them in detail?
Sarah made so many of her decorations and thought of everything! Little succulents were potted as gifts for the guests and she made so many little signs and decor for the tables like the numbers and dessert labels.
What were the highlights from the ceremony & reception?
The ceremony was short and sweet but the KISS was amazing! The reception dance floor was HOPPIN! But the sweetest moment was probably Sarah's dance with her Pappy.
Was there a theme for the ceremony and reception?
Not a theme necessarily – more so an overall beautiful feel to it.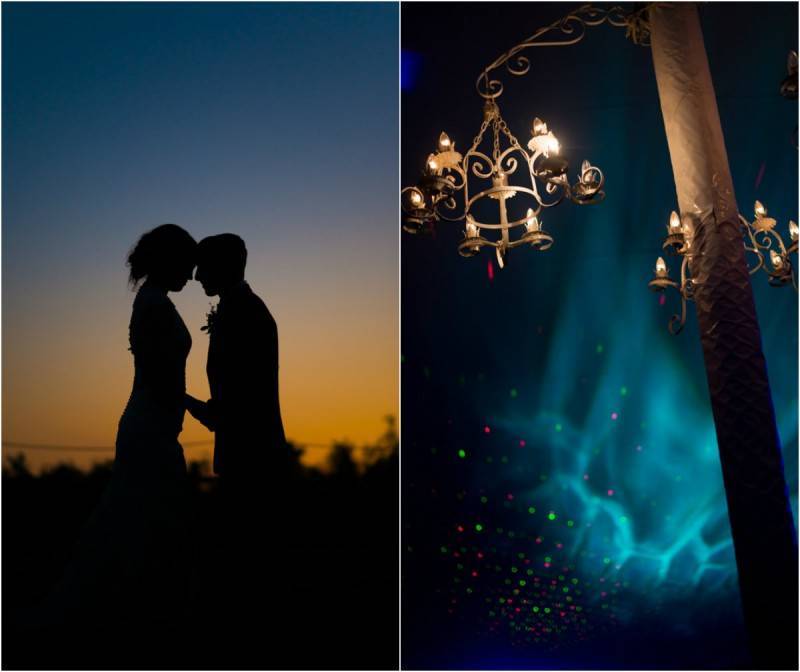 Bride:
What is your story as a couple, how did you meet & fall in love?
We went to neighboring high schools and had a few mutual friends so we knew of each other. Years later we were both at a bar watching a band one summer afternoon and just started catching up and have been inseparable ever since.
What makes the two of you a perfect match?
We balance each other out and love being silly and goofy together.
How did he (or you) propose?
He proposed at the Christmas tree farm while we were cutting down our tree and even had a couple passing by take our picture then got down on one knee and it was all captured on film!
How long was the planning process? Did you think it was enough time?
Almost two years, I loved being able to take my time and getting my first choice vendors.
What was the best advice you received when you were planning your wedding?
Have fun
What tips & tricks (can we use "hacks"?) can you share future brides that you yourself have learned during and after your wedding?
Number the RSVPs small on the back and correlate it with your own list, so when someone forgets to write their name (at least 1 person will) you don't have to track anyone down.
What were some challenges you faced while planning your wedding & what did you do to address them?
The seating chart was hard, but you can't please everyone and it's your day not theirs.
What inspired your wedding décor? Why did you choose the things that you did?
I knew I wanted something laid back, romantic and vintage. I wanted to use a dark purple and I love that moss green color. The moss then led to the wood and nature elements.
Where did you save the most money?
Making decorations and being creative with things I already had or could find on sale.
What was the biggest expense?
The caterer, but it was worth it, the food was amazing.
How many guests were invited in your wedding and what was the final guest count?
Invited 165 and had a final count of 140
How did you narrow down your list?
Think "Would it upset me if this person didn't see me get married?"
What songs did you use during the ceremony?
Processional: Adele- Make you feel my love, and Vitamin String Quartet- Wonderful Tonight,
Brides entrance: The Piano Guys-A thousand years
Recessional: Stevie Wonder- Signed, Sealed, Delivered
Where did you go on your honeymoon?
Sandal's La Toc in St Lucia
What are you most excited about for the future?
Just sharing life experiences together: vacations, homes, children, the highs and lows.
Do you have advice for couples still in the planning process?
Take your time and enjoy every minute. It should be a memorable and fun process. Don't sweat the small stuff.
What inspired the wedding day outfits?
I knew I wanted lace, sleeves and a pretty back. I chose a dress that was light and easy to move in. I added the belt because it needed a little bling. For the tux, Josh wanted a dark grey so that's what we went with.
What was your favorite part of the day?
Doing the first look and seeing Josh turn around and take it all in.
Was there any Do it Yourself (DIY) projects? If so, can you describe them in detail?
Using old doors from a house my mom is renovating as the back drop for the ceremony. We hinged the two together and found greenery to tack on.
I found baskets from the dollar store and spray painted them silver to fill with baby's breath for the aisle.
For table numbers I took old alcohol bottles and wrapped some in twine with wooden numbers tied around them. Others I painted with chalk board paint and used a white chalk pen to write the numbers on.
My grandfather cut up a tree he recently took down to make the wood slabs which the flowers sat on and the big one for the cake.
I took old windows and wrote the Bridal party on one and another with the alcohol and drink choices.
For the place cards I used sheets of kraft paper that I cut with a cutter and scored to fold. I used a heart hole punch to add something a little extra.
I took plain votive candles, taped off either the top or bottom half with painter's tape, covered the exposed glass with glue and chunky gold glitter.
I decorated mason jars with burlap, ribbon, and lace for the bridesmaids to put their bouquets in.
My mom is a baker and made fruit tarts, brownies with cream cheese icing, and mini raspberry mint cheesecakes.
I bought a bulk order of assorted succulents and replanted them in terra cotta pots with handwritten thank-you picks I made from toothpicks and cut-out flower sticky notes.
What were the highlights from the ceremony & reception?
We had a friends parent who is an Elvis impersonator preform two songs which was really fun.
Was there a theme for the ceremony and reception?
Vintage, nature, laid back
What part of the ceremonies do you think was the most memorable for you? Your guests?
The first kiss was pretty dramatic and romantic.
Vendors
Photographer:  Kirsten Smith Photography
Reception Venue: Stone Manor Country Club