Click image to enlarge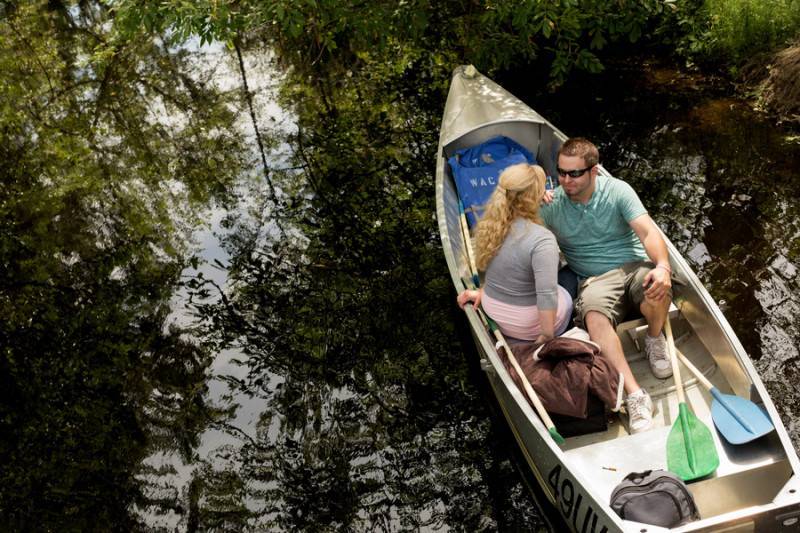 Like. Click to Vote
>
If you're into simple adventures and the outdoors, then this kind of engagement session is perfect for you. Our couple, Erika & Jason, explored the possibilities on how to approach this special shoot and they chose some interesting and noteworthy locations – a park where they usually canoe, an arcade by the pier, and even a hotel rooftop. All of which provided this sweet couple with beautiful backdrops and sceneries. Congratulations Erika & Jason!

What do you think is the overall story for this album?
Erika and Jason are the true adventurous couple. Their engagement happened on the Great Wheel in Seattle, after all! They frequently visit the downtown area, playing in the local arcade on the pier, walking through the open air markets, canoeing through the Arboretum and enjoying all the fun of life together. When we were discussing ideas for their session, we decided to just incorporate as much of those things as we could – we even threw in a roof top portion at one of my favorite Seattle hotels overlooking the Pike Place market.
What inspired the wedding day outfits?
From Erika: We wanted to be ourselves. We aren't the type to get all dressed up all the time and based on where we were having our pictures taken we didn't want to go over the top. We are a very relaxed couple and we want to look back at our pictures years later and see us for how we actually are, relaxed with each other, and always having fun.
What was your favorite part of the day?
The rowboats! We opted for that instead of canoes for safety reasons with so many in the boat, but man it was fun! Not only did we get to explore and laugh – we got to make some "Little Mermaid"-esque fun – which is perfect because Erika loves Disney princesses, too.
Was there any Do it Yourself (DIY) projects? If so, can you describe them in detail?
From Erika: Our first day was spent on the Seattle piers by the Great Wheel and in the arcade. We met in Seattle and spent every anniversary on those piers. Trying different restaurants for lunch or dinner. Playing games in the arcade. Walking around and enjoying the energy and ice cream and cotton candy! Plus Jason proposed to me on the Great Wheel! This place holds so many happy memories and special meaning to us, it was kind of a no brained! Renting row boats from UW and rowing around the arboretum is something we do every summer as well. It one of our things together. Its always so pretty out there, just relaxing in the water, taking a break up on the shore
line. Its so beautiful there and we were able to capture us enjoying the outdoors here.
Was there a theme for the ceremony and reception?
The wedding is going to be at the Point Defiance Zoo! We can't wait to photograph this adventurous couple with the animals, their friends and family, and together, just having the time of their life!
What part of the ceremonies do you think was the most memorable for the bride and groom? Guests?
From Erika: I have to say my part of my engagement session was having fun with my fiancé! Going to the places that mean so much to us and being able to just have fun there the way we always do. And now we get to look at these pictures forever and see all the fun we have together! And boating on the Fourth of July, lol. We had a lot of fun with our photographers and it ended up being such a beautiful day!

Vendors
Photographer:  GSquared Weddings