Jonathan and Natalie couldn't stop thinking and talking about each other despite parting ways since their internship. But even after all of that fate, in the form of a co-worker, brought them back together. And today, we graciously share to you Jonathan and Natalie's wedding day! It was a romantic and elegant affair that will give you tons of inspiration on your big day. Good luck our dear readers and Congratulations, Mr. and Mrs. Asayag!
Click image to enlarge
1

Like. Click to Vote
>
Their Story:
Jonathan and Natalie first met when Natalie was pursuing her Masters Degree in Social Work and interned at the agency with which Jonathan worked at the time. Throughout the school year, Natalie and Jonathan spent a fair amount of time together, as Jonathan taught Natalie the ropes of the agency and the needs of the populations he served. After completing her internship, Natalie left the agency and both bid each other farewell. Two years later, Natalie was phoned by a previous co-worker to inform her that a position was open within Jonathan's agency. Natalie applied and was hired, and the two were reunited. All this time, the two secretly had feelings for one another but never discussed them openly. Natalie would talk about Jonathan "all the time", according to her sisters and mother, and Jonathan chatted with his co-workers about his admiration for her.
We Are A Perfect Match:
After all, it is not every day that you find two people in their twenties who both love listening to NPR and chatting about world circumstances.
The Proposal:
Jonathan proposed to Natalie on Christmas day in front of her family.
Wedding Outfit Inspiration:
We wanted the dress to be simple, yet romantic and classic.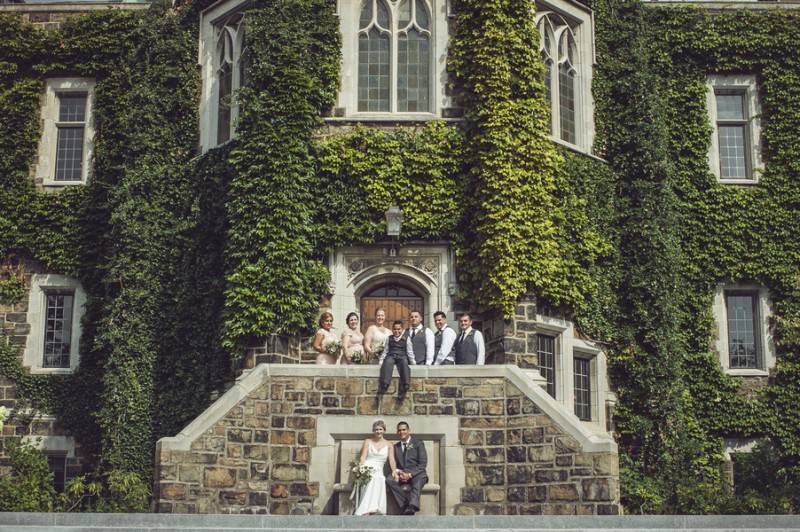 The Planning Process:
The two were so ecstatic to be married they chose Melt as their venue in late May 2014 and married on September 6, 2014.
The Theme:
Romantic, modern, simple and bicultural (American culture mixed with Latin American/Peruvian).
Wedding Décor Inspiration:
Both Natalie and Jonathan were interested in having a personalized, romantic and modern wedding. The ceremony site was so beautiful; not even one flower was added. At the reception site, Melt, there was also no need for extensive decor. A close friend of the couple's created beautiful centerpieces, boasting a mix of mirrored and metal containers holding blush and creme flowers and candles.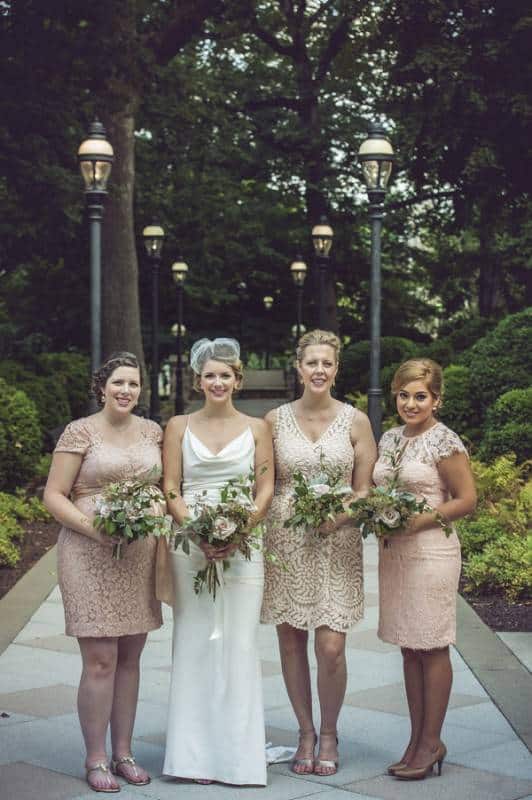 Best Advice We Received:
The day of the wedding, enjoy every moment because the planning lasts for months, but the actual day lasts for a few hours.
Tips & Tricks For Future Brides:
Natalie is a detail oriented person, so planning a wedding was a bit daunting. Jonathan and Natalie chose to get married within the year to cut down on planning stress and limit the amount of choices available.
The Challenges We Faced:
There were moments when the timeline felt too short, but Natalie and Jonathan pulled together as a team, and as any soon-to-be-married couple should split the planning responsibilities, based on each of their strengths.
Money Matters:
Around $15,000 was the budget
We saved money on the dress
The reception site was the biggest expense
The Guest List:
About 80 were invited, and the final guest count was about 70
Narrowing down the list was challenging, but we both felt it was important that the individuals we invited had been and continued to be supportive of our relationship. We also considered if we each had met all the guests on the list.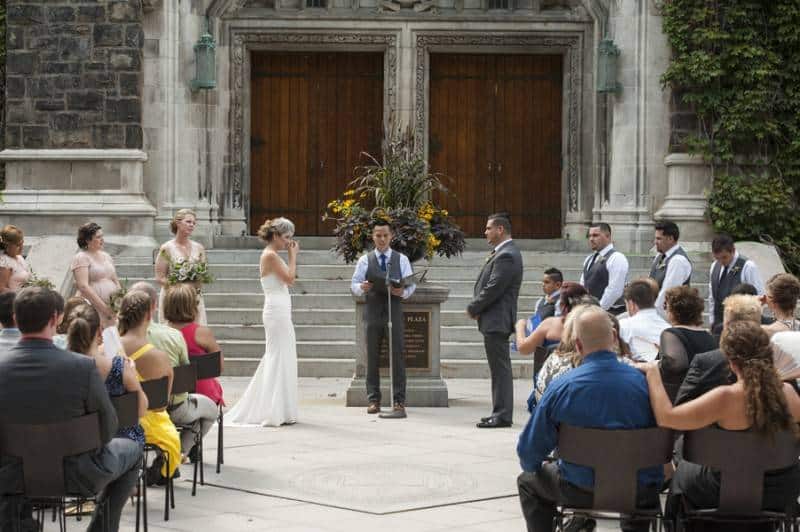 The Songs:
Processional for the groom and groomsmen: The Dotted Crotchets String Quartet: Marry You (Bruno Mars cover)
The bridal party processional: Piano Guys: A Thousand Years, live vocals by Kate Cherichello
Ceremony Recessional music: Gail Jijon: Vivir Mi Vida (cover of Marc Anthony's song)
Our Honeymoon:
Natalie started a new job two days after the wedding, so there was no time for a honeymoon!
Excited About:
It's cliche, but sharing our lives together. We are one another's best friend and strongest supporter (outside of our parents!) and we can't imagine a more powerful and better way live our lives to the fullest.
Planning Advice For Couples:
The wedding will be beautiful, but when it's over, you have a marriage. Throughout the planning process, make sure your choices reflect the relationship you wish to have beyond the day you wed.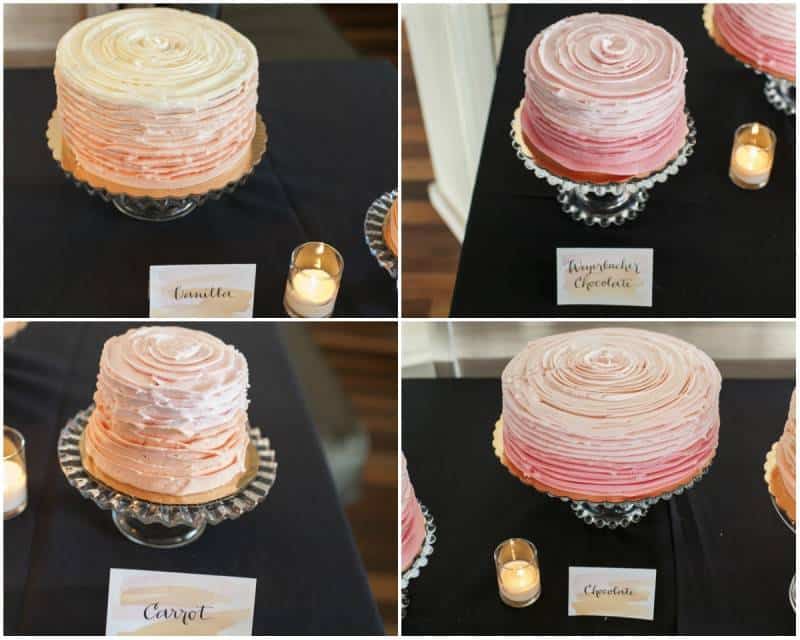 Favorite Part of the Day:
As the bride, my favorite part of the day was walking down the aisle with my husband. He was so emotional that we had to stop at one point and just hold each other.
The Highlights From the Ceremony & Reception:
At the ceremony, our brother-in-law served as our officiant, which was very meaningful. Our close family friend also sang to our processional song as a wonderful surprise to our guests. Lastly, Jonathan's Peruvian culture was incorporated throughout the wedding, including a Pisco Sour cocktail (a traditional Peruvian drink) symbol of unity during the ceremony.
Most Memorable Moment:
We were told by one attendee that we had the best vows they had ever heard. Hopefully, this was one of the most memorable moments as everyone came together to celebrate our love!
Our Wedding Video:
VENDORS
Photographer: Smile Peace Love Photography
Other Location: Lehigh University