It was a sweet (literally and figuratively) wedding for Ross and Ashley. The groom's family owns a candy company so they incorporated the candy corner idea to their wedding reception. Hence, me saying it was a sweet wedding. Like how Ashley described her wedding, it was elegant and romantic with a pop of fun. Coral, ivory, and gold bring out the festivity and romance in their wedding. You can see how much they love each other. It is undeniable!
Click image to enlarge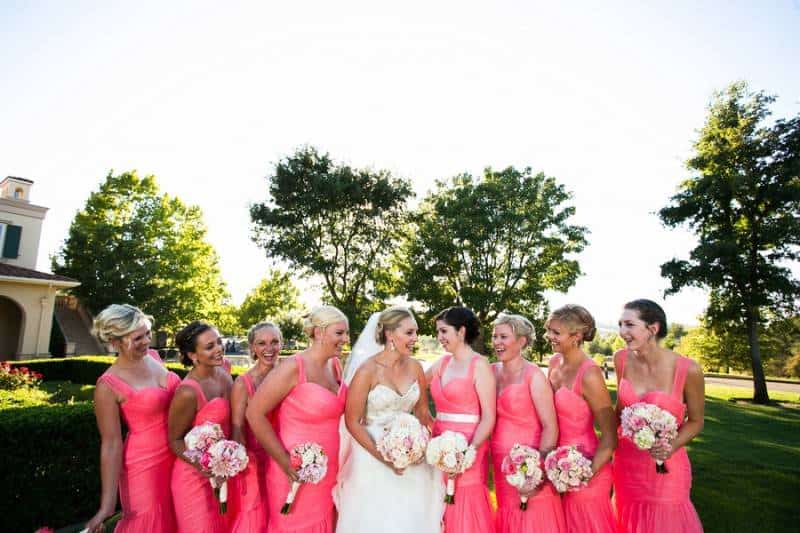 3

Like. Click to Vote
>
Our Story:
We met in 2002 at a mutual friends house while we were both still in high school. In 2004, we moved to Southern California to take on college! Ross moved to San Diego, and Ashley started school at CSU Fullerton. Over that year, Ashley put a LOT of miles on her car driving down to San Diego each weekend! After a long year, Ross and Ashley both decided to make the move to Chico and started school at Chico State. Ross graduated in Dec. 2008 and Ashley finished in May 2009.
Right after graduation, Ross moved across the country to North Carolina. He spent two years there working for his family's company. Ashley decided to stay in California and spent those years earning her Master's degree and San Francisco State. While it was hard, they managed to get through it and have some fun along the way! While in North Carolina, they got to visit Tennessee and Kentucky, go to a Nascar race and eat some amazing barbecue! Ross moved home to the Bay Area March 2011and we finally got to live together!
We Are A Perfect Match:
Because we started dating at such a young age, we truly got to grow up together, which is not always easy. We are both very supportive of each others dreams and that has made us an even stronger couple.
The Proposal:
On June 16th, 2013, Ross took me out to a bluff overlooking the ocean in Northern California and asked me to marry him. The first words out of her mouth were "please don't do this right now" followed by an immediate "yes"! Guess some people panic when getting asked the question they've been waiting 11 years for 🙂
Wedding Day Outfit Inspiration:
I found my dress first. I always thought I wanted a fit and flare but as soon as I put on the ballgown, there was no turning back! After I had my dress, I knew I wanted the bridesmaids dresses to be formal. I hosted a "Say Yes to the Dress" Bridesmaid edition at my home and let the girls try on a bunch of dresses and pick their favorite.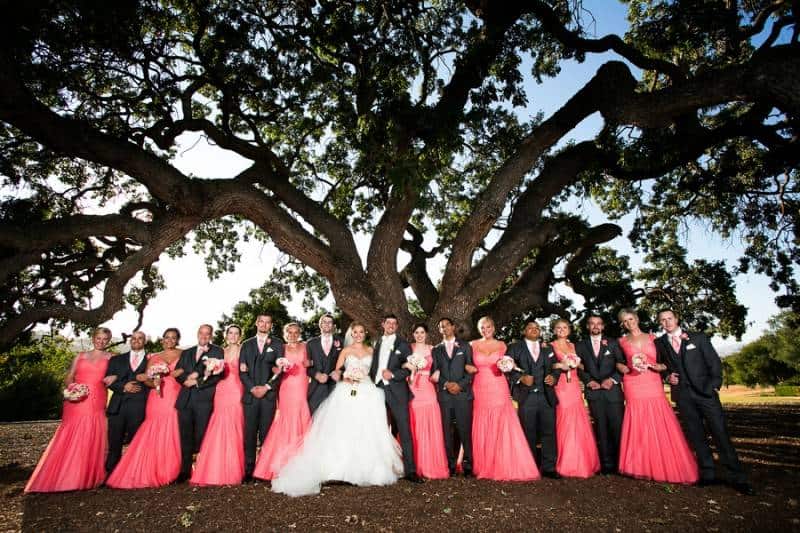 The Planning Process:
We planned our wedding for 14 months (and believe me, the planning started as soon as we got engaged!) I think it was the perfect amount of time. It was far enough away that we got to choose great vendors and locations, but close enough that the excitement was still there!
The Best Advice We Received:
You are only going to do this once, so make the day everything you have dreamed! There were some things I was very budget conscious about but wanted (like upgraded chairs and my dress). I am so happy I didn't scrimp on those things because they pulled the whole day together.
Tips & Tricks For Future Bride:
Start early! I had so many fun "crafty" type things I wanted for the day, and it felt so great anytime I could check one of those things off my list!
The Challenges We Faced:
I think the biggest challenge is trying to work with the bride and groom's vision, and the vision the moms, bridesmaids, family members have. I think the best thing is to be very upfront from the beginning, and it will help so much.
Wedding Décor Inspiration:
I wanted an elegant and romantic feel to the wedding, but still a pop of fun. We went with the colors of coral, ivory and gold. To be honest, it just felt right. When I saw the color combination, I stopped looking.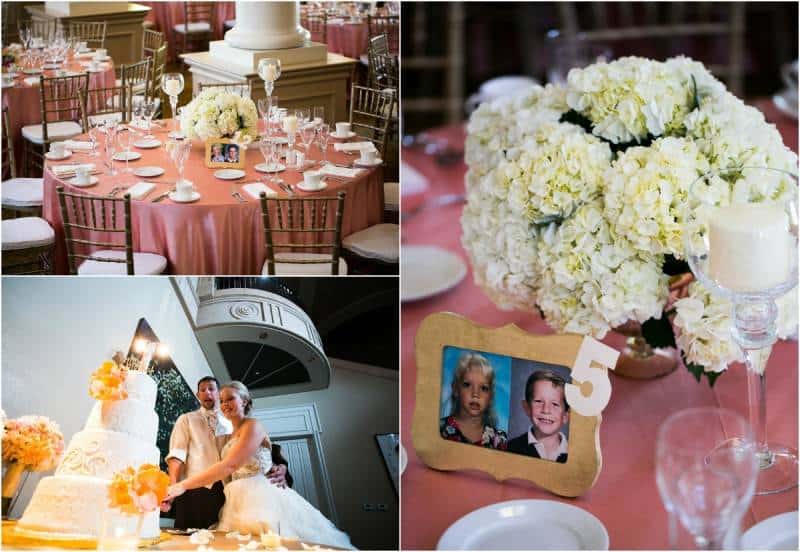 Money Matters:
$50,000 was the budget.
We saved money on our favors! Ross' family owns a candy company, and we tried to incorporate as much of the family heritage into the day as possible. Our favors were goodie bags people could fill at the candy bar that was 200 lbs of the family candy.
Our venue and my dress were the biggest expense. Both worth every dime, though!
The Guest List:
We invited 210 and 194 attended
Narrowing the list was the hardest part. Because we came from such big families, it was difficult. We started with a "dream" list and then narrowed from there.
The Songs:
Adele – Make you feel my Love (Parents Seating)
Edwin McCain – I'll Be (Bridesmaids Processional)
Train – Marry Me (Bride Entrance)
The recessional was Canon in D but was played on Electric Guitar by a family member!

Excited About:
Enjoying each other. We will wait a while to have kids so hopefully the next few years are full of adventures
Planning Advice For Couples:
Enjoy the process! The day goes by so fast so make the year of planning as fun as possible!
Favorite Part Of The Day:
Hearing the music for the ceremony start. I was in a back room with all of my bridesmaids and Dad, and the one of my closest friends and know I was getting that much closer to my future husband.
The Do-It-Yourself (DIY) Projects:
We made our escort cards, which were Gimbal's Golden Tickets to go along with the candy theme. Each card was an actual full-size chocolate bar the guests could take home!
Most Memorable Moment:
Ross and I decided to write our vows, and this was very special to both of us. It was right from our hearts and moving for both us and the guests.
Our Wedding Video:
VENDORS
Photographer:  Christopher Cooke Photography
Shoes: Badgley Mischka
Cake Designer: Gala Bakery
Dress Designer: JLM Couture – Lazaro Perez
Floral Designer: Lani Elizabeth Fine Design in Flowers & Events
Reception Venue: Ruby Hill Country Club
Event Designer: Sweet N Savvy Events
Groomsman Attire: Vera Wang
DJ: verducci event productions
Bridesmaid Dresses: Wtoo Brides by Watters