Get Creative with Your Wedding Photography for a Scrapbook of Unique Memories
You spend years waiting for the 'big day', when you finally get to tie the knot and as that day arrives you wonder where the time has gone! By the time you've planned the wedding venue, seating arrangements, entertainment, outfits and decorations, you'll probably be exhausted but don't rest yet……taking a little extra time to plan out your wedding photography wants and ideas, will mean you capture all the best moments, plus a few extra quirky ones you might not think of in the madness of the wedding day.
Choosing a talented photographer who is willing to work with you to get those shots is the first step. Make sure you convey clearly to your photographer; the particular shots you want and discuss with them any ideas you may have for added extra fun shots you've been thinking about. Of course you'll want all the basics like; wedding dress shots, bride and groom moments, wedding ring close ups and multiple shots of guests and the venue, but let's take a look at how you can make those shots stand out with an original twist.
Bride on the Beach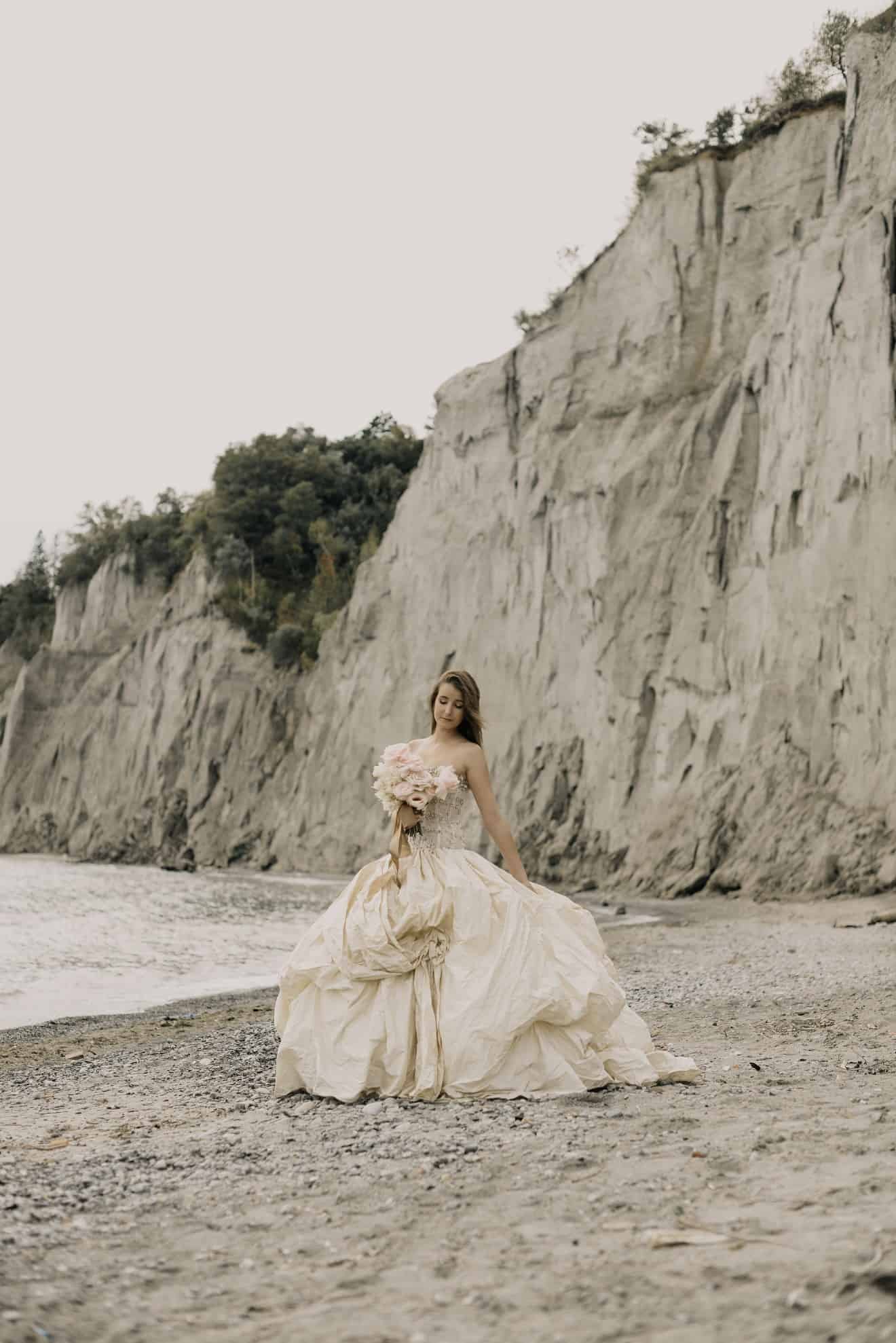 Taking your wedding dress out of its normal environment, will make it jump right out and grab attention in the photo. If you're lucky enough to be getting married with a beach nearby, take yourself down to that beach and pose with the beautiful natural surroundings around you. Don't worry if you're not near a beach, a wooded area, an urban street or even just a tree will work – just try and think outside the box.
Vows and Wedding Rings
Having your vows printed out in a little keepsake booklet, is just another way to create a beautiful memory to look back on. It will also double up as a stunning backdrop to your photographs. Position your his and hers wedding rings on top and take close up photos with parts of the booklet in the background.
Mr. and Mrs. Signs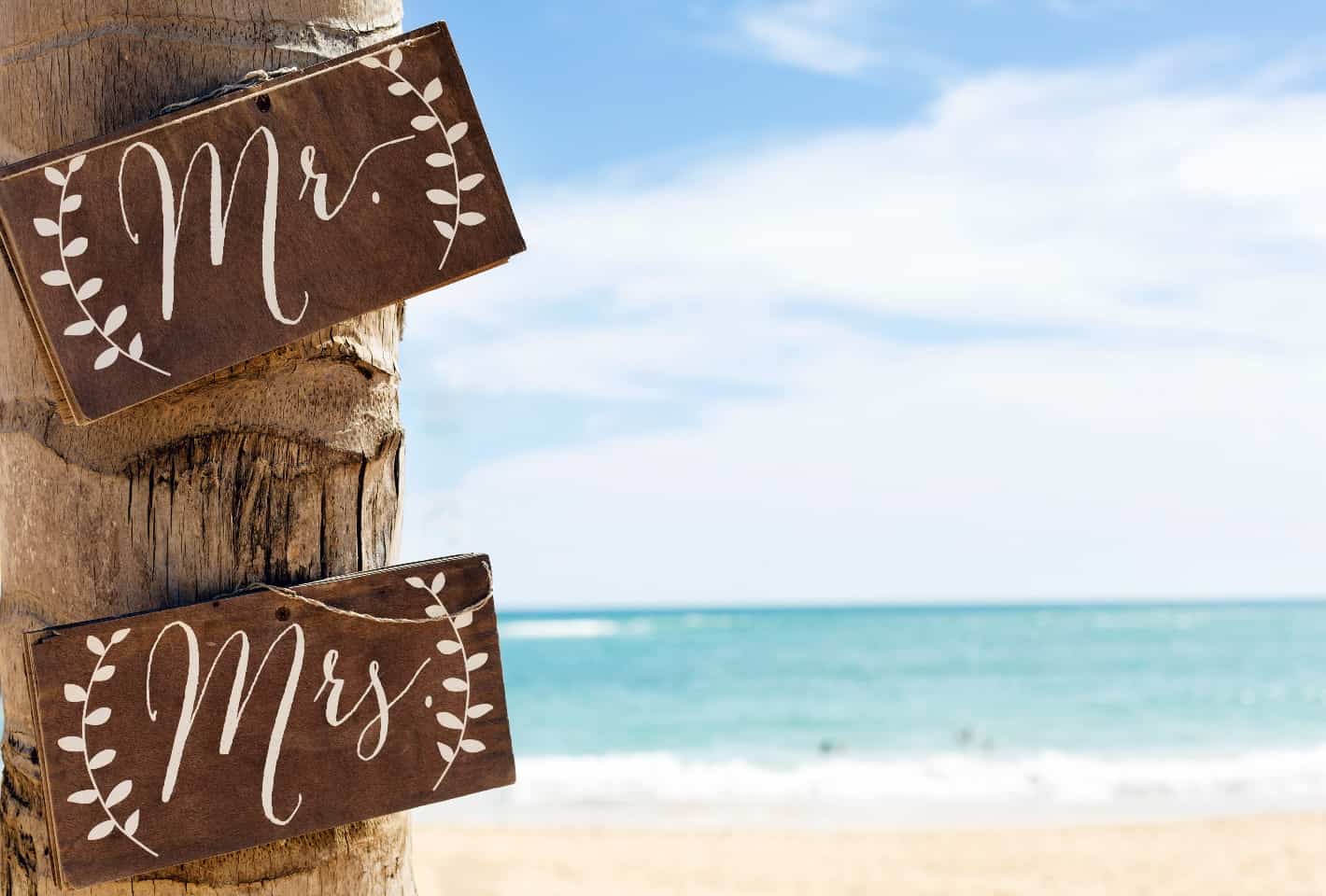 Mr. and Mrs. signs will create a fun and playful shot and can be positioned in many ways. A tree with a hazy beach scene in the background is just one way; other ideas could be a forest scene, at the dining table or even hung over a brick wall. Place them side by side or one slightly higher than the other and play around with the angles and focus to create pic that stands out.
Bride and Groom Play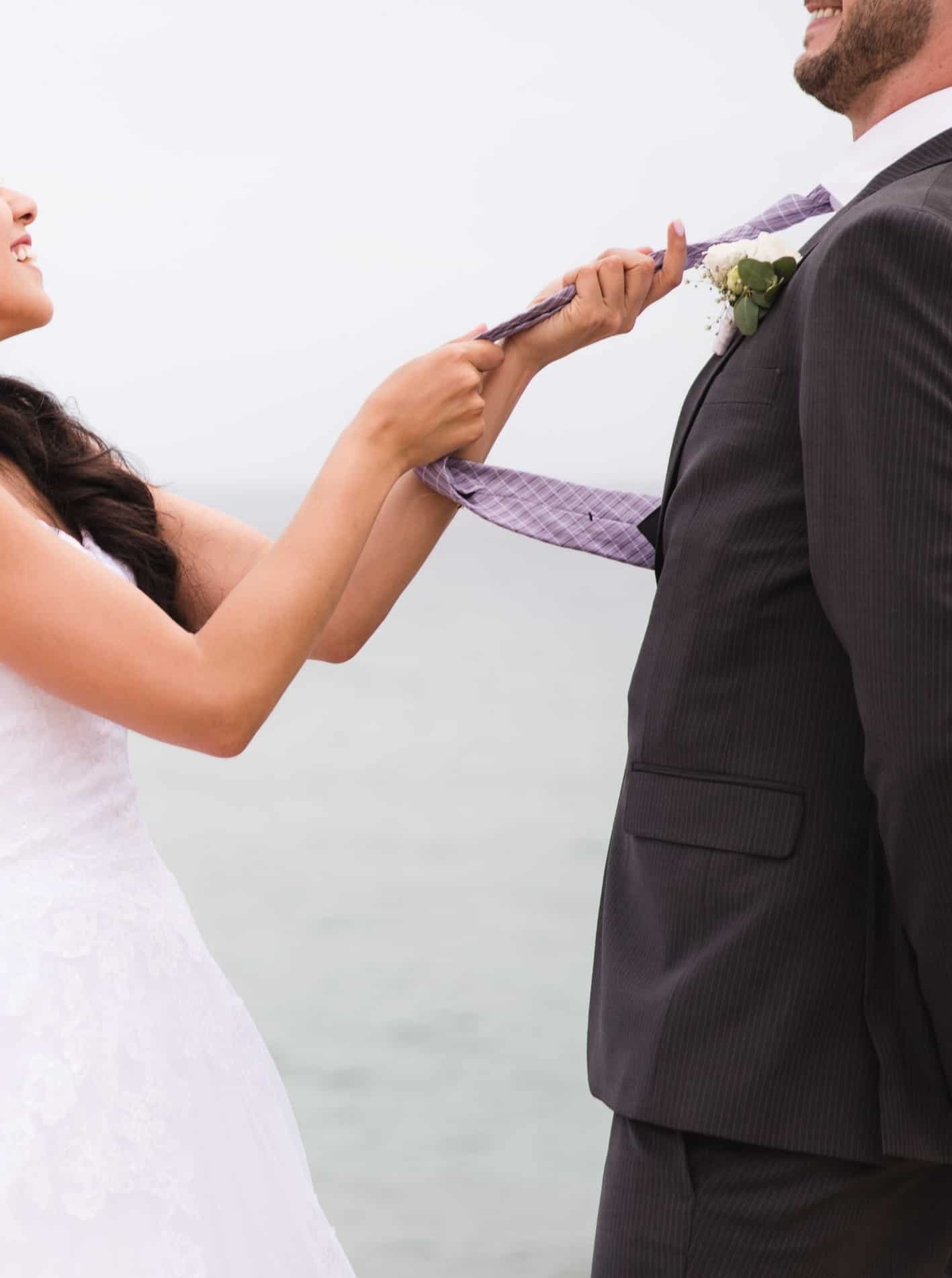 Because it may be quite a scary/stressful day leading up to the nuptials, you'll want to have a little fun with your partner after the ceremony to let off some steam. Playful bride and groom shots can be captured throughout the day and are often best taken in the moment. Have a talk with your photographer to try both and he can work on getting a few natural shots as well as a few staged.
Rose Romance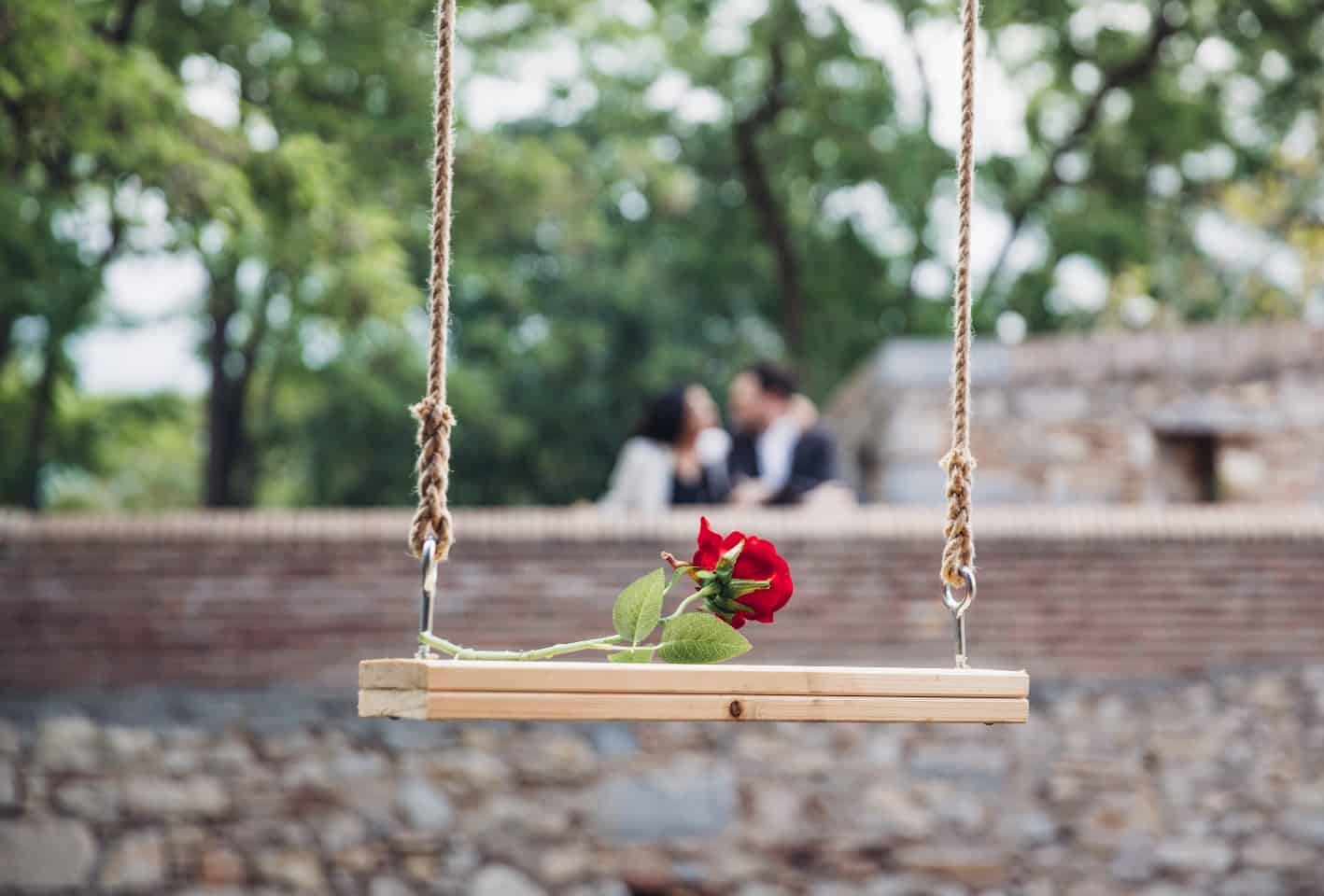 Using props in your wedding pictures is a great way to add a little uniqueness. A rose positioned on a swing or even a wall, with the happy couple embracing in the background will create an eye-catching, meaningful moment you'll love to look back on.
Side By Side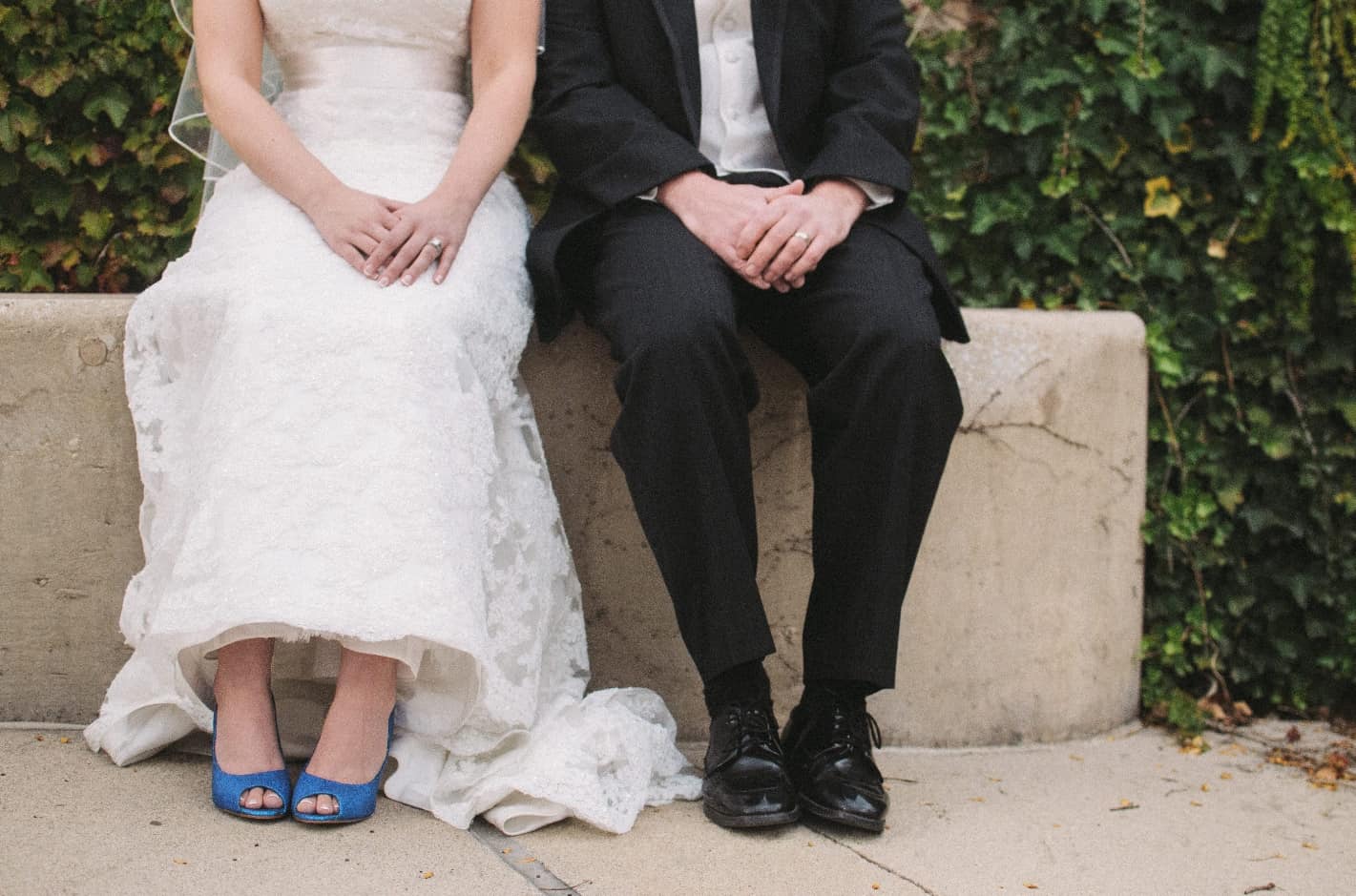 The happy couple seated side by side, only their torsos, legs, shoes and wedding rings showing. This shot epitomises togetherness and makes you think about how they're waiting for their life to begin as one. Think about making the shot stand out even more, by wearing funky shoes like converse trainers for the bride and sparkly brogues for the groom!
Together Forever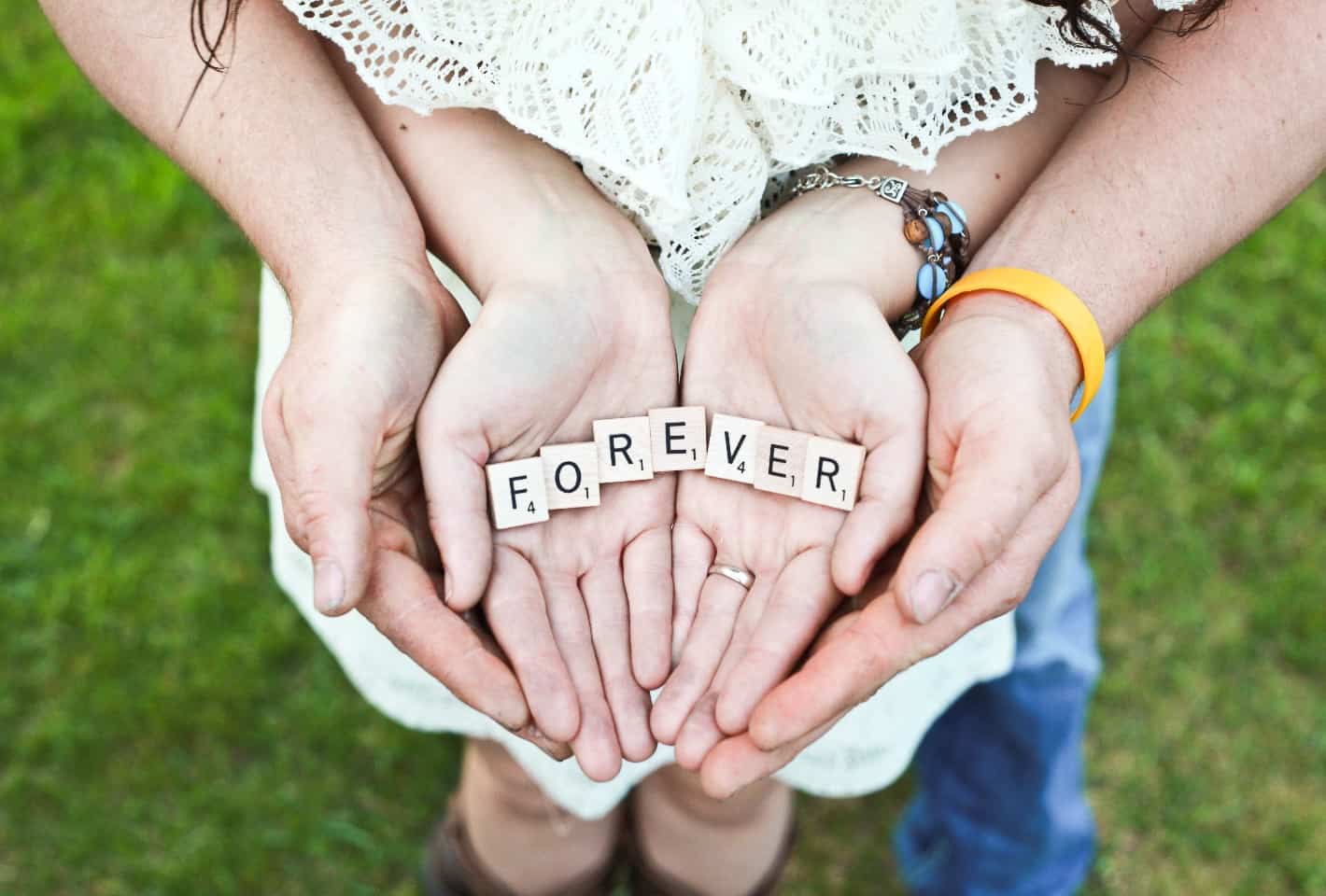 Adding words to a picture spells out how the people in the photo are feeling, allowing viewers to really be drawn in. Have your loved one wrap his arms around you, get him to cradle your hands into a heart shape and spell out the word 'forever' or 'love' to create an unforgettable wedding image. You could even add a little humour, by spelling out your pet names for each other or a funny quote.
Hubby Taking a Sneak Peek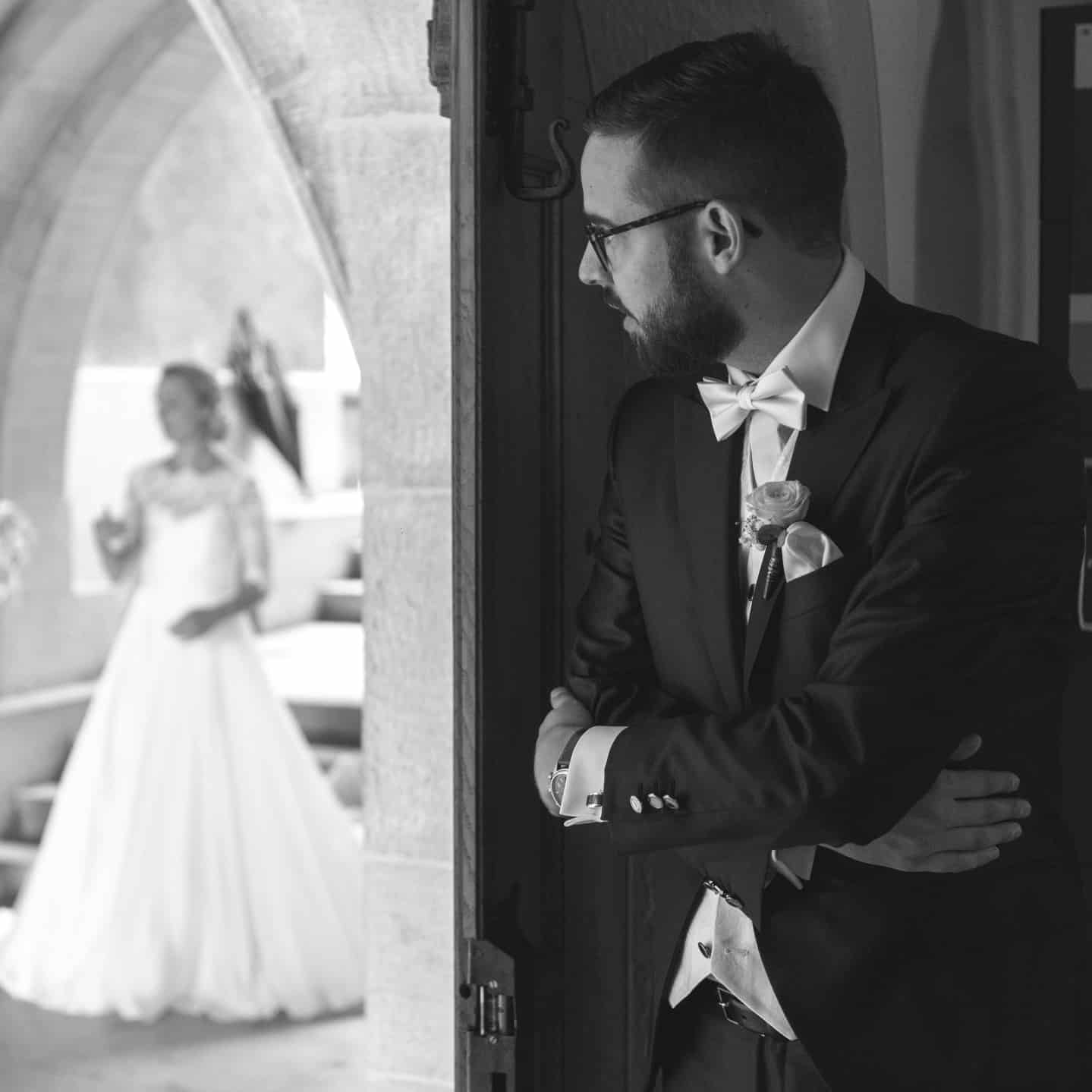 The bride and groom are traditionally not meant to see each other until they meet at the altar, but it can be all too tempting to get a sneak peak if the opportunity arises! Of course your wedding photographer may not catch this by chance, but you can set this picture up as a wonderful way to show the excitedness you'll both have, of what each other will look like on the biggest day of your lives.
Wedding Guests Toasting the Happy Couple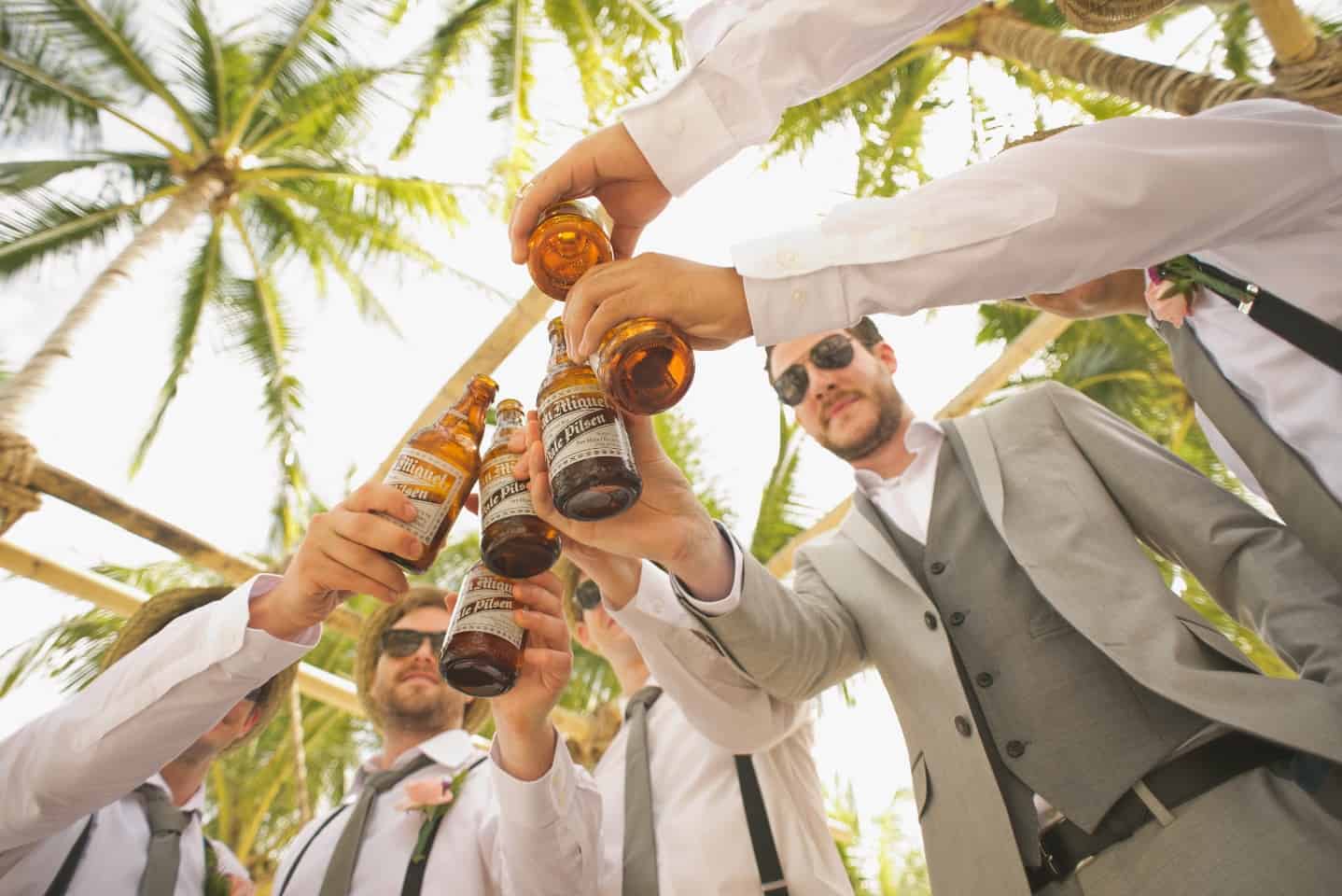 Getting creative with camera angles will give your photo memories a unique flair. This photo shows guests cheering the happy couple, showing their smart pressed suits and sunshine filtering through the palm trees in the background. If you're lucky enough to celebrate your big day, with a backdrop like this surrounding you – take advantage of it!
Once you have your gallery of unique pictures from your big day, save them in a personalised wedding photo book you can look back on. You can even print your favourite one off and send it in a thank-you note to all your guests, as a way for them to remember your special day.